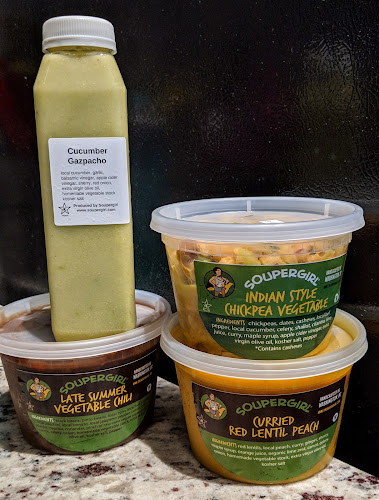 My first delivery in the soupscription was a superb showcase for the full kaleidoscope of summer flavors. Both the Indian style chickpea vegetable salad and curried red lentil peach soup channeled Indian flavors with a twist, the former with amazingly fresh vegetables and herbs mixed in and the latter with peachy sweetness shining through. The late summer vegetable chili was comfort food perfection with a nice, chunky texture. The cucumber gazpacho however totally stole the show with it's refreshing blend of cucumber, garlic, and bold flavors of balsamic and apple cider vinegars with sherry and homemade vegetable stock. It made for smooth sipping, and is basically summer in a bottle.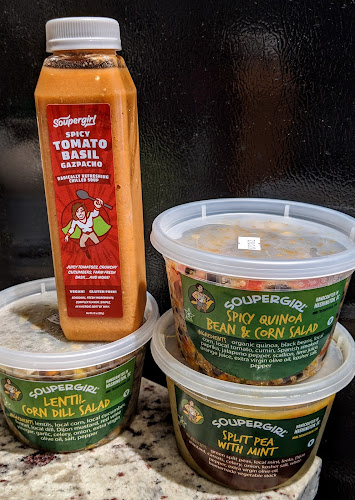 In the next week of my subscription I had a tough time choosing from all the tempting options. The fabulous foursome I selected ultimately included the bursting-with-flavor salads (spicy quinoa bean & corn and lentil corn dill). Each had bold, unapologetic flavors and made for easy protein-packed lunch options. The split pea with mint was not as minty as I expected, but was a solid split pea soup. Though not able to steal its cucumber cousin's crown from last week, the spicy tomato gazpacho was downright awesome with bright, bold flavor and refreshing blend of tomatoes and cucumbers.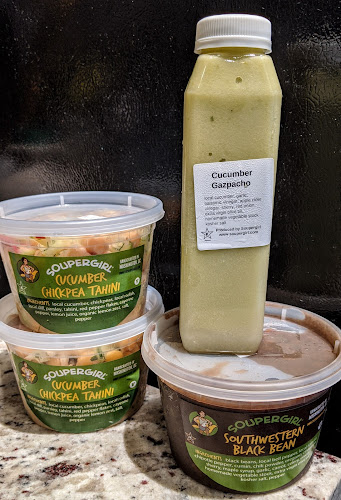 By the third week of my soupscription, I used one of the slots to re-order the fabulous cucumber gazpacho. I then doubled up on the cucumber chickpea tahini salad, which blended some of my favorite flavors all in one substantial salad. On a particularly rainy day, I enjoyed breaking out the southwestern black bean, which was hearty and delicious.
Going into writing this review, I was already a pretty huge fan of Soupergirl from my prior experiences picking up their products at my local Costco and Whole Foods Market. However, I underestimated how much signing up for the soupscription totally helped to beat back the food prep fatigue I've been feeling lately spending so much time at home. It's really nice to have a new batch of soup options to choose from each week, plus a nice variety of options including salads and soups (blended and chunky). It feels doubly great knowing I'm supporting a local business and eating farm-fresh ingredients at the same time. It's a total win-win!
Whether signing up for weekly deliveries or ordering one-off for yourself or for others, Soupergirl is a holistic investment in good-for-you-food that's allergen-friendly and health conscious.
Disclaimer: This review is current to the original publication date. Updates will be noted. Ingredients and manufacturing processes can change without notice. Each product should be reviewed for individual nutritional needs. Feel free to to contact me with any questions or comments. I purchased the products independently and the review is a reflection of my personal opinion.