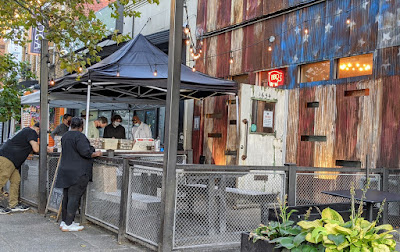 In what seems like a never-ending stretch of social distancing, I have diligent about sticking close to home over the past six months, venturing out only on rare occasions. While I have enjoyed trading in my evening commute to be more creative in the kitchen, I've missed the simple luxury of going out to eat and the only potential danger was potential gluten and/or dairy cross contact.
Luckily, a recent visit from my mom and aunt allowed a rare opportunity to explore beyond my neighborhood, and finally stop by a restaurant that has been on the top of my to-try list for ages now: The Federalist Pig. It's reputation totally preceded it, and it has earned high regard for serving up top-notch fare and relaxed, casual atmosphere. Not only that, but with a clear allergy guide and lots of gluten-free options, I was pretty excited to finally be able to pay The Federalist Pig a visit and see if it lived up to the hype.
If you are avoiding gluten and dairy, the good news is there's only a handful of items on the menu you have to steer clear of. Additionally, no soy or nut products are used, so if you need to accommodate multiple dietary restrictions, there's additional flexibility there. Though The Federalist Pig's menu is definitely geared towards meat-eaters, all sides on the menu are vegetarian.
After looking at the menu, and confirming the fries and crispy brussels were fried in their own fryer, I ordered the two step combo platter, which ended up being a more-than-generously-portioned feast with a choice of two meats (1/4 lb portion of each) and two small sides. I went with the smoked turkey and wings with a double dose of fried fare: the crispy brussels and fries. Since Texas toast is automatically included with orders, be sure to request no bread when placing an order online, and the staff are helpful to with confirming what is gluten-free if you have any questions.
Though The Federalist Pig does not currently have indoor or outdoor seating available, my mom, aunt, and I ended up eating our meal on the sidewalk using a table at nearby (and closed) book shop. Though inelegant in its setting, it was absolutely perfect to enjoy the piping hot food and a perfect fall afternoon.

The turkey and wings were truly show-stopping. The former was thick cut and tender, and had an incredible smoky flavor. It paired beautifully with the mustard barbecue sauce (The Federalist Pig has several sauces to choose from), and definitely is a definite rebuttal to anyone who thinks turkey is boring. The wings were crispy and juicy with ample barbecue rub seasoning to make each bite a flavorful explosion. I paired these with the vinegar barbecue sauce, which had a definite bite from the substance but was still delicious.
The crispy brussels were absolutely swoon-worthy and totally checked every box for expectations I had for them. They had a satisfying crispness but also let the brussels flavor shine through, accented by the salty barbecue rub, which made excited for bite, each more addicting than the last.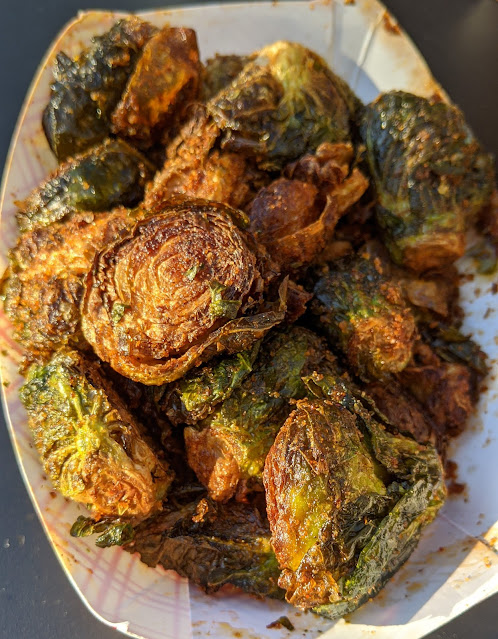 Rounding out this fabulous foursome was an order of fries. Federalist Pig again totally impressed me by absolutely nailing every aspect of what I consider the perfect fry to be: thick-cut, crispy exterior that's still soft and potato-y inside, and deliciously salty with ample seasoning. No sauces or dips required, though they paired beautifully with tomato ketchup.
I admit that I had pretty high expectations going into this review, both from Federalist Pig's reputation and the relatively few opportunities I've had to dine out this year. I am pleased to report that not only were these expectations met, but absolutely overshot by a mile or more. Everything I ordered was delicious, and it's clear I'm not the only one to think so, judging by the constant hustle and bustle of people picking up takeaway orders I watched as I was eating.
The Federalist Pig places at the top of my list of the best things I've eaten this year, and I am already looking forward to the next opportunity to eat there. Leaving with a way-too-full stomach and no regrets whatsoever, this restaurant is totally a gem and one I am thrilled to be able to sing the praises of.
The Basics
Ideal For:

Lunch (Saturday & Sunday) Dinner (Wednesday through Sunday, closes early on the weekend)

Price:

See prices on their website

Accessibility:

Wheelchair accessible

Special Features:

Due to social distancing protocols, order ahead for pickup through their website. Delivery also available through DoorDash and Uber Eats.





Disclaimer: This review is based upon the information I have at the time of the review and does not reflect changes in ingredients or availability of items. Please contact the restaurant directly for up-to-date information and feel free to contact me with any questions or comments. I was not compensated for this review and it is a reflection of my personal opinion.