After a fantastic Blogger U session at the
Gluten-Free Living Conference
(you can read my recap
here
), I couldn't wait to come the following day to explore more of what the conference had to offer. The weekend kicked the conference into full gear with guest speakers, special events, and a vendor expo.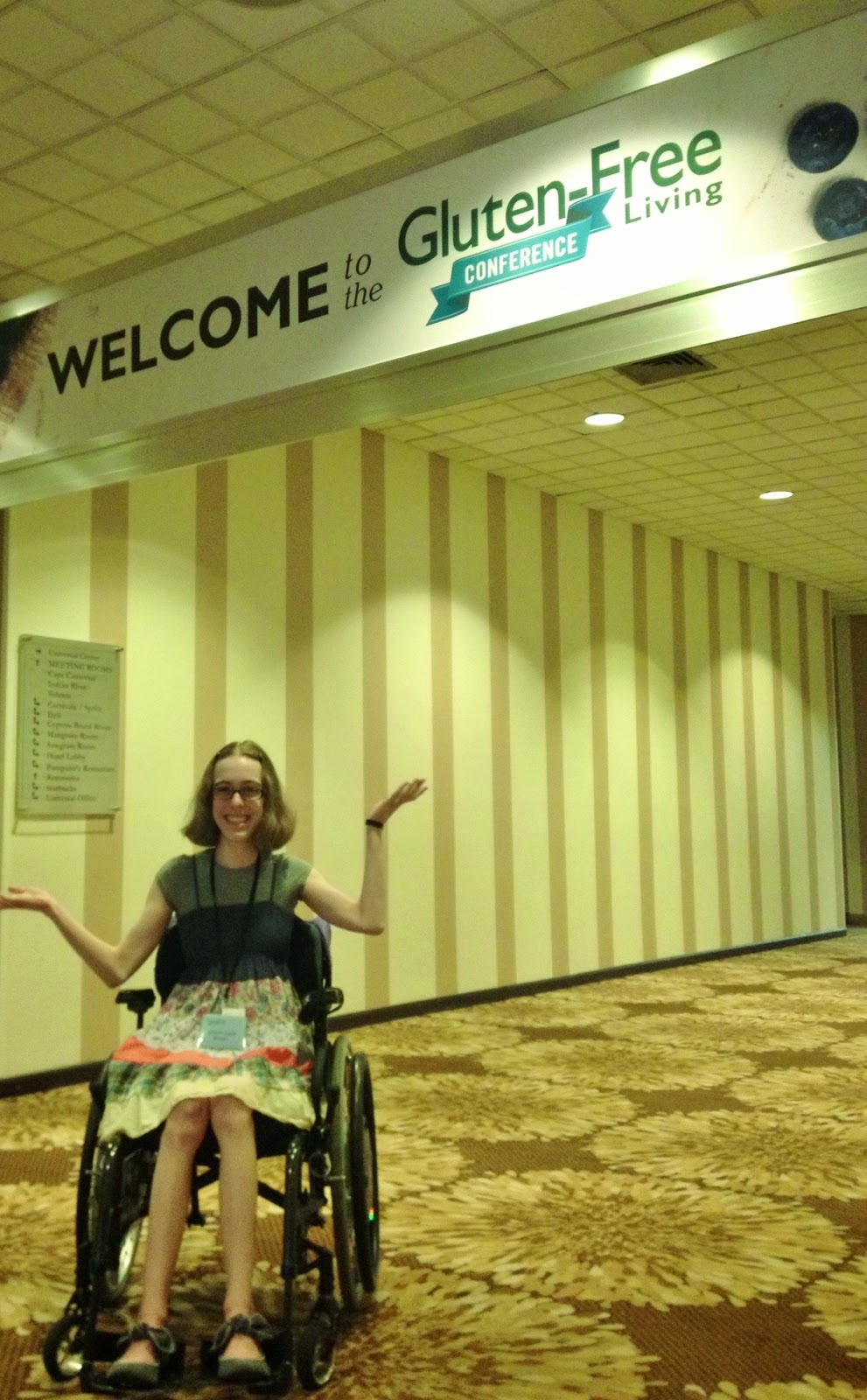 I ended up spending the entire day Saturday at the expo. Although I had every intention to drop into one of the many sessions held, especially the keynote from Dr. Alessio Fasano, I never managed to make it beyond the show floor. What I did miss in those sessions, I made up for in really absorbing the goings-on of the expo.


What was so amazing about this expo was that it brought together so many wonderful brands and companies under one roof. It was hard to believe that each of the 50+ vendors were 100% gluten free or dedicated to making the world a safer place for those of us who are. I saw old favorites, fell in love with new ones, and altogether had a great experience sampling products, conversing with representatives, and swapping stories with fellow attendees.



Of the many products, there were a few real stand-outs in my opinion. While I wish I could point out them all, I decided to highlight my favorites instead of providing an exhaustive list. After a long and busy day, I'm still sorting through all of the information and products I picked up at the conference. Some definitely deserve their own product reviews, and they will come out as I organize and create my game plan.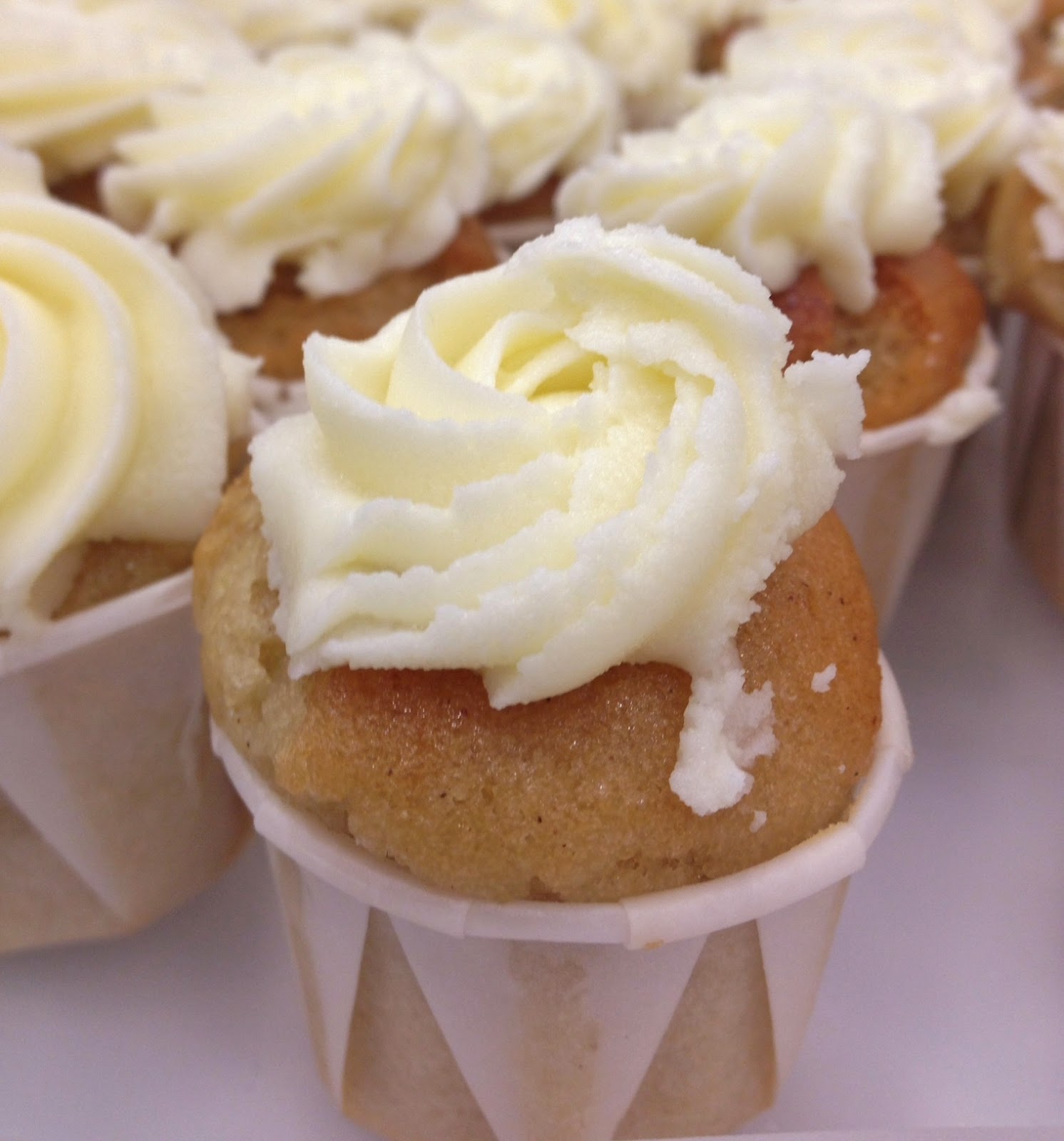 My favorite find of the day came direct from O-town (Orlando!): Raphsodic Bakery. This local bakery serves up vegan treats that are egg, dairy, and honey-free. Their gluten free offerings for the expo included chocolate and vanilla cupcakes, brownies, and cinnamon sugar and apple spice biscotti. I opted for the vanilla cupcake, dubbed "Vanilla cloud," and at first was very hesitant about trying it. The thing is, I'd never had a gluten free cupcake before. For a variety of reasons, I had not found one that I trusted and did not have a boatload of sweeteners, dairy, or icing. However this all changed after ate my fist magical little cake. It was everything I wanted and more. The icing was delicate and not too sweet and the cake was moist and had a rich vanilla flavor. I was in love. I ended up visiting them a second time and taking a couple home to enjoy for the rest of the weekend. They were there for Saturday only, and I am so thankful I was able to catch them.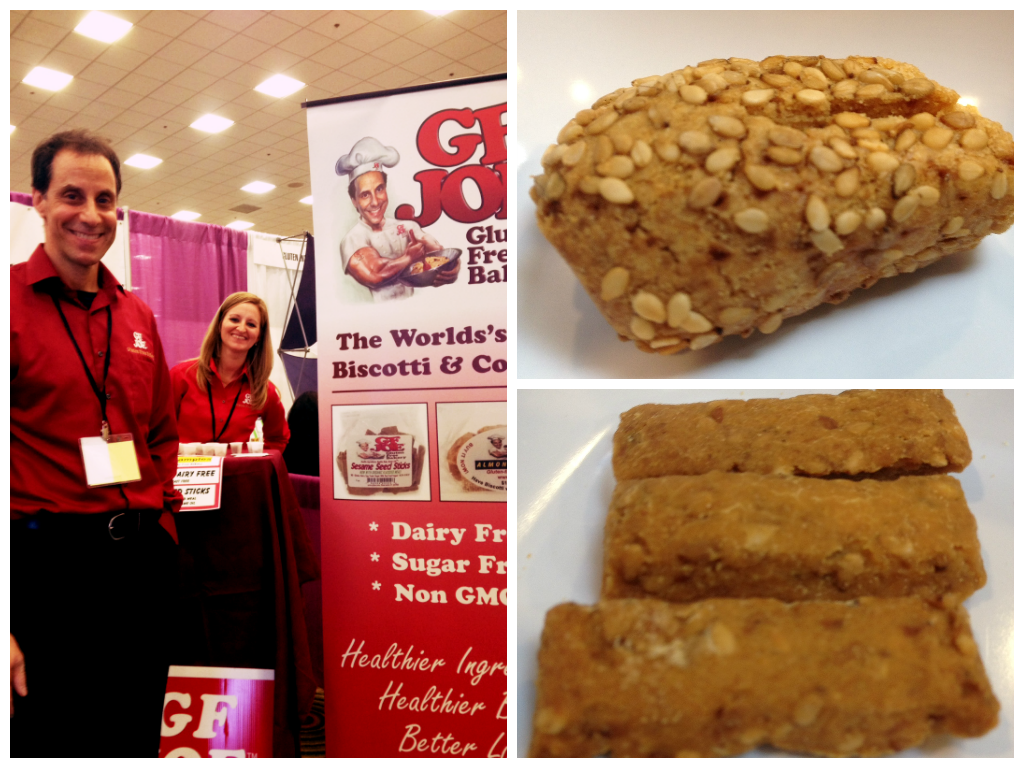 The cookie is the upper right and the sticks are below it.
Another find I really loved came from Gluten Free Joe, a gluten free bakery that served up biscotti, sesame sticks and sesame cookies. I have to hand it to Joe for running the friendliest booth at the conference because I left them happy and smiling. It's hard not to be happy around Joe and his booth partner Carrie because both were fun, energetic, and equipped with some tasty cookies and sesame sticks. I loved the cookies for being not too sweet, but having a nice sesame flavor. The sesame sticks were also had a nice crunch and would make a suitable salty snack any time. All of GF Joe's products are gluten free, dairy free, non-GMO, and packing a little more nutritious punch than the average cookie or snack. I will definitely keep an eye out for this semi-local St. Petersburg company!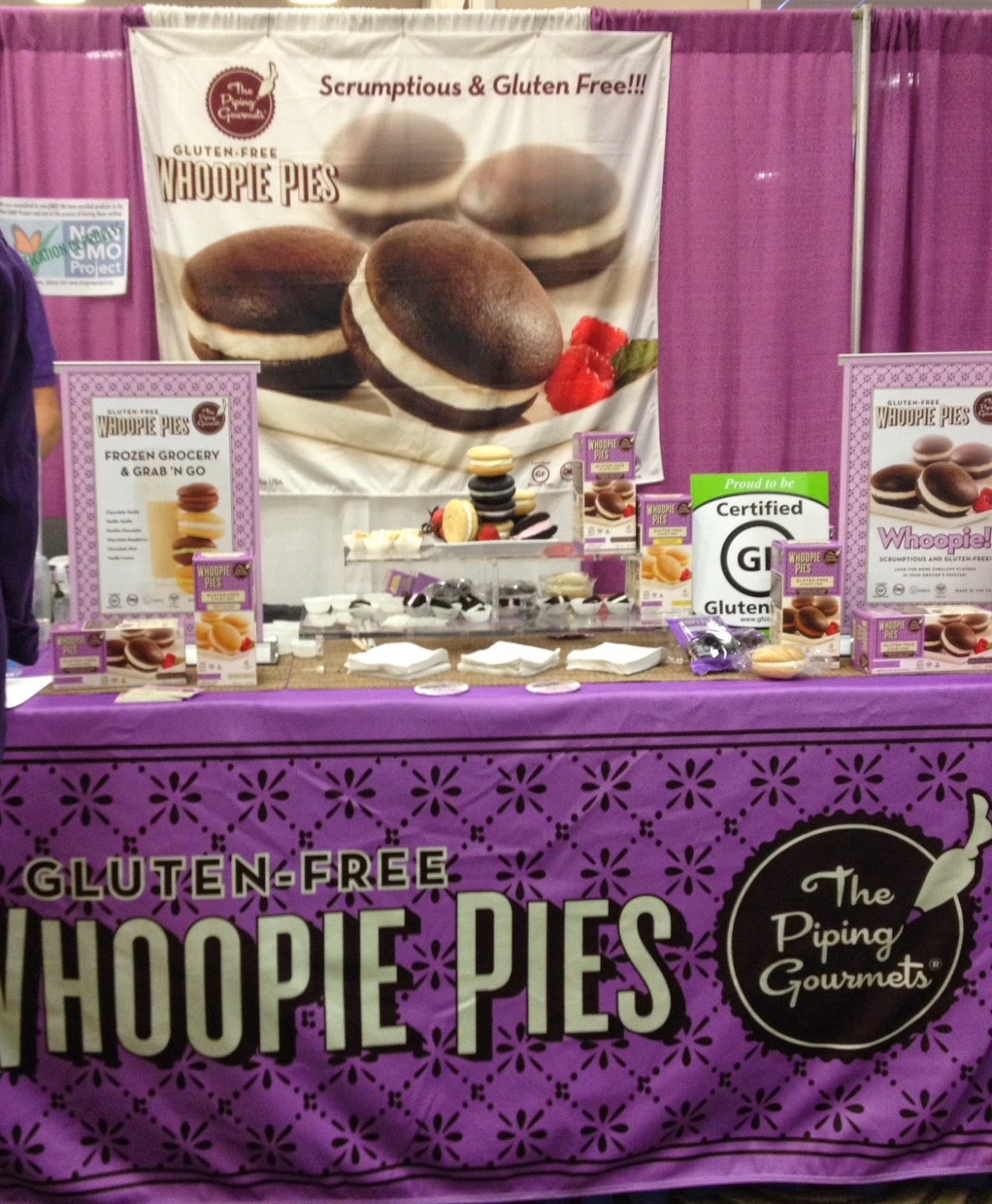 Another well-deserved shout out goes to the Piping Gourmets, makers of a gluten free, dairy free, vegan whoopie pie. As a person familiar with these northeastern treats, I have passed up one too many of these desserts because they contained ingredients that were off limits. Now I can finally taste my first whoopie pie ever (who knew the conference would hold so many "firsts" for me?!). The cakes were spongy and moist and filled with a creamy (and non-dairy) filling. Boasting many delectible flavors such as chocolate with mint, raspberry, or vanilla filling as well as a vanilla with a vanilla filling, I definitely will be posting a more thorough review coming soon. I finally understand why these are all the rage!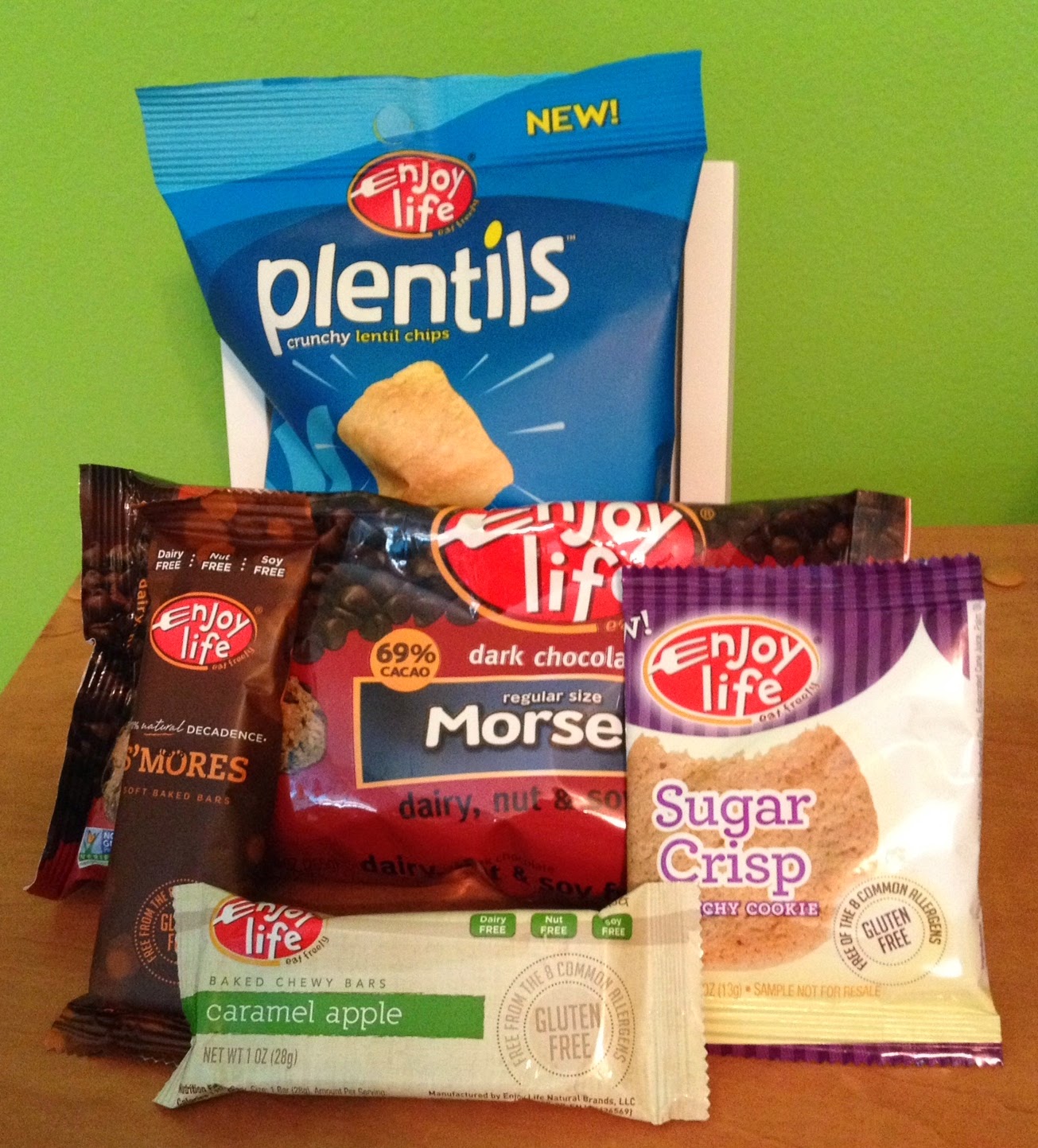 Last, but not least, was an company that has been a staple of mine, but offered products I had longed to try for a while. Enjoy Life Foods makes snacks and sweets free from the top eight allergens. I am head-over-heels for their Boom Choco Boom Boom dark chocolate bars, and was so excited to be able to pick up a sample of their new dark chocolate morsels. I'm definitely planning on tossing them into my next batch of my banana breakfast cookies. I was also intrigued by some of the other products they were handing out, including plentils (a lentil based chip), the s'mores and caramel apple bars and the sugar crisp cookie. As with the whoopie pies featured in the paragraph above, I definitely going to give an expanded review after I catch my breath from the busy weekend.


As a first time attendee for an expo on this level, I was overwhelmed, but excited by everything I saw around me. The one downside to the show was that it was weighted heavily by sugary items and baked goods. Although each product looked fantastic, it would have been nice to have some varied options (i.e. soup, cereals, etc.). Though you won't hear complaints out of me because I am so thankful to have had the opportunity to attend thanks to the organizer's decision to host it in my hometown. If this first year's showing is any indication, the Gluten-Free Living Conference hit it out of the ballpark and hopefully will become an annual event that I can look forward to next year.


Thanks to Gluten-Free Living magazine and all of the sponsors for putting on a fantastic event!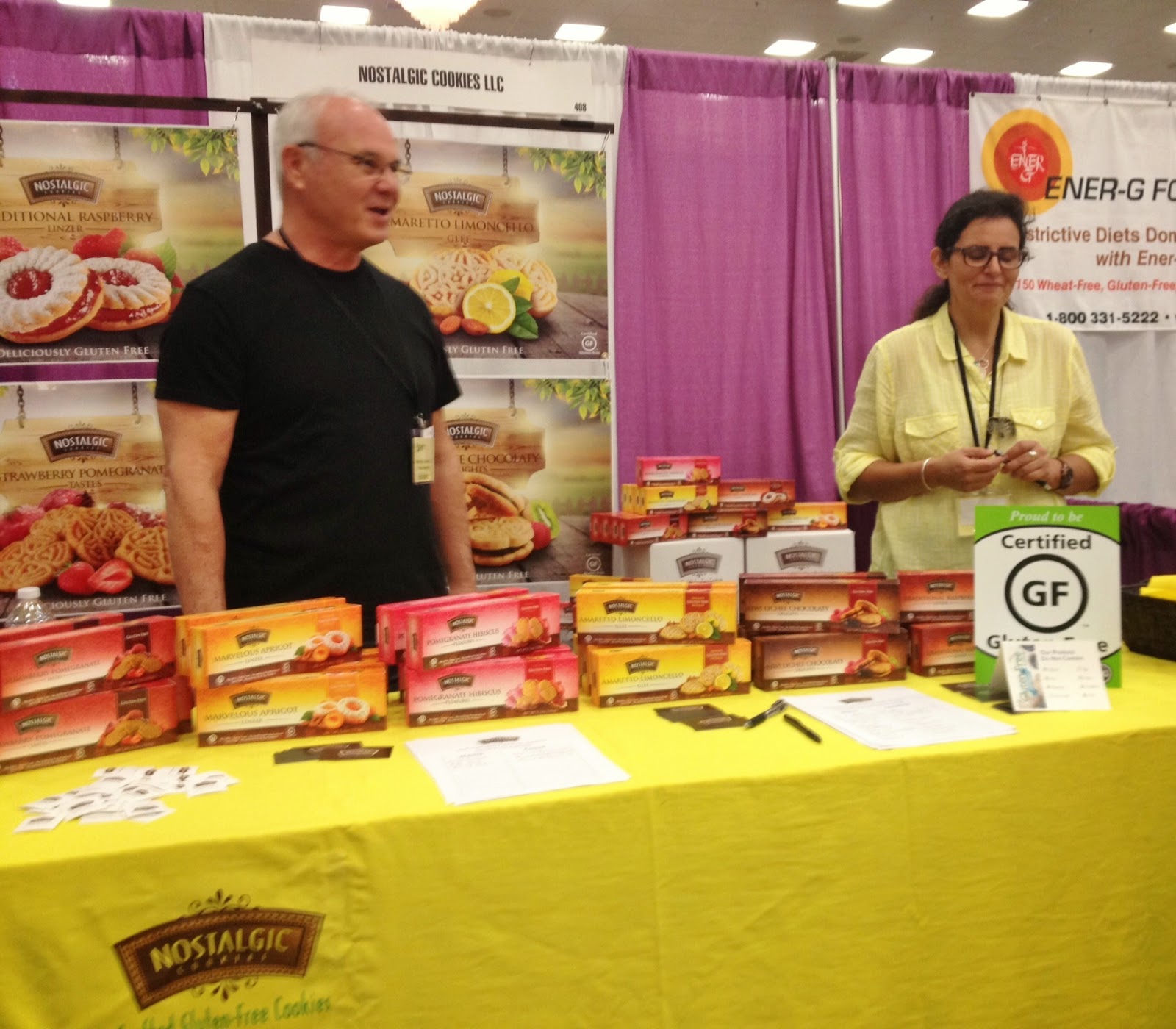 Update (4/20/14)
In narrowing the vendors down to the ones highlighted here, I had to exclude a lot of cool products and exhibitors. However, in working my way through the samples and hand outs provided, I wanted to give a shout-out to Nostalgic Cookies, a local Wellington, FL based cookie company that produces deliciously authentic cookies that are free from gluten, corn, dairy products, oats, GMOs, preservatives and animal fats! They break the mold of the typical-found flavors of gluten free cookies (i.e. sugar cookies, chocolate chip cookies) by infusing their cookies with fresh fruity flavors such as pomegranate-hibiscus, raspberry, and strawberry pomegranate. I am compiling my reviews now and will post it in the coming weeks.