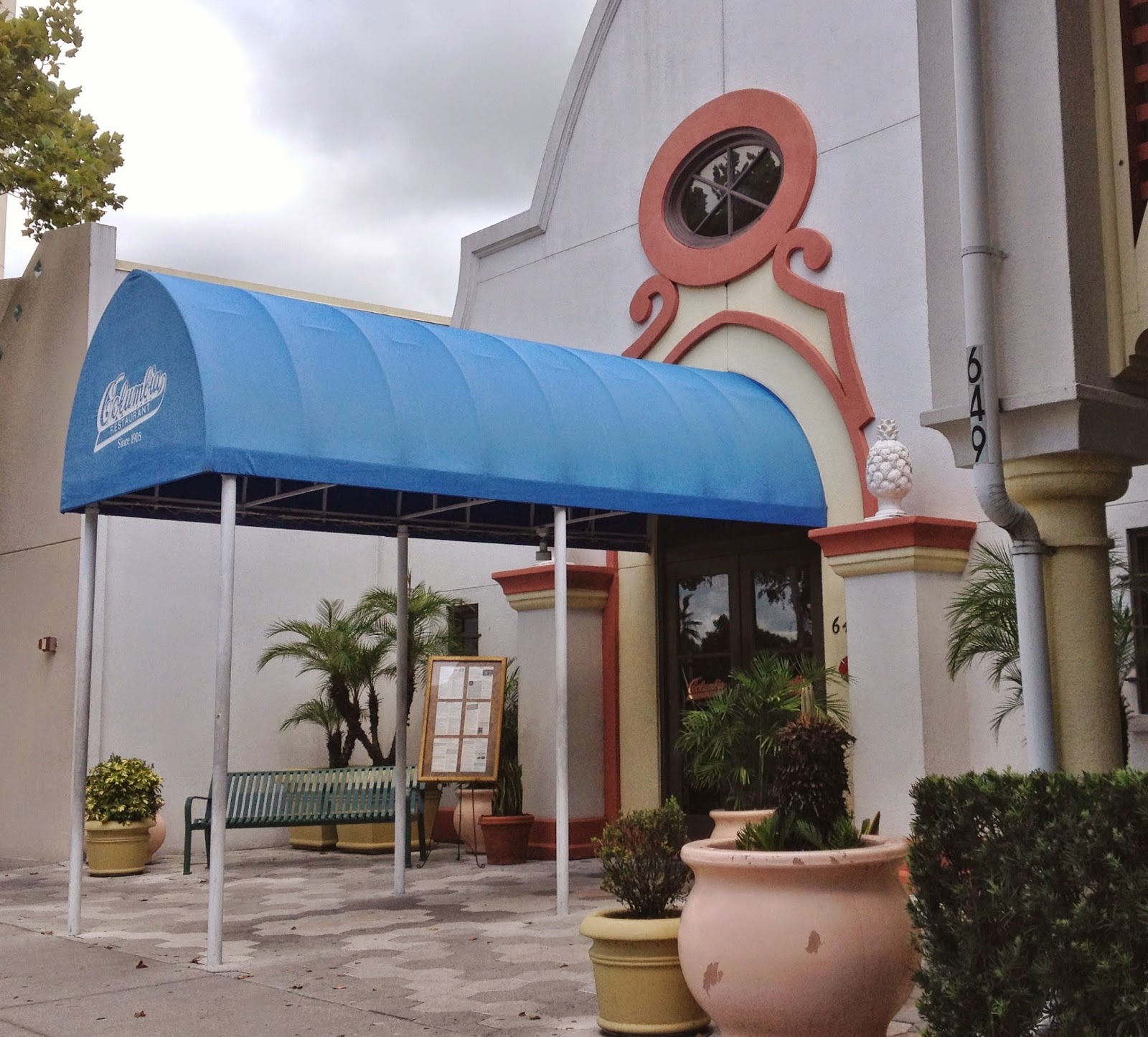 When it comes to my favorite restaurants, I must admit right off the bat that Columbia ranks very highly in my book. I've been a loyal patron since I was a little girl as my parents started me early on the foodie path at their original Ybor location when we lived in nearby Sarasota. Even as we moved to Ohio then back to the sunshine state, I quickly fell in love again with this incredible restaurant that was reserved for the nicest of family celebrations: Easter, Father's/Mother's Day, Birthdays and school milestones.


When gluten, dairy and I broke up almost three years ago, I assumed that I could no longer enjoy lunch or dinner out at Columbia because my favorite menu items (warm Cuban bread with butter and the 1905 salad) were no longer an option. Fortunately, some online research revealed that not only was the restaurant safe for me, but many of my favorite menu items were gluten and dairy free with little or no modification. Not missing a beat, I have since reunited with Columbia and enjoyed many safe and delicious meals there. In my final days left in Central Florida, I came to the realization that my last meal there was almost nine months ago, and that I didn't want to leave the state without having one more taste. Securing a reservation on my final Saturday in town, my family eagerly looked forward to a formal last meal eating out at a restaurant together.


Although we made reservations for noon, we arrived a little before the reservation time and were taken to a table right away. Although we were given the "regular" menus as we were seated, Alfredo, our server immediately brought over a dedicated gluten free menu when I informed him I was both gluten and dairy free. At my most recent November visit to Columbia in Ybor, the gluten free menu was a listing of dish names, not a separate menu, so I was pleased to see a fully fleshed out gluten free menu now in rotation (see the full lunch menu here). While they do not have a separate dairy free menu, Alfredo and the other servers I've had are incredibly knowledgeable about the make up of each dish and have successfully guided me through what is and is not safe.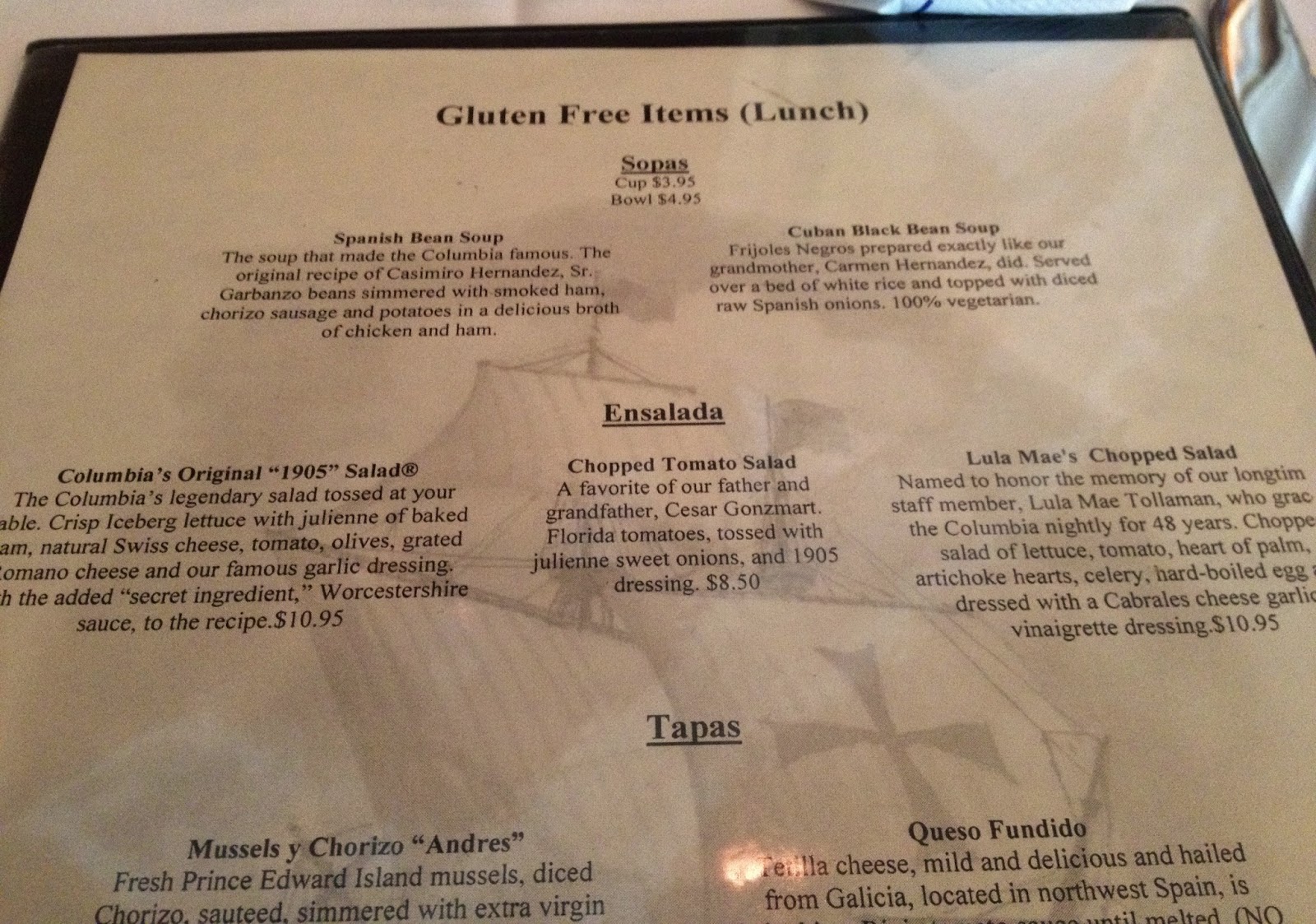 Already familiar with the expansive menu, I already had my mind made up about what I was going to order: the vegetarian paella with a side 1905 salad. The former is a traditional Spanish delicacy and the latter is Columbia's world famous salad that is routinely awarded accolades and honors from magazines, newspapers, and food critics alike. A word to the wise here: whatever you order off the menu, make sure at the very least that you add on a 1905 salad to your entree or tapas. You will not regret it. More than just a salad, the 1905 is a testament to the restaurant's distinguished history and is an experience all to itself. Servers create the masterpiece table-side right before your eyes by expertly tossing iceberg lettuce, tomatoes, green olives, baked ham, swiss, cheese, shredded romano cheese, Worcestershire sauce and their signature garlic-y dressing with a fresh squeeze of lemon. As a non-dairy diner who avoids red meat, I swapped the ham for turkey and requested that the cheese be held off.





As he made up the salad, I felt my stomach aching with anticipation and mouth watering at the garlic-y aroma. When it was fully prepared, the final ingredient is fresh ground black pepper which adds yet another delicious element to the mix. Describing the taste of the salad is nearly impossible, as I simply want to write in all capital letters: "EAT THIS RIGHT NOW. SO GOOD." The cool, crisp iceberg lettuce is coated perfectly by the olive oil based dressing whose flavor zings with fresh spices and a hearty serving with garlic. Coupled with the sharp, unmistakable flavor of the Worcestershire, the flavor simply radiates from each bite. The tomatoes are nice and firm and not too acidic and the turkey is noticeably a cut above your average deli turkey. Since I'm not an olive fan, I cannot comment on their taste, but I leave them in during the salad prep to preserve the traditional prep method. Call me a traditionalist, but some things are too good to mess up. The small salad that I order that accompanies entrees was ample for me and was a wonderful appetizer. Fair warning for light eaters, portions at Columbia are generous so arriving hungry and be prepared to leave stuffed or with at least another day's worth of leftovers.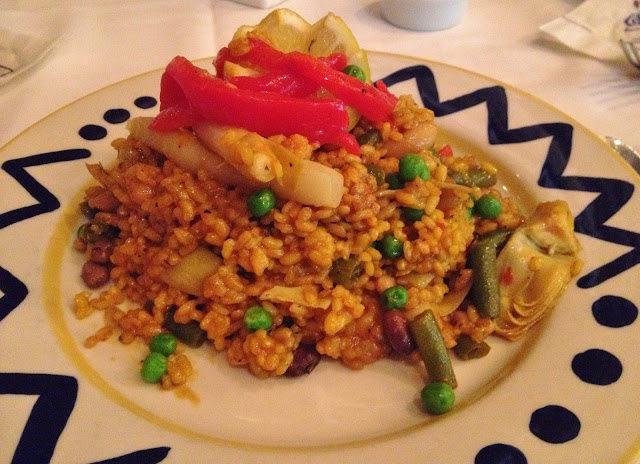 Though the menu advises that paellas take up to 30 extra minutes to cook, mine arrived promptly without too much delay. Emerging in the paella pan it was baked in, servers prepare the dish table-side and boy, do they once again impress and bring a "wow" factor. Fully prepared, the paella is beautifully arranged with roasted red pepper, white asparagus, and a lemon garnishing the dish. After squeezing the lemon atop it, I eagerly tasted my first bite and fell in love. The risotto-like texture was creamy and flavorful thanks to the rich, unmistakable taste of the saffron-infused vegetable broth used to cook the dish. Folded into the rice were artichokes, green pepper, onion, green beans, assorted beans, tomatoes, olive oil and other seasonings. Each was perfectly cooked and flavorful. Though my lunch portion was massive, slowly but surely I savored each bite and cleaned my plate, to the surprise of Alfredo. Though I typically do not like to leave a meal completely stuffed, I will with gusto when the food is this incredible.


Needless to say, my family and I thoroughly enjoyed ourselves at Columbia. It's hard not to when the excellent service, surroundings, and cuisine can turn any occasion into a fine dining experience. I highly recommend it to locals and out-of-town visitors alike because it showcases Florida's heritage and is a true Floridian landmark (see their distinguished history here). They deliver real value and offer a brand of hospitality not often seen in today's day and age which is worth visiting any of their seven locations around the state.



The Basics
Address: 649 Front Street, Celebration, FL 34747
Website:
www.columbiarestaurant.com
Cuisine: Traditional Spanish and Cuban
Ideal For:
Brunch (Seasonal Holidays), Lunch, Dinner
Price: Menu items range from $20-30 per person
Accessibility: The restaurant is wheelchair accessible.
Special Features: Take out available (call 407-566-1505 for more information and to place order), reservations are accepted via Open Table here, enjoy live music at the tapas bar from 8pm-midnight Friday and Saturday.
Disclaimer: This review is based upon the information I have at the time of the review and does not reflect changes in ingredients or availability of items. Please contact the restaurant directly for up-to-date information and feel free to contact me with any questions or comments. I was not compensated for this review and it is a reflection of my personal opinion.