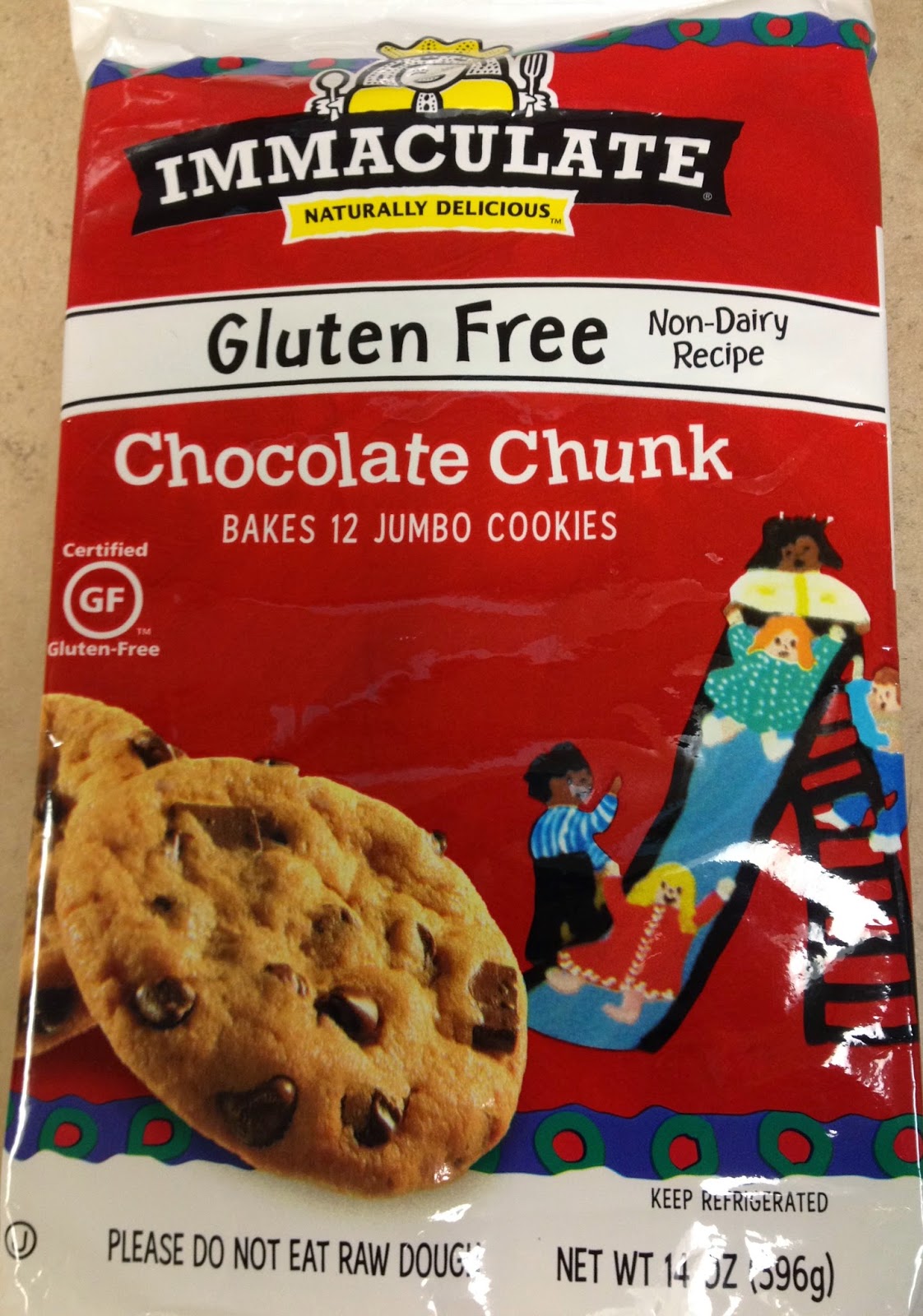 April Bake Shop is my month-long focus on all thing baking. Covering brownies, cookies, waffles, and more, I've got you covered. Stay tuned throughout the month to see what I'm next baking up! Want to catch up with other installments in the series? Check out the parent post at this link.


Immaculate Baking Company quickly earned a place in my heart (well, stomach) with their easy-to-make, reliably delicious, and not budget-busting dry mixes. For that review, click here.


The fun doesn't end there, though. Immaculate not only has dry mixes for us gluten-free folks, but slice and bake mixes to simplify further the art of baking cookies. At my local Wegmans, and other stores around town, I have been able to seek out their chocolate chip cookie dough and peanut butter cookie dough.


First off, here's the basics with Immaculate Baking, and their fabulous dough. Both products are certified gluten-free, and come in a plastic tray with 12 pre-sliced balls of dough; that's right- you don't even have to slice them! Both mixed do contain eggs, so eating the dough raw is not advised. The chocolate chip contain soy and the peanut butter contain, well, peanuts, and traces of soy.





Starting first with the chocolate chip, I evenly spaced the mounds of dough onto a ungreased cookie tray. It took some serious self-restraint not to eat the dough raw as it was truly tempting.





About 18 minutes later, the cookies emerged hot, fresh, and aromatic. Soft-baked, they could use a couple more minutes in the oven to make them more sturdy and harden up, but I liked them soft. Just as with their dry mix counterparts, I liked how the rich brown sugar-sweetened base supported the semisweet chocolate chips, and how the cookies truly delivered on the "jumbo" sizing promised on the package. However, as good as these were, I think I liked the mix cookie better, favoring their crispiness versus the softness of the dough. Nonetheless, still warm, these chocolate chip cookies would be perfectly paired with vanilla almondmilk ice cream for an indulgent, sweet treat.





Just as with the chocolate chip dough, the peanut butter dough was prepared indentically for baking.





Emerging from the oven looking picture perfect and smelling tantalizing, they were almost too pretty to eat. Almost. Taking my first bite, the rich creamy peanut butter flavor shone through, mingling well with a touch of sweetness provided by brown sugar. Thick and perfectly baked through, these exceeded any and all expectations, giving me the first peanut butter cookie experience in far too long. All 12 disappeared in mere hours, calling for an emergency restock of the dough the following this day. Even the most hesitant of my family were won over by the taste and texture. It's safe to say that Immaculate Baking Company hit it out of the park with this dough!



Both cookie doughs proved to be easy-to-make, delicious-to-eat, and a nice time saver when the labor of gluten and dairy-free baking is too daunting. It's innovations like this that make living gluten-free just a little bit easier and more "normal" feeling. I will definitely buying both again to indulge myself. While both were good, the peanut butter cookies stole the show, knocking my socks off and making me practically sing with delight.


Immaculate Baking Company does make a slice-and-bake brownie cookie dough, which I was not able to find. When I do, I'll update the review accordingly. I've spotted the refrigerated dough at The Fresh Market, Whole Foods, Wegmans, and other retailers.


For more information on Immaculate Baking Company and their gluten-free goodies, click here.


Disclaimer: This review is current to the original publication date. Updates will be noted. Ingredients and manufacturing processes can change without notice. Each product should be reviewed for individual nutritional needs. Feel free to to contact me with any questions or comments. This review is a reflection of my personal opinion and has not been influenced in any way.