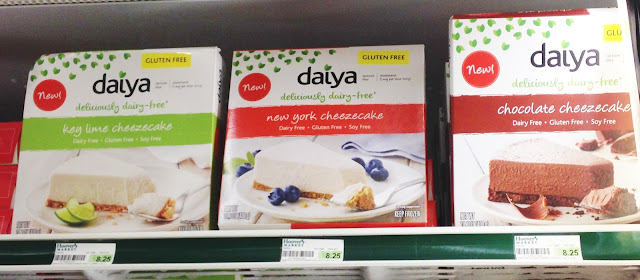 In the heat of summer, baking is simply not enjoyable. The oven heats up an already hot house, and I'm simply too tired to clean up the massive mess afterward. Luckily, a new product hitting store shelves is the perfect antedote to the high temps of summer: Daiya's new line of cheezecakes (that's right, with a "z"). These premium, indulgent desserts promise to bring back the luxury of cheesecake to both gluten-free and dairy-free diners, with four fun flavors that are sure to please kids and adults alike.


What's really cool about these frozen desserts is that they are not only made to be decadently delicious, but they are also easily accessible to various special diets. All four flavors of cheezecake are:
Gluten-free

Dairy-free

Soy-free

Non-GMO

Cholesterol free

Vegan
All four flavors do contain coconut, so those who are coconut adverse should steer clear.
The four flavors currently in production are: New York cheezecake, key lime cheezecake, chocolate cheezecake, and strawberry cheezecake. Each requires minimal preparation, needing only time- ideally 5-6 hours) to defrost to the perfect texture and creaminess.
Note: this review is going to be assembled in piecemeal fashion, as I add each new flavor one by one. Stay tuned as I add additional reviews!
Key Lime Cheezecake
As a Floridian, naturally the first of the cheezecakes I reached for was the key lime. Despite the abundance of gluten-free desserts popping up, I have not found a suitable full-sized key lime pie substitute because condensed milk often renders gluten-free versions off limits. Needless to say, I had the highest of hopes approaching this citrus-infused dessert.
Luckily, these expectations were not only met, but exceeded in a wonderful way. I loved the cool creaminess of the key lime filling, which was tangy, tart, and sweet. This luxurious filling sat atop a "graham cracker" crust which has to be tasted to be believed for it's spot-on taste and texture. Normally turned off by the faintest hint of coconut, I could not detect the slightest taste of it. Instead, I relished in each forkful of authentic key lime pie. It was thick and creamy without being disgustingly dense. I don't know what food wizardry goes into creating this masterpiece dessert, but I do know that it earned an enthusiastic two thumbs up from me, and my gluten and dairy-eating family. Daiya has done a big favor for all key lime lovers with dietary restrictions.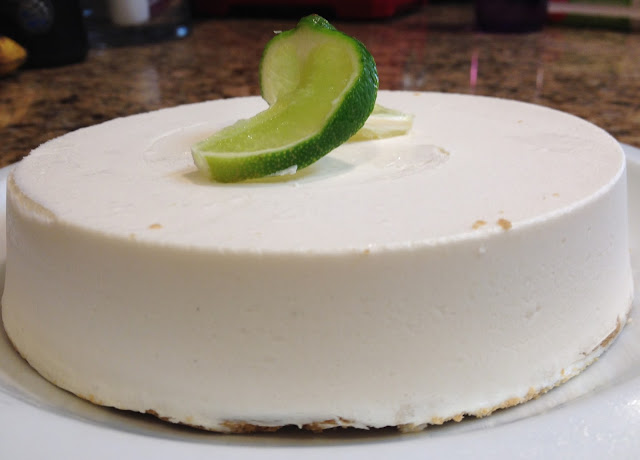 Chocolate Cheezecake
After falling in love with the key lime cheezecake, next on my list to try was the chocolate variety. From the moment I unwrapped it, I knew that my inner chocoholic was going to love this cheezecake. A lovely chocolate mousse sat atop a chocolate cookie-like crust. Normally not a fan of milder "milk" chocolate taste, I absolutely loved the thick, luxurious filling, and the fact that it was not heavy.
Taking a closer look at the ingredients panel, I noted that the cheezecake's decadent chocolate taste stems from their use of both cocoa and carob powders.
The cookie crust added a complementary chocolate taste that did not compete, but instead enhanced the cheezecake as a whole.

To enhance the cake, I added fresh summer raspberries for added effect, but the cake is pretty versatile. Add shaved chocolate, non-dairy whipped cream, or hazelnuts to take this cheezecake to the next level.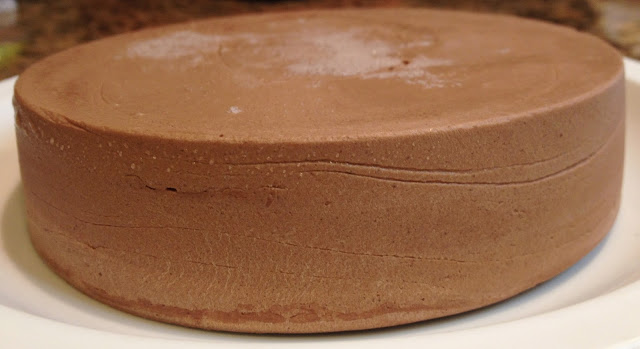 I have found Daiya's cheezecakes at Whole Foods (Maryland and Central Florida), as well as at Hoover's Market in Altamonte Springs. For more information about these, and other Daiya products, click here.


Disclaimer: This review is current to the original publication date. Updates will be noted. Ingredients and manufacturing processes can change without notice. Each product should be reviewed for individual nutritional needs. Feel free to to contact me with any questions or comments. I purchased this product independently and the review is a reflection of my personal opinion.