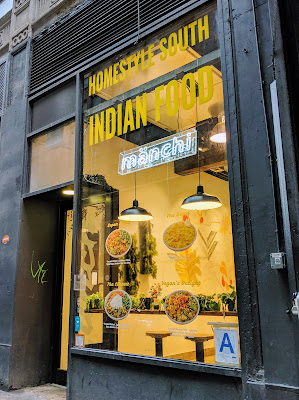 If there's one edge New York City's culinary scene has over Washington DC's, it's the abundance of 100% dedicated gluten-free restaurants. While I greatly appreciate non-dedicated restaurants that go over and above to accommodate gluten-free guests, there's just nothing like the peace of mind that comes from walking into an eatery and being to eat anything on the menu (or almost anything, as I am also dairy-free).


On my latest weekend jaunt up to city, I wanted to make a point to seek out new restaurants, as during my most recent trips I have revisited old favorites I have reviewed before. To aid my planning, I pulled up this list of gluten-free restaurants in New York City from Erin Smith (from the Gluten-Free Globetrotter blog).


After reviewing her list, the fast casual Indian food eatery Mänchi jumped out to me. Located just steps from my arrival point, New York Penn Station, I knew this would be the perfect first stop in the city after my three hour train journey from Washington DC.


What make's Mänchi's menu unique is the restaurant's commitment to both authentic Indian cuisine and making it as good for you as it is delicious. It's menu is in the familiar build-a-bowl mold with an option to customize your bowl as well as a selection of pre-designed options. Symbols on the menu helpfully denote vegan, vegetarian, and nut-containing items, which makes navigating it stress-free if you are avoiding other allergens.


I decided to order the vegan lite bowl, which comes with spinach dal, string beans, and cauliflower potato over rice and quinoa. For my sauce, I chose the Mänchi sauce, which is a sweet and tangy sauce featuring cashew, herbs, and tamarind sauce. For a beverage, I ordered the hibiscus ginger lemonade.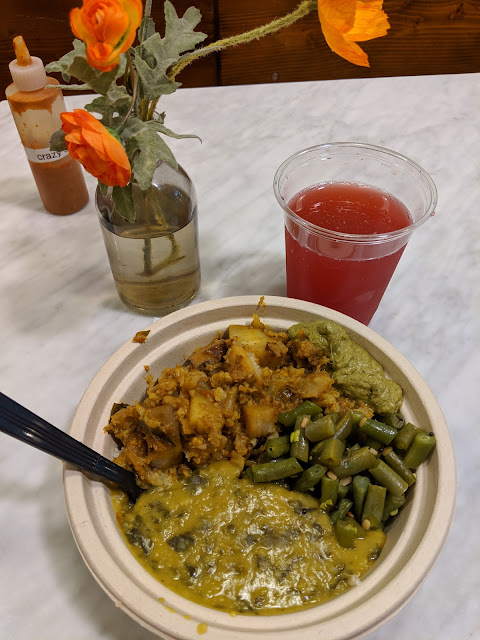 My bowl came out speedily and was pleased to see the portion size was on the generous side. The base of the bowl to me was the hearty spinach dal. Rich and creamy, every spoonful felt absolutely indulgent. The spicy potato cauliflower and the green beans added a spicy kick to the bowl, and the fragrant Mänchi sauce was downright swoon-worthy with the flavors of fresh cilantro and mint shining through (I definitely would have bought a bottle of that if they sold it- it's truly magical). The rice and quinoa supporting the flavorful ingredients was cooked to a fluffy perfection, and did a nice job of soaking in the flavors from the bowl and tying them all together.
Rounding out the meal, the hibiscus ginger lemonade truly hit it out of the park as well. With a tanginess from hibiscus, a touch of sourness from lemonade, and the refreshing and soothing taste of fresh ginger, the drink was perfectly balanced and not overly sweet. Refreshing, and a providing a delightful contrast to my savory meal, I savored every sip.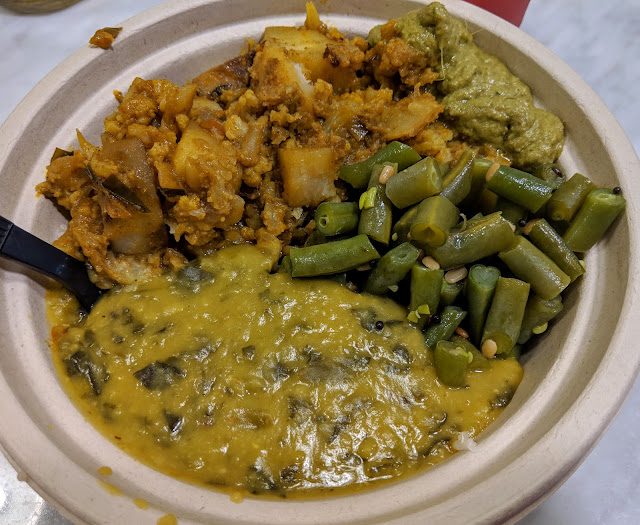 Mänchi might not look like much from the outside, but don't let it's humble exterior and surroundings mistake you. This is definitely a hidden gem of the city, and I cannot commend Mänchi enough for delivering a richly satisfying, affordable, and safe meal. It was the perfect antidote to a sloppy, rainy day in the city and navigating the always-maddening crowds around Penn Station. I left Mänchi far less stressed than I entered, already anticipating my next visit and mentally appointing them top of the list of my go-to restaurants in the area.
The Basics
Address:

224 W. 35th Street, New York, NY 10001

Price:

s

ee menu prices on Mänchi's website

Accessibility:

Wheelchair accessible




Disclaimer: This review is based upon the information I have at the time of the review and does not reflect changes in ingredients or availability of items. Please contact the restaurant directly for up-to-date information and feel free to contact me with any questions or comments. I was not compensated for this review and it is a reflection of my personal opinion.