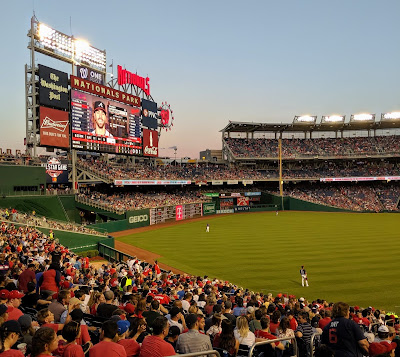 As summer revs up here in DC with heat, humidity, and wicked afternoon storms making their presence known, one of the few saving graces of this time of year is plenty of opportunities to take in a baseball game at Nationals Park, arguably one of the best ballparks to take in America's pastime.


I'm by no means a sports person, but I do try to make it out to the park several times a year because the atmosphere is fun and family-friendly and the ballpark has nice accommodations for gluten-free folks. With gluten-free concessions on hand as well as an accommodating policy towards outside food and drink, Nats Park proves itself to not only deliver an excellent fan experience, but one that ensures gluten-free folks and others with dietary restrictions can partake in the fun as well.


In this year's update to my Nats Park post, I'll start first with the gluten-free concessions stands, of which I spotted two options. One stand was definitely on my radar, but I was pleased to spot another stand (although it lacked dairy-free options).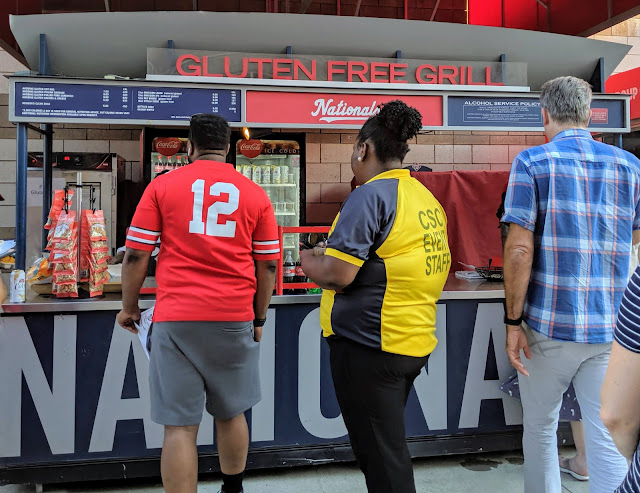 Gluten Free Grill
This concession sells all your favorite ballpark treats and eats, including hot dogs ($7), nachos ($5.50), and pulled pork sandwiches ($9). Gluten-free beer options on hand include Red Bridge and Still Cidre ($9 and $12 respectively). They also have Omission on hand, but it is a gluten-removed beer and is not safe for celiacs (Gluten Dude's rundown of these beverages is a must-read).


The stand gets quite a line, and things tend to run out (i.e. this is the first year I have been able to snag a pulled pork sandwich). While there's certainly a lack of veggie-based items, I appreciate the sense of normalcy of ordering traditional fare at a stadium.






This year, the big news is that Nats Park has switched from Nathan's to Hebrew National as their hot dog vendor. So franks on hand are 100% beef, gluten-free, dairy-free, and certified Kosher. Note that they do contain soy. Gluten Free Grill serves up each hot dog on *untoasted* Udi's bread and undressed so you can chose whether to top it off or eat it plain at condiment stations throughout the park (or save up tiny condiment packets from fast food, which is my move). As an allergen alert, the buns do contain eggs.


While the hot dogs from this stand certainly look the part for basic ballpark fare, the delivery is quite disappointing. The hot dog itself is good, but the bun is a complete and total failure on all fronts, with a bone-dry, flavorless crumb that absolutely disintegrates from the first bite. It's truly a race against the clock (and Udi's subpar product) to finish it off before it split entirely in half or turns into a pile of breadcrumbs.


In my three years of attending Nats games, these gluten-free hot dogs just aren't getting better in the form and function department, so I've reached a point where I just don't think I can stomach ordering any more and forking over the $7.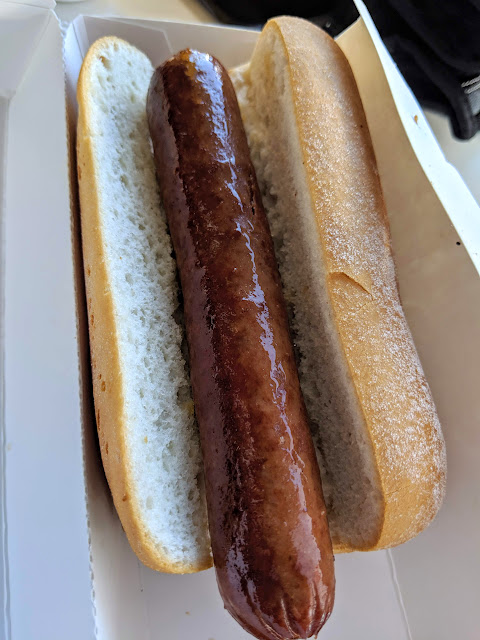 However, I was pleased that on my recent visit I was able to try the pulled pork sandwich, which proved elusive at the handful of games I attended last season because it sold out early in the game. I can see now why it's a fan favorite because it effortlessly and impressively overshadowed the hot dog in form, flavor, and value.


Here, Udi's buns are are also used (also contain eggs), but they are certainly helped in the texture and flavor department by soaking in the steam from the pile of pork they sit above and below. The portioning of the pork itself is quite generous, and due to the weight and volume I preferred to eat the sandwich with a fork and munch on the bun separately. It has a wonderful smoked flavor and deliciously tender and hearty. While not the best choice during steamy afternoon games, this sandwich is perfect for summer nights.


At $9, you're getting way more food, and food that is actually pleasurable to eat, so I wholeheartedly recommend the pulled pork as the best gluten-free fare on tap at the Gluten Free Grill.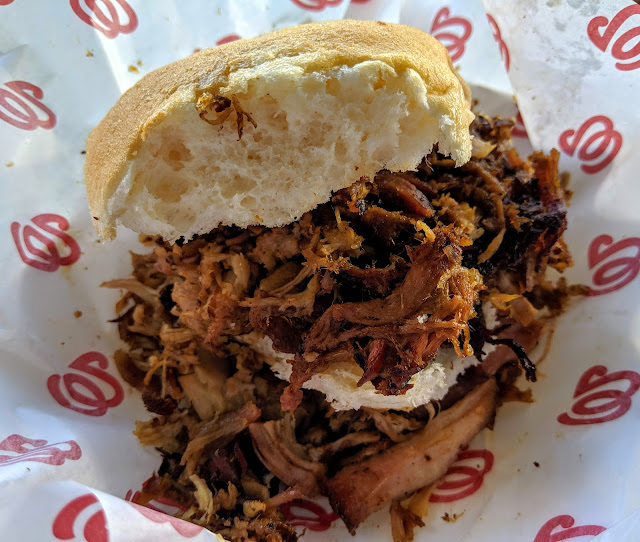 La Casita: Pupuseria & Beisbol
While doing a lap of the concourse, I stumbled across another gluten-free concession stand, and was thrilled to be able to report additional options for celiacs and gluten-free folks alike. La Casita's menu proclaims that "all products are naturally gluten-free," but unfortunately, everything at this stand contains dairy. I did not sample anything from it, but can report that options here include enchiladas, tamales, and pupusas. It's good to note too that they have vegetarian options (which are lacking in the Gluten Free Grill's lineup).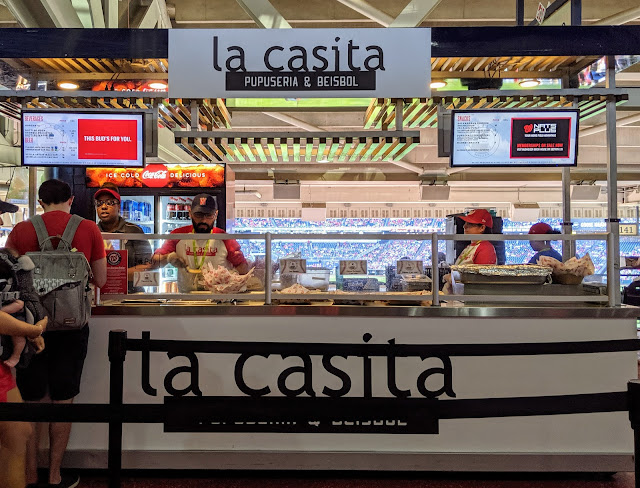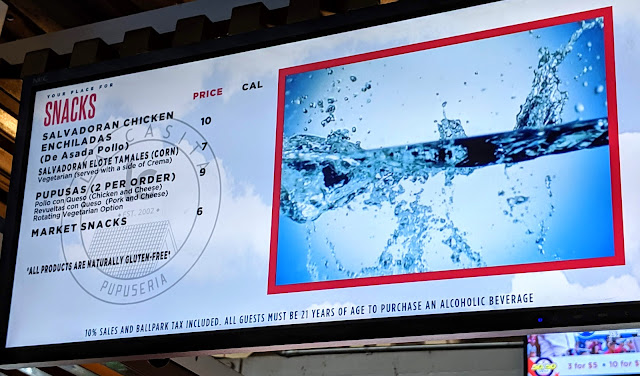 Nationals Park Outside Food Policies
Not only is it great that Nationals Park has two gluten-free friendly food stands, but the park's policies are also accommodating to anyone wishing to bring their own snacks into the park. Pulling directly from their website:
All food items must be contained in single serving bags within a soft-sided container or cooler that does not exceed 16″x16″x8″. Metal, plastic or glass containers of any kind (except for clear, factory-sealed or empty, plastic water bottles, no larger than one liter, juice boxes, insulin containers, and baby food) are prohibited at Nationals Park. Only one water bottle per person will be permitted. See GUEST CONDUCT POLICY (Prohibited Items).
Have homemade snacks you want to bring? Great. Want to stop by a restaurant and pick up a bowl or salad to-go? Yep, that's allowed. Policies like this are becoming rarer and rarer in these types of venues, so I give top marks to Nationals Park for this inclusive and accommodating stance.


One other policy note to be aware of, as of this season, the Park's bag policy has changed and now prohibits backpacks in the park (except for ADA or medical reasons). Purses, drawstring backpacks, briefcases, diaper bags, and soft-sided coolers are still allowed, but must be no larger than the dimensions in the policy quoted above.


I look forward cheering on the Nats on to victory this summer and fall and taking advantage of their gluten-free options as well as their outside food policy. It's always fun going to a game and not having to organize plans with friends and family around where and what I can eat.


What's your favorite gluten-free concession at the ball park? Have you spotted other gluten-free options at Nationals Park? Comment below!



Disclaimer: This review is based upon the information I have at the time of the review and does not reflect changes in ingredients or availability of items. Please contact Nationals Park directly for up-to-date information and feel free to contact me with any questions or comments. I was not compensated for this review and it is a reflection of my personal opinion.