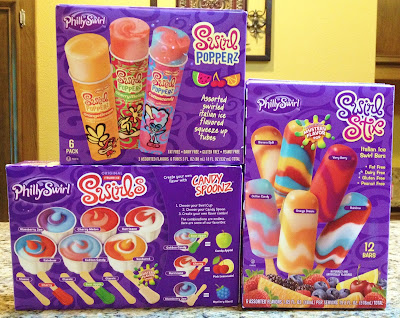 Summer is undoubtedly here to stay, and it is all I can do to beat the heat. As the Florida summer is gearing up in full force, I was thrilled to be asked to review a product that would be the perfect antidote to the heat: Philly Swirl's new swirled Italian ice products.


When they arrived on my doorstep, I couldn't wait to break in to try the three styles of Italian ice, and with 24 products in total, the shipment was a big hit for my family as well.


Cool, sweet, and serving up exciting twists on both classic and unconventional flavors, Philly Swirl allowed me to bypass the local Italian ice shop and come home to a sweet treat after a long day at work.


What's cool about Philly Swirl's products is that they are perfect for an array of special diets and preferences. The three products I was shipped- the swirl popperz, swirl stix, and swirls with candy spoons are:
Gluten-free

Dairy-free

Peanut-free

Tree nut free

Fat free

High fructose corn syrup free (sweetened with sugar and corn syrup)
Starting first with the swirl stix, these Italian ice popsicles are user friendly and perfectly portioned for a sweet snack that does not deliver boatloads of sugar. In the box of 12 I recieved, the flavors were:
Cotton candy

Banana split: banana, marshmallow, and strawberry shortcake swirl

Rainbow: white lemon, cherry, and blueberry swirl

Orange dream: orange and marshmallow swirl

Very berry: blackberry and cherry swirl

Mystery flavor: be surprised!
I tried the orange dream, and very berry, the two flavors that appealed to me the most. Of the two, the orange dream really hit it out of the park, as the orange, marshmallow blend reminded me of the orange creamsicles I loved as a kid growing up. The marshmallow was creamy and sweet while the orange flavor was tart and refreshing. The very berry pop was also sweet and tart, I loved the "mixed berry" flavor of the treat.


Moving next to the swirl popperz, this presentation of Italian ice is Philly Swirl's answer to the classic push pop. This style came in a box of six pops in three flavors:
Cotton candy

Orange dream: orange and marshmallow swirl

Cherry melon: cherry and watermelon swirl
Of these three, only the orange dream flavor appealed to me, as watermelon and cotton candy are not among my favorite flavors. As much as I liked the orange dream pop, I was not as wooed with the popperz rendition of it. I found the cardboard tubing difficult to eat from, as it's hard to push up the pops at first, then once they are squeezable, the pops are rapidly melting. While the orange flavor was good, it was overbearing given the lack of marshmallow.


Of the three Italian ice delivery methods, the third and last one I tried- the cups- was my favorite. I liked the simplicity of them, and the fact that they were pretty much mess-free. The cups came in six flavors, one cup of each:
Cotton candy

Cherry melon: cherry and watermelon swirl

Rainbow: white lemon, cherry, and blueberry swirl

Blueberry jam: black and blue raspberry swirl

Hurricane: lemon and strawberry swirl

Sunburst: tangerine, wild cherry, and lemon swirl
I tried the rainbow, blueberry jam, hurricane, and sunburst cups and loved the sweet and tart pairings of the flavors. Intended to be eaten with a wooden spoon, I preferred to eat them with normal cutlery, and bypassed the candy spoons altogether because I didn't want to add any additional sugar to my taste testings. The portioning of these ices was perfect, and I loved that each flavor was exciting and beat off flavor boredom.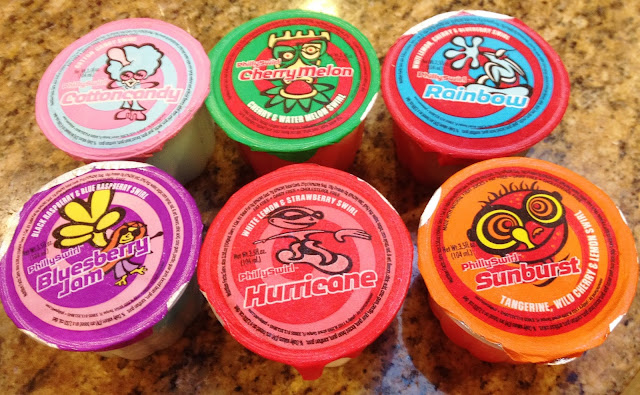 As much as I liked the Philly Swirl products I tried, I am not sure I will always have a box stocked in my freezer, after all, while I really liked some of the flavors, I did not like that there were flavors leftover that I did not want to try. My family took over and polished those off, but when I am buying for myself only, it would be a different story. Also, while the treats were cool and sweet, I try to limit my intake of corn syrup and color additives. A splurge they might be, I would not eat one every day for a prolonged period. Nevertheless, they do taste good and bring the magic of an Italian ice stand right to your home.


I have found Philly Swirl's products locally at Publix, WalMart, Winn Dixie, Giant, Wegmans, and other grocers. A coconut water line of Philly Swirl products can be found at Costco. For more information, check out their website here.


Now it is your turn to play taste tester: enter this summer giveaway of vouchers for free Philly Swirl products. Will you be one of the five lucky winners? Enter now!


a Rafflecopter giveaway


Disclaimer: This review is current to the original publication date. Updates will be noted. Ingredients and manufacturing processes can change without notice. Each product should be reviewed for individual nutritional needs. Feel free to to contact me with any questions or comments. I received samples complementary from Philly Swirl, but this review is a reflection of my own personal opinion and has not been influenced in any way.