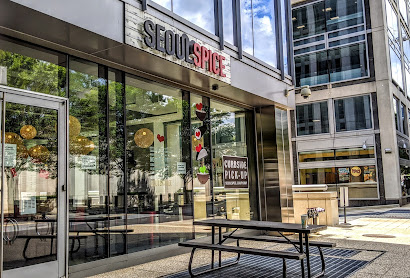 In light of the ongoing devastation of the coronavirus epidemic, it's more important than ever to support restaurants and companies that cater to gluten-free diners. Covid-19 considerations or not, being a gluten-free diner can be challenging, so any eatery or product that makes life more navigable to those of us with dietary restrictions are the MVPs of every community.
One stalwart in my community of Washington, DC is Seoul Spice, the 100% gluten-free fast casual restaurant serving up Korean comfort food with style. I realized it's been ages since my I first posted about them (back in 2016!) and they are more than overdue for an updated review. With one of their restaurants conveniently located near me in Northeast DC in the NoMa neighborhood, I made a day of stopping by for some takeout to take advantage of the nearby Metropolitan Branch trail. Good food, fresh air, and a day below 90 degrees on a summer day: the perfect trio for an enjoyable (and socially distanced) day.

Seoul Spice's whole menu is gluten-free, so it's automatically a celiac's (or gluten-intolerant foodie's) dream just stepping through the door. The menu features your typical fast-casual assembly line set up with a decidedly atypical twist. While familiar salad and rice options are on the menu, there's also more unique offerings like a korrito (rice and seaweed burrito) and japchae, stir fried sweet potato noodles.
For those of us with multiple allergies, Seoul Spice also has a handy allergen guide to assist with navigating the menu. Plus, they also have a few vegan-friendly options on hand. Since I am both gluten and dairy-free, it was really awesome to know that the only menu item I had to avoid was the cilantro-lime ranch sauce!
Seoul Spice's menu has several curated flavor combinations as well as a choose-your-own-adventure style. I decided to go with the former, and ordered the kimchi krunch over the japchae noodles.
The resulting combination was absolutely stunning and delivered a kaleidoscope of flavor spanning sweet, savory, spicy, and umami. Not only did this bowl pack flavor, but the varying textures also made look forward to every bite. The real standouts were the tender, kalbi-marinared chicken, sesame-seasoned kale slaw, and tangy kimchi. As the base of the bowl, the japchae noodles also stood out, with their sesame-ginger-soy marinade.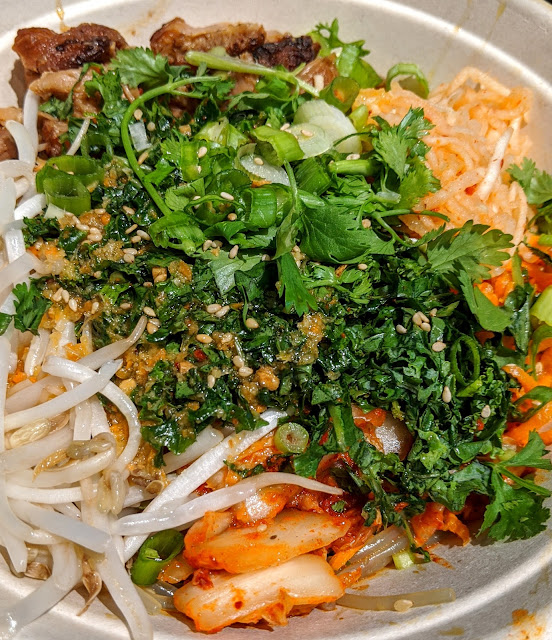 On a second visit soon after (since I couldn't stop thinking about my noodle bowl!), I tried another of Seoul Spice's signature combinations: the fireball over salad base. Promising to pack the heat, this salad definitely delivered with chili-marinated pork, roasted sesame seeds, and dueling sauces (a tear-inducing hot sauce and creamy sriracha). I was glad I chose the salad as the base because the iceberg lettuce and kale effectively counterbalanced the spiciness.
After an admittedly underwhelming experience my first visit several years ago, I am extremely happy to be able to deliver an updated review singing every praise for Seoul Spice. Now more than ever, it's important to patronize dedicated gluten-free restaurants that cater to our community. With fare this delicious and satisfying, I would be shouting from the rooftops about Seoul Spice even if I didn't have dietary restrictions!
In addition, what's truly awesome about the restaurant is that it has been proactive in stepping up their covid-prevention protocols and standing by their staff in these uncertain times. You can read all about it here, but I am impressed with their transparent protocols and policies to keep everyone safe.
As I write this, I feel a craving for Korean coming on, which means I'll be back before too long for another excellent takeaway meal.
The Basics
Price:

Meals are in the $10 range, and very by base selected

Accessibility:

Wheelchair accessible

Special Features:

Order online for pickup from their website. Delivery also available through DoorDash, GrubHub, Uber Eats, Postmates, and Caviar.



Disclaimer: This review is based upon the information I have at the time of the review and does not reflect changes in ingredients or availability of items. Please contact the restaurant directly for up-to-date information and feel free to contact me with any questions or comments. I was not compensated for this review and it is a reflection of my personal opinion.