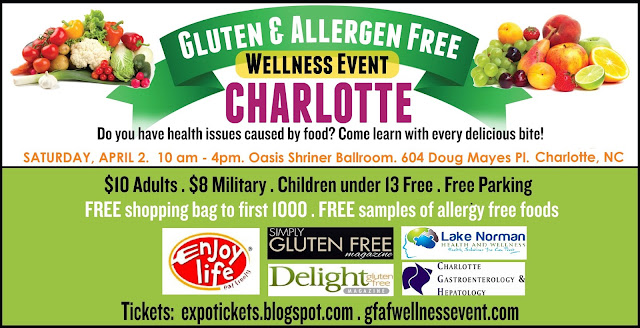 This time last year, I was preparing to attend the Charlotte, NC Gluten and Allergen Free Wellness Event. This awesome regional event draws national and local brands alike as well as local restaurants and medical providers to create a truly engaging and worthwhile show to attend.


To read my recap of last year's event, click here.


As much as I'd love to return, it's just not in the cards this year for me with my school schedule. Luckily, while I'm up here in Maryland, I will be sending four of you- my readers- to the show for FREE on my behalf. Thanks to the awesome organizers of the event, they have provided me the tickets to giveaway on my blog.





The 2016 event will happen on Saturday, April 2nd from 10am-4pm. The venue? Oasis Shriner Auditorium, which is located at 604 Doug Mayes Place, Charlotte, NC 28262.


I will giveaway one ticket each to four winners- enter now for your chance to win! Winners will pick up tickets on day of the event.

a Rafflecopter giveaway