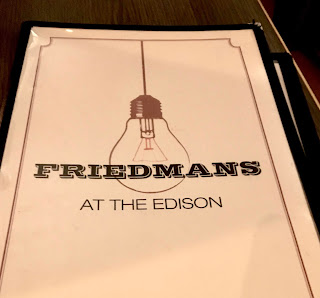 Knowing that a work trip would bring me to New York City for several days, I decided to make the most of the opportunity and built in time for exploring the city a day before my official duties started.
Of course if I can make it happen, seeing a Broadway or off-Broadway show is a must do for any New York City visit, and this trip was no different. With tickets to see the limited run play American Son in hand, I went to work researching potential restaurant options in the Times Square and Theater District area. I quickly zeroed in on Friedmans at the historic Hotel Edison. Having stopped by their Chelsea Market location for lunch awhile back, I knew their gluten-free options are unsurpassed, so I needed no further persuasion to make my decision.
Although it's located just steps away from the heart of Times Square, Friedmans offers a sanctuary from the relentless crowds and noise of the city, and a menu where almost everything can be made gluten-free. In fact, the restaurant boasts that 99% of the menu can be made gluten-free. A dedicated gluten-free fryer and bread options certainly boost their gluten-free credentials, and the waitress I spoke with was well-versed in their gluten-free protocol and helped me narrow down options that would be dairy-free.
In looking over the menu I got my hopes up that I would be able to order fish and chips, but my hopes were dashed upon learning that that menu item was not dairy-free. Going back to the drawing board, I was quickly appeased by plan B: vegetable potstickers and a B.L.A.T. sandwich (bacon, lettuce, avocado, and tomato).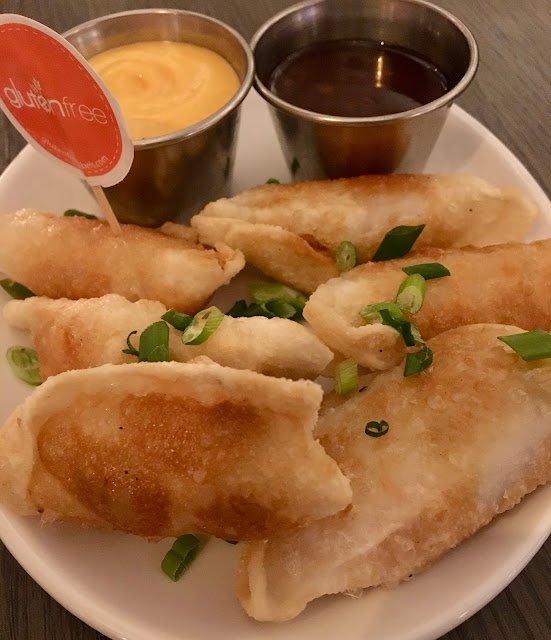 The potstickers arrived first, with a lovely "gluten-free" toothpick proudly announcing and confirming that they were indeed safe to eat. Having lived without potstickers for years and years now, I almost cried biting into my first one. The outer shell was crispy and gave way to warm and savory assortment of vegetables including carrots and cabbage. Salty, savory, and absolutely perfect for a cool fall evening, they effortlessly vaulted over any expectations I had and completely won me over.


The potstickers arrived with two accompanying sauces: a sriracha aioli and ginger soy sauce. As I am not a mayonnaise fan, I only tried the latter, which was tangy, with an umami flavor that added a flavor contrast to the potstickers.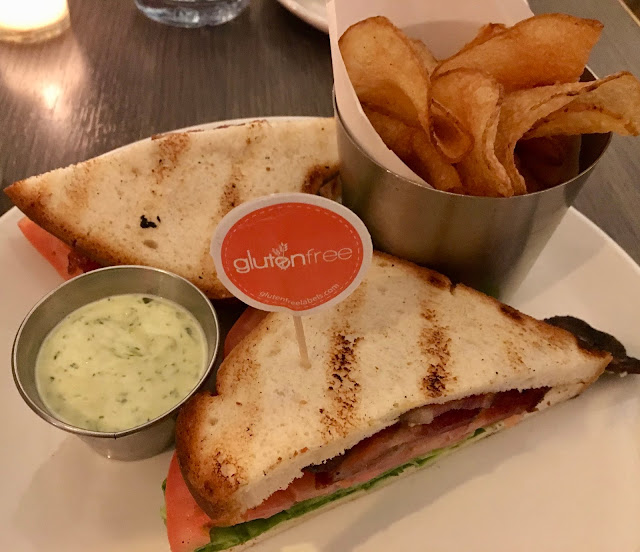 The B.L.A.T. sandwiched also arrived with the gluten-free flag, and came accompanied by homemade vinegar chips. Although a sandwich is among the simplest of foods conceptually, Friedmans ensures that every aspect of the sandwich is exceptional, from the perfectly-grilled bread to the crisp, flavorful bacon and fresh vegetables. It is truly a luxury to be able to enjoy a sandwich while eating out, and this one was perfect.


The accompanying chips stole the show though, as they were thick cut and fried to an ideal crispiness with tiny bubbles that made every bite delectable. While they didn't have a strong vinegar flavor (as other packaged chips I have tried), these so far surpass any other potato chip I have tried that comparing them just isn't possible.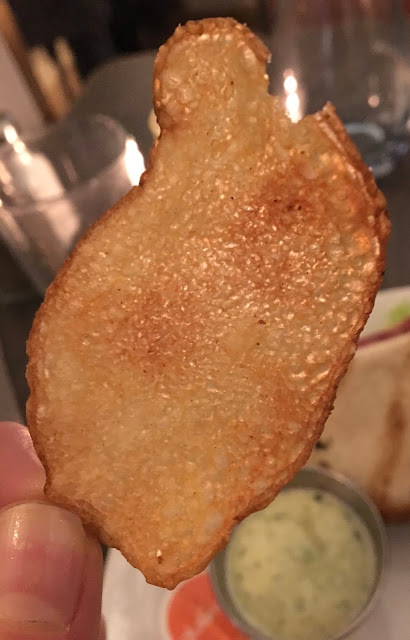 Take a look at those air bubbles!

What's so remarkable about Friedmans, is that dining there felt so normal. Between the warm and top-notch customer service and expertly-prepared food, I could relax and revel in the meal without fear, a true treat for any gluten-free foodie. Although the food I ordered was simple on paper, each component was something I rarely get a chance to order so I relished an opportunity to enjoy all three foods: the potstickers, the sandwich, and the chips. I eagerly await my next Friedmans visit, it is now my de facto restaurant of choice whenever I am in the Times Square area.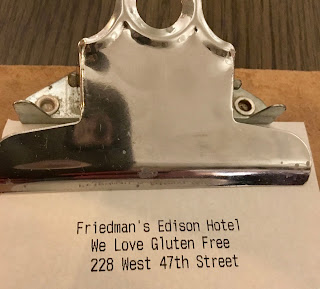 Friedmans' receipt text says it all!
The Basics
Address:

228 W 47th St, New York, NY 10036

Cuisine:

American, Asian, Sandwiches, Salads

Ideal For:

Breakfast, lunch, dinner

Price: Click here to see menu prices for this location

Accessibility:

Wheelch

air accessible




Disclaimer: This review is based upon the information I have at the time of the review and does not reflect changes in ingredients or availability of items. Please contact the restaurant directly for up-to-date information and feel free to contact me with any questions or comments. I was not compensated for this review and it is a reflection of my personal opinion.