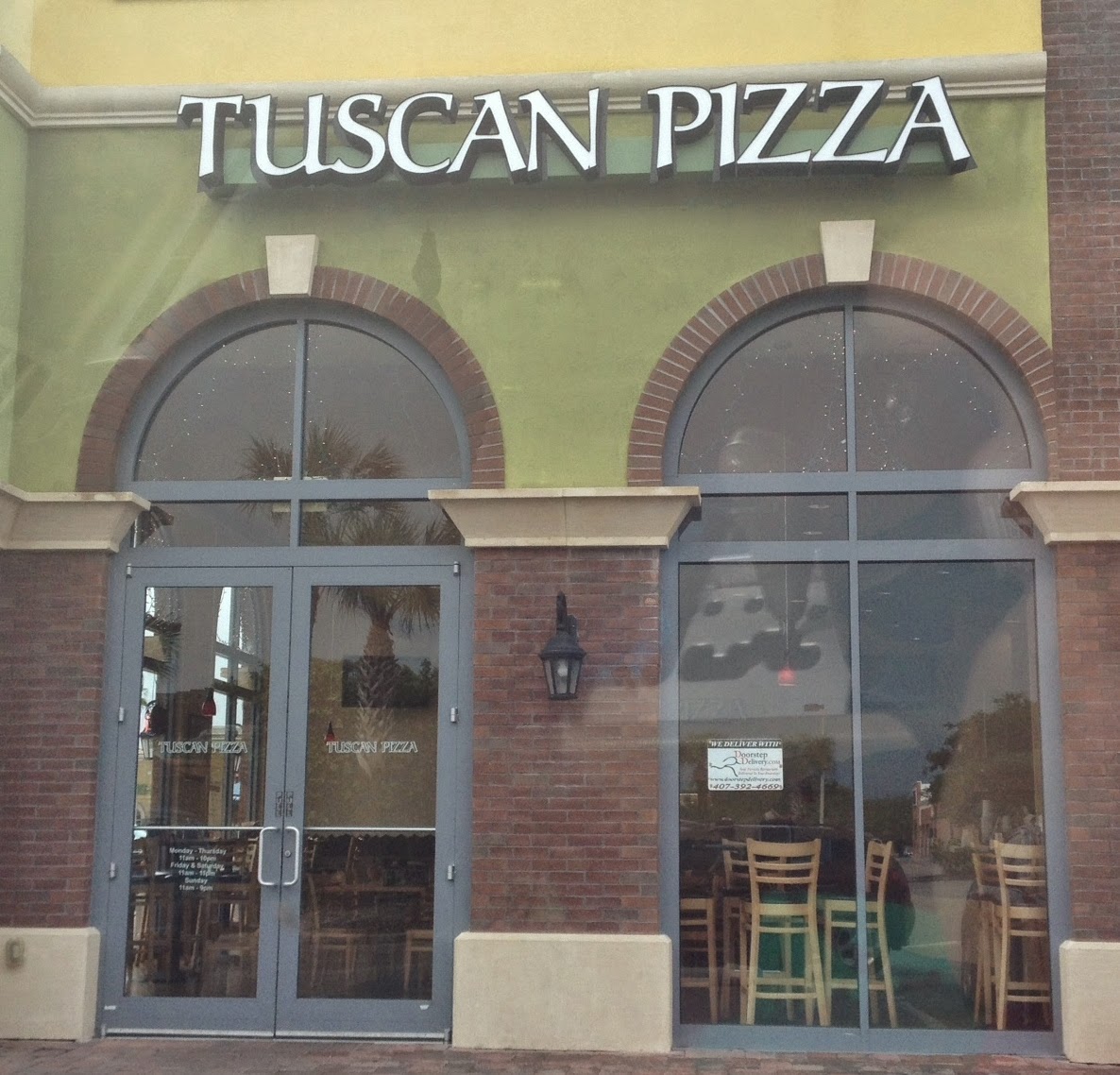 Tuscan Pizza (formerly Red Brick Pizza) in Altamonte Springs is home to a very special milestone in my gluten-free journey. They were the first restaurant where I was able to order and eat a gluten-free pizza alongside my family. For most newcomers to the diet, building up the confidence to visit a restaurant and trust that the food is safe to eat is a big hurdle, but one that I'm thankful to have cleared with flying colors.


Tuscan delivers a safe and satisfying gluten-free pizza, but its the community atmosphere and convenient location that have made it a staple on my list of local eats. Transitioning to a new name brought some new ingredients and menu items, but the staff and protocols have remained. An from what I hear, business is booming thanks to the steady stream of customers seeking gluten-free pizzas.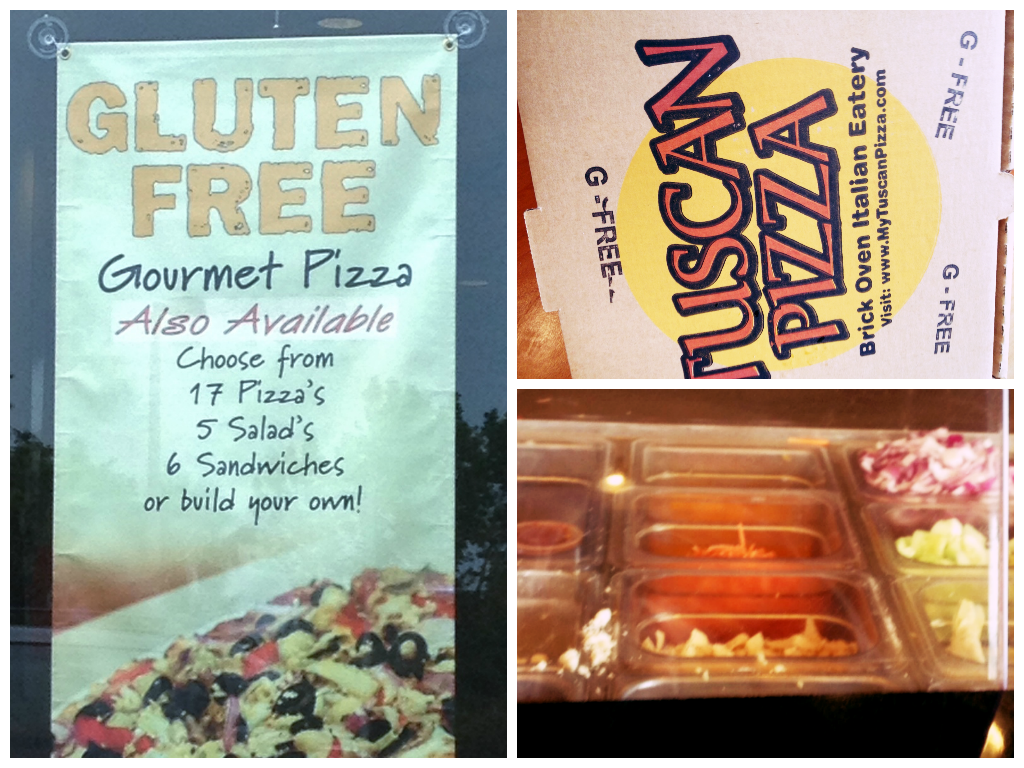 The gluten free prep starts long before customers arrive. The gluten free crusts are kept separately until ordered. There's no need to fear a free flow of flour in the kitchen because the staff uses rice flour when working with gluten-crusts in order to minimize cross-contamination. Although the crusts share the same wood-fired oven, gluten-free crusts are in a protective pan to further reduce exposure risk. Separate pizza cutters are used. For take-out orders, they stamp a very prominent "G-Free" on the box as to make clear which pizza is gluten-free.


Although there are 17 varieties off their regular menu to choose from that are gluten-free, I usually opt for the create-your-own option to minimize hassle with my "unique" order. My reliable go-to gluten and dairy free sauces are their barbecue and red pizza sauce. From there, I pile on the veggies, which are all free from gluten and dairy. I don't really do meat on pizzas and don't really know if they are safe allergen-wise. For those who are interested, they do have Daiya cheese on hand for a vegan/dairy free alternative, but as a rule, I tend to just go without because I am not a fan. Just as a side note, I have found greater success ordering in the restaurant vs. over the phone because sometimes the "no cheese" order gets lost in the shuffle.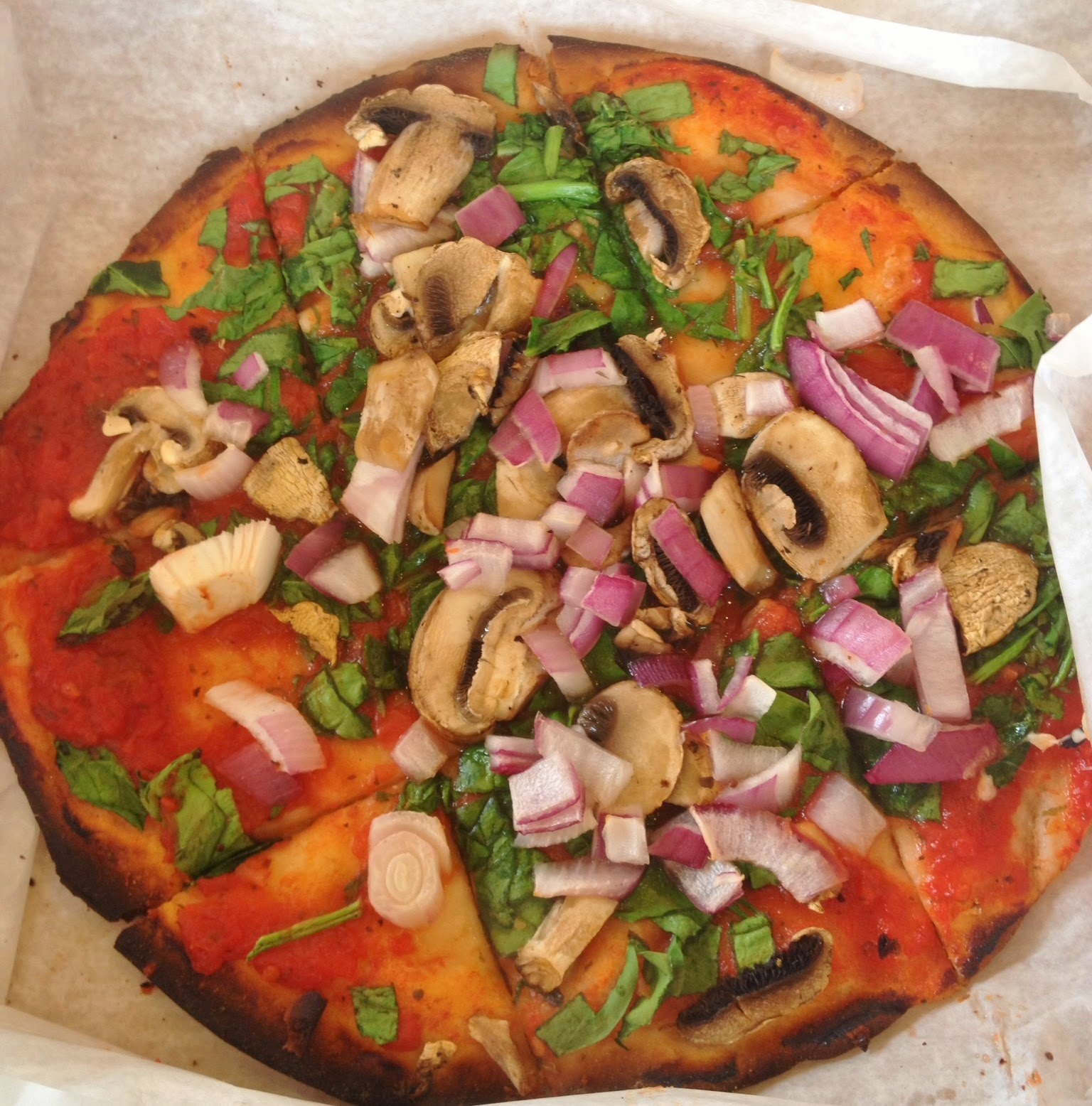 For review, I decided upon a simple order- gluten-free crust, red sauce, mushrooms, spinach, and onion. The pizza is slightly smaller than others I have seen around town, but not tiny. I would guess it is around 10″ in diameter. Although the crusts' maker and ingredients are not disclosed, I suspect it is a heavily rice based crust. Its fluffy and light, which sometimes descends into a soggy center. This problem is only heightened with the tic-tac-toe-style cutting of the pizza which leaves a square slice of pizza with no clear crust to hold onto. The resulting effort to eat it usually gets pretty messy. As crusts go, it's not a showstopper, but it holds its own. The veggies, while fresh, did not stand out flavor wise as well. However, the red sauce does deserve credit as a flavorful, slightly-sweet tomato sauce.


Although the pizza didn't make me jump up and down, I completely credit Tuscan for continuing their commitment to the gluten-free community and for serving up reliable pizzas. They are a welcome addition to my "neck of the woods" who otherwise would be devoid of a gluten-free pizzaria. The staff are always helpful and nice, and the owner takes the time to get to know his customers. Even though my time between visits is now months instead of weeks, I still feel like a "regular" when I can walk in and be greeted with a friendly "where have you been?" It's touches like these that keep me coming back to support them whenever I get the chance.



The Basics
Address: 155 Crane's Roost Blvd. Suite 1210, Altamonte Springs, FL 32701 (They have an additional location in Kissimmee near Hunter's Creek)
Cuisine: Pizza, Sandwiches, Salad
Ideal For: Lunch, Dinner
Price: Gluten-free pizzas are available for only a dollar more than the "small" price. Price rages from $7.75 to $10.25 (pre-tax) for premade combos and build-your-own creations start at $7.25 with each additional topping one dollar more.
Accessible: Very accessible. All tables standard level with fully accessible bathroom.
Special Features: Booths feature mini tvs which can personalize one's dining experience. Also Tuscan Pizza offers delivery through Doorstep Delivery and GoWaiter.com.
Disclaimer: Restaurant and vendor reviews are based upon the information I have at the time of the review and do not reflect changes in supplier or availability of items. Please contact the restaurant or vendor directly for up-to-date information and feel free to to contact me with any questions or comments. I was not compensated for this review and it is a reflection of my personal opinion.