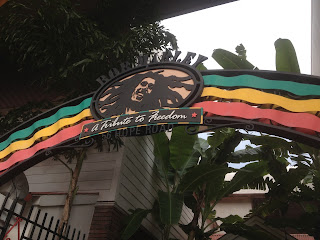 In my pre gluten-free days, Bob Marley: A Tribute To Freedom was one of my family's favorite places inside Universal's CityWalk. Designed as a replica of his Jamaican home, it's easy to get immersed into the laid back vibe of the "King of Reggae" and the country he loved so dearly thanks to it's seclusion from the busier sections of CityWalk and authenticity that includes a pulsing beat of reggae, island eats, and memorabilia from Marley's reign.
Although it has been a family favorite over the years, we've avoided coming back since my diet change because we were unsure as to the gluten-free friendliness of the restaurant. However, after visiting another Citywalk restaurant (Margaritaville) recently and leaving not quite satisfied, I found myself drawn to to Bob Marley's once again. As we approached the restaurant, I heard a stranger in front of me inquire about a gluten-free menu. I held my breath for the waiter's response, but sure enough, they did have a gluten-free menu. My dad and I decided that the opportunity was too good to pass up, so we stopped by for round two of our gluten-free scouting trip through CityWalk.

Once seated, I eagerly looked over the full page menu of gluten-free offerings. I saw old favorites such as jerk chicken mixed with unfamiliar ones such as pepper pot soup. None appeared to have cheese or dairy in them, but I knew I'd have to double check with the waiter and/or chef to make sure my meal was indeed dairy free.



Because it might be hard to read in the picture, here's a listing of the gluten-free menu items offered:
Jammin' Chips and Salsa (black bean corn salsa with chips)
Trench Town Rock Pepper Soup (vegetable stock simmered with greens and vegetables)
No Woman, No Cry Jerk Chicken Salad (salad topped with jerk chicken, oranges, cranberries, tomatoes, walnuts, plantains, and dressing)
Satisfy Your Soul Jerk Steak Salad (salad with jerk-seasoned steak, mango salsa, veggies and dressing)
Ackee and Saltfish (Ackee and salt cod fish sauteed with vegetables and served with rice callaloo, plantains,and rice. Fun fact: ackee is Jamaica's national fruit!)
Reggae Jamaican Jerk Chicken (bone-in char-grilled and roasted chicken served with rice and beans and plantains)
Grilled Mahi-Mahi (Mahi filet served with green beans, mashed potatoes, and mango salsa)
Curry Shrimp (Shrimp in curry sauce with corn and okra, served with rice, vegetables and shredded coconut)
Ital Eats Stuffed Peppers (bell peppers stuffed and roasted with rice and vegetables and topped with tomato sauce, served with sauteed spinach and green beans)
After taking in all my options, I decided to go for the Ital Eats Stuffed Peppers because I wanted a vegetable-based dish and I've been hunting for a good stuffed peppers recipe for a while now. Our waiter checked with the chef to make sure it was safe and sure enough, it is both gluten-free and vegan. As a side note, my dad ordered the Buffalo Soldier Jerk Wings (not gluten-free), which I highly recommend to any gluten-eaters as the best wings in Orlando. After placing our orders, we settled in and waited in eager anticipation.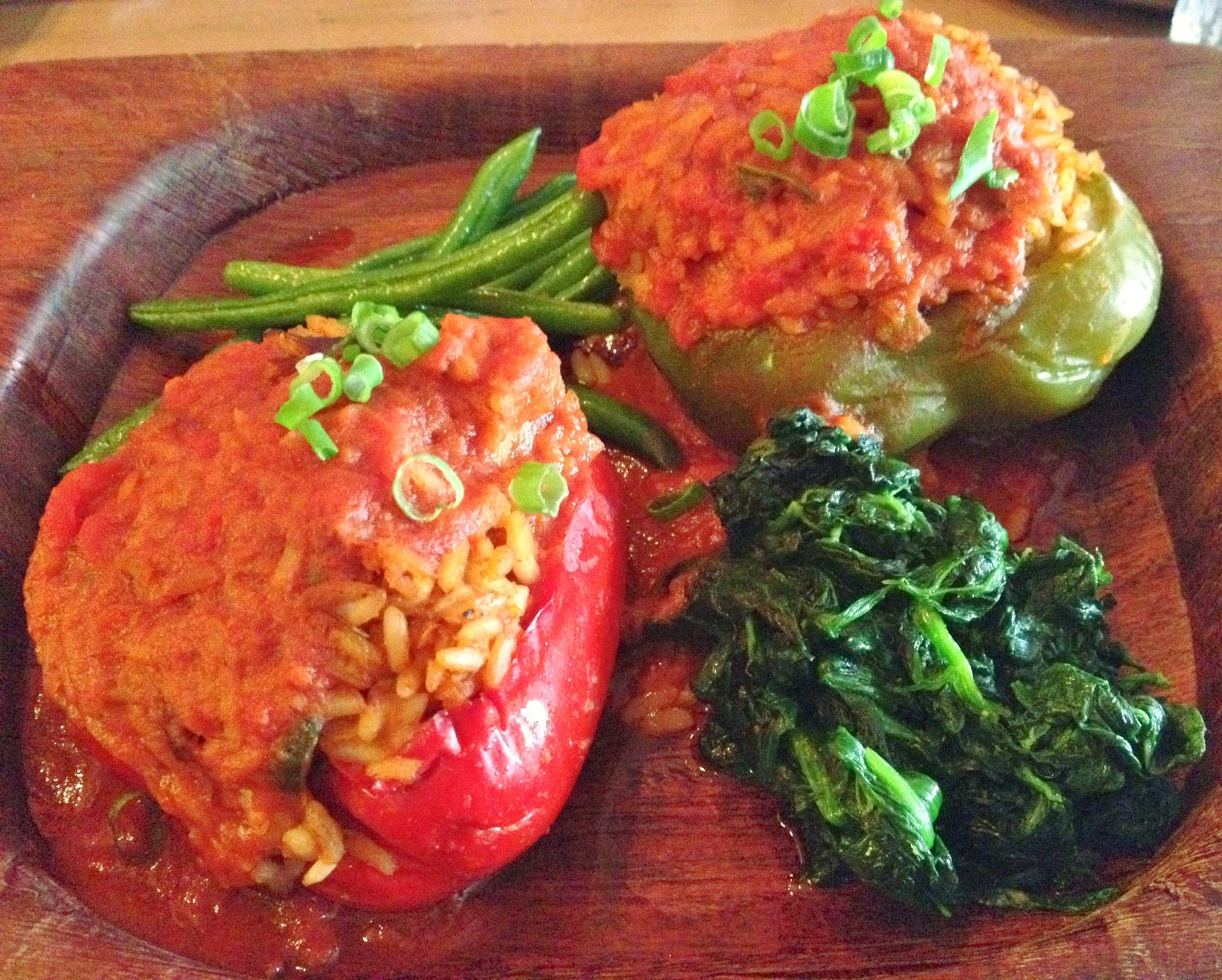 When our orders came out, the peppers were overflowing with colorful veggies, rice and tomato sauce. After the disappointing size of the shrimp at Margaritaville, this abundance of food was a welcome turnaround. I started first with the peppers and immediately fell in love with the zesty tomato sauce smothering the rice and pepper. As a big fan of tomato sauce, this was the best I've had in a long time and really gave the rice medley a kick. In fact, I spooned up the tomato sauce that had spilled over onto the plate as to not waste a drop of it. The rice, too was seasoned perfectly and had vegetables and beans intermixed into it. After making it to the bottom of the peppers, eating the shelled out roasted pepper was a new and fun experience for me. Taking a break between peppers, I sampled the spinach and green beans. Both were cooked to the perfect textures and had a natural, fresh flavor. Though at first glance, the plate of food seemed to be too much for one serving, before long I found myself eating the second pepper not caring if I felt stuffed afterwards. Ultimately, I did not get too stuffed and definitely did not feel bloated or weighted down afterwards. Despite all the food I ate, my mind was already trying to formulate my next trip to CityWalk to sample more of the restaurant's offerings.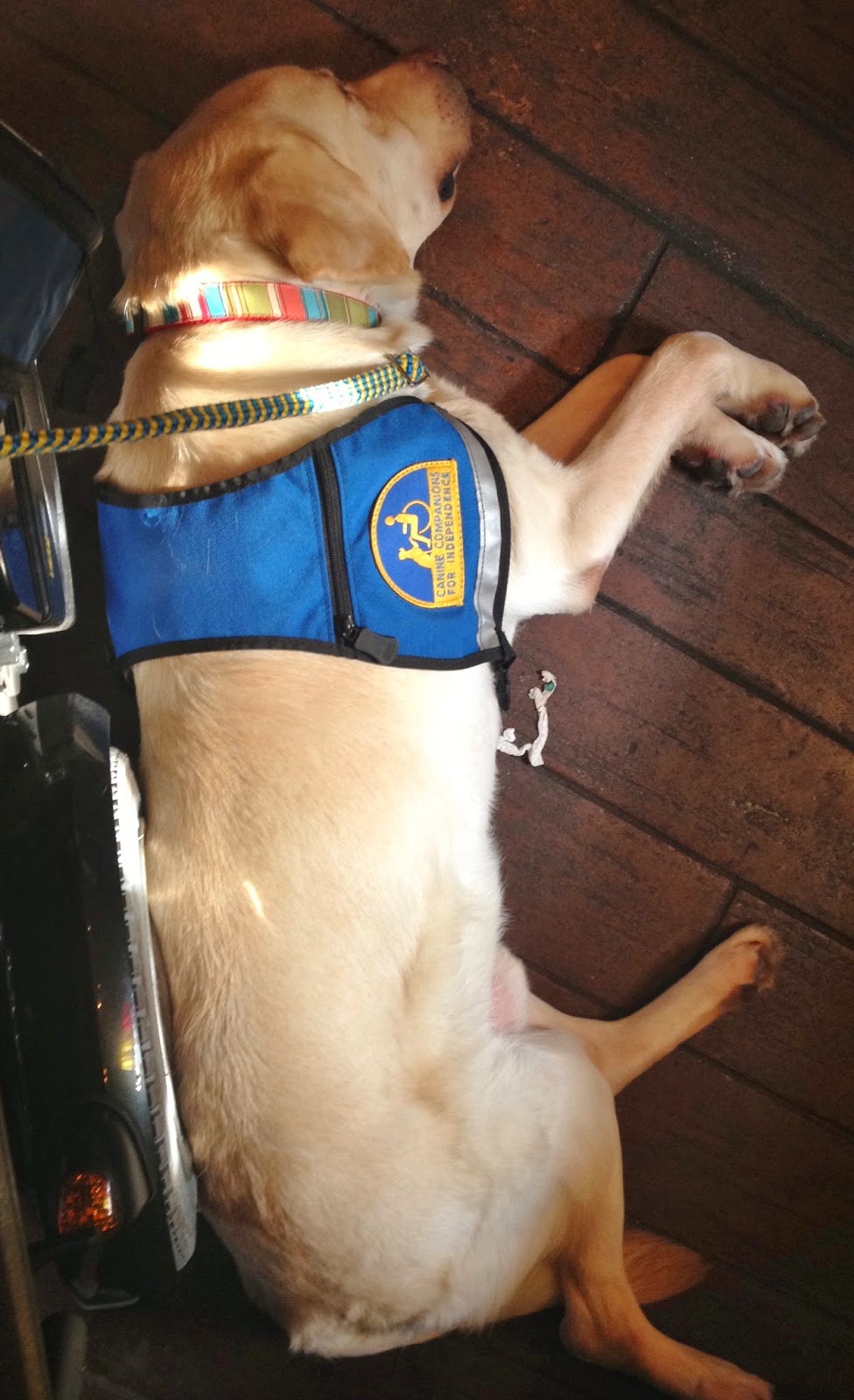 All in all, Bob Marley: A Tribute to Freedom is a hidden gem at Universal's CityWalk. I only wish I knew of their gluten-free menu two and a half years ago when I first transitioned to the gluten and dairy free diet because I have wasted many an opportunity to eat here! The only downside is that the service, while not lacking, can be slow. But alas, the restaurant is on "island time" and I know Locke certainly did not mind escaping the blazing sun and getting a nice breeze from a nearby window air-conditioner. Our waiter and the other staff members we talked to were upbeat and friendly which created a positive atmosphere that permeated the restaurant. The food is fresh and plentiful for the sticker price which is a welcome change from the typically overpriced and un-extraordinary offerings at theme parks. I most definitely plan on making a return visit in the future.
Update 7/12/14: Wanting a nice place to eat dinner with family in town, I once again found myself at A Tribute to Freedom. While I was tempted to go with the stuffed peppers because they are a reliable favorite, I decided to taste my way around the menu. For an entree, I selected the curry shrimp which come with seasonable grilled vegetables, okra, and sweet corn all atop island rice. When I placed my order our waiter was confident that the dish was both gluten and dairy free. However, when the food came out, he said that mine was served without the curry sauce because it had dairy in it. Though the plate of five shrimp, vegetables and plain rice were cooked well and good, the whole meal was kind of disappointing due to lack of spice. However, I'm so glad that the kitchen caught the hidden dairy and avoided a dining catastrophe. On a return visit, I'd probably skip this dish unless the curry sauce is made dairy free because it was a little bland on its own.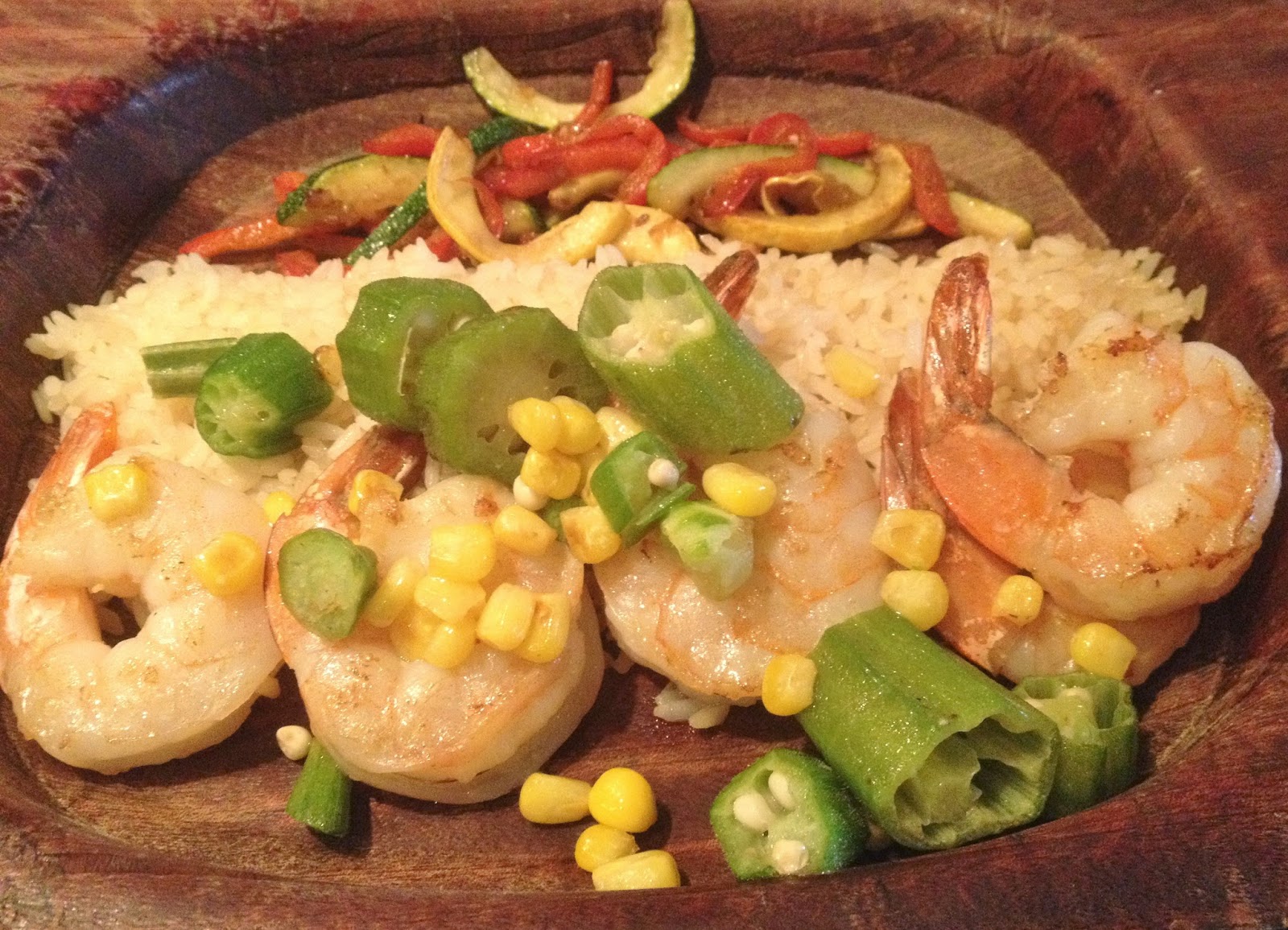 Not quite satisfied, I ordered the Trench Town rock pepper soup to supplement my meal. What jumped out on my first bite is the herb infused chicken broth which was the soup's base. Not spicy hot, the soup had a wonderful, comforting flavor. The soup's vegetables are greens and tomatos, which are stewed and limp, but give texture to the soup. I really enjoyed the portion and would definitely have it again on a return visit- maybe paired with the stuffed peppers!



The Basics:
Address: 6000 Universal Plaza, Orlando, FL 32819 (Inside Universal CityWalk)
Website:
Restaurant Page on universalorlando.com
Cuisine: Salads, Sandwiches, Entrees (Fish, Chicken, Shrimp), Vegetarian/Vegan offerings
Ideal For: Late Lunch and/or Dinner (They open at 4pm every day)
Price: Gluten free items range from $5.99-16.99
Accessibility: The restaurant is very accessible for a wheelchair user.
Special Features: Reservations can be made in advance through Open Table. Universal season pass holders can enjoy 10% off when they show their pass.
Disclaimer: Restaurant reviews are based upon the information I have at the time of the review and do not reflect changes in ingredients or availability of items. Please contact the restaurant directly for up-to-date information and feel free to to contact me with any questions or comments. I was not compensated for this review and it is a reflection of my personal opinion.