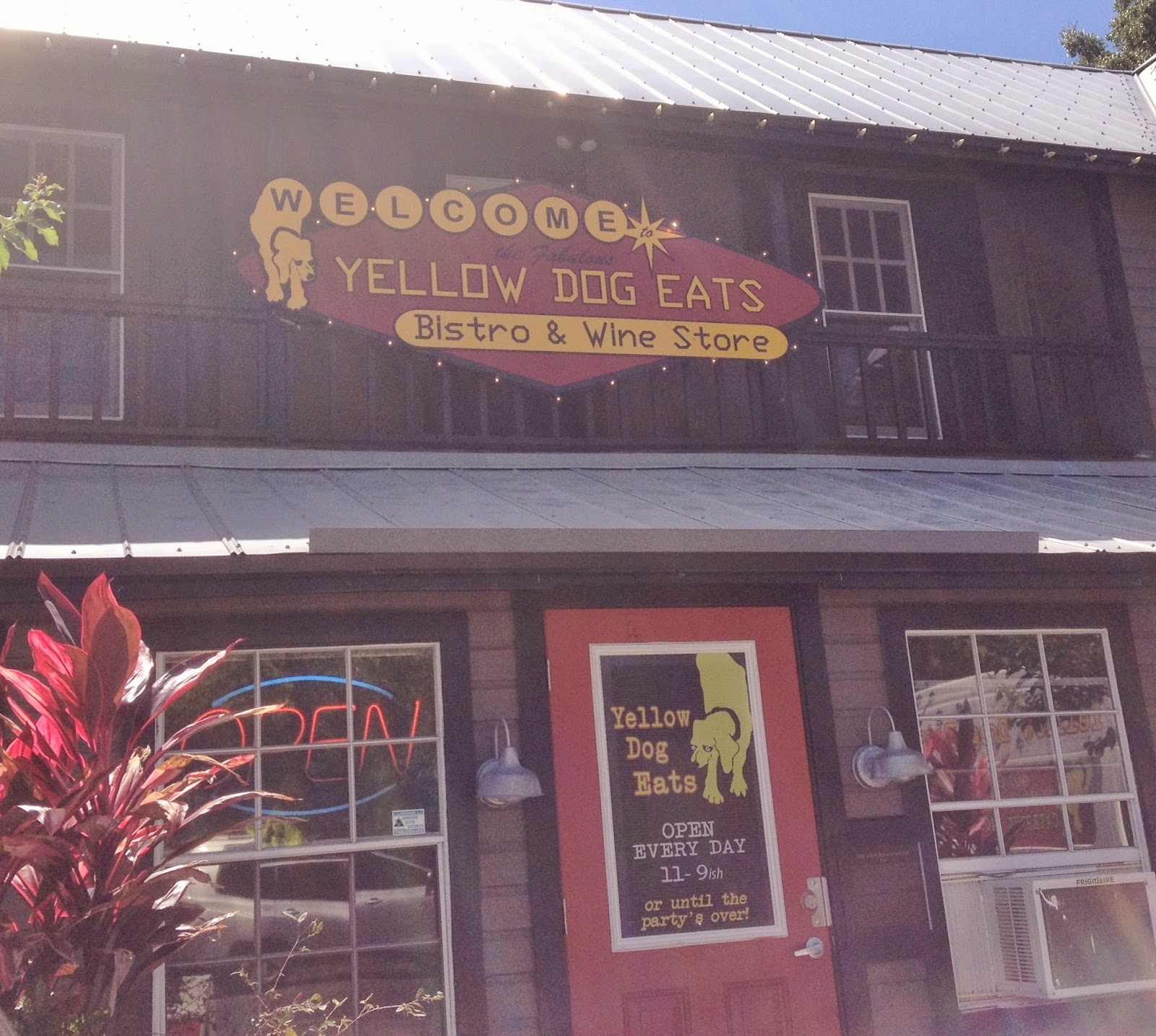 In honor of my new yellow lab, I knew I had to stop by the aptly named Yellow Dog Eats while staying in the Clarcona/Ocoee area during the last two weeks of Team Training at Canine Companions for Independance. Located in Gotha, which is between Windermere and Ocoee, Yellow Dog Eats is off the beaten track, but well worth the trek thanks to its unique vibe and eclectic eats. It's a must for any dog lover or free spirit who is looking for a good time and is a perfect place to catch local bands and events. Built around a historic home that has served as a house, general store, grocery store, and now a restaurant, the restaurant prides itself on its Central Florida roots and their status as a local landmark.


The only thing about Yellow Dog is that when they're crowded- they're really crowded. Popping in well before rush hour on a Friday afternoon, I found that others had the same idea that I did- get in early before the rush. The compact bottom floor of the historic house serves as a order processing area when you place and receive your order, a bar, and a general store selling hot sauces, shirts, and other items. Though people could get around the shop, there were some tight corners to navigate as a wheelchair user. I peeked outside at the back patio to check its availability for accessible seating, but opted to get my order to-go instead as judging by the not-so wheelchair friendly nature of the back patio.





Gluten-free diners can rest assured that they too can join in on the food and fun served up by Yellow Dog Eats. Though their menu has only two clearly stamped "gluten-free" items, I realized when talking to them that they could be flexible for individual items. I inquired about the safety of their barbecue, which is their signature dish, but the staff member I spoke to told me that all of barbecue offerings had gluten in it. My disappointment faded though as I inquired about their Cuban Styled Black Beans. As a black bean lover, their twist on one of my favorite foods caught my eye. They serve the beans atop a bed of yellow rice and top them off with thai chili sauce, salsa, cherry pepper rings, red onions, and scallions. Typically, the dish is given a hefty serving of dairy in the form of sour cream and cheese, but they had no problem removing it from the line up after I informed them of my duel restrictions.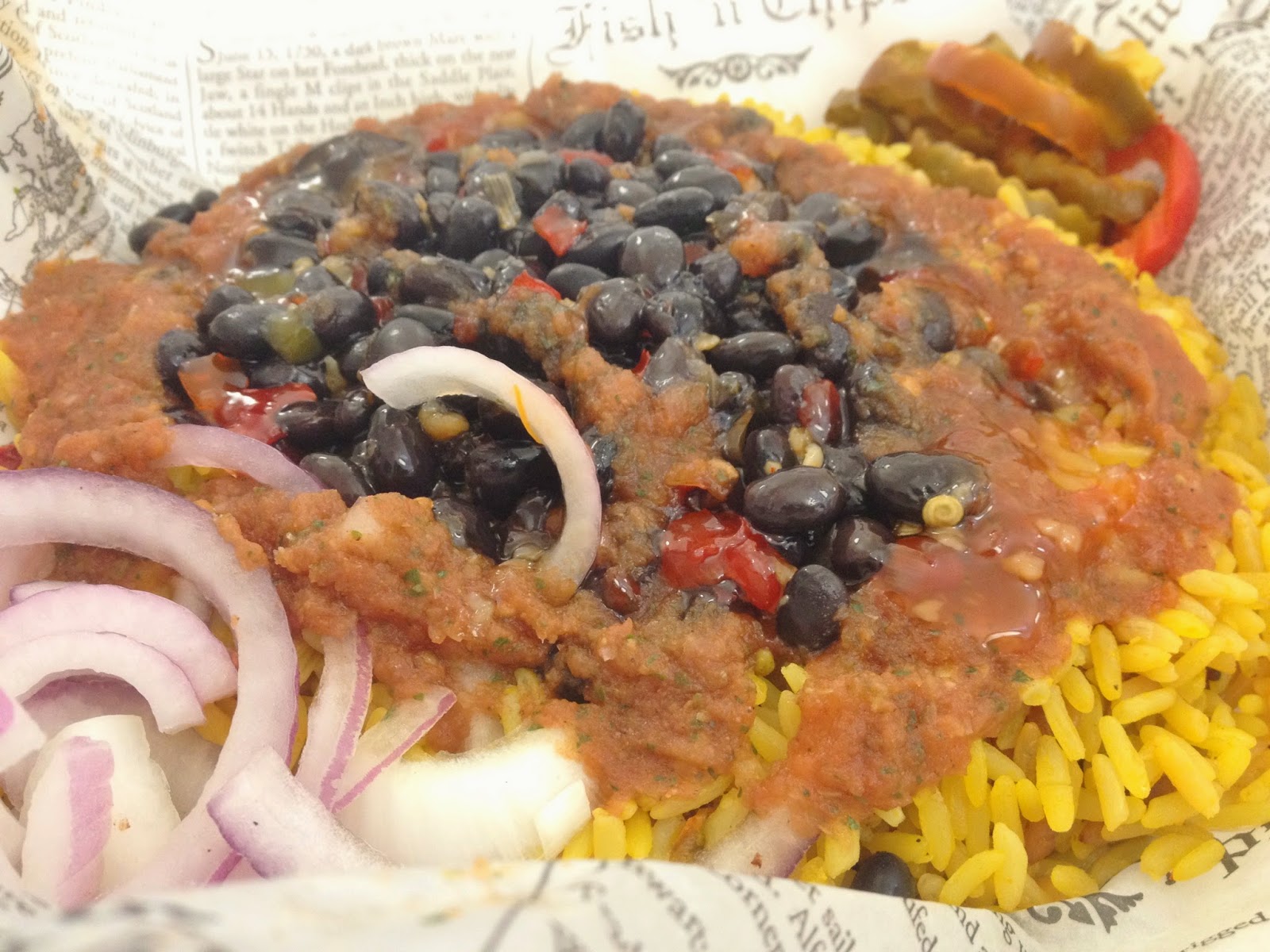 Once getting back to the training center's dorms, I started in on the generously-sized portion of Yellow Dog's twist on black beans and rice. I loved the addition of the cherry peppers which added a kick to the whole meal and a rare treat because they are a ingredient you don't come across every day. The black beans were seasoned well, but I have to say that I was not really a fan of the thai chili sauce mixed with the salsa because the sweetness overpowered the spiciness of the salsa. However, this flavor clash faded in my mind as I reached the yellow rice layer of the creation. The rice was wonderfully seasoned and cooked perfectly so that it wasn't dried out or too watery. I especially loved the mix of the rice with the juices of the black beans because it was a perfect note to end the meal on. Though I was stuffed, I was completely satisfied. Yellow Dog Eats delivered a hearty meal that hit the spot.


All in all, I hope to make it back out to Yellow Dog to sample some more of their offerings. To learn more about what's safe regarding gluten and dairy free, I'd probably try to go at an off time in the future to avoid miscommunications or mix-ups. Also, if I had one suggestion, I'd more clearly mark what items on the menu are gluten-free with modification because having only two gluten-free offerings without modification might turn customers away who do not know to ask for other items. Nevertheless, I cannot complain when menu items are clearly marked because it creates a more inviting atmosphere for those with special diets.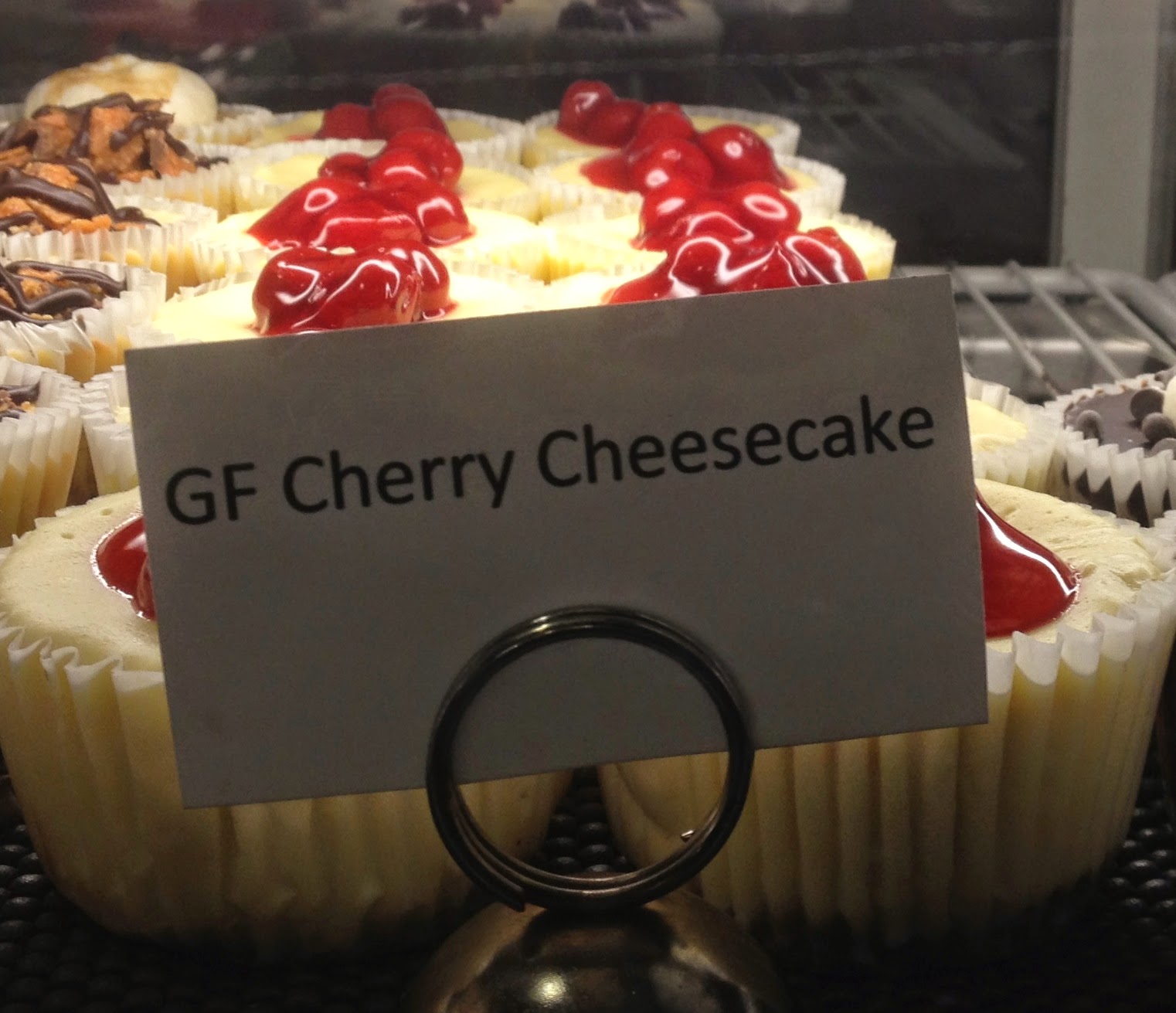 One other point to mention- they do have gluten-free desserts such as the cherry cheesecake I spotted in their dessert display. I didn't ask, but would guess that these are not dairy-free. Their desserts rotate periodically so be sure to ask about options available when you're there!



The Basics
Address:

1236 Hempel Avenue, Windermere, FL 34786
Website: yellowdogeats.com
Cuisine: Sandwiches, Barbecue, Salads, Vegetarian Options
Ideal For: Lunch, Dinner
Price: Entrees no more than $15
Accessibility: Accessibility for a wheelchair is limited. Patio has gravel covering and few tables accessible.
Special Features: Yellow Dog Eats offers catering for groups or parties. Stay tuned to their Facebook page to see daily specials or events and other happenings.

Disclaimer: Restaurant reviews are based upon the information I have at the time of the review and do not reflect changes in ingredients or availability of items. Please contact the restaurant directly for up-to-date information and feel free to to contact me with any questions or comments. I was not compensated for this review and it is a reflection of my personal opinion.