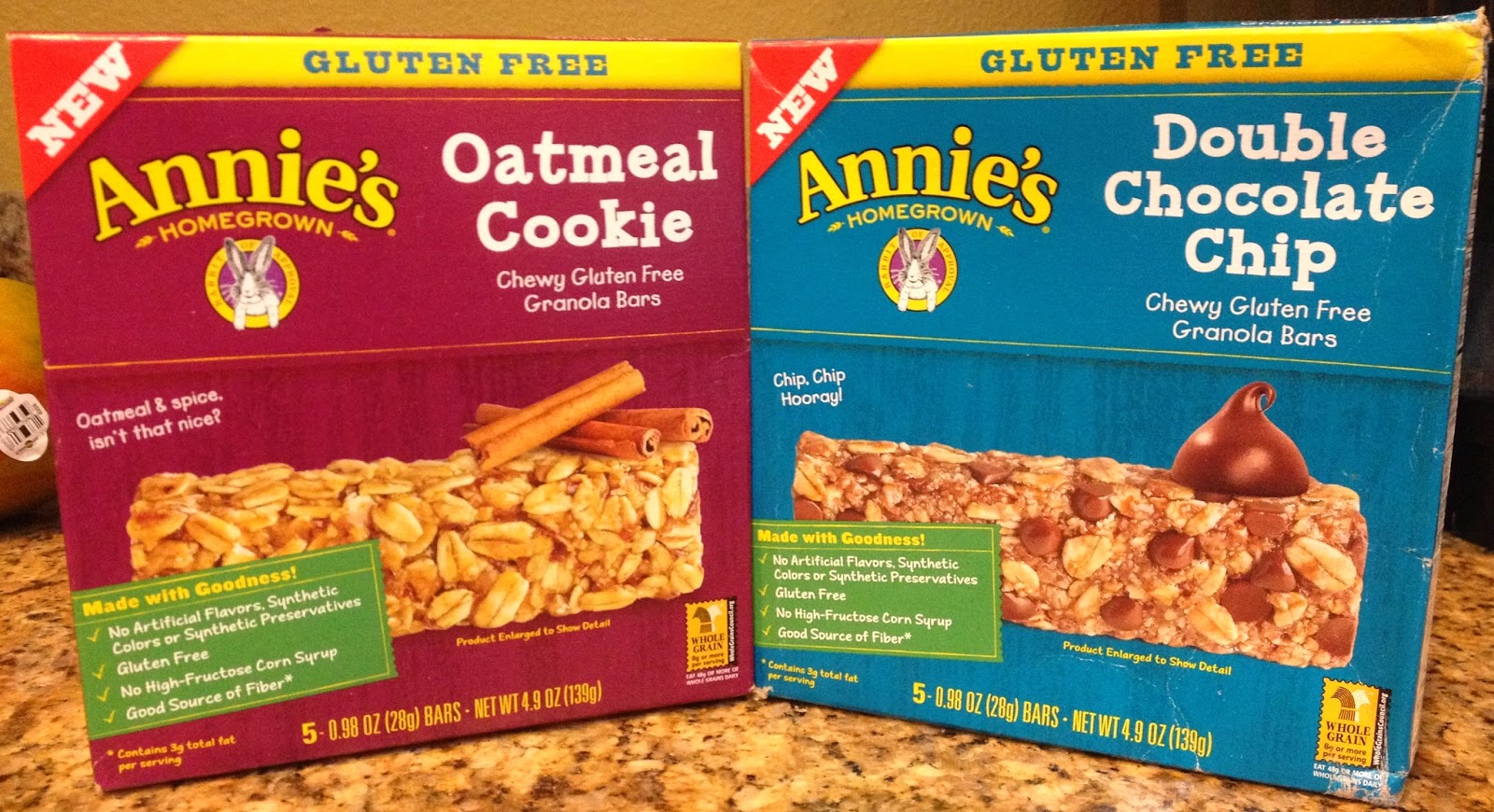 Growing up as a gluten and dairy lover, I was a big fan of Annie's Homegrown products- especially their delicious, cute cheddar bunnies and the ultimate comfort food- shells and white cheddar pasta. Now that I can no longer enjoy my childhood favorites from them, I never really investigated them to see if they made gluten free and dairy free products. However, in going through Super Target one day looking for new snack-type foods for road trips and summer travels, I was shocked to find that they now make gluten-free treats. In fact, they now produce forty-one different products that are now designated "made without gluten" or "gluten-free."
The product that rekindled my love for Annie's was their new gluten-free chewy granola bars which come in two flavors: oatmeal cookie and double chocolate chip. After scanning the ingredients list to confirm they were free from dairy as well, I tossed on box each of both flavors for a trial run. Similar chewy granola bars were always one of my favorite snacks as a kid, so I relished the opportunity to try out these promising and portable treats.

Here's some stats for both flavors of the bars:
Each box contains five individually-wrapped bars

The only allergen listed as an ingredient is soy, but they are produced on shared equipment that processes tree nuts

There are "no artificial flavors, synthetic colors, or synthetic preservatives"

They are certified "whole grain" by the Whole Grains Council for containing 8 grams or more of whole grains

Each bar contains 110 calories, 7 grams of sugar, 3/3.5 grams of fat (cinnamon/chocolate chip), low sodium, and no cholesterol
Now for the taste test. First up, the oatmeal cookie flavor. When I pulled a bar out of the package, I would definitely say it is better sized for snacking instead of being a full meal replacement due to its smaller size. Unwrapping it, the bar was not too sticky (a pet peeve of mine) and smelled very cinnamon-y which was a plus since I love the aroma and taste of this spice. Taking my first bite, the the bar had a good chewy-ness. It definitely lived up to it's oatmeal cookie ideal because it was sweet and spicy and had a good texture thanks to the oats and crispy rice pieces. The bar though sweet, was not sickeningly so and provided a good "pick me up" when I needed a boost mid-morning. For an extra indulgent treat next time, I'm going to try slathering on a schmear of almond butter to blend the tastes of the rich butter and cinnamon sweetness of the bar.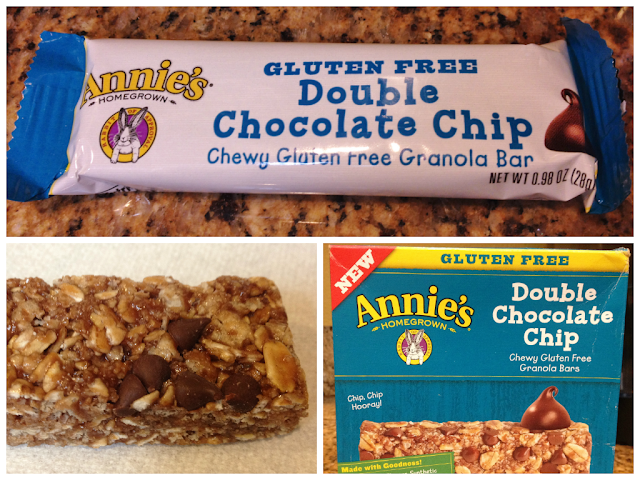 Finding myself needing a chocolate fix later that day, I decided to break into the double chocolate chip box sooner than I planned. Unwrapping the snack-sized bar, it looked very similar to it's cinnamon cousin except for the addition of adorable mini chocolate chips and a darker coloring. They are nice and chewy thanks to the oats and rice that also form the base. The chocolate flavoring did not overpower the oat-y taste of the bars which was nice because it gave just enough of the chocolate taste to satisfy.


All in all, I really enjoyed both flavors and will definitely stow them in my carry-on as I travel around this summer. The cinnamon ones edge out the double chocolate chip in my opinion but I wouldn't turn either down when I need a sweet pick-me-up. A side note: I love Annie's playful packaging of the bars which feature Bernie, their official "rabbit of approval," fun facts about the ingredients used, and a call to recycle the cardboard packaging to make the Earth a little greener. Touches like this make products fun and brighten my day. I will definitely be exploring more of their products such as their snickerdoodle bunny cookies in the future!


To locate these granola bars or Amy's other gluten-free products at a store near you, check out their product locator here.


For more information about Annie's Homegrown and their full product line, click here.


Disclaimer: The review provided is current to the time I bought the product. Ingredients and manufacturing processes can change without notice. Each product should be reviewed for individual nutritional needs. Feel free to to contact me with any questions or comments. I was not compensated for this review and it is a reflection of my personal opinion.