In the spirit of sharing my favorite gluten and dairy free products from this warehouse store, I've created this new summer series called Found @ Costco. I hope to post weekly on my findings and eventually include recipes using exclusively Costco products. In doing some preliminary research for this post, I've already discovered new items that I have previously overlooked to show and share. One thing to note is that many Costco products are regional, so they may not be available at all warehouse locations. For my research, I frequent the Altamonte Springs located north of Orlando. With that being said, here's the first ten items I'm showing off.


1. Udi's Whole Grain Loaf (6.79 per loaf)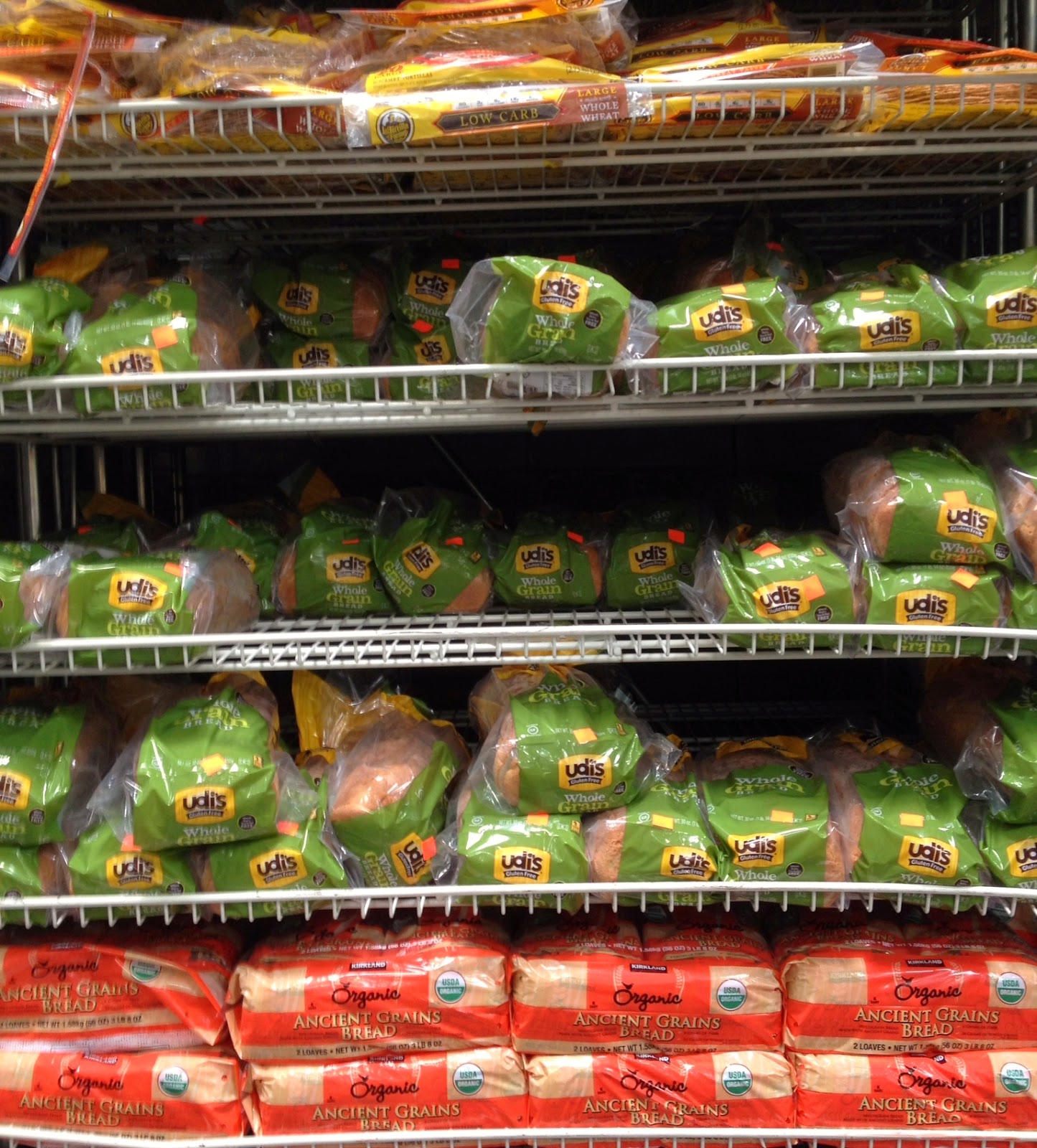 Before discovering what a treasure trove it is, Costco was the last place on Earth I would search for specialty gluten free products such as Udi's bread. After all, gluten-free items are usually not sold in bulk because they go bad fast and are for a more niche market. Given that, I was absolutely shocked and thrilled to discover that the warehouse giant was in fact selling Udi's bread front and center in the bread aisle right beside its gluten-containing foes. Adding to my excitement was the fact that this was no ordinary sandwich loaf familiar to those who buy Udi's at their local supermarket. No, the loaves sold at Costco are not the typical 12 oz. size but a super-sized 30 oz. whole grain loaf that produces slices that are sandwich worthy. Don't get me wrong- I love Udi's small pieces sometimes, but when I want a hearty sandwich, they just won't do. These loaves are sold unfrozen, but I recommend putting in them in the freezer to elongate their lifespan because they are not made with preservatives. Another tidbit- these are just a little smaller than loaves used at Jason's Deli but are sold at almost half the price that Jason's sells theirs. What a deal! I hope that someday in the future, Costco and Udi's will collaborate again to bring their pizza crusts or bagels to the warehouse.



2. Brad's Organic Almond Butter ($13.79 for a 24 oz. jar)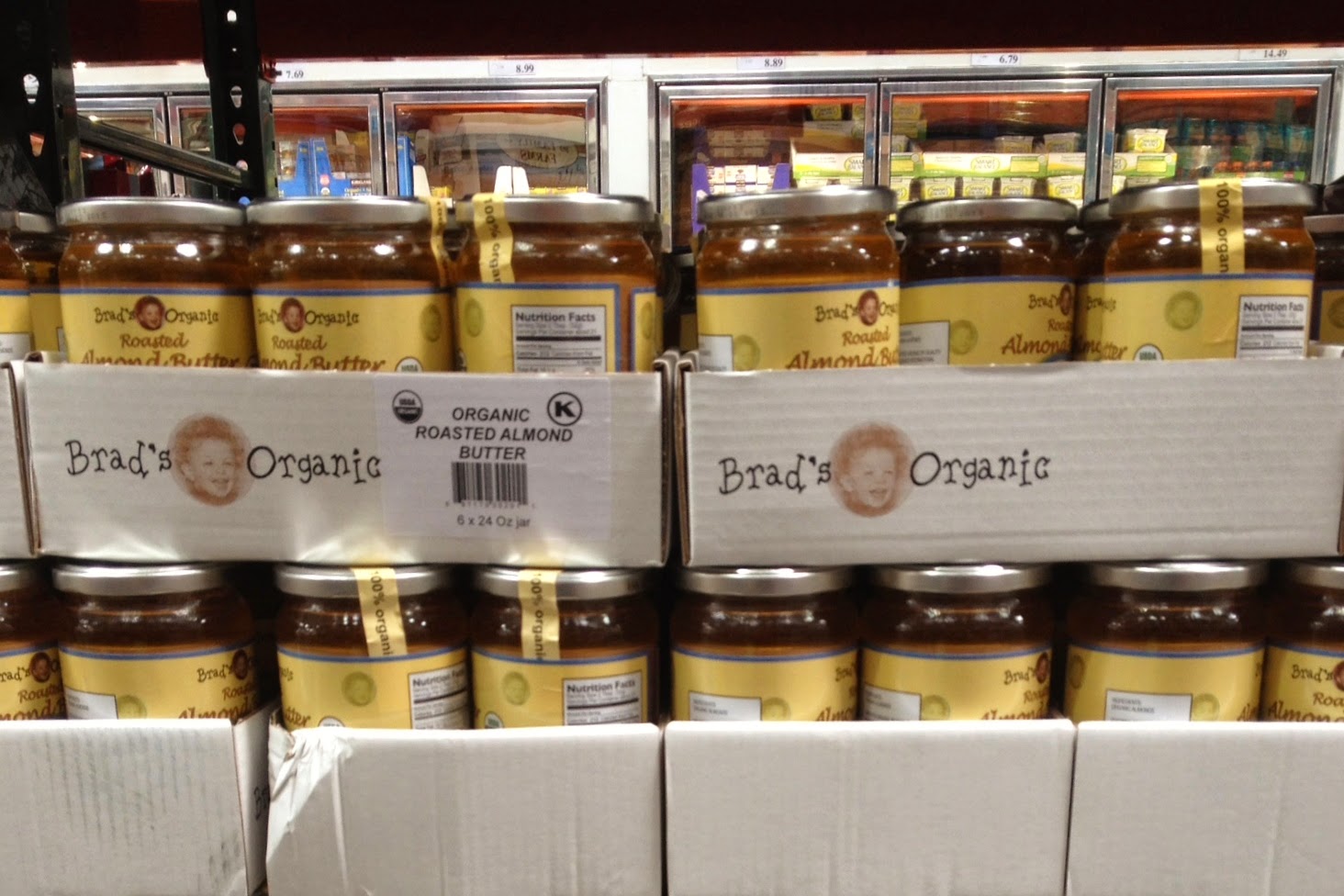 Almond butter is my preferred nut butter of choice after experiencing a weird reaction from peanut butter many years ago. Though I don't think I'm allergic to peanuts, I got hooked on almond butter since that incident and haven't looked back since. Prior to carrying Brad's Organic Almond Butter, Costco carried another brand of almond butter which I really liked. After the switch, my expectations for almond butter were raised even higher. Luckily, Brad's Organic met and exceeded those lofty expectations as their butter was wonderfully thick and had a great roasted flavor. As an almond butter purist (no salt, oils, or other additives) this butter was unbeatable in my book because its one and only ingredient is pure and simple "organic almonds." For those new to natural almond butters, I'd definitely advise stirring the almond butter and putting into the refrigerator for a couple hours to get the oils and solids that naturally separate to mix. As you work your way through the jar, the butter needs to be stirred less and less. I love pairing this with Udi's whole grain slices (see #1 on the list) or fruit for an instant infusion of protein and healthy fats.
3. Nuevo Grille Street Tacos ($9.99 for 20 tacos)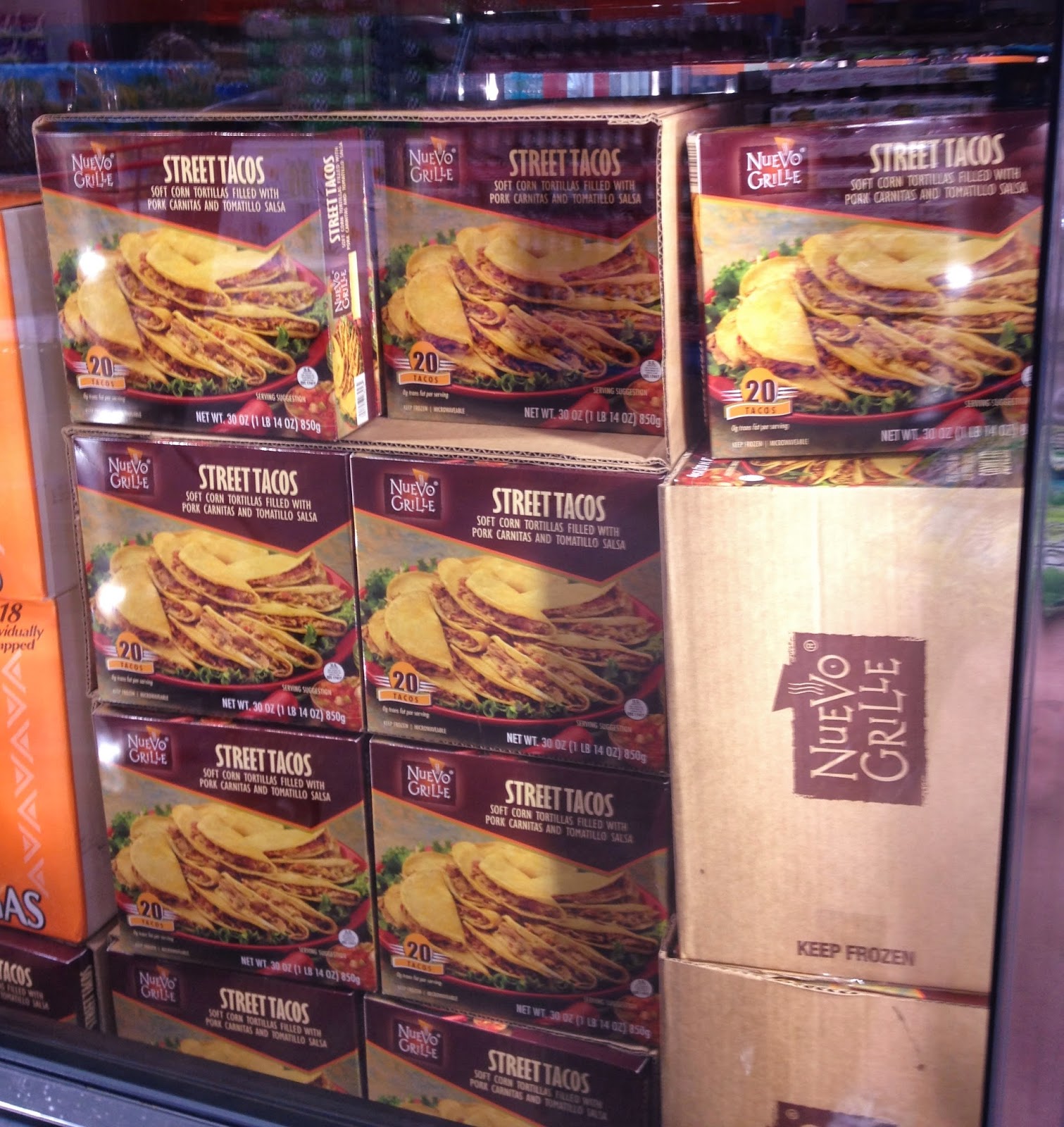 As much as I love cooking from scratch and dining out, there come times when I'm simply too exhausted to do either. Saving the day are these quick and simple pork tacos which prove to be a 60-second meal that satisfies. Tucked inside a soft corn taco, the shredded pork is covered in tomatillo salsa. This provides a base upon which endless toppings could be applied to jazz them up but is substantial enough to be eaten solo sans toppings. By no means could these be considered fine dining, but for a household home to teenagers, they've won their way into a permanent position in our freezer. Besides, it's a rarity to find frozen foods like this that are not laden with cheese. One item to note is that the street tacos should be considered "no gluten ingredients" because they are not certified gluten-free.



4. Jack's Special Salsa ($5.39 for 48 oz. jar/$6.99 for 12 4-oz. mini cups)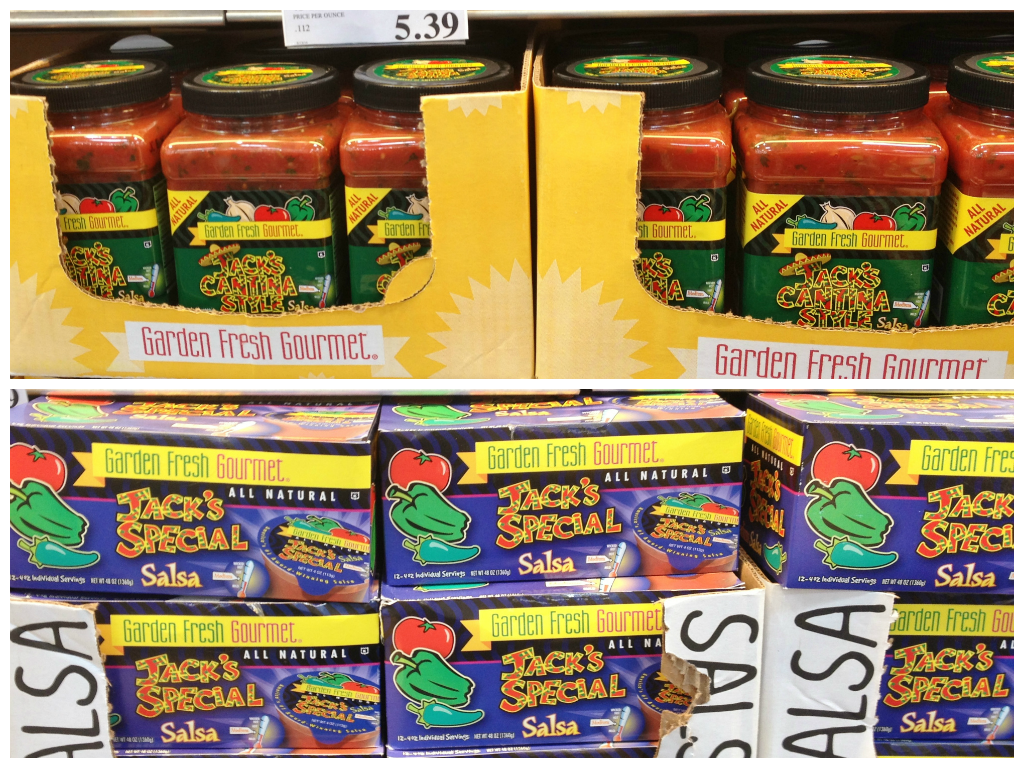 I couldn't assemble a list of my favorite Costco finds without mentioning Garden Fresh Gourmet's Salsas. A family favorite for years, this salsa has been the faithful accompaniment to corn chips, tacos, and many other dishes thanks to its festive blend of tomatoes, cilantro, and other fresh ingredients. My all-time favorite use for the 48 oz. jugs is making batches of my black bean and salsa soup which I credit Jack's with producing the best results. Recently, their introduction of single serve Jack's Special Salsa has me throwing a mini fiesta because they are perfectly sized for lunch boxes so that I can take chips and salsa to go. While salsa might seem like an odd thing to feature as a favorite find, Jack's salsa is one of my food staples and is absolutely delicious to boot.



5. Angie's Boom Chicka Pop Individual Servings ($11.89 for 24 1-oz. bags)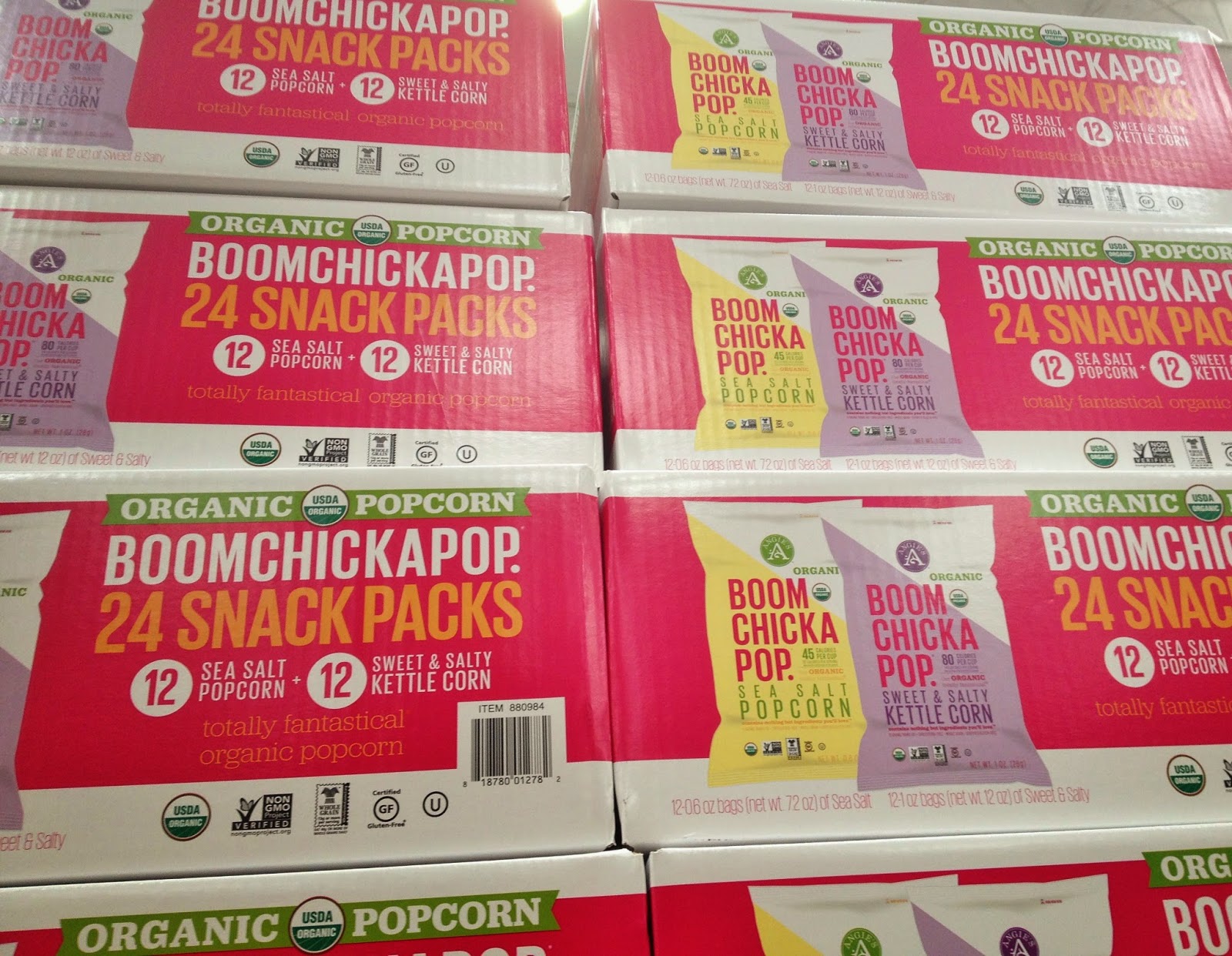 Popcorn is just one of those snack foods that are primed for summer. Going to the movie theater, beach outings, and picnics are all occasions calling for this fun food, but all too often, it's smothered in butter and/or gluten containing seasonings that leaves gluten-free consumers with a lot less pop in their step. That's why I was so excited to come across these awesome individual servings of Angie's Boom Chicka Pop popcorn in two flavors: Sweet and Salty Kettle Corn and Sea Salt. Part of the reason why I love this find so much is that they can be adapted into many different special diets. Besides being certified gluten-free as well as dairy free, the popcorn is certified organic, whole grain, cholesterol-free, kosher and non-GMO. Though I prefer the simple flavor of the Sea Salt variety, the Kettle Corn is great when I need a sweet and salty pick-me-up.