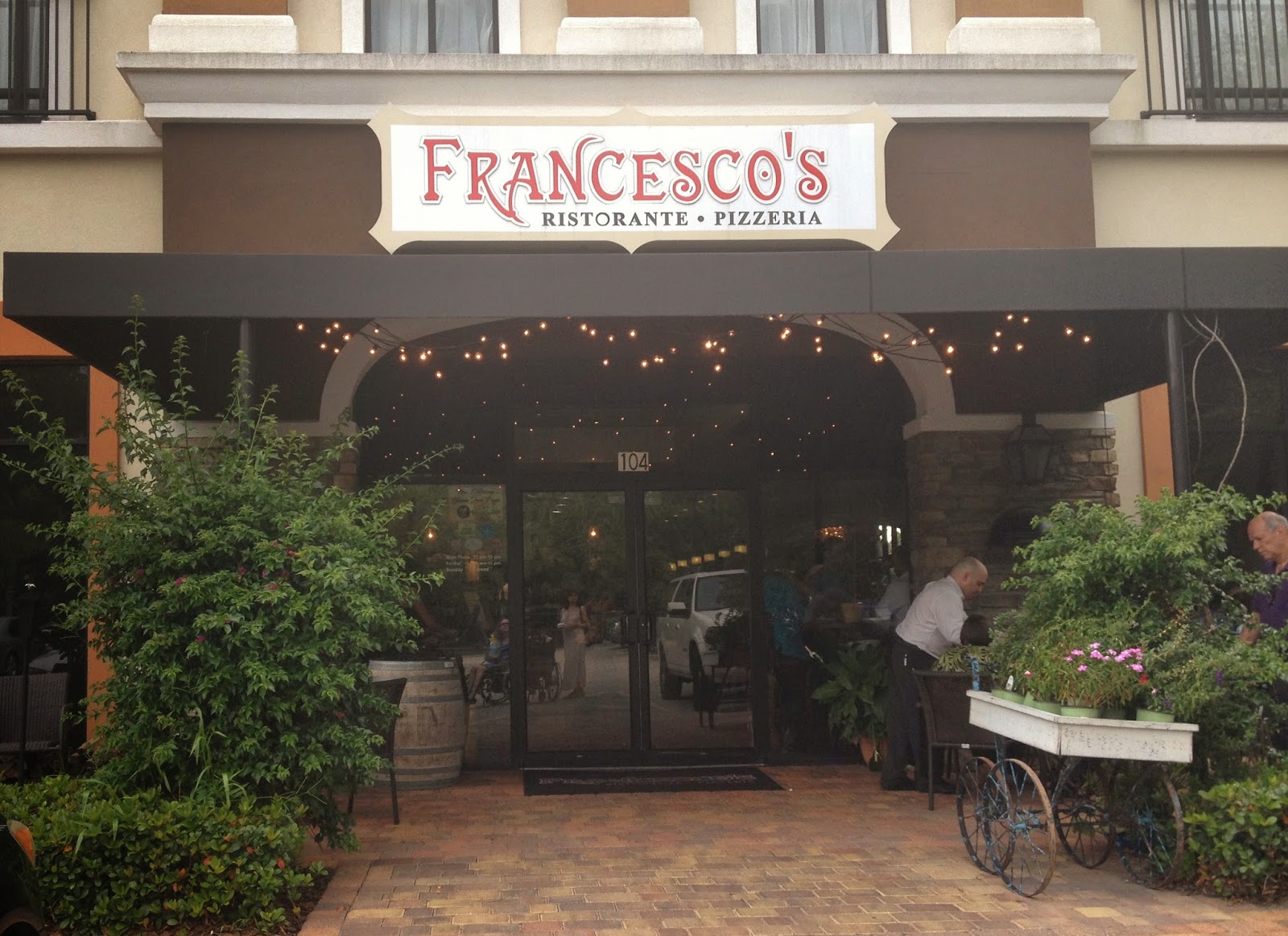 Francesco's Ristorante and Pizzeria in Maitland has been on my gluten-free restaurant wish list for a while now. Located in Maitland, I've passed by it many times always vowing to return to try out their offerings, but never actually making a stop. However, when dinner plans with friends hit a snag at a different restaurant, I jumped at the opportunity to finally try them and suggested it as our new venue. Because the friends we were meeting also were interested in gluten-free dining, they were as excited as I was to get authentic Italian dishes that were both delicious and safe.
Though you wouldn't know it from it's street-facing side, Francesco's has a wonderful patio and dining area hidden from view. The effect is really nice because it's easy to forget the hustle and bustle of Orlando Avenue and creates a laid back atmosphere. Upon being seated and informing the waiter of my dual sensitivities, he assured me that I would be taken care of which immediately put me at ease and gave me confidence in the restaurant's gluten-free knowledge and awareness.

As our party looked over the menu and caught up after not seeing each other for so long, a member of the wait staff brought out a bread basket to our table. Immediately realizing that the bread was gluten-containing, my friend inquired as to the availability of gluten-free bread, and the man was clearly confused by the question. He told us to ask our waiter and moved on, which was kind of disconcerting. Although I don't expect every member of a wait staff to know the ins and outs of allergen friendly cooking, this one misunderstanding could have been dangerous to a less vigilant gluten-free diner. However, all was made well again as our waiter brought a gluten-free bread basket for our table shortly thereafter. The bread appeared to be Udi's full size bread loaf (similar to the size found at Costco and Jason's Deli) and was toasted, but I didn't try it out because I wanted to avoid a carb overload since I was planning on ordering pizza. This small gesture is greatly appreciated though because getting gluten-free bread before the main course at any restaurant is a rarity and really made me feel included into this ritual of eating out that I am so often left out of.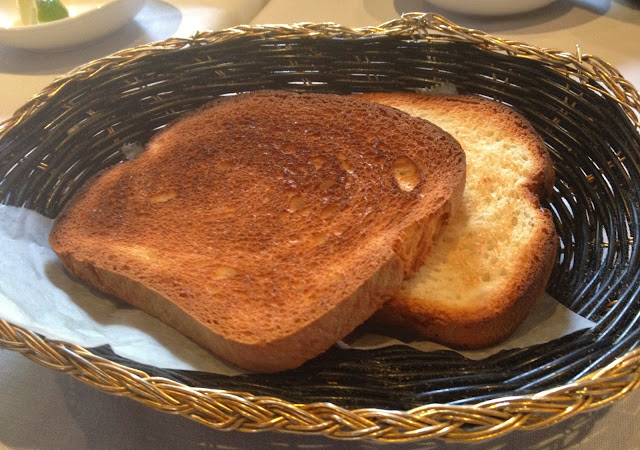 Because I was not solely focused on the menu with my mind made up, I neglected to note the entree offerings that could be made gluten-free but did happen to catch that they do have gluten-free pasta and homemade pizza dough which can be used for pizzas or flatbreads. For further information on their gluten-free friendly practices, check out Jennifer's review on Celiac in Orlando because she was able to speak further in depth with the wait staff to determine gluten-free protocols. As I ordered my gluten free pizza, I inquired about gluten and dairy free sauces and was told that the marinara sauce and pizza sauce would both be safe. The difference? The pizza sauce is cold pressed and never touches human hands before being used and the marinara sauce is cooked for an extensive time (I believe 5 hours, but my memory is fuzzy). Francesco, the head chef, makes two 15 gallon batches a day. Going with the pizza sauce, I added mushrooms, green peppers and red onion to my cheese-less creation.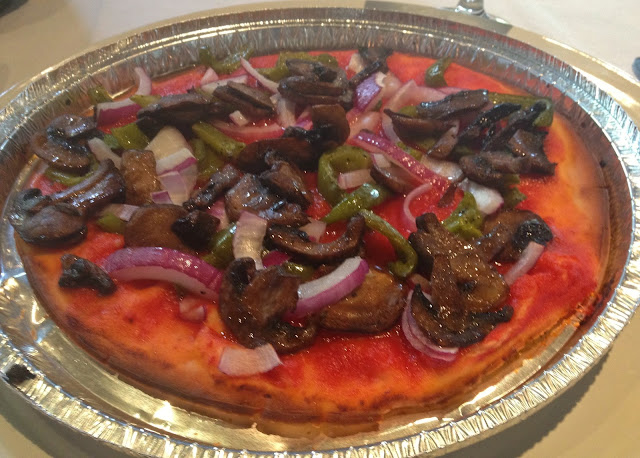 Before it came out, our waiter came out to ask us if it would be okay if the Chef could cut the pizza into slices before it came out. Confused by the odd question, he said that some patrons prefer to slice their pizzas themselves to make sure they are not compromised by glutenous silverware. Giving my "okay" on the slicing of my pizza, the 10″ pie came out a minute later, but still uncut. The waiter informed me that the Chef decided to send out a knife for me to cut it with because he could not find a non-contaminated pizza slicer. I was blown away by the Chef's attention to my meal and willingness to choose a safer option versus an easier one. While cutting the pizza was a bit tricky with it still in the protective aluminum pan that it was baked in, I soon had four beautiful slices that smelled absolutely delicious. Biting into my first one, I was completely won over by the delicious flavor of the roasted vegetables atop the rich, tomato-y sauce. Everything was just so fresh and flavorful. The crust earned high marks for it's authentic feel and flavor and the amazing crisp edge achieved by the oven. While it was a little soggy in the middle thanks to weight of the toppings, it was chewy (in a good way) and very on the mark for a quality gluten-free pizza. I polished off the entire pizza which was perfectly portioned so that it wasn't too large or leaving me wanting more.


Besides the food, I thoroughly enjoyed the atmosphere at Francesco's. On a Saturday, I was amazed to see how packed the restaurant got as the place took on a festive feel. Our reservation was at 4:30, but by 5:15, the place was packed and the sound level rose as the number of people did. Our waiter was immensely knowledgeable and friendly and I am so thankful he was able to adapt to accommodate my duel sensitivities. Other staff members were friendly and checked on us to make sure we had everything we needed. Adding to the authentic Italian theme of the evening was a roaming accordion player and singers who rounded to every table to sing traditional Italian songs. When they came to our table and asking for request, I said "surprise me" and they started in on a lovely song that transported me to Italy, if only for a moment. It was surreal and special. As we were leaving, I was full and happy and drinking in the beauty of the evening sun and mentally adding Francesco's to my list of places to return to sooner rather than later.


The Basics
Address: 400 S. Orlando Avenue, Suite 104, Maitland, FL 32751
Website:
www.francescos-rist.com
Cuisine: Italian
Ideal For: Lunch, Dinner
Price: $10-$20 for entrees
Accessibility: The restaurant was wheelchair accessible.
Special Features: Make reservations through the website OpenTable to accumulate dining points. Francesco's also takes take-out orders via phone.
Disclaimer: This review is based upon the information I have at the time of the review and does not reflect changes in ingredients or availability of items. Please contact the restaurant directly for up-to-date information and feel free to to contact me with any questions or comments. I was not compensated for this review and it is a reflection of my personal opinion.