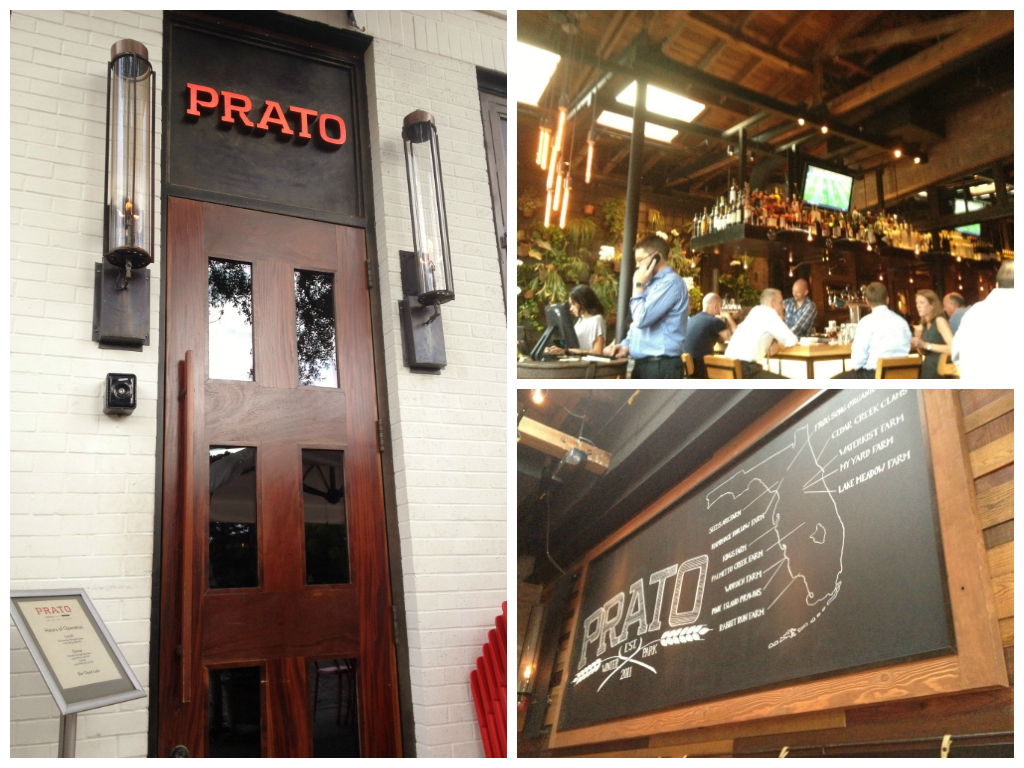 When it comes to fine, exotic, or out-of-the-norm dining options, Winter Park definitely covers a lot of ground as the city is home to many restaurants with varying cuisines and styles. Prato, located on scenic Park Avenue definitely has carved out it's niche in the city and has earned top marks for their modern take on Italian cooking. Recently, they were commended by Orlando Magazine as the best Italian restaurant in the city after a readers' survey and have been noted in other local and statewide publications. Wanting to go out for a celebratory dinner with a friend, I suggest Prato after learning of their gluten-free friendliness and seasonally inspired ingredients. We set the date on an off Monday evening wanting to avoid a crowd and arrived as they opened for the evening (5:30 pm).


Once inside, I loved the interior design which was modern and hip but had classic touches such as milk bottle water jugs. We were seated close to the floor-to-ceiling windows that provide a great view of Park Avenue's activity while also providing natural sunlight as lighting. Looking around the front part of the restaurant where the table was, I took in a wall covered by hanging plants, a map of local farms that provide the food used at the restaurant, and a ceiling dotted with interesting light fixtures and a skylight letting more of the sun's rays in.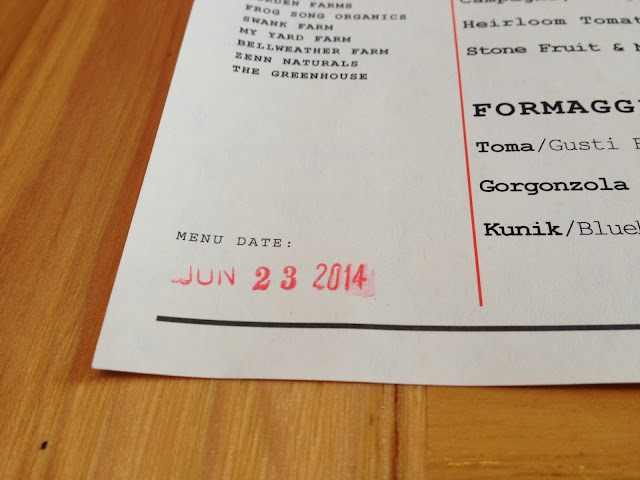 The menus are dated to make sure they feature the day's freshest flavors.
Settled in, our waitress greeted us and explained Prato's focus on farm-to-table food which allows them to keep a constantly rotating menu that literally changes daily based off of what comes in each day from local farms. For gluten-free diners, the selection that is safe includes salads, pastas (made in-house), entrees and their meat and olive plates. However, when I added in my secondary dairy allergy, the variety available to me narrowed drastically. Though I never try to get my heart set on a dish beforehand, I was hoping to get a pasta creation because they make their pasta in-house. I was pretty crushed to hear that the only pasta "left on the table" was the Egg Bucatini, which contained duck ragu and foie gras which was a turn-off for me. Disappointed, but determined to not settle for a dish I knew I would be weary of, I asked the waitress if a custom, simple pasta could be created off-menu. While I usually try to keep my order as simple as possible (or a simple as gluten and dairy free can get), there are times when I just cannot "settle." The waitress confirmed that my request would be possible and I could have a simple pasta with veggies. Though I was relieved, I was frustrated by the way dairy limited me and embarrassed by my own picky tendencies. It just goes to show that diligent research before dining off really does pay off- just calling ahead to put my allergies on the reservation doesn't quite cut it.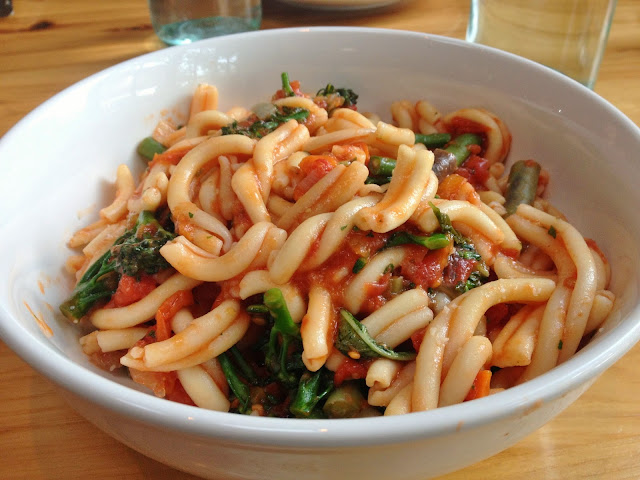 When my pasta came out, I was thrilled to see that it featured veggies in a red sauce- exactly what I was hoping for. I ordered a full-sized portion, which was about a two cups' worth of the dish. It was perfectly adequate for my moderate appetite, but would have been lacking for someone with a larger one. Once taking my first bite, I fell in love with the trecce-shaped noodles which were al dente, not too hard and not too soft. Unlike the boxed gluten-free pastas I've tied, the noodles also did not appear to retain water which resulted in a perfectly prepared pasta bowl instead of one that was too watery. I neglected to ask what their main ingredient was though. The red sauce covering the noodles was light and simple which emphasized the taste of the fresh tomatoes rendering its color. Intermixed into the pasta was tender, garlic-infused broccolini and green beans. I especially loved the broccolini because it was just so simple and flavorful. The green beans were a unusual mix-in to pasta, but were good, if not the freshest one's I've had. Nevertheless, I was completely happy with my dish and had no complaints.


All things considered, Prato is a nice restaurant for a night out with it's inspired interior and modern take on Italian cooking. For my taste, it was a little too avante-garde in the food department and a little too pretentious in the atmosphere, but for one evening, it was a great venue for a girls' night out. It's definitely not a place when seeking cheap eats, but Prato is geared towards sharing dishes and for those not dealing with multiple allergies, I'm sure sharing dishes could be a fun venture. I learned a valuable lesson in understanding a restaurant's menu and doing a little more ground research beforehand. Our waitress was knowledgeable and friendly which made our experience all the better as she helped us navigate the menu, which for the Italian-illiterate could be tricky to decode. I'd definitely go to say that gluten-free is accommodated easier than dairy-free, but in a pinch, Prato delivered a gluten and dairy free meal that was satisfactory.


Looking for other Winter Park restaurant reviews? Click here.
The Basics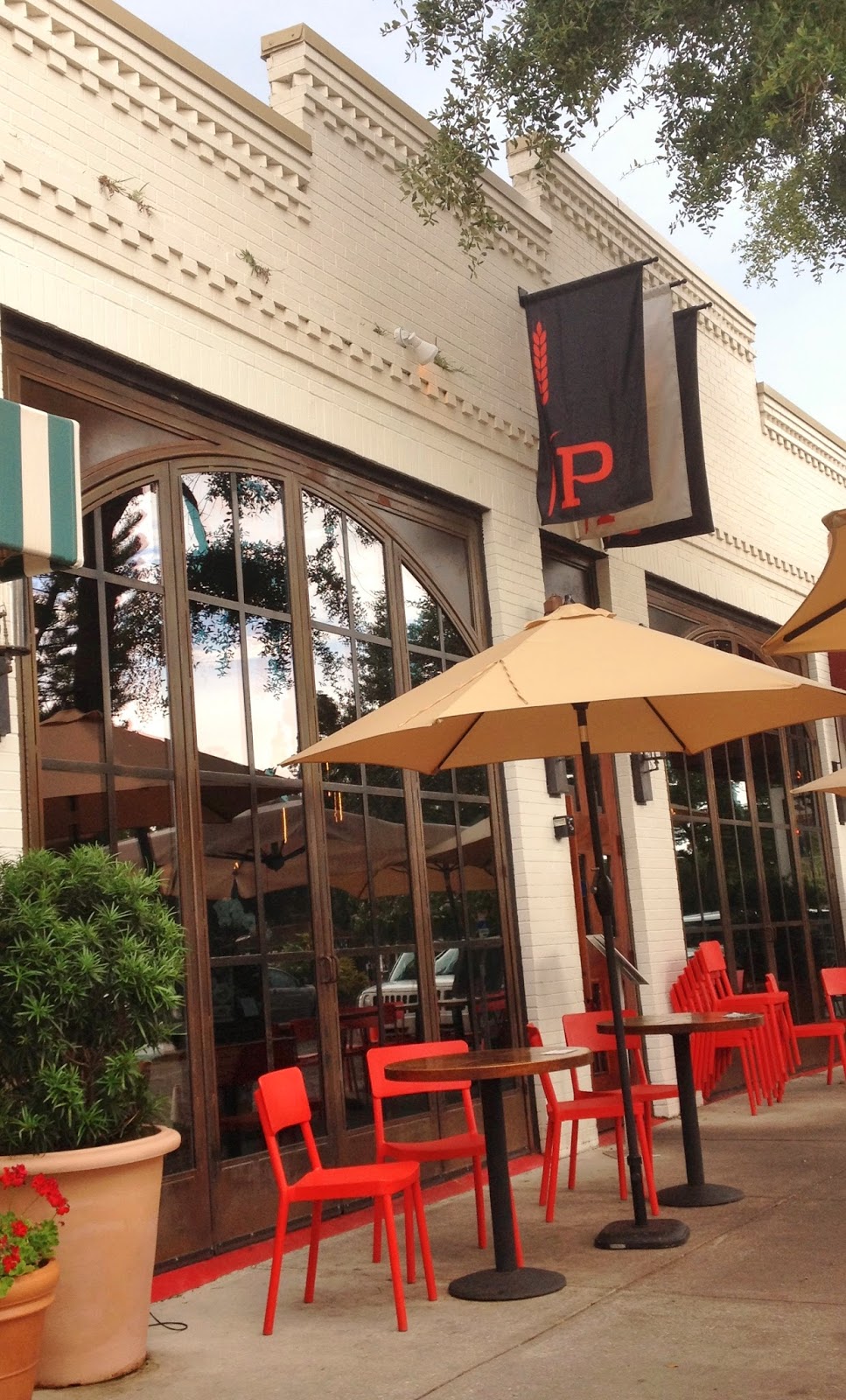 Address: 124 North Park Avenue, Winter Park, FL 32789
Website: www.prato-wp.com
Cuisine: Italian
Ideal For: Lunch, Dinner
Price: Menu items range from $7-30 items.
Accessibility: The restaurant was wheelchair accessible.
Special Features: Reservations can be made through OpenTable. I'd strongly recommend them because they were packed by 6:15 on a Monday night.
Disclaimer: This review is based upon the information I have at the time of the review and does not reflect changes in ingredients or availability of items. Please contact the restaurant directly for up-to-date information and feel free to to contact me with any questions or comments. I was not compensated for this review and it is a reflection of my personal opinion.