Every good college town needs it's restaurant staples and Towson/Baltimore is no different. From past experiences and doing some driving around, I already knew they had gluten-free friendly grocery stores (Whole Foods, Fresh Market, etc.), chain restaurants (Red Robin, Chipotle, Qdoba, etc.), and even a local pizza place that would deliver a gluten free pizza. One staple cuisine I was missing after a couple visits worth of exploring was a good Asian and/or Thai restaurant. After doing some pre-travel research specifically looking for Asian cuisine, I decided upon Spice and Dice Thai, a local Thai restaurant to try out because they serve up an impressive offering of gluten-free dishes that could easily be dairy-free and vegan depending on one's dietary needs.

The restaurant was fairly empty at 5:00 on a Tuesday night which was perfect for me because it was calm and peaceful. The regular menu is many pages long and does not specify which dishes are safe, but upon informing my server of my gluten and dairy considerations, another menu was brought out that had a symbol key designating items that could be made gluten-free (blue circle), vegetarian (green v), or vegan (blue leaf). For those who like to plan ahead, the gluten-free/vegan menu is available online.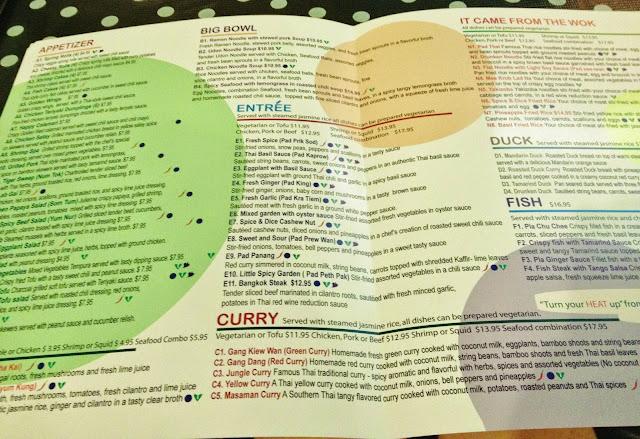 The symbols are hard to read on this picture… sorry!


With so many options on the menu, my head was swirling between the noodle dishes, entrees, soups and curries that were "on the table" so to speak. I ended up going with the lemongrass soup and the Thai basil sauce entree (pad kaprow). Because it was an entree, the Thai basil could be served on it's own with the mixed vegetables that come with it or paired with a variety of proteins including chicken, tofu, beef, pork, shrimp squid or a seafood medley. I opted to include chicken on mine, in addition to the vegetables, and the meal would be complimented by jasmine rice on the same.





The soup came out first and was perfectly portioned to give a taste but not be a whole meal. I didn't realize that it came with chicken automatically which kind of turned me off because I didn't want to overdo the meat for dinner. Carefully avoiding the meat, I sampled the broth and was won over by its spicy lemongrass flavor and fragrant aroma that was heightened by a very vibrant lime flavor that gave it a sweet and tart edge. Also included in the soup was mushrooms, tomatoes, cilantro and red onion and these gave the soup character and supported the broth while not weighing me down. If I were to order again, I'd definitely recommend going with the vegetarian version of the soup or adding shrimp to it as a lighter protein than chicken.





Shortly after polishing off the soup's broth and veggies, the entree arrived. My first impression was that it was a generous serving size, but once I began eating, I realized how hungry I really was. I really like the chicken's texture and bite-sized presentation as well as the assortment of vegetables. The green beans in the stir fry were a little odd and didn't quite seem to blend with the other more traditional vegetables- onion, carrots, bell pepper. The sauce was a brown soy-based sauce and was drowning the stir fry which really detracted from it, but periodic tastes of fragrant and potent Thai basil enlivened the whole dish and were the highlight of the entree. Though I cleared my plate, I wasn't too impressed with the dish and would definitely order a different dish to try out. Once leaving, the food weighed down my stomach and an hour later, I began to feel really dehydrated. Suspecting a high sodium count in the food, I was stuck between a rock and a hard place as I couldn't drink any more because it was too late at night yet at the same time was parched. As it turned out, I woke up in the middle of the night and drank a full water bottle caving in to my body's desperation. The following morning and day, the saltiness haunted me and tainted my taste buds.


All in all, I really did enjoy the soup and hospitality of the wait staff at Spice and Dice. Though my experience was spoiled, I must give credit to the restaurant for offering an accommodating and diverse menu for those of us needing alternative ingredients. I wish I had had a better experience, and hope that mine was out of the norm for the restaurant.


The Basics
Disclaimer: This review is based upon the information I have at the time of the review and does not reflect changes in ingredients or availability of items. Please contact the restaurant directly for up-to-date information and feel free to to contact me with any questions or comments. I was not compensated for this review and it is a reflection of my personal opinion.