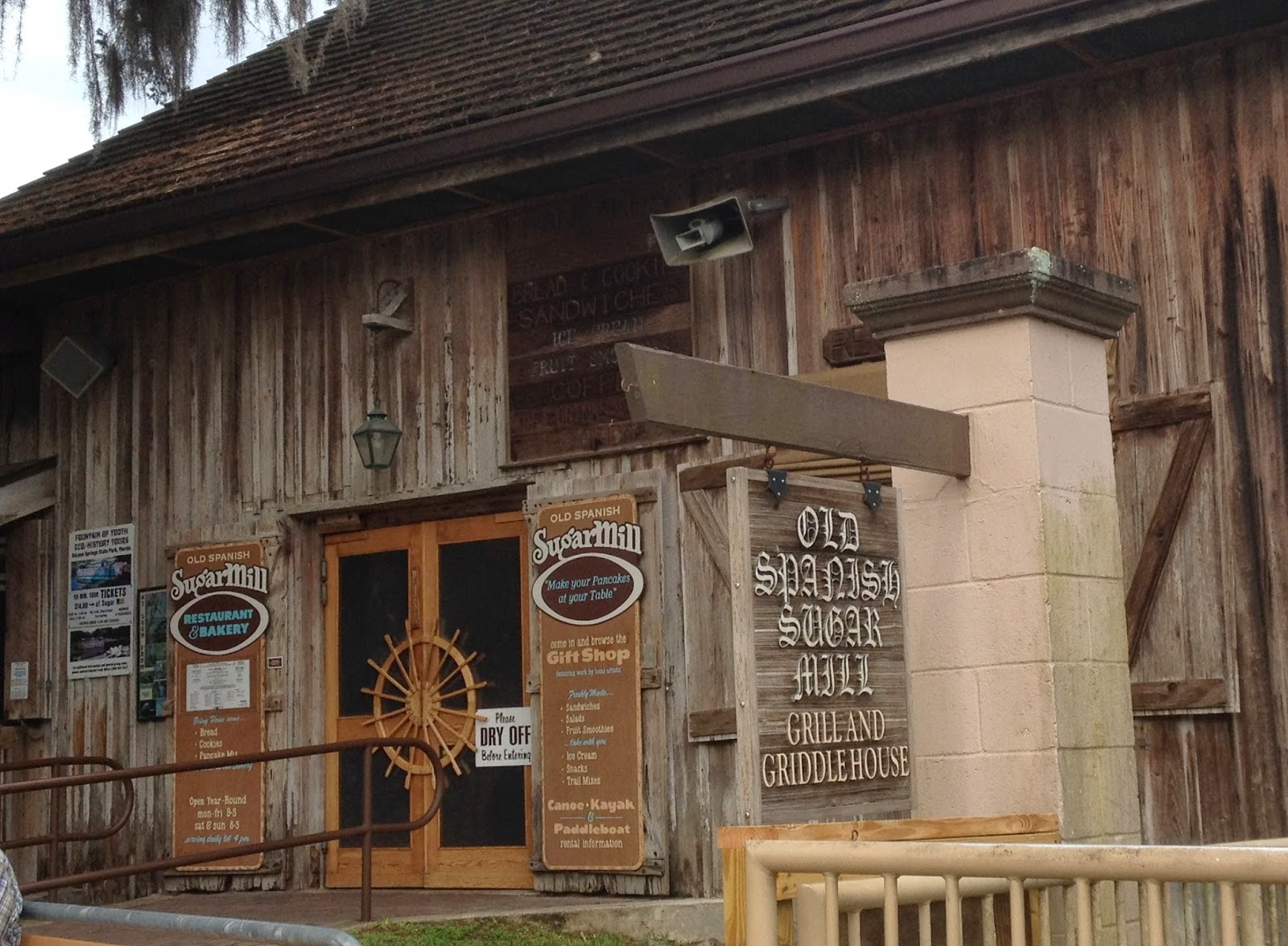 With all the new attractions and buildings going up in and around Central Florida, it's quite easy to forget that our state has a history that goes back 500 years and beyond. Before we became "the happiest place on Earth" our state had its rustic roots in the cattle and citrus industries. Visiting the Old Spanish Sugar Mill locating within De Leon State Park is a unique way to step back into Florida's past to experience the wonder of the natural world and old Florida charm. Considered to be a "best kept secret" by locals and lucky tourists alike, the Old Spanish Sugar Mill is off the beaten trek but well worth the excursion if looking for a unforgettable breakfast.


Just looking at the Mill feels like a vintage photograph has come to life. The well-worn signs and exterior could probably tell a thousand tales and have withstood much in their long history. The original mill (not the present-day version) was constructed in the 1830s to help process sugar cane using the natural energy of water. It was rebuilt around the 1900s and been refitted multiple times to adapt to new uses and technology and still stands today. A lone chimney remains from the original mill and stands as a monument of the original structure. Due to inconsistent and inaccurate record keeping, the full history of the mill is somewhat left to speculation, but those wanting more information can find it at this link.


The Old Spanish Sugar Mill is another local favorite that I loved as a kid and had written off as a restaurant I could never eat at again. However, in a spur of the moment stroke of inspiration, I did some online investigating to see if they have joined the growing number of local restaurants embracing gluten-free options. As it turns out, they now offer a pancake batter that is both gluten-free and vegan right alongside their two glutenous batter options (stoneground whole wheat and unbleached white). On a whim, I proposed to my dad that we get breakfast the following day as an early Father's Day present since I'll be missing the actual day flying up to Baltimore for pre-college stuff. He agreed, and bright and early the next morning, we made the trek up to the park.



The novelty of the restaurant is that the tables are situated around built-in griddles and guests literally cook their own breakfast. Pancakes are the main draw and you'll be missing out if you don't order this signature offering which is "all-you-can-eat" style and only $5.95 per person for the gluten-free version. Regular "all-you-can-eat" pancakes are $4.95 per person. However, other options include eggs (break and cook yourself), bacon, french toast, sausage, ham and cereal which can be ordered a la carte too. I think the only griddle-cooked items are the eggs and pancakes and everything else is prepared in the kitchen. Back to the pancakes, upon ordering, you can add additional toppings such as chocolate chips, "real" peanut butter, applesauce, blueberries, bananas or pecans which can be mixed into the batter once it's poured out on the griddle. Raw honey, unsulphered molasses, butter and maple syrup are provided on the table for everyone but I didn't use any of the toppings preferring the pancakes as-is. I asked to see what the ingredients were in the pancakes, and the waitress happily brought out a laminated list of the batter's ingredients (see above). I was happy to see the listing of ingredients was somewhat healthy (as far as pancakes go) considering the use of brown rice flour, flax seed, and unprocessed sugar.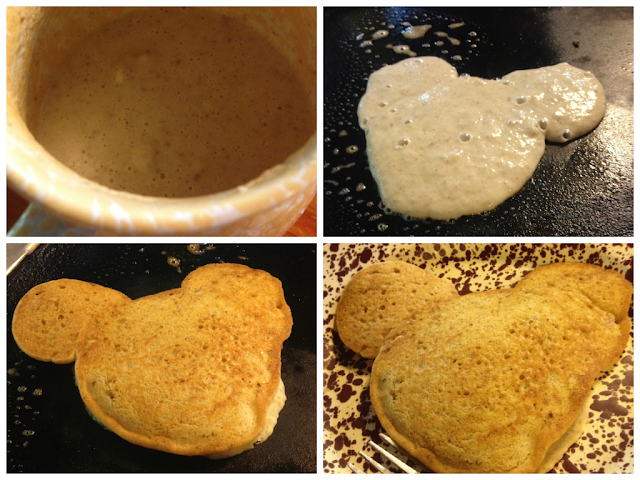 Four stages of waffle cooking: batter, first side, second side, ready to eat.


Once ordering just the pancakes with no mix-ins, the waitress brought out a pitcher of the batter and a can of soybean oil spray to coat the griddle. The gluten-free pitchers of batter are a different color than the gluten-containing pitchers so that it's easy to keep them all straight. Because I was the first person to eat off the griddle that day, I didn't make a big deal about washing off the griddle, but if you are not the first one to eat at that setting, know that they are washed off between uses. However, it never hurts to ask again. I set off on my pancake cooking adventure and excitedly poured the batter onto the grill. As it bubbled and cooked, I eagerly awaited my first taste and rushed it along which resulted in an ugly waffle because I tried to flip it too early. Finishing that one up, I sampled the freshly made pancake and fell in love. The batter is deliciously whole-grain tasting and mildly sweet which made for the perfect pancakes. The batter cooks up fluffy and thick. Knowing I'd want more, I poured more and each time my technique cleaned up with practice. My most picture-worthy creations was my Mickey waffle in honor of my Mickey waffles from Kouzzina. Call me cheesy, but anything's better with mickey ears! My dad and I split the griddle so I had one half for my pancakes and he had the other for his.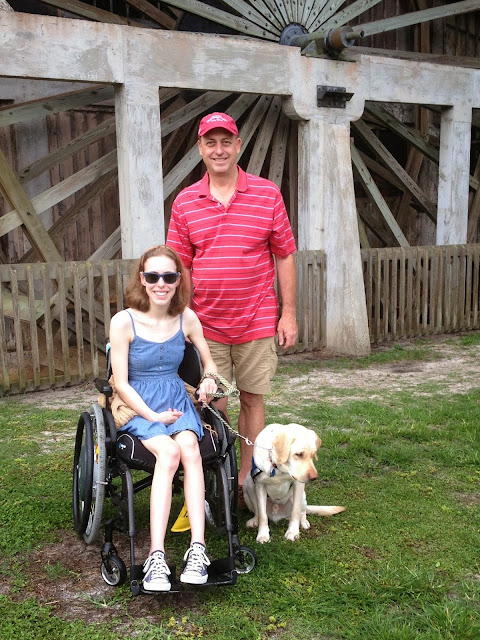 After eating five pancakes, I knew I had to quit while I was ahead. It could be really easy to let your eyes be bigger than your stomach and I didn't want to get sick from eating a pound of pancakes which would spoil the day. My dad also thoroughly enjoyed his gluten-filled pancakes and we both left the restaurant full and happy and already planning to come back sometime for another father-daughter outing. We did a final loop around the spring to check out the activity around the park and relish the beautiful day. For those wanting to pay the Old Spanish Sugar Mill a visit, here's some tips as to make the most of the experience:
Arrive early. Fresh griddles have the least amount of gluten on them and the staff will have more time to attend to any questions or needs you might have.

Be prepared to wait. Wait times on the weekends can reach into the 1+ hour range so shoot for week days and non-holidays. I arrived shortly after they opened and walked right in but there was a waiting list when we walked out.

Don't be deterred by lines. The park opened at 8 am. on the Saturday I went and there was a long line of cars waiting to be let into the park at 8 am on the dot. It took 30 minutes to get into the park because you have to pay per car to enter the park but once inside, everyone scattered and the restaurant was moderately full.

Arrive hungry. The pancakes are truly all-you-can-eat so take advantage of the bottomless batter pitchers!

Take advantage of the park's offerings. Enjoy the perpetually 72 degrees spring fed pool, multiple hiking trails, boat tours, wildlife watching and other nature-driven activities.

Beat the heat. With all the griddles fired up, the restaurant can get quite toasty in the summer months.
The Basics
Address: 601 Ponce DeLeon Blvd, DeLeon Springs, FL 32130
Website: Their website and menu (note: gluten-free items are not on online menu)
Cuisine: Breakfast staples, some lunch offerings
Ideal For: Breakfast, Brunch, Lunch
Price: $5.95 for all-you-can-eat gluten-free pancakes ($4.95 for the gluten containing counterparts). Add-ins $1.85 and all other breakfast offerings less than $5.00 each. Lunch and dinner options are all under $10.00.
Accessibility: The restaurant was wheelchair accessible. Navigating the tables can be tough, but doable.
Special Features: Breakfast offerings served until 4 pm. every day. Reservations available and recommended for parties of 10-30 people.
Disclaimer: This review is based upon the information I have at the time of the review and does not reflect changes in ingredients or availability of items. Please contact the restaurant directly for up-to-date information and feel free to to contact me with any questions or comments. I was not compensated for this review and it is a reflection of my personal opinion.