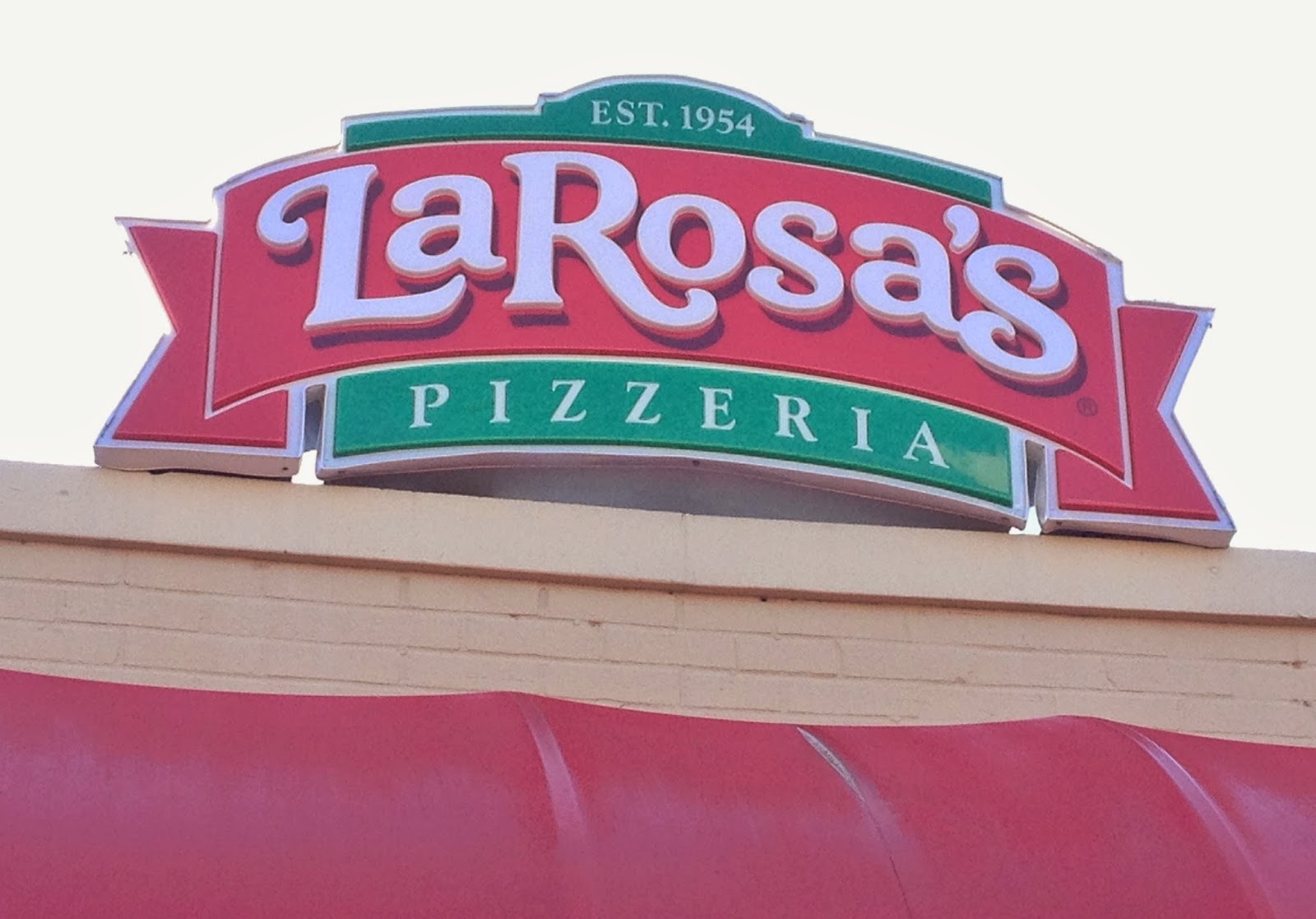 The People of Cincinnati are proud of their distinct culinary mainstays that have become world-renowned. Skyline's chili, Graeter's ice cream, Montomery Inn's ribs and LaRosa's pizza are just a handful of the tried and true companies that are pinnacles of the city's taste. Having tried all of the above restaurants growing up in Ohio, I can testify to their greatness, but upon going gluten free almost three years ago, I quickly realized that I could no longer enjoy my old favorites which were gluten and dairy laden. Planning to visit family in Cincy on the way to a conference in Indiana this summer, I decided to look into my culinary options to see if they had become a little more gluten friendly since my last visit. After scouring the internet for gluten free options in the city, I pinpointed two restaurants nearby that would be convenient and safe to eat out with family: LaRosa's Pizza and The Green Papaya.



LaRosa's Pizza
Flying in during the afternoon, I was looking forward to going out to dinner with my grandparents, cousin, and aunt at LaRosa's, my favorite pizza place growing up. I love LaRosa's distinct sauce which is unlike anything I've had before or since. Having eaten gluten-free here once before while visiting, I knew they could deliver a solid and safe pizza and have been wanting to go back for a while now. LaRosa's does not offer gluten-free pizzas at all of their store locations (and there are many) because they simply couldn't preserve the integrity of gluten-free pizzas at each location. Having a select number of gluten-free pizza serving locations allows them to maintain separate prep and cook areas and train their staff. Their efforts are so pronounced that the National Foundation for Celiac Awareness has accredited them as a GREAT gluten-free kitchen. For more information on this elite designation, click here.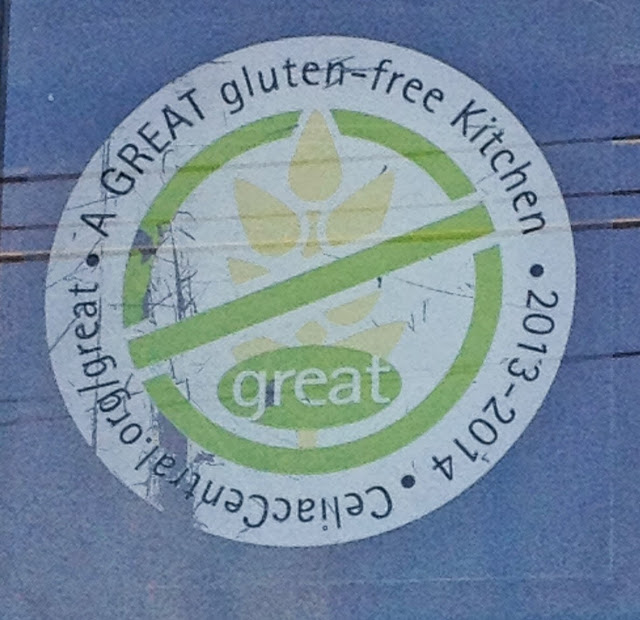 As I looked over the menu, I was happy to find that the gluten free options were designated using a GF icon next to each safe ingredient. Directly from the menu, here's a listing of toppings/sauces that are safe. All GF pizzas come on a 10 and 1/2″ rice flour based crust that is gluten and dairy free (did not ask about other allergens).
Sauces: Family recipe pizza sauce
Meats: Pepperoni, s

ausage, ground beef, capocolla ham, bacon, and spicy sausage (did not check for dairy in these)

Vegetables: Roma tomatoes, mushrooms, black olives, green olives, green peppers, red onions, spinach, and pineapple
Cheese: Provolone (contains dairy)
After careful consideration, I decided to top my pizza with pizza sauce, spinach, tomato, mushroom, and red onion to go all-veggie. After double checking that the sauce/crust was safe and that my pizza was sans cheese, I eagerly awaited my first slice.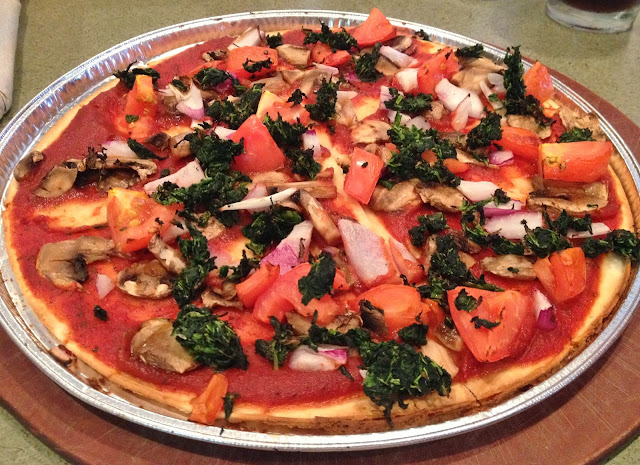 When it finally emerged from the kitchen, I couldn't wait to sample out the colorful creation. Each pizza is served in it's baking pan to prevent cross contamination from moving it from one dish to another. As expected, the pizza was a hit. Though the crust wasn't my all-time favorite, it was pretty good and smothered with ample pizza sauce, I had no complaints. The veggies on top were fresh and light and were delicious grouped together. Though the pizza is a medium-sized pie, I found myself happily satisfied after polishing it off- not grossly full. Though the pizza itself is not worth dropping everything to come to Cincinnati, if you're in the area, make a point to stop by. Your tastebud's will thank you- and Cincy's locals who have made LaRosa's a beloved icon of the city.


The Green Papaya
After dinner at LaRosa's, I didn't get to explore too much of the city because I left bright and early the next day for Indiana. However, on the way back through the city for final good-byes with my grandparents on the way to the airport, we had just enough time for a lunch with my uncles and two other cousins. After a jam-packed weekend, I was looking for comfort food, so I selected the Green Papaya, a Thai restaurant as our meeting place after confirming that they could prepare food that was gluten and dairy free.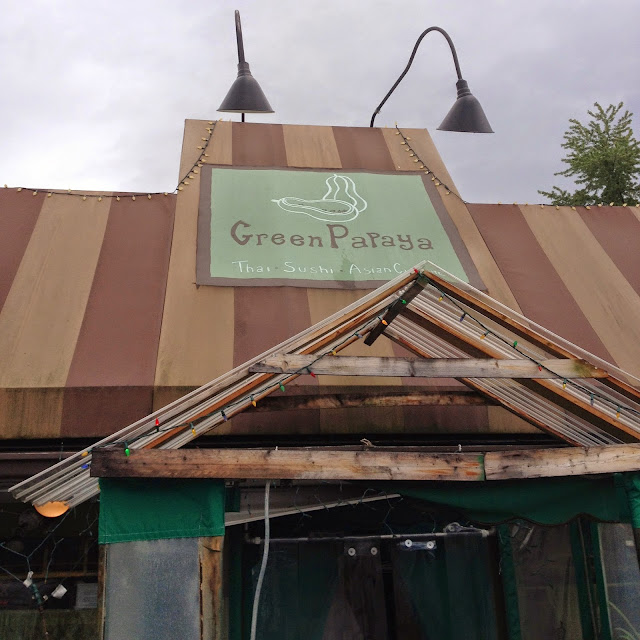 Not wanting to spend too much time looking over the menu and having to ask about GF soy sauce and other accommodations when looking at Asian cooking, I ordered green curry with chicken and brown rice on the side which was safe. They do not have options marked, but our waitress seemed knowledgeable about what was and was not safe.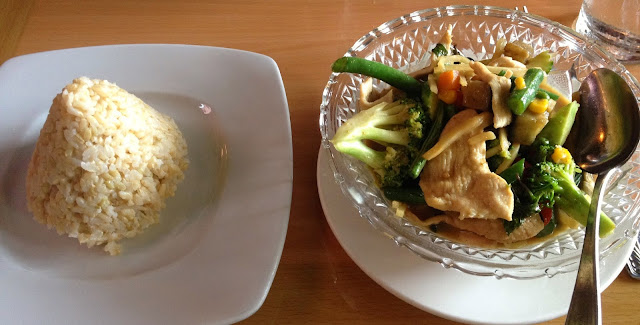 When it came out, I really liked the presentation of the curry and the rice in a volcano-like dome. Who says food can't taste good and be pretty?! The curry itself threw me off guard at first because it seemed to be missing the dish's signature soup-like sauce, but upon closer inspection, it was all pooled at the bottom after being poured over the vegetables and meat. The mix of broccoli, peppers, bamboo shoots, carrots, eggplant, and other vegetables was cooked so that they were crisp and flavorful. The chicken was all white meat and sliced into bite sized pieces. I really enjoyed the rich, creamy green curry sauce that had a hint of lime and tastes of Thai basil which was just what I needed on a rainy day. By not overwhelming the vegetables and chicken with sauce, the dish seemed lighter and was just enough to satisfy my craving. The rice was cooked perfectly- not too hard and not too mushy, and was a nice base for the richness of the dish. I like how the Green Papaya offers up brown rice as an option instead of just serving white rice automatically. All in all, I really enjoyed my meal- as did my family- and wouldn't cross it off the list of possible restaurant visits on a return trip.
The Basics: LaRosa's Pizza
Address: 7691 Montgomery Road, Cincinnati, OH 45236
Website:
www.larosas.com/
Cuisine: Pizza
Ideal For:
Lunch, dinner
Price: Gluten free cheese pizzas are $8.99. Additional toppings are $1.25 each.
Accessibility: The restaurant was wheelchair accessible.
Special Features: Gluten-free pizzas available at these locations: Cincinnati, OH (Boudinot Ave, Beechmont Ave, Montgomery Rd.), Alexandria, KY, Mason, OH, Centerville, OH, Beavercreek, OH. LaRosa's also offers delivery and online ordering.
The Basics: The Green Papaya
Address: 2942 Wasson Road, Cincinnati, OH 45209
Website:
greenpapayacincinnati.com
Cuisine: Thai, Asian, sushi
Ideal For:
Lunch, dinner
Price: Most lunch items $10 and under. Dinner entrees under $20.
Accessibility: The restaurant was wheelchair accessible.
Special Features: Order ahead for pickup at (513) 731-0107 or (513) 731-0157. See their lunch and dinner times at this link.
Disclaimer: This review is based upon the information I have at the time of the review and does not reflect changes in ingredients or availability of items. Please contact the restaurant(s) directly for up-to-date information and feel free to to contact me with any questions or comments. I was not compensated for this review and it is a reflection of my personal opinion.