Toasted, as its name might suggest, specializes in grilled cheese and burgers prepared perfectly and are easily adapted to accommodate special diets. While their duel menu categories are deceptively simple, their offerings are far from the traditional grilled cheese or hamburger you're used to or have grown up with.


Though Toasted has been on my "to-do" list for a while now, I finally had the opportunity to check them out thanks to the careful coordination of a Central Florida gluten-free meetup hosted by Jennifer from Celiac in Orlando. Hopefully the first of many future gluten-free meetups in the future, I was blown away by the lengths the owners of Toasted go to keep their gluten-free options safe truly gluten-free.


Arriving earlier than the start time, I wanted to get a head start on ordering since dining dairy-free is often more confusing to restaurants than the gluten-free component of my dual intolerances. When I informed the staff that I was both gluten and dairy free, I was directed to the vegan menu and told that I could have any of the selections on gluten-free bread. While I appreciated the staff's spot-on allergen knowledge, I quickly affirmed that I do in fact eat meat and would probably order my sandwich sans cheese altogether. While their homemade vegan "cheese" (from coconut milk) sparked my curiosity, I've had one too many run-ins with the non-dairy stand in that have turned me off the stuff. Those who enjoy it- be my guest- it's just not my thing. After considering the small, but surprisingly gourmet-inspired creations, I opted for the Harvest Turkey Burger without cheese.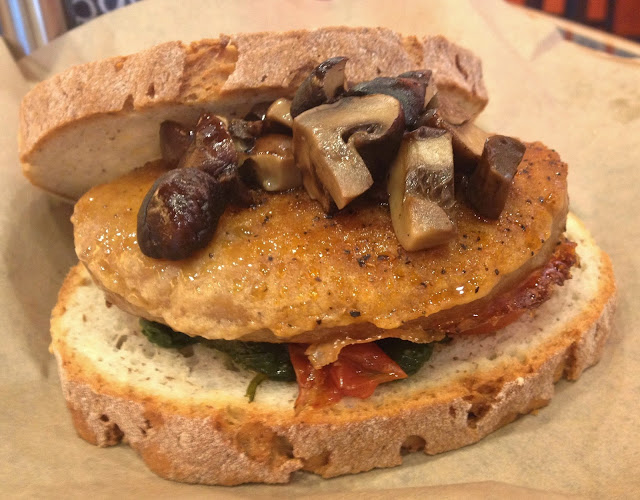 When it arrived a short time later, I was impressed by the finished product which boasted a juicy and well seasoned turkey burger, portobellos, tomato chutney, and steamed garlic spinach all atop Udi's whole grain bread. My one complaint was that it was not pre-cut down the center, which rendered the laden sandwich all but inedible sandwich style. Attempting to halve the creation with a plastic knife, I made a mess as the bread crumbled and broke unevenly leaving two halves that were pretty pathetic looking. Not daunted, I was able to eat one half as a sandwich, but the other I had to eat with a fork and knife because the moisture from the steamed spinach rendered the Udi's a soggy mess. Nevertheless, I really enjoyed the combination of the sandwich's toppings which were well balanced flavor-wise. The vegetables were all fresh and really brought the turkey burger to life in my mouth. All in all, I was satisfied with my meal, but will definitely order a sandwich in the future versus a burger because Udi's sandwich bread is incapable of handling the heft of a burger. My one other complaint is that $7 burger seemed a little lacking in the price-to-food ratio as the sandwich wasn't very big and didn't come with sides. They offer salads and fries as sides (the fries were well reviewed), but neither appealed to me that evening so I stayed side-less after considering going back for more.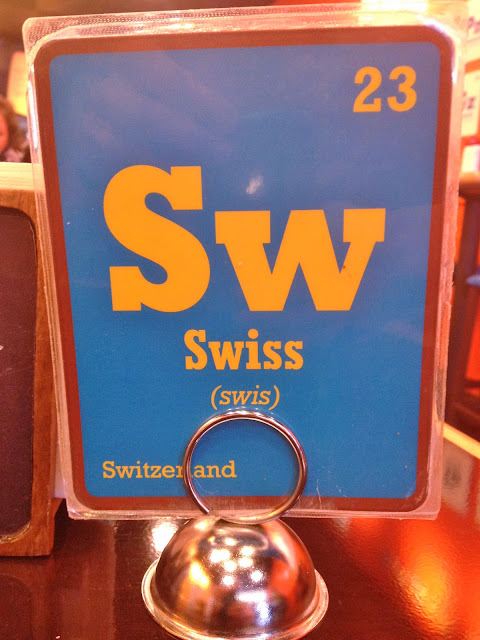 Cute touches such as their table labels based on cheese.
And now, in reverse order, here's my round-up of the gluten-free protocols Toasted observes to ensure their food is not subject to cross contamination.
As I mentioned, they use Udi's whole grain bread which was sized similarly to Costco's Udi's loaves. They do not offer the buns for burgers but instead serve them on the sandwich slices.

The entire staff from kitchen workers to counter workers are trained on food-allergy information so they can be well-informed when advising guests.

They use color-coordinated utensils to distinguish gluten-free ones from the gluten-full.

French fries are the only items fried in the fryer and are 100% gluten free.

They use a separate, dedicated cooktop for gluten-free sandwiches.

They do not cut their sandwiches (as I noted!) to avoid the possibility of a stray knife ruining the integrity of a sandwich. While I don't like the presentation, I can't complain about their reasoning for it!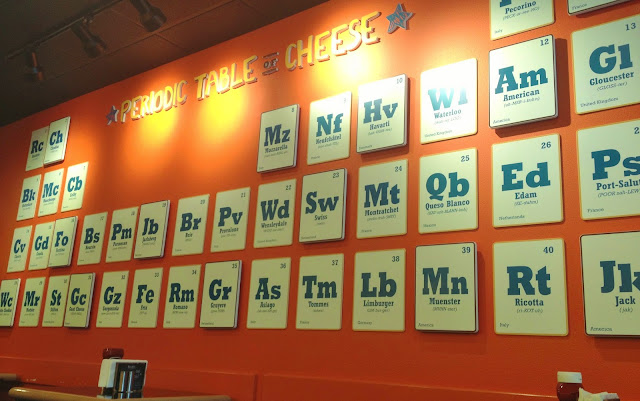 Rounding out the event and review, I was really impressed with Toasted's dedication to the gluten-free community and the amazing crowd that turned out to support the event. All involved were able to benefit from the mutual camaraderie of shared gluten-free experiences and I really enjoyed getting to share a meal with familiar and new friends. I sincerely hope that this event will become a monthly occurrence in the future though my time is limited in the sunshine state (see future events on my local events page for more details). Thanks goes to Toasted and the entire team there for hosting our group and dealing with a packed house for the time we spent there.
The Basics
Address: 1945 Aloma Ave, Winter Park, FL 32792
Website:
www.igettoasted.com
Cuisine: Grilled cheese, burgers, soup, fries, salad
Ideal For: Lunch, Dinner
Price: Less than $10 per person
Accessibility: The restaurant was wheelchair accessible.
Special Features: They offer curbside delivery. Just call 407-960-3922.
Disclaimer: This review is based upon the information I have at the time of the review and does not reflect changes in ingredients or availability of items. Please contact the restaurant directly for up-to-date information and feel free to to contact me with any questions or comments. I was not compensated for this review and it is a reflection of my personal opinion.