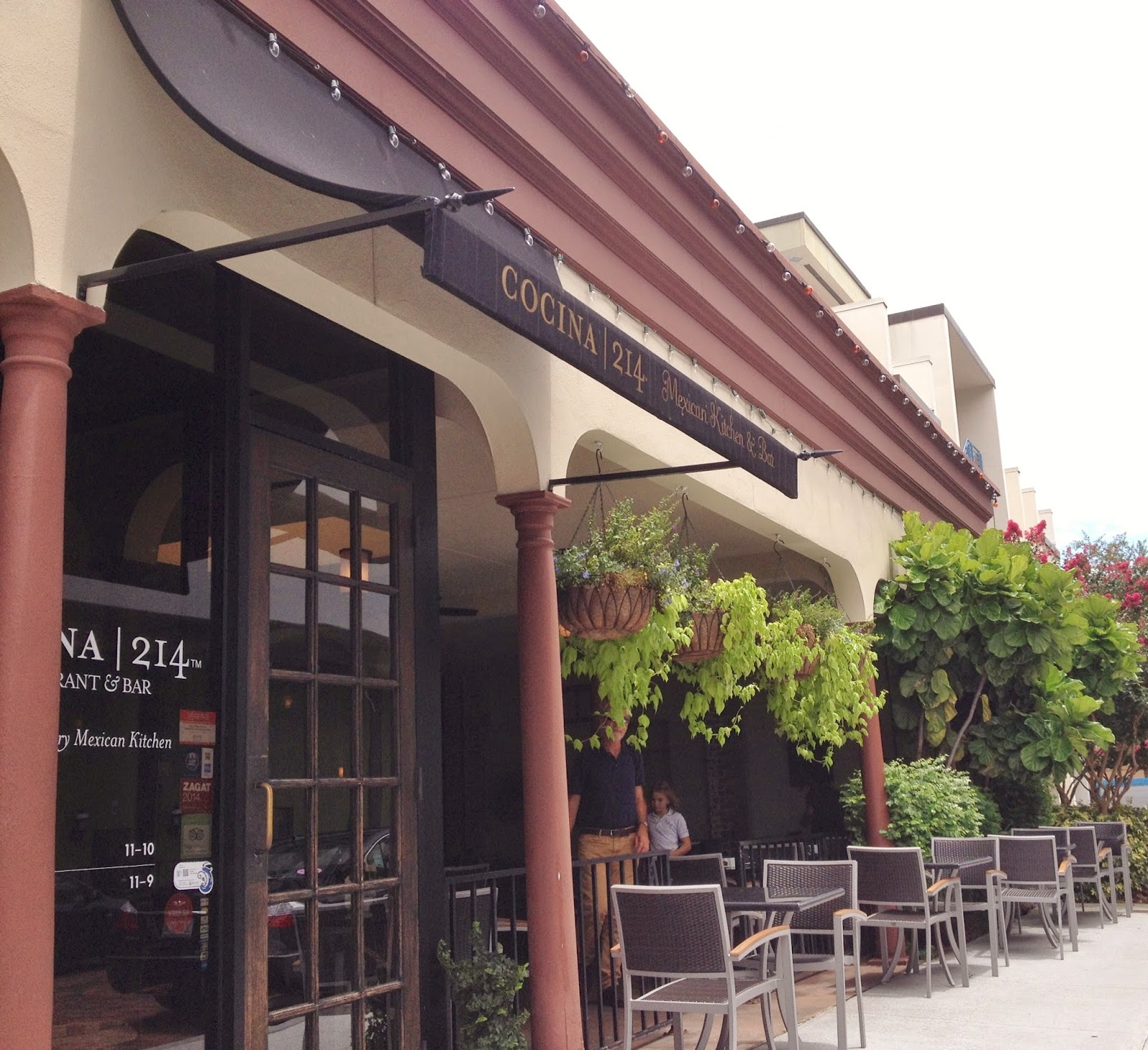 These past few weeks have been dedicated to tying off loose ends, goodbyes, and the seemingly endless process of packing for college. Along the way, I've tried to make the most of my time left by hitting some of my favorite restaurants as well as some I've been eyeing for a while. Cocina 214 falls into the latter category and has been on my to-do list for awhile after reading a review on my friend Alexis' blog (Gluten Free in Orlando). An opportunity arose when I scheduled a lunch date with my my mom and a friend to talk about her career path and catch up on our families' activities over the years. Cocina's gluten-free friendly menu and accessible just-off-Park Avenue location in Winter Park fit the bill nicely and was agreed upon by all. Eager to finally check it out, I had high expectations leading up to the lunch.

As one of the first parties seated for the day, the restaurant was fairly empty when we walked in. We were seated right away and given menus. Without having to ask my server, I could already identify what items were possibilities thanks to the clear key that marks items that are vegetarian, vegan, and/or gluten free. Even without the symbols though, the descriptions are clear and concise so it's pretty easy to identify potentially dangerous ingredients.






Soon after, a server brought around a basket of complimentary piping hot tortilla chips and their house salsa. Normally not a fan of corn tortilla chips, I tried my first chip cautiously, but found them to be delicious, crispy, and downright irresistible. The accompanying salsa was good, but not great. It had a kick to it which was nice, but I wasn't a fan of it's watery consistency. Wanting to save room for my entree, it took some serious willpower to not continuously graze on the beckoning basket, but I did my best to preserve my appetite for the real deal.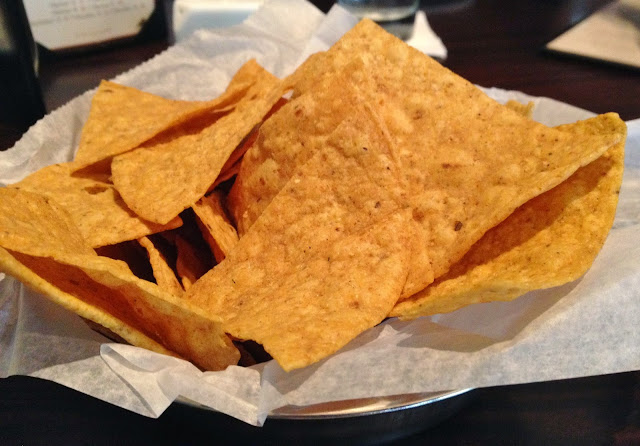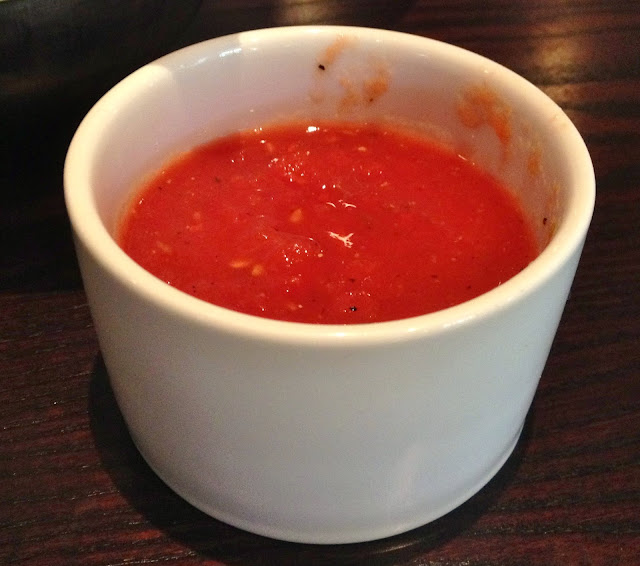 After assessing all of the options, I decided on their $10 weekday lunch special which comes with two tacos (all are gluten free) or two enchiladas (not gluten free). Of the taco options (chicken street, brisket, or veggie) I went with the chicken street because the chicken's simple, but delicious toppings appealed to me: onion, jalapeno, cilantro, and fire-roasted salsa.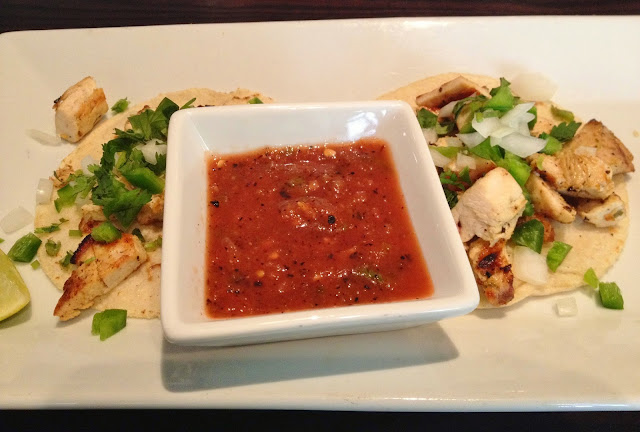 When our entrees arrived, my initial reaction to the dish was: "Is that all?" Each taco was about the size of the small salsa dish and were underwhelming as they were presented on a larger dish that was way to big for the amount of food it was tasked with holding. To their credit, the tacos are super stuffed with filling that was almost too much for the tiny tortillas. The chicken had a nice seasoning on it, but the onions, jalapenos, and cilantro didn't really have much flavor in my opinion. A squeeze of fresh lime did help immensely to jazz them up, as did the fire roasted salsa which was I liked far better than the house salsa that came with the chips. After finishing both tacos, I was still hungry, and found myself eating the last of our table's corn chips and relishing their crispy golden flavor.


Although I must admit I was disappointed by my experience, I must give Cocina 214 credit for their knowledge of gluten-free friendly offerings and multiple options for diners with various dietary needs. As far as bang for your buck goes, it's not the most budget friendly, but then again, Park Avenue is not the best place in town to find cheap eats.



The Basics
Address: 151 Welbourne Avenue East, Winter Park, FL 32789
Website:
cocina214.com
Cuisine: Mexican
Ideal For:
Lunch, Dinner
Price: Menu items range from $7-$26
Accessibility: The wheelchair was easily wheelchair accessible
Special Features: Cocina offers catering, a private dining room, and take out. Find out more on their website.
Disclaimer: This review is based upon the information I have at the time of the review and does not reflect changes in ingredients or availability of items. Please contact the restaurant directly for up-to-date information and feel free to contact me with any questions or comments. I was not compensated for this review and it is a reflection of my personal opinion.