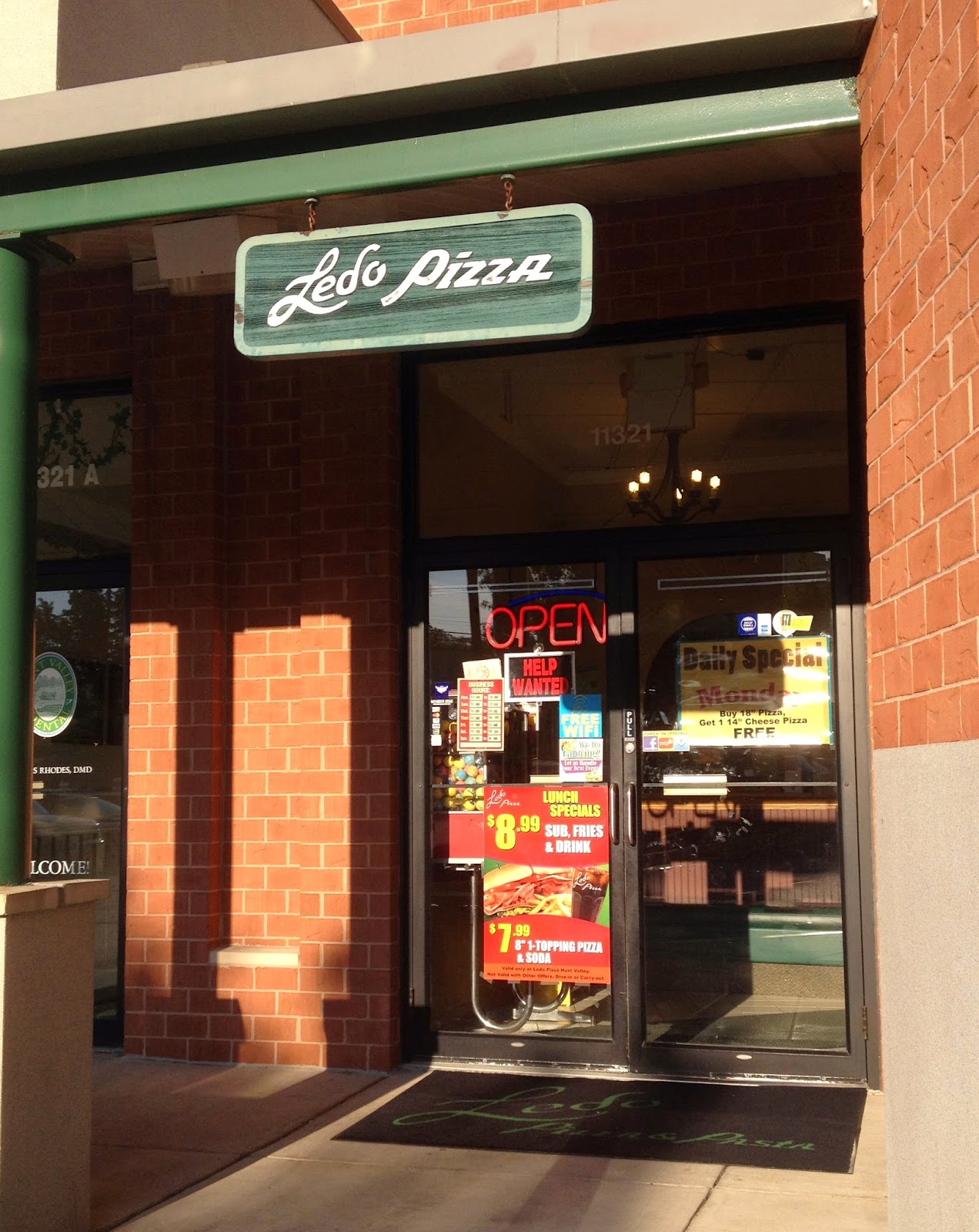 As a get-to-know you icebreaker in one of my classes this week, I had to interview one of my fellow classmates and then share their answers with the class. When asked about my favorite food it barely took a second for me to share that pizza is my cuisine of choice. After all, I indulge in my guilty pleasure at least once a week as evidenced by my seeking out of familiar and unfamiliar pizza places wherever I go. After crossing off gluten free crab cakes from my "new resident to-do list," the next order of business was to find a reliably good and safe gluten free pizza option when the dining hall and dorm cooking just won't cut it. On one of my mom's final nights in the area before heading back to Central Florida, we ventured north of the city to Cokeysville to check out Ledo's pizza which was recommended to me by one of my Twitter followers who informed me they are a hometown favorite. After a day jam-packed with orientation events and convocation, I couldn't wait to give Ledo a try after watching my peers chow down on gluten and dairy laden pies for lunch that day.
What's so great about Ledo Pizza is that they proudly include the gluten-free pizzas right alongside their traditional creations. Many restaurants don't even put gluten-free options on the regular menu so it was pretty cool to be able to order off of the regular menu and see posters advertising this option on the wall. Research beforehand assured me that their crust and sauce were both gluten and dairy free as evidenced on their website so I didn't have to inquire as to their duel gluten/dairy safety. It appears both are vegan as well, but vegans should note that there is no vegan cheese option. Mentally fried from the day's activities, I rattled off toppings that I wanted instead of requesting a specialty pizza. My selection that night included: mushroom, green pepper, red onion, roma tomatoes, and spinach. I inquired as to the safety of the roasted chicken, but without clear labeling, I opted to skip that topping just in case. Before finalizing my order, I asked about prep protocols, and was told that they use strict gluten-free procedures to prevent cross contamination such as preparing the pizzas in a separate area. However, they cannot eliminate the risk entirely so it's up to the diner to judge how much of a risk they are willing to take (as with any dining experience outside of the confines of your home).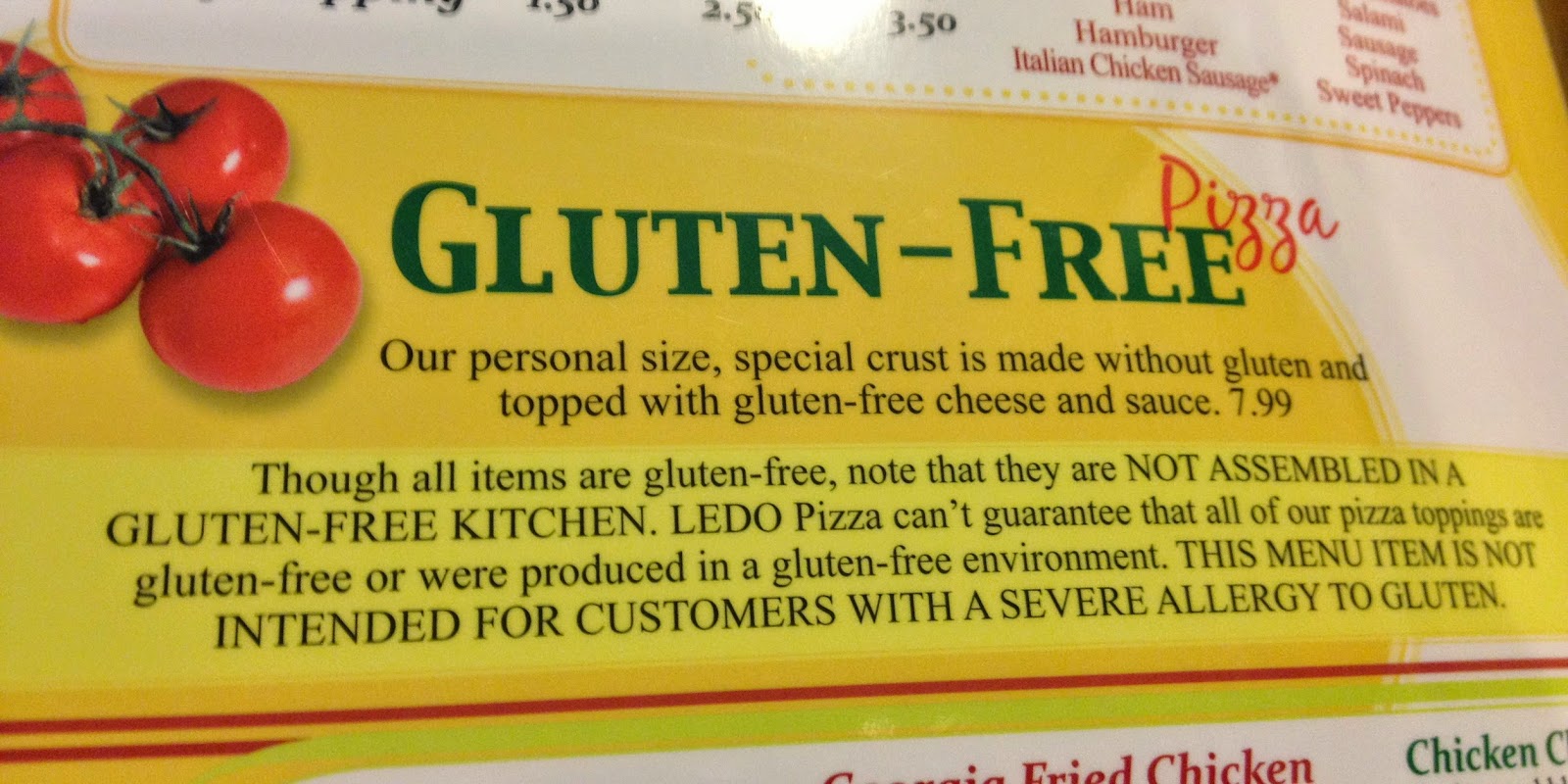 Ledo Pizza's pizza is famed for its square shape which actually works in the customer's favor because it means you get more bang for your buck because the circle-shaped pies literally cut the corners off. I had assumed Ledo's gluten free pizzas were circular as all others I've seen have been, but was delighted to find that I wasn't left out of the squared pizza experience because the gluten-free pies are indeed rectangular.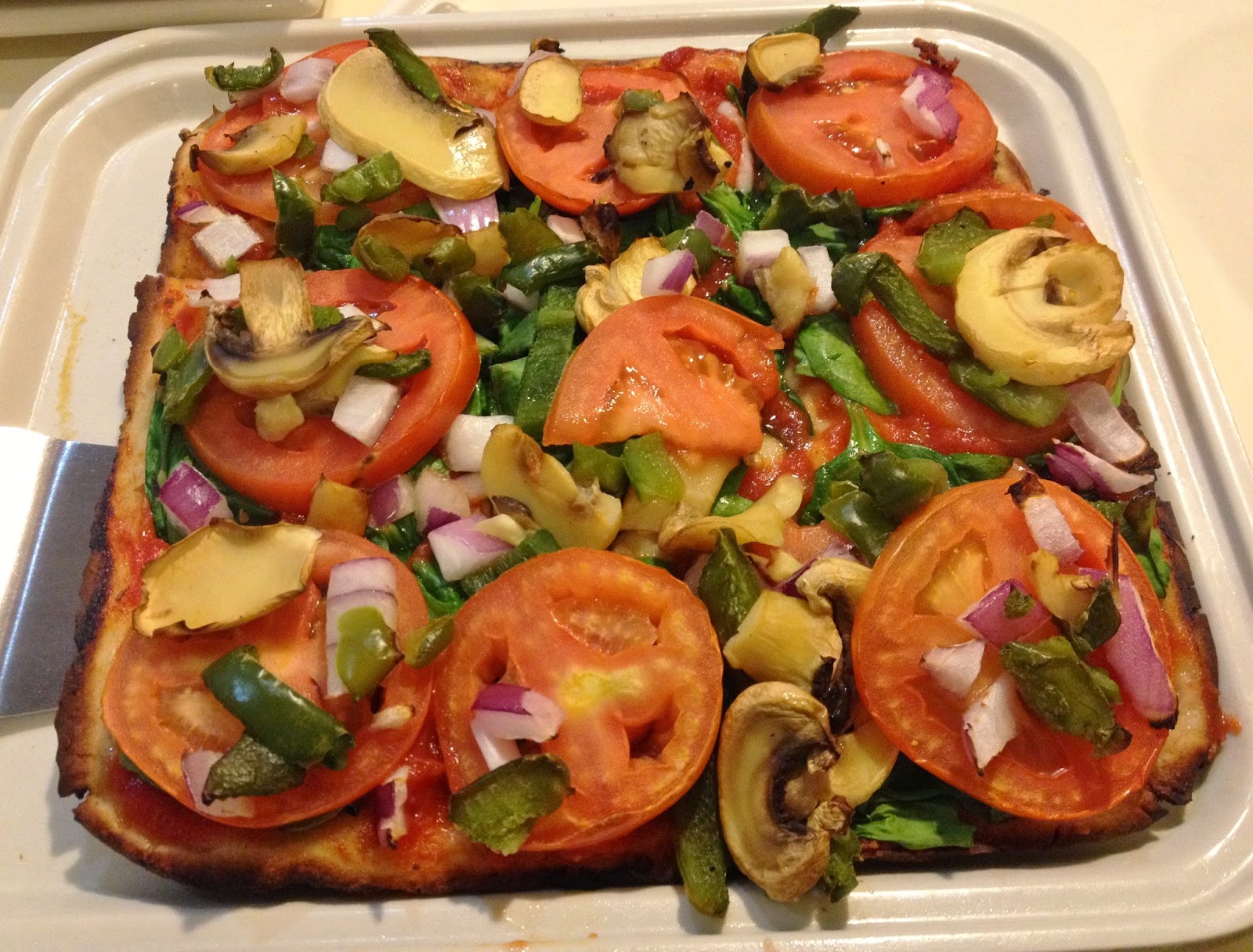 Though I've tried many G-free pizza pies in the years that I've had this special diet, I say without a doubt that Ledo's is at least the best or second-best I've had either in a restaurant or homemade. Seriously. I write about gluten free pizza a lot, but Ledo's far surpassed any and all of my expectations. What's so great about the pizza is that it checked off all of the boxes of what I look for in gluten/dairy free pizza. The sauce was tomato-y and spicy yet was a solid base for the toppings. Side note: they sell the sauce jarred at each restaurant; if I hadn't already packed a couple jars of sauce from home, I would have loaded up for in-dorm pizza making. The vegetables were noticeably fresh and liberally applied so that each bite contained a nice mix of textures and flavors. Last, but definitely not least came the crust evaluation- the point at which most gluten free pizzas fail. If tied for the best gluten-free pizza I've had, I think Ledo's edged out the competition with their crust which was chewy and "realistic" to my faded memories of gluten-filled pizzas. Not soggy in the least, the bottom was seared almost in cast-iron fashion and was crunchy and simply amazing.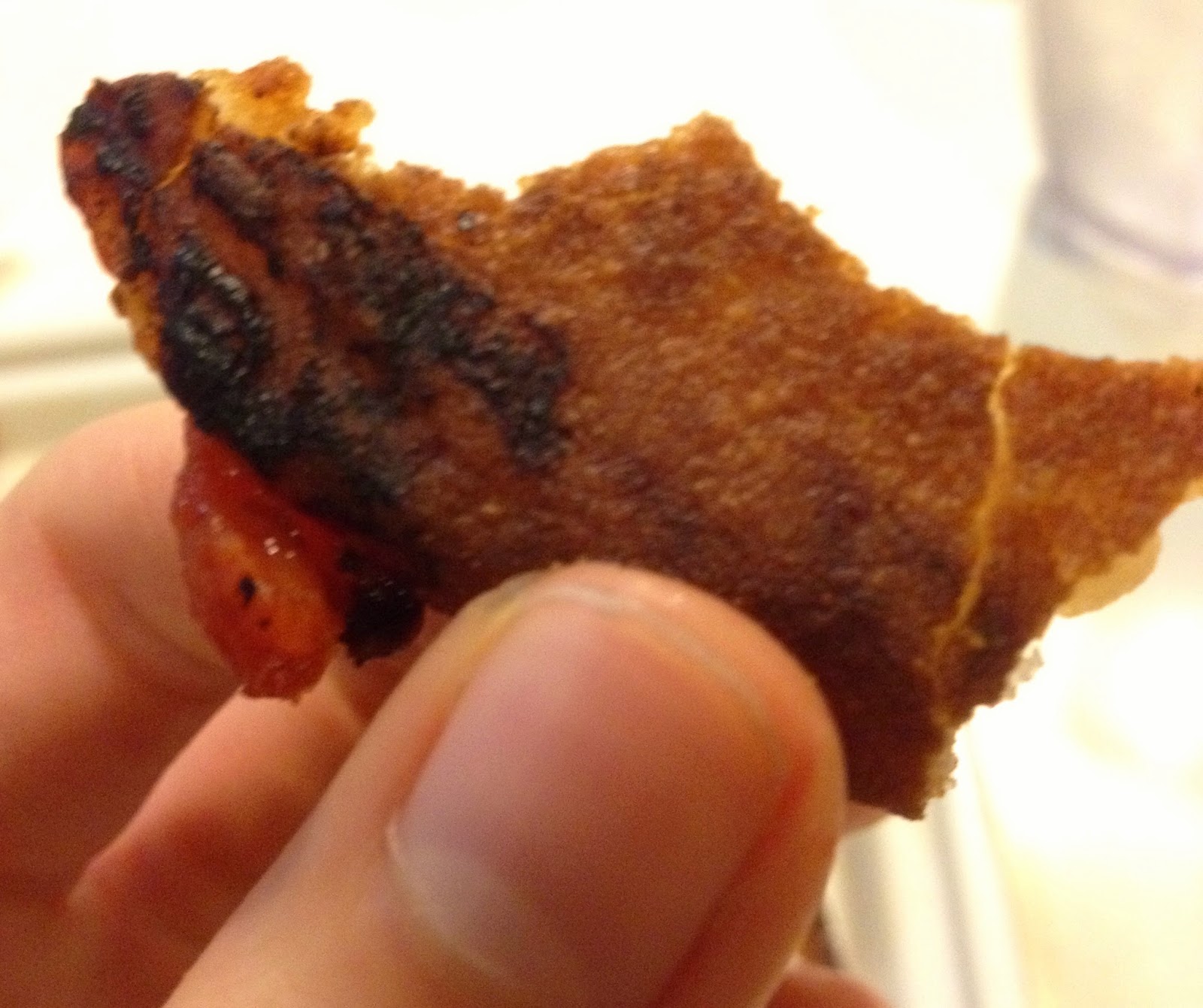 I tip my hat to Ledo Pizza for being a restaurant role model in providing incredible gluten-free options for a price that gluten free customers can actually afford. After all, it's hard to swallow paying $15+ for a decent pizza at many other independent and chain pizza restaurants only to have a pizza that's personal-sized at the price of a medium or large gluten-filled pizza. Besides that, it was nice to have the local pizzaria feel as each location is family-owned and operated and has ties to the local community (such as a showing of support for the Baltimore Ravens). Since they have many locations in and around Baltimore, I'm glad to know that I can get a reliable and safe meal wherever I go around town. Florida folks should note that they have a location in Carrollwood (Tampa) so the gluten-free goodness can be had in the sunshine state.
Update (10/25/2014): I managed to find my way to another Ledo location near Johns Hopkins University in Baltimore while running errands. After taking a second look at their menu, I was pleased to find that they have a pizza that naturally comes without cheese! Freshly minted with their recent menu update, the "veg in" is a vegan, veggie-centric pizza that can be made gluten-free on their gluten-free crust. Jalepenos, red onion, tomato, spinach, basil, and cilantro (hold the black olives) are colorfully assembled atop their signature red sauce. This combination was bursting with fresh flavor. The crust was well done and as satisfying taste and texture-wise as my first visit. Although the restaurant was kind of slow mid afternoon on a Saturday, the staff were attentive and friendly.
I did spot more gluten-free options on their revamped menu such as soup (the black bean soup is gluten-free and vegan) and a margarita flat-a-tizer (flatbread appetizer that contained dairy). I'm glad to see that they are expanding options for those with dietary restrictions.
Word to the wise- be sure to order the "veg in," not the "veg out" which is a totally different pizza that has cheese on top!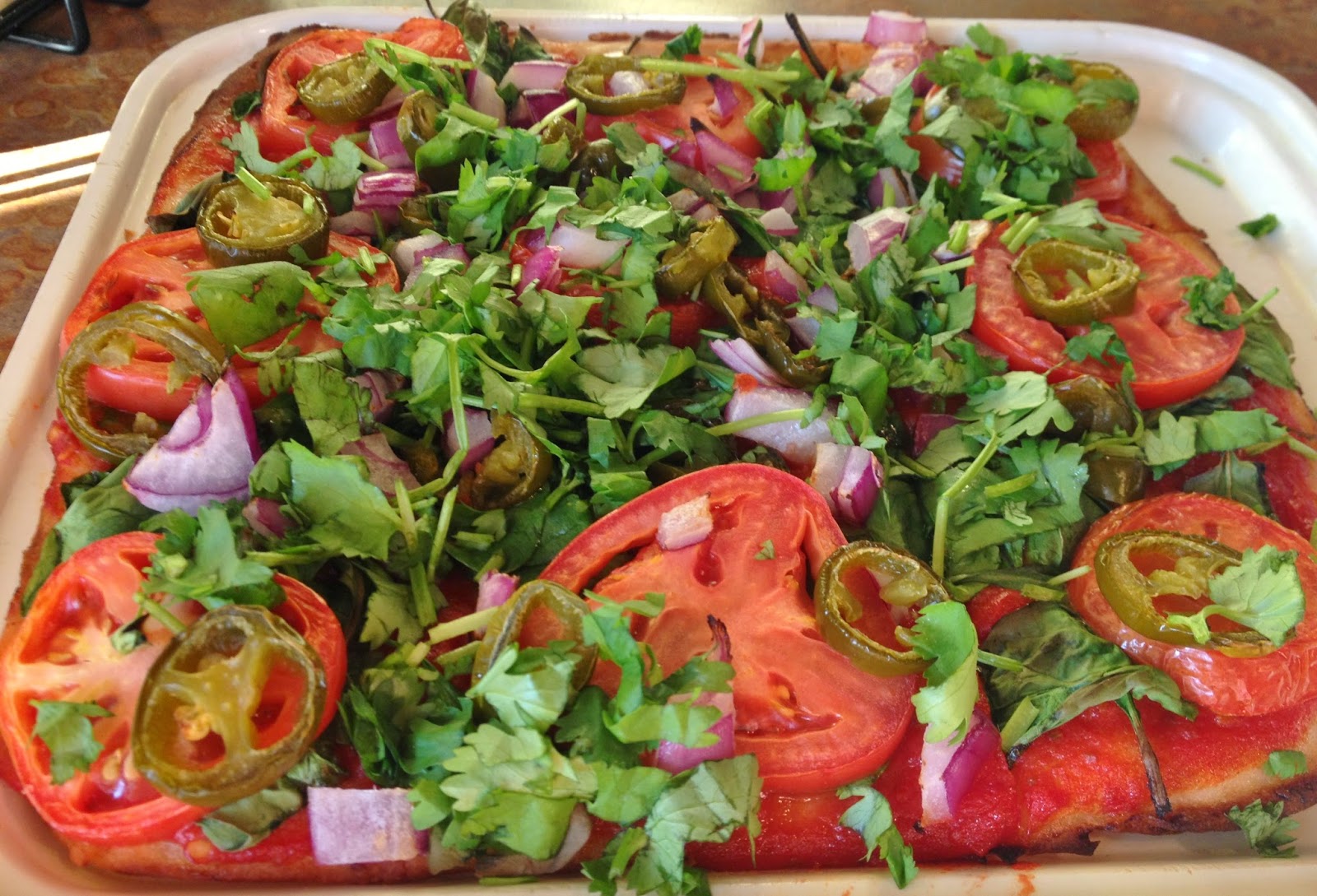 The Basics
Address: 11321 York Rd, Cokeysville, MD 21252 (Update from 3105 St Paul St, Baltimore, MD 21218)(See all other Ledo Pizza locations here).
Website:
www.ledopizza.com
Cuisine: Gluten free pizza
Ideal For:
Lunch, Dinner
Price: 8′ square gluten free cheese pizzas start at $7.99. Additional toppings are $0.75 each.
Accessibility:
The restaurant is wheelchair accessible.
Special Features: Order online here. For additional deals and specials, sign up for their email list here.
Disclaimer: This review is based upon the information I have at the time of the review and does not reflect changes in ingredients or availability of items. Please contact the restaurant directly for up-to-date information and feel free to contact me with any questions or comments. I was not compensated for this review and it is a reflection of my personal opinion.