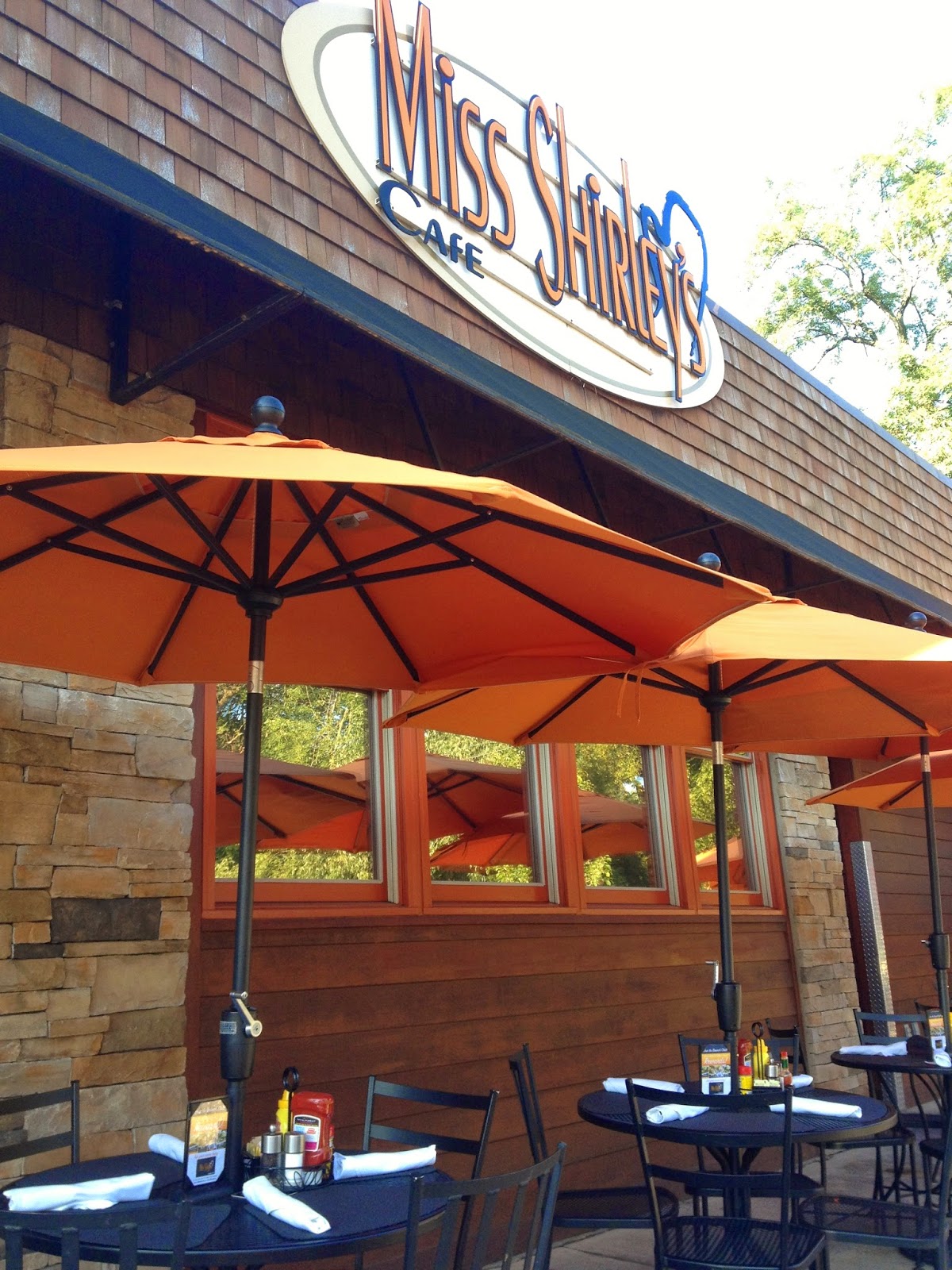 Getting to eat breakfast at a restaurant is a real treat for me. After all, breakfast is often the most limiting meal of the day for me in restaurants given the reliance on gluten and dairy full staples offered by most breakfast places. Coupled with the fact that I'm an early riser and eat breakfast before my family most days, breakfast earns the honor of the most underrepresented meal on my blog.


In doing research in and around Baltimore in the weeks leading up to my big move, I stumbled across Miss Shirley's Cafe which has three area locations and serves up gluten free pancakes. Though my freezer is laden with Trader Joe's English muffins and french rolls for breakfast, my mom and I decided to splurge on breakfast out on our final day together before my true independence began. We opted for the Roland Park location near Johns Hopkins' campus to avoid the potential crowds at their Inner Harbor location which proved to be the perfect breakfast spot given the cute village-like location and quite suburb atmosphere.


Upon being seated, we were given menus which are jam-packed with options and kind-of overwhelming. Though they have no designated gluten-free menu, the g-free pancake option was clearly noted under the pancake heading. Though their menu was impressively extensive, there were no other indications that other menu items were free from gluten or other food allergens. After ordering my pancake stack (they come in stacks of four), I asked if they had any extra toppings, and was informed they usually come with powdered sugar on top. Because I do not do well with sugar, I requested mine without the powdery sweetener and with syrup on the side. After double-checking that they were in fact dairy free, I asked about the pancake batter. It is not made in-house (to avoid potential cross contamination) but is made by an outside company. Pancakes are made on a separate griddle and gluten-free safeguards are in place to preserve the integrity of the cakes. A manager even stopped by my table to assure me that the pancakes were safe for me to eat given my duel dietary considerations.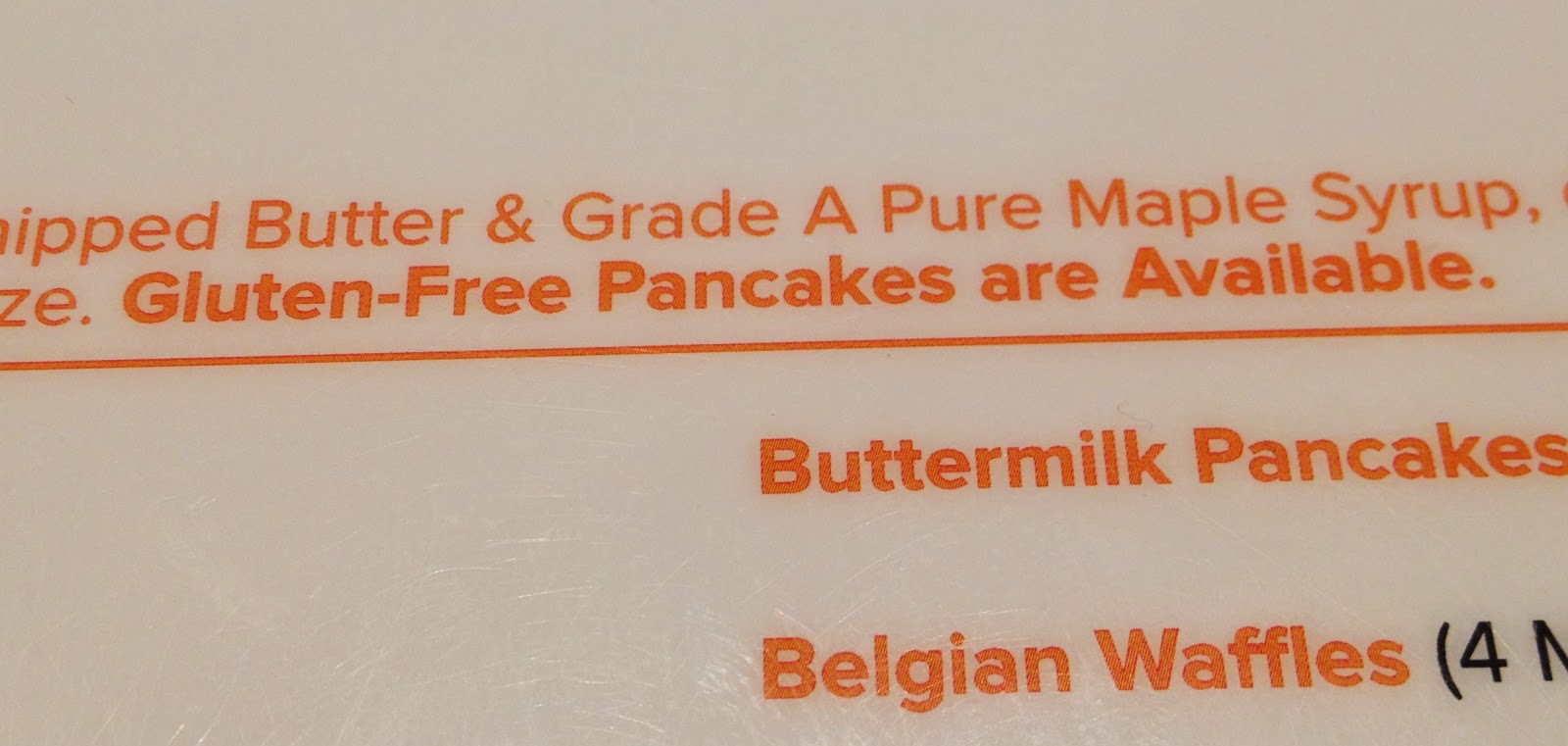 When my pancakes arrived, I was blown away by the sheer size of them. Don't let the picture fool you, these pancakes are downright impressive as each cake is perfectly round and thick, golden brown, and a whopping 8 inches in diameter. Not sure I could handle all four pancakes, I started in on my first one and fell in love with the sourdough-like taste of the pancakes. Not more fluffy than hockey puck-like, I liked the texture, which reminded me of the buttermilk pancakes my family would make when I was a little kid. Not overly sweet, I loved the simple, home-style taste which was comforting on a cool morning. Before too long, I was down to one loan pancake. Not feeling completely stuffed, I decided to go for the "clean plate club" and polished off the last perfect pancake. Full and happy, I really enjoyed the rare opportunity to partake in gluten/dairy free pancakes.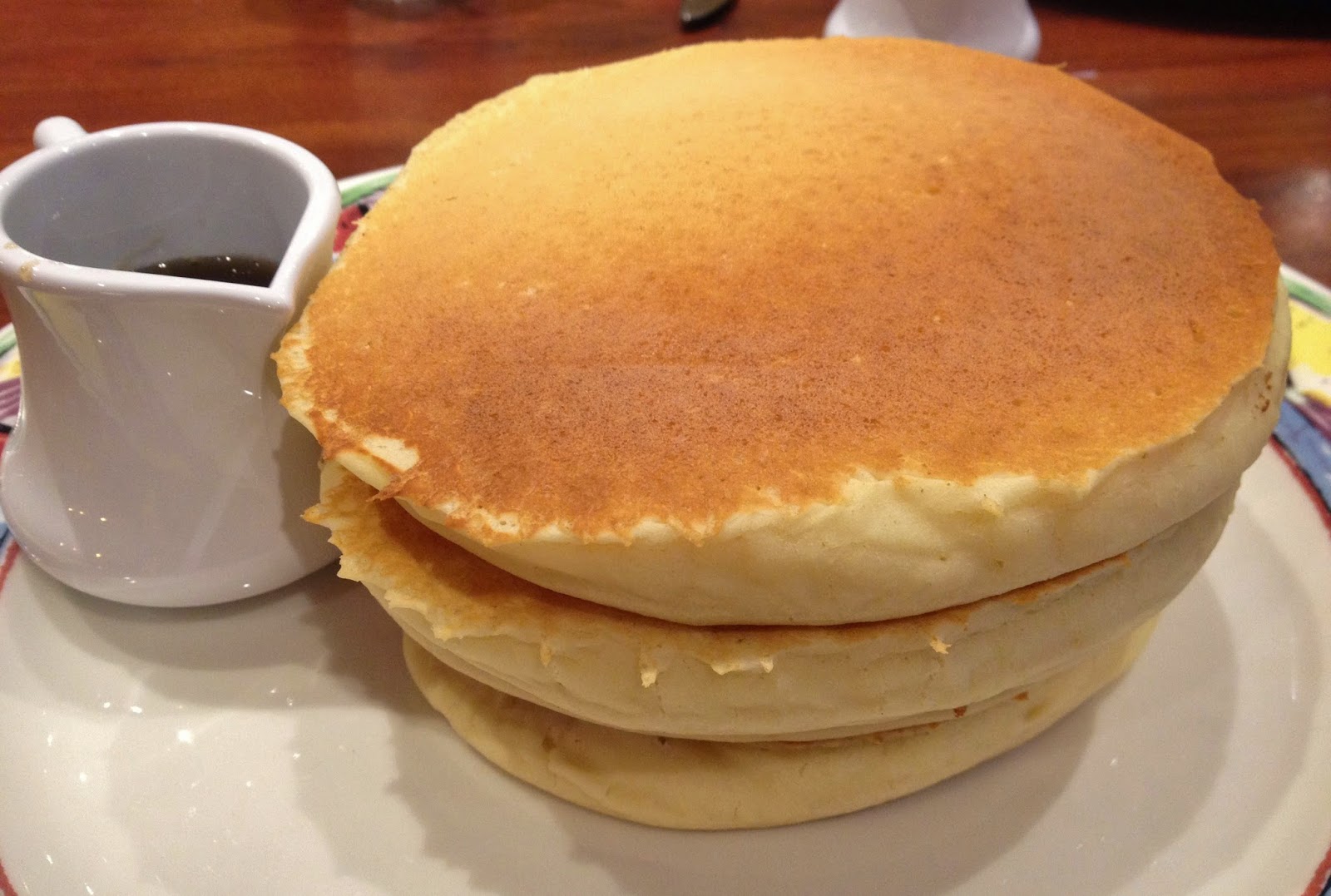 My mom and I both enjoyed ourselves at Miss Shirley's and fell in love with the southern-style hospitality and fabulous fare. I know this cafe will be a go-to whenever friends or family visit and I definitely will be looking forward to partake in pancakes again. Next time I visit, I'll be sure to ask about other gluten/dairy free options on the menu to report back. I can totally agree with locals whose votes earned Miss Shirley's Baltimore Magazine's "best restaurant" and "Best of Baltimore" designation this year.


Update (10/1/14): After my initial visit, I couldn't wait to come back and sample other offerings on their menu. This time around, I went with their Winter Garden omelet which is a three egg white omelet stuffed with zucchini, asparagus, eggplant, tomatoes, and asiago cheese. Ordering mine sans asiago and eggplant, I also opted for a side of gluten-free toast and fruit since the typical side offerings were not safe. The manager stopped by my table to assure me that the omelet would be cooked on a separate surface and the bread would not be toasted in the toasted but instead would be warmed in the oven to prevent cross contamination.


The omelet was cooked perfectly and the veggies inside were deliciously paired with each other. I added a dash of Old Bay seasoning on top for some added flavor which took the omelet to a whole new level. The accompanying gluten free bread was good, not so much toast but warmed bread. It faintly resembled sourdough in taste but was nothing special. While the breakfast hit the spot and was delicious, I would highly recommend that gluten-free diners go with Miss Shirley's pancakes as they are the true stand-out on the menu.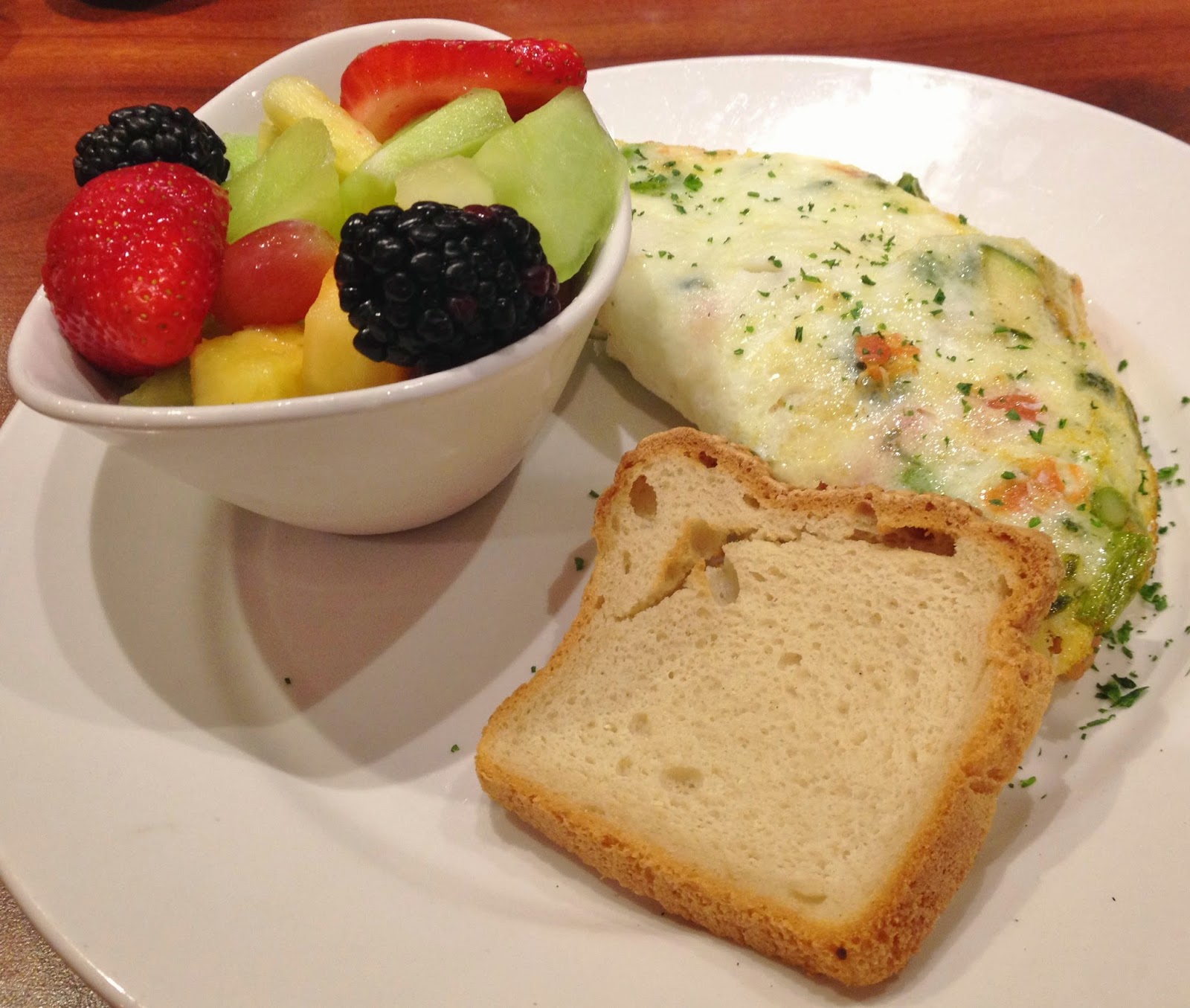 Update 12/26/16: On a recent visit to Miss Shirley's I enjoyed their amazing gluten-free pancakes once again, this time with banana as my topping. I can confirm the pancakes are just as large, fluffy, and fabulous as they were the first time I ate them over two years ago.


I decided to branch out once again and try another menu item during this visit- the boiled grapefruit brûlée. The half grapefruit was sour and sweet (not too acidic) and had a delicious crusty layer of burnt sugar that was sweet and flaky. I am not a huge citrus eater, but found the combination of sweet and sour totally irresistible and the perfect way to wake up your tastebuds.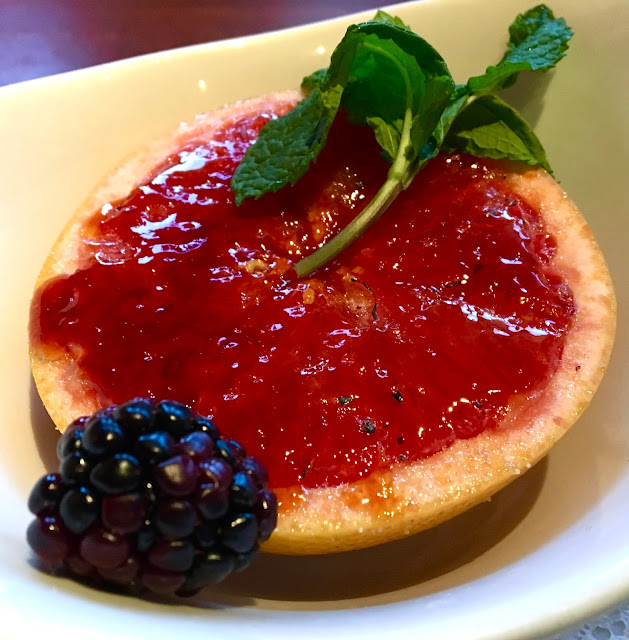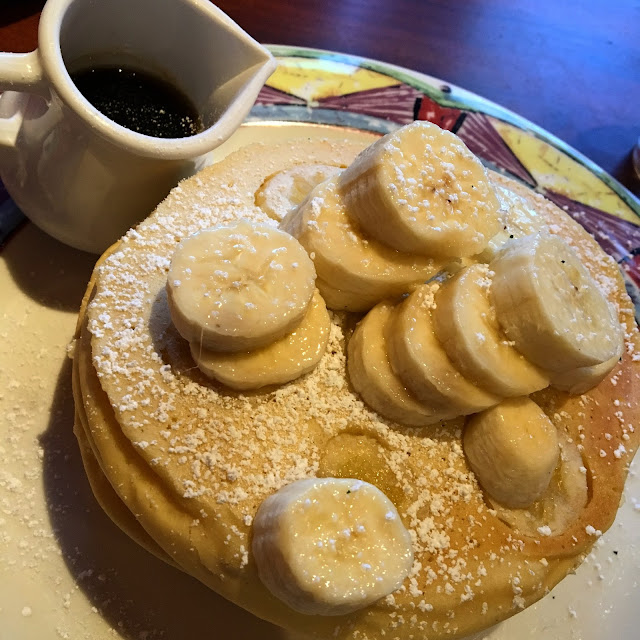 The Basics
Address: 513 W. Cold Spring Lane, Baltimore, MD 21210 (See other locations here)
Website:
www.missshirleys.com
Cuisine: Gluten free pancakes
Ideal For:
Breakfast, Brunch, Lunch
Price: $10.99 for four gluten-free pancakes
Accessibility:
The restaurant is wheelchair accessible.
Special Features: Miss Shirley's offers a loyalty program where you can earn fun perks like gift cards, free birthday bread, and others throughout the year. At the bottom of their menu page, check out their monthly specials featuring fun flavors such as lemon poppyseed pancakes or chocolate-covered banana cheesecake stuffed french toast!
Disclaimer: This review is based upon the information I have at the time of the review and does not reflect changes in ingredients or availability of items. Please contact the restaurant directly for up-to-date information and feel free to contact me with any questions or comments. I was not compensated for this review and it is a reflection of my personal opinion.