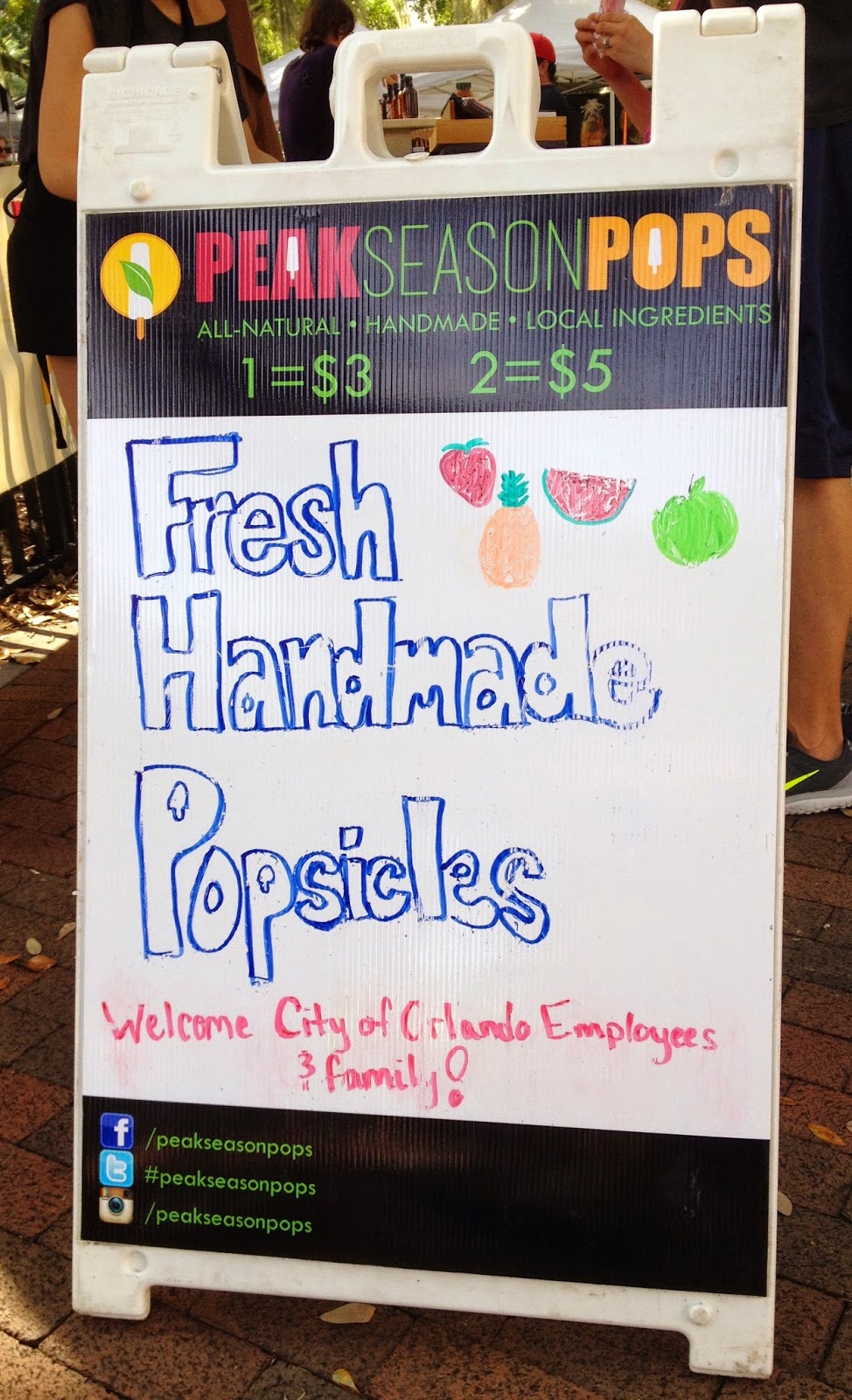 Let's just face it: Florida is miserable this time of year. No matter how many times we grin and bear it, the inferno-like heat, choking humidity, pesky bugs, unreliable weather patterns, and other staples of a sunshine state summer can get just too much to bear. The perfect (if temporary) antidote? Popsicles.
Orlando is home to many different "pop shops" featuring icy creations that range from the familiar to more exotic offerings (See this Orlando Sentinel article for listing of local offerings). After looking into the gluten and dairy friendliness of different companies, Peak Season Pops caught my eye with their fresh and fruity flavors and commitment to local/organic ingredients that are not laden down by added preservatives or sweeteners. Though they pop up around town (pun intended!), they are reliably at the Lake Eola Farmers Market which is where I had a chance to stop by and give them a try. At 10 o'clock in the morning, I could already feel the furnace cranking up, so I couldn't wait to get a refreshing break from the heat.
Thanks to their focus on local/organic fruits their menu literally changes on a daily basis as their supply changes with the seasons. As I looked over the offerings, I was told that all of the pops were gluten free and two of the seven flavors were dairy containing leaving the rest vegan. They designate which ones contain dairy on their menu so it's easy to quickly assess what's available. Dogs too can get in on the fun with their oh-so-cute pup-sicles, but given that I cannot give Locke treats or other "people food," he won't be able to provide his review. Torn between the many offerings, I decided on the strawberry, orange, basil flavor because I was advised that it had a perfect blend of sweet and savory flavors.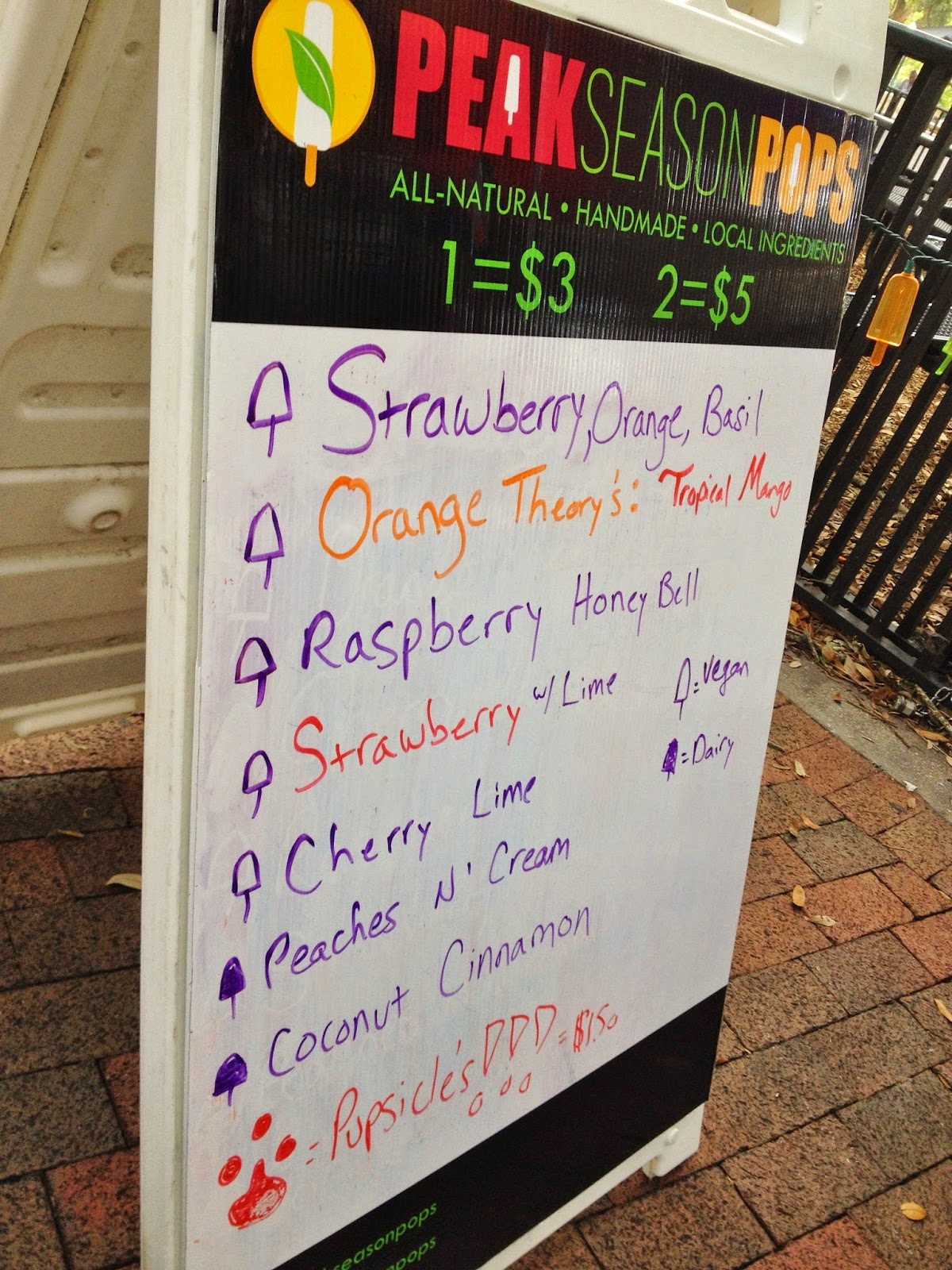 I must admit that the popsicle was definitely different from your average super sweet grocery store variety. Different in a good way though. The pop was slightly sweet but featured the tangy-ness of the orange and the unmistakable taste of the basil. Indeed balancing sweet and savory, I loved the complexity of the simple dessert and found it the perfect level of sweetness that left me without the sugar buzz that follows when I eat refined or too much sugar. The pop was sweetened with an unrefined sweetener (I can't remember which) but the flavors of the fruit shone through and were spot-on. The more I ate, the basil taste got stronger which would not be a good thing for those adverse to the flavor, but I liked it and would definitely order it again.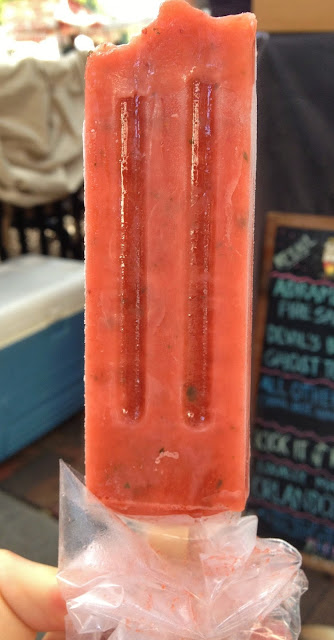 After enjoying the perfectly portioned pop, I knew I wanted to sample more of Peak Season's offerings. Luckily, I had a cooler and ice packs stored in the car from a Trader Joe's run earlier in the day and could easily slip a couple pops in there for the trip home. The pops are all individually wrapped which makes transporting them super easy. After looking over the flavors once again, I decided on the raspberry honeybell and the strawberry lime flavors. They survived the trip home and were a welcome snack the following week.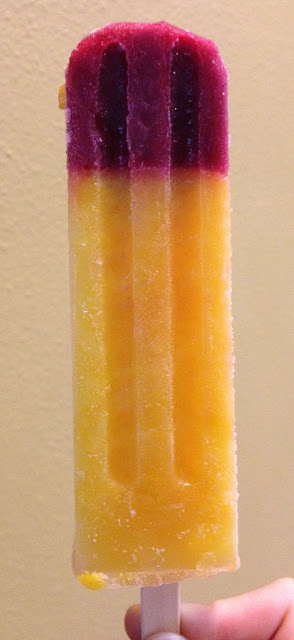 The striking coloring of the raspberry honeybell pop definitely sets it apart from conventional grocery store offerings. Colors this vibrant and beautiful don't come from artificial dyes and additives! By far, my favorite part of the pop was the raspberry tip which was bursting with the fresh taste of sweet and sour summer raspberries. The intensity of the flavor was refreshing on a hot afternoon. The honeybell flavor that followed, was a perfect compliment to the raspberry, and tasted like freshly squeezed juice. The flavor seemed a bit muted, but the tangy, sweet taste of the citrus was unmistakable. Personally, I would have been happier with all raspberry pop, but I'm not complaining. As-is the pop satisfied and hit the spot when I wanted a fresh fruity snack. If memory serves me correctly, this flavor was no-sugar-added, which is good to know for those watching sugar intake.





Last but not least came the strawberry with lime flavor. The strawberries clearly shone through with this one as it was sweet, summery and oh-so-strawberry. The lime flavor was not overpowering and played off of the berries perfectly to give a tropical twist to the traditional strawberry flavor. As someone who doesn't tolerate lots of sugar, I easily tolerated the pop and felt no sugar buzz from it. This is a success in my book because so often, desserts cause more harm than good when I get a sugar headache from them.


All in all, Peak Season Pops is definitely worth checking out for those looking for gluten/dairy free treats that are all-natural, locally-sourced, and highlight the season's freshest flavors. You can't help but feel great after eating a pop knowing that they are good for your body and support local farmers and businesses.





The Basics: Peak Season Pops
Address: Varies, check out their whereabouts on Twitter and Facebook
Website:
www.peakseasonpops.com
Cuisine: Popsicles
Ideal For:
Snacks, dessert
Price: One pop goes for $3, two go for $5
Accessibility: Accessibility varies based on cart's location. At the farmers' market, the cart was accessible.
Special Features: Bring a cooler and ice packs to take home extra pops! Custom orders and catering opportunities are detailed on their website.
Disclaimer: This review is based upon the information I have at the time of the review and does not reflect changes in ingredients or availability of items. Please contact the restaurant directly for up-to-date information and feel free to contact me with any questions or comments. I was not compensated for this review and it is a reflection of my personal opinion.