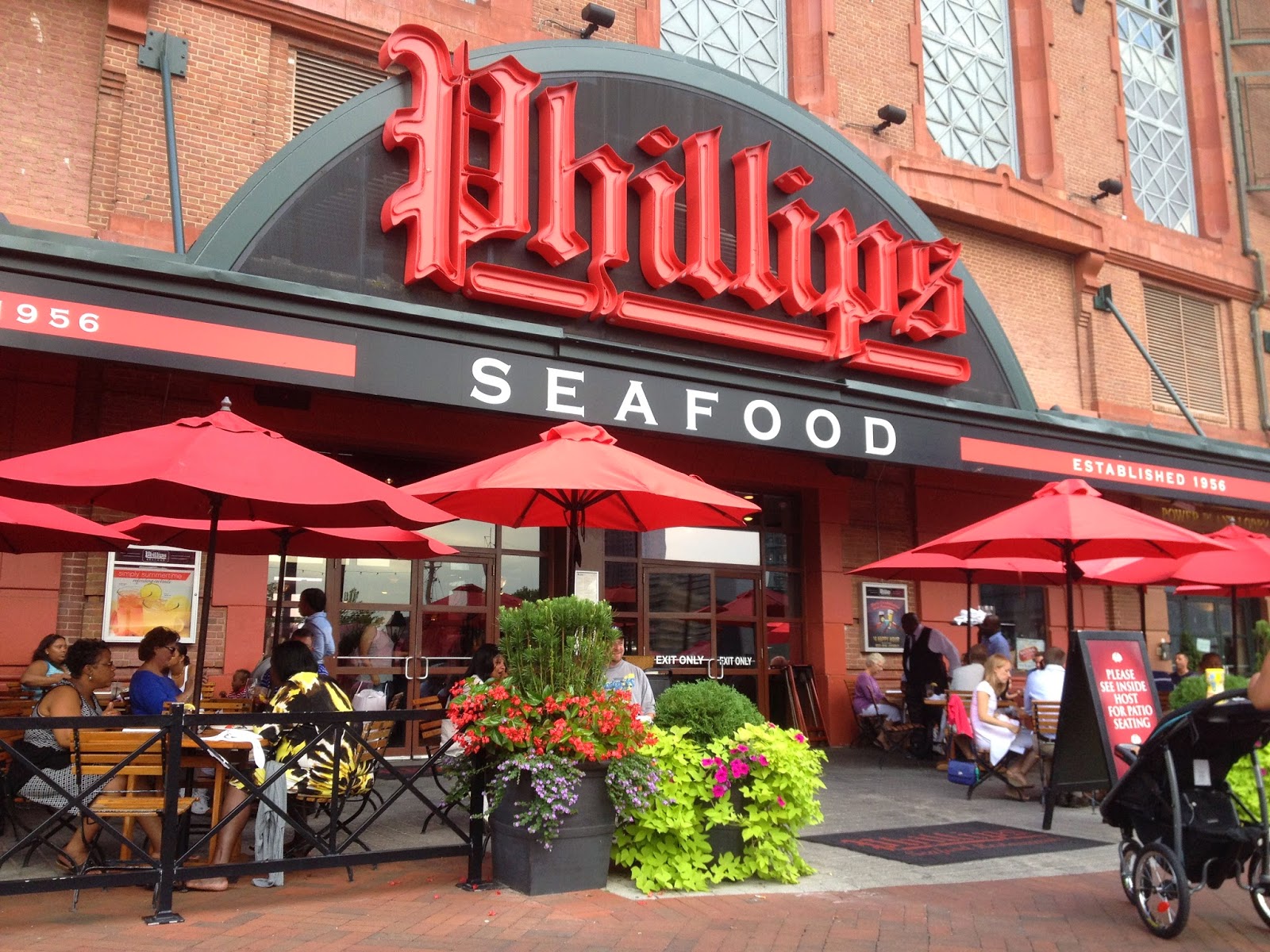 Now a part-time citizen of Maryland, I figured the only way to break into the local culture is to seek out Baltimore's famous crab cakes as my first meal in my new home. In researching, trial and error proved to be the name of the game as I discovered that some restaurants I found right off the bat were disqualified due to hidden dairy in their preparations. Finally, I found a gluten and dairy free option at Phillips Seafood, a time-tested favorite located at the bustling inner harbor at the heart of the city. Though I've been by the inner harbor before, I couldn't wait to check it out with fresh eyes and relish the wonderful weather which was a welcome break from the blazing heat of an Orlando summer.


Before deciding on Phillips, I contacted the restaurant via their website inquiring about gluten/dairy free options. In response, Chef Joe, confirmed to me that the crab cakes were indeed safe for my duel dietary needs. When we arrived at the restaurant, I requested a gluten-free menu, and was happy to find they had many different options on the menu besides the crab cakes. Given my secondary dairy intolerance, I requested to speak with a chef to once again confirm that my dinner would be safe and sure enough, Chef Joe was on duty and able to help me out. Most, if not all, of the offerings could be made sans dairy, and he said that 90% of the regular menu could be made gluten free as well. Still set on crab cakes, I went with the six oz. portion over the 4 oz. one which came with two additional sides. Not wanting to overload with two green vegetables, I went with the roasted potatoes and our waiter Paul's recommendation of the steamed spinach over the roasted asparagus.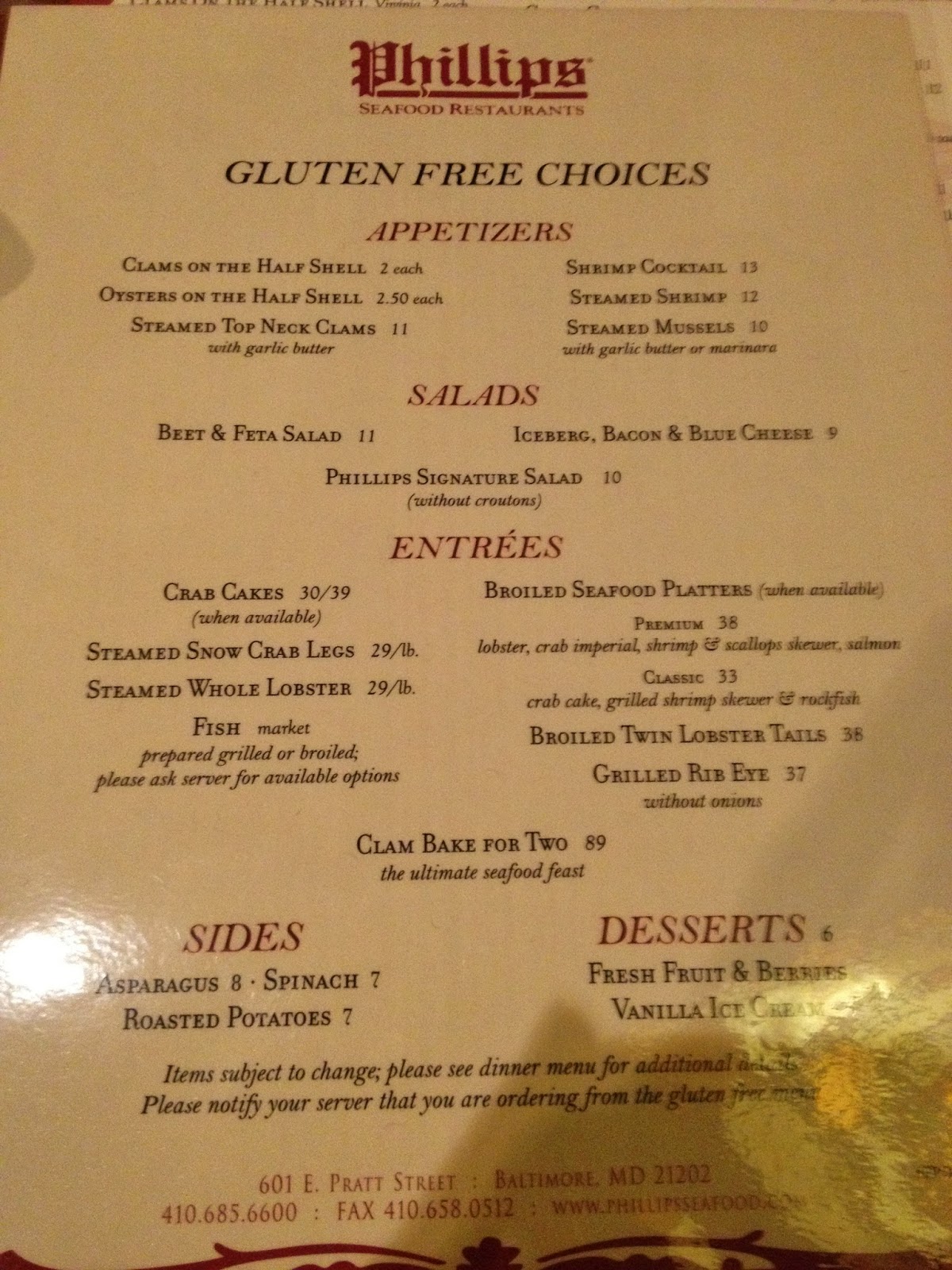 When they emerged from the kitchen, the crab cakes stole the show. Beautifully formed and a delicious golden color, it was hard not to dive right in with my first bite while I snapped a photo. A mix-up in the kitchen resulted in the potatoes not arriving with the main dish, but Chef Joe and Paul assured me that my whole was meal was made using Phillips gluten-free prep protocol. Back to the crab cakes- it was love at first bite. Not really a fish lover, I liked the texture and taste of the crab which was firm and not "fishy." The edges of the cakes were crispy which proved to be an interesting contrast to the "cream"-like sauce that coated the crab. The squeeze of lemon on top further enhanced my first impression of this delicacy and proved to be the element that took it over the top.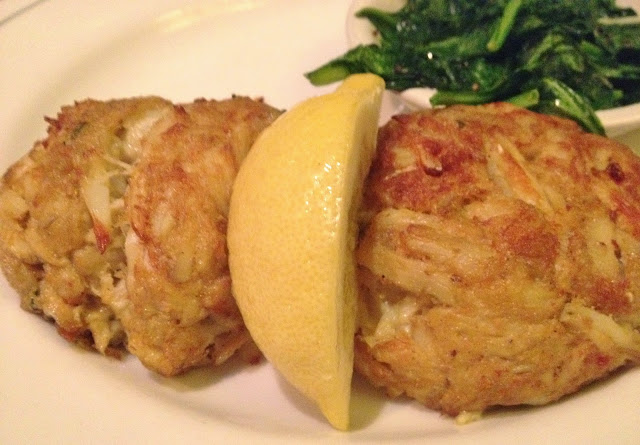 Playing sidekick, the potatoes were roasted using only olive oil and black pepper and were picture perfect. Don't let the simplicity of the prep fool you, these were roasted to perfection and were a nice accompaniment to the crab cakes.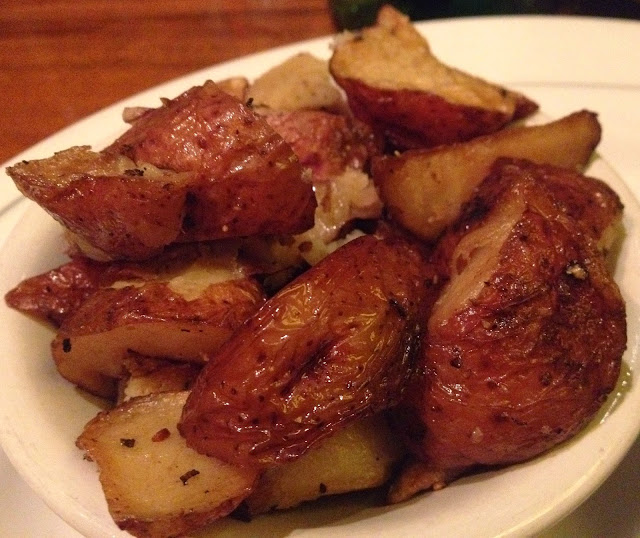 Also holding it's own, the steamed spinach was perfectly prepared and tasty. The garlic cloves that were also steamed with the leaves made me jump for joy as a garlic lover. Between the potatoes and crab cakes, I liked having a green vegetable to balance out the whole entree.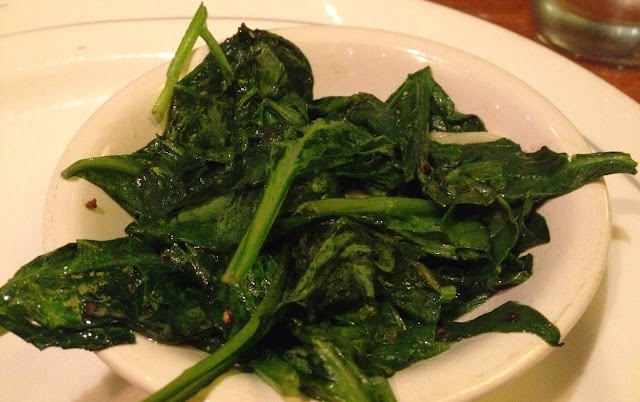 It's fair to say that my family and I thoroughly enjoyed ourselves at Phillips. Not a restaurant that I'd go to every day, it was a real pleasure to treat ourselves to fine seafood and have a nice dinner before the craziness of college move-in weekend fully set in. I cannot give enough compliments to Paul, our waiter, for his hospitality and adept handling of my gluten/dairy allergy and our family's questions about the menu and restaurant itself. The waterfront location is great for any occasion and is located in a prime area surrounded by hotels, the waterfront, the National Aquarium, and a nearby Whole Foods Market where I stocked up on dorm staples. I would definitely recommend them if you're in town for a day or living locally and want a taste of the region's famous seafood.



The Basics
Address: 601 E. Pratt St, Baltimore, MD 21202
Website:
www.phillipsseafood.com
Cuisine: Seafood
Ideal For:
Lunch, Dinner
Price: $30-50 per person
Accessibility: The restaurant is wheelchair accessible.
Special Features: Reservations are accepted via Open Table here.
Disclaimer: This review is based upon the information I have at the time of the review and does not reflect changes in ingredients or availability of items. Please contact the restaurant directly for up-to-date information and feel free to contact me with any questions or comments. I was not compensated for this review and it is a reflection of my personal opinion.