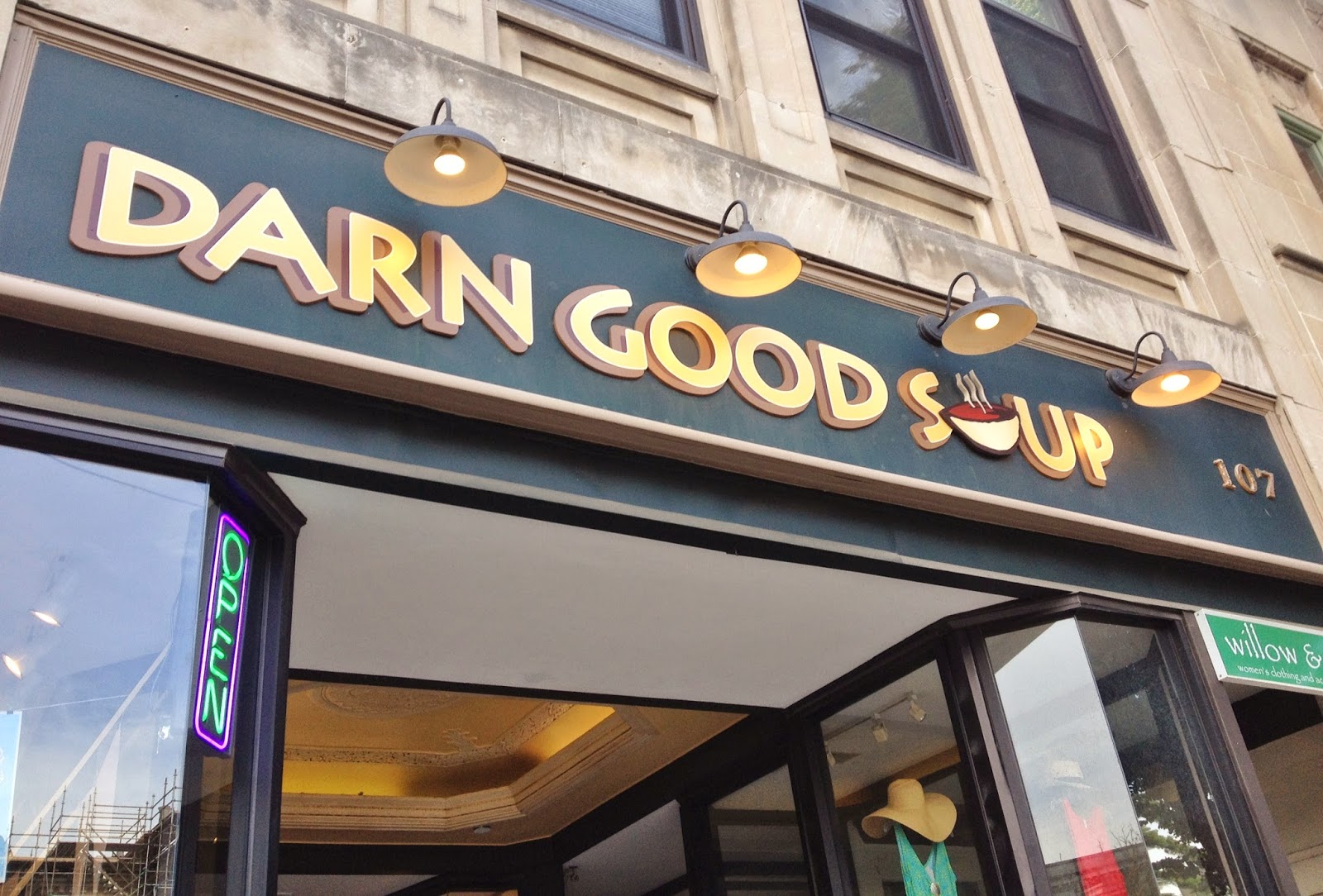 Although my time in Bloomington was short, I carefully planned to ensure I made the most of the plentiful gluten-free offerings while devoting my attention to the conference that brought me out to the town in the first place. While I had more time on the first day to get out and explore (see those reviews here) day two in Bloomington was more of a take-out and delivery kind of day because I was in educational sessions and meetings and could not escape for hours to explore Indiana University's campus and town itself. While I had hoped that my food allergies would be accommodated, boxed lunches and buffet dinners proved to be barriers I didn't mind because it allowed me to discover- and rediscover- old and new favorites in Darn Good Soup and Bucceto's Smiling Teeth.

Darn Good Soup
Falling short only to pizza, soup is one of the staples of my gluten and dairy free diet that I can't live without. Not restricted to cold weather consumption, I enjoy it year-round and probably fit squarely in the demographic served by Darn Good Soup, a restaurant located in Bloomington's hustling downtown area which serves up a 8-10 freshly prepared soups every day (the flavors rotate daily). I fell in love with this soup mecca last summer while attending the same conference and stocked up with a freezer full of their delicious concoctions due to the lack of gluten/dairy free options available. I've been looking forward to a return visit all year and felt like a kid on Christmas morning when my dad and I walked in to pick up lunch for the following day.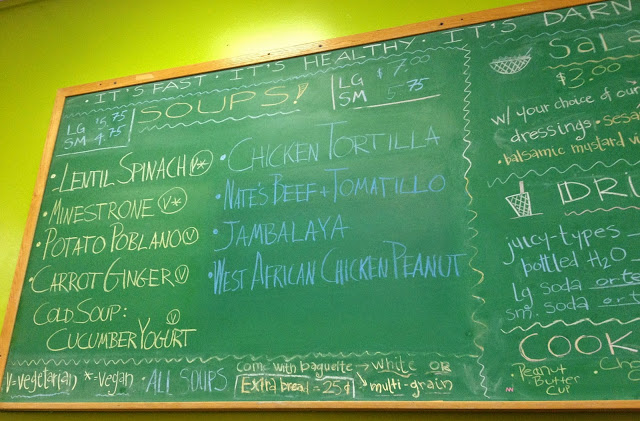 As their soup offerings rotate each and every day, ingredients sometimes vary between different preparations. They clearly mark which soups are vegetarian and vegan on their menu and have a list of gluten-free offerings on hand. The friendly staff are familiar with different food allergies and are well-equipped to advise as to what would be safe bets. On that day, my options were between the lentil spinach and the minestrone. The jambalaya was questioned to be safe, but since it wasn't on the day's g-free list, I decided to stick with my favorite soup I've had here: the lentil spinach. As I ordered and chatted with the staff, I proposed that if they wanted to create a second location that Central Florida would be an ideal place to settle down.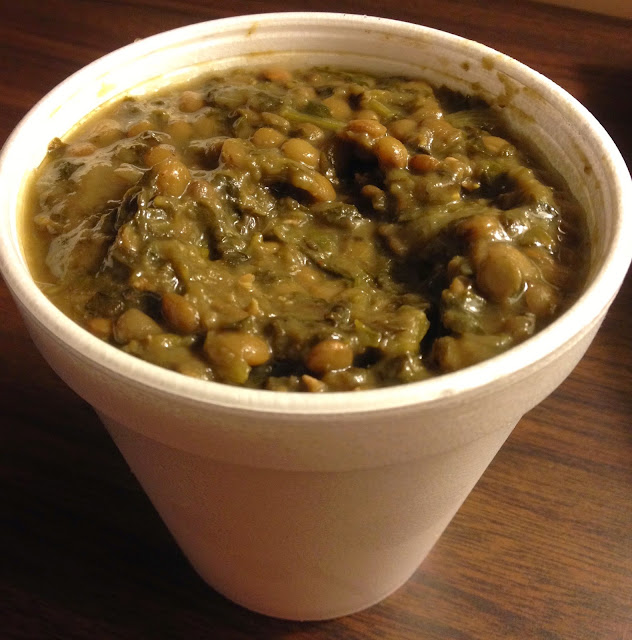 When lunch time finally rolled around the next day, I couldn't wait to relish my reunion with their lentil soup. Without a doubt, it's tied for one of the best lentil soups I've ever had and time did not diminish my taste and love for it. It's thick and creamy consistency showcases the lentils and spinach which are flavored by their "secret" blend of spices and a touch of lemon. I cannot fully capture what makes this soup so amazing, but I guess that's why the founders of the restaurant decided on Darn Good Soup for a name: it's the only way you can describe their creations.



Bucceto's Smiling Teeth
One of the luxuries in life that disappears once going gluten free is delivery pizza. Instead of waiting in the comfort of my home for a piping hot pizza, I often have to trek across town to get a gluten-free pie. In my two and half years sans gluten, I had yet to get gluten-free delivery pizza so discovering Bucceto's on the Find Me Gluten Free database felt like a home run. Their extensive gluten-free options include pizzas, pastas, entrees, appetizers, and soups/salads (see menu here).
After reviewing their dizzying array of gluten-free choices, I decided upon their 10 inch "veg-head" specialty pizza topped with tomatoes, broccoli, yellow bell peppers, red onion, and fresh garlic. The only modifications made were that the dairy-containing pizza sauce was swapped for the dairy-free tomato sauce and that I withheld the olives for personal preference. After settling up, I eagerly looked forward to my pizza's arrival. Around fifteen minutes later, I was greeted by a friendly driver who delivered a crayola-approved veggie powerhouse pizza. Taking in the wonderful aroma of the pizza (lots of garlic- but that's a good thing!) I selected my first slice and found the crust nice and supportive of the weight of the toppings. Crispy and slightly chewy, it had a perfect texture and taste and was one of the better pizza crusts I've discovered. The veggies were all noticeably fresh and flavorful and the sauce was delicious as a base. As seen below, the whole pizza was delivered in the pan it was cooked in as on of their precautionary measures against cross-contamination (they do have gluten in their kitchens).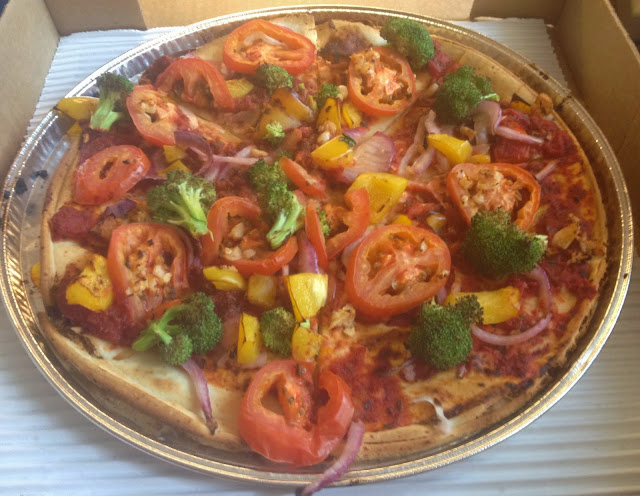 Although it seems trivial, it made my day to get a great pizza delivered right to my hotel's doorstep. It's little things like this that make my restrictive diet just a little bit more fun and less of a hassle. After an exhausting day, the "smiling teeth" part of their name rang true because I had a smile on my face after polishing off the whole pizza.
To see more Bloomington restaurants, click here.
The Basics: Darn Good Soup
Address: 107 N. College Avenue, Bloomington, IN 47404
Website: www.darngoodsoup.com
Cuisine: Tibetan, Thai, Indian
Ideal For: Lunch, dinner
Price: Meat-containing soups are $5.75/$7.00 (sm/lg) and vegetarian/vegan soups are $4.75/$5.75 (sm/lg).
Accessibility: The restaurant is wheelchair accessible and even has a table reserved for those in a wheelchair.
Special Features: Feeling hungry or need to serve the masses? They offer gallon-sized containers of soup with advance notice (more details here).




The Basics: Bucceto's Smiling Teeth
Address: 115 South SR 46 Bypass, Suite B, Bloomington, IN 47408 (East location). 350 South Liberty Drive, Bloomington, IN 47403 (West location)
Website: www.buccetos.com
Cuisine: Pizza, pasta
Ideal For: Lunch, dinner
Price: Specialty pizzas under $15 (make-your-own starts at $9.35 with toppings $1.65 each). Pastas under $14. See full menu here for pricing.
Accessibility: N/A due to delivery order
Special Features: Order online for delivery here (delivery starts at 5pm).