This is part one of my four part series covering the 2014 Natural Products Expo East in Baltimore, MD. Each post will be divided into four categories: sweets, snacks, miscellaneous, and my top five. To check out the other parts in this series, click here.
When it comes to sweet treats, there was no shortage of options when it came to cookies, candies, baked goods, chocolate, and many more iterations of dessert on the show floor. Indulging in way to much sugar for the sake of "scientific" testing, I took in desserts of all shapes and sizes and took note of which ones rose to the top and impressed me. Through sampling, I discovered new brands, learned more about ones that I'm less familiar with, and reunited with ones that I've already fallen in love with. This assortment of sweets is broken down into three subcategories: chocolate, cookies, and fruit- nature's dessert.

Chocolate Lover's Delight
I've seen Hail Merry's coconut macaroons on store shelves here in Baltimore and Orlando but had not seen their line of tarts which are gluten free, vegan, and non-GMO. I sampled a couple of their flavors and especially liked the chocolate mint tart which tasted like a rich, thick Thin Mint pie. The slice I had was small, but was indulgent and delicious. I will be definitely looking for these when girl scout cookie canvassing time comes around in a few short months!
For more information, check out
their website here
.
Find this on Amazon
.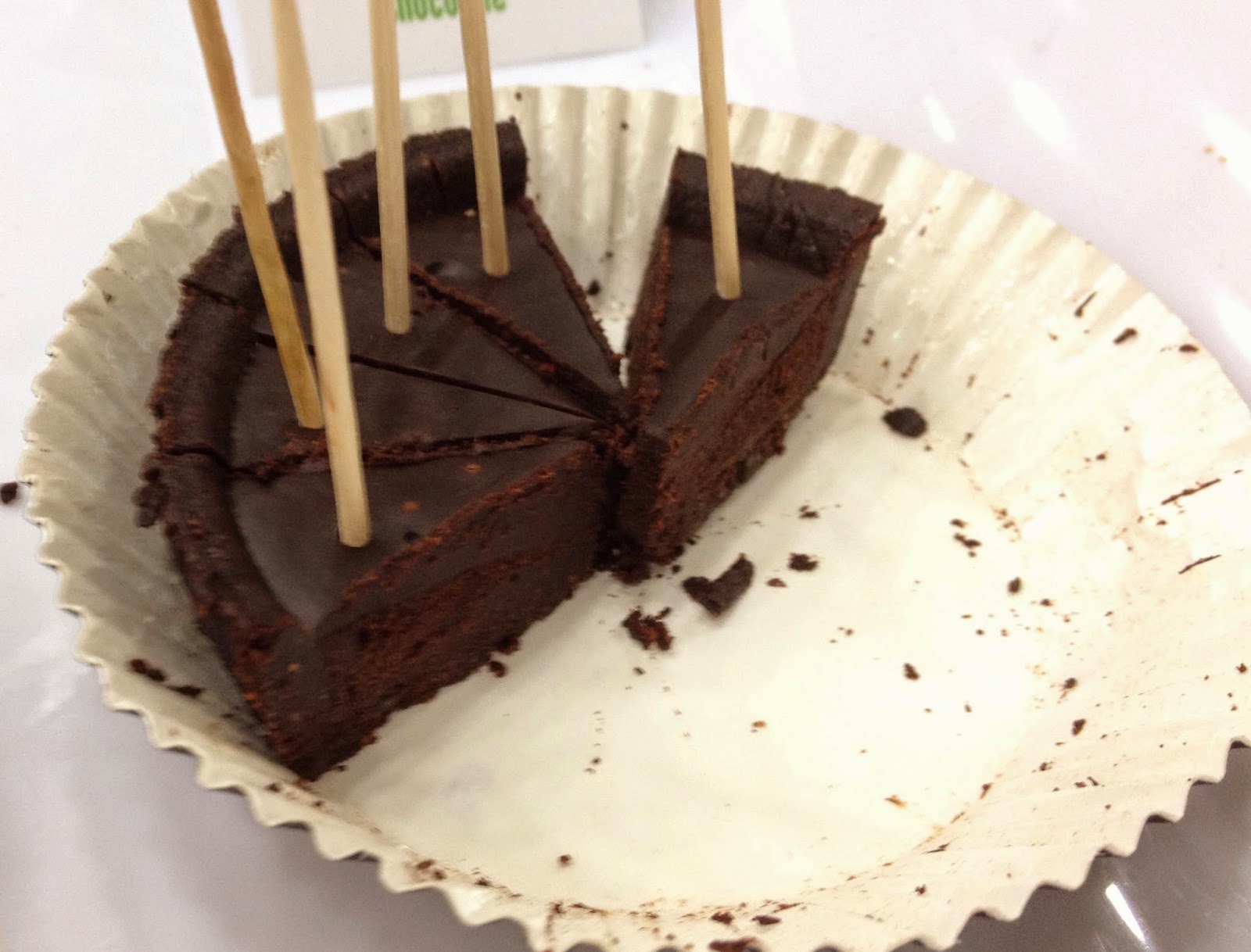 Up in the NEXT Pavilion which showcased first-time exhibitors, 1-2-3 Gluten Free's brownie crisps caught my eye as they were a cross between brownies and cookies. Not much of a brownie eater, I was hesitant to try these, but one sample bite made me a believer. Effectively blending the rich taste of a fresh-baked brownie and the crunchy texture of a crisp cookie, these proved that you really can have the best of both worlds. They'll be coming soon to a store shelf near you so definitely keep an eye out.
For more information, check out
their website here
.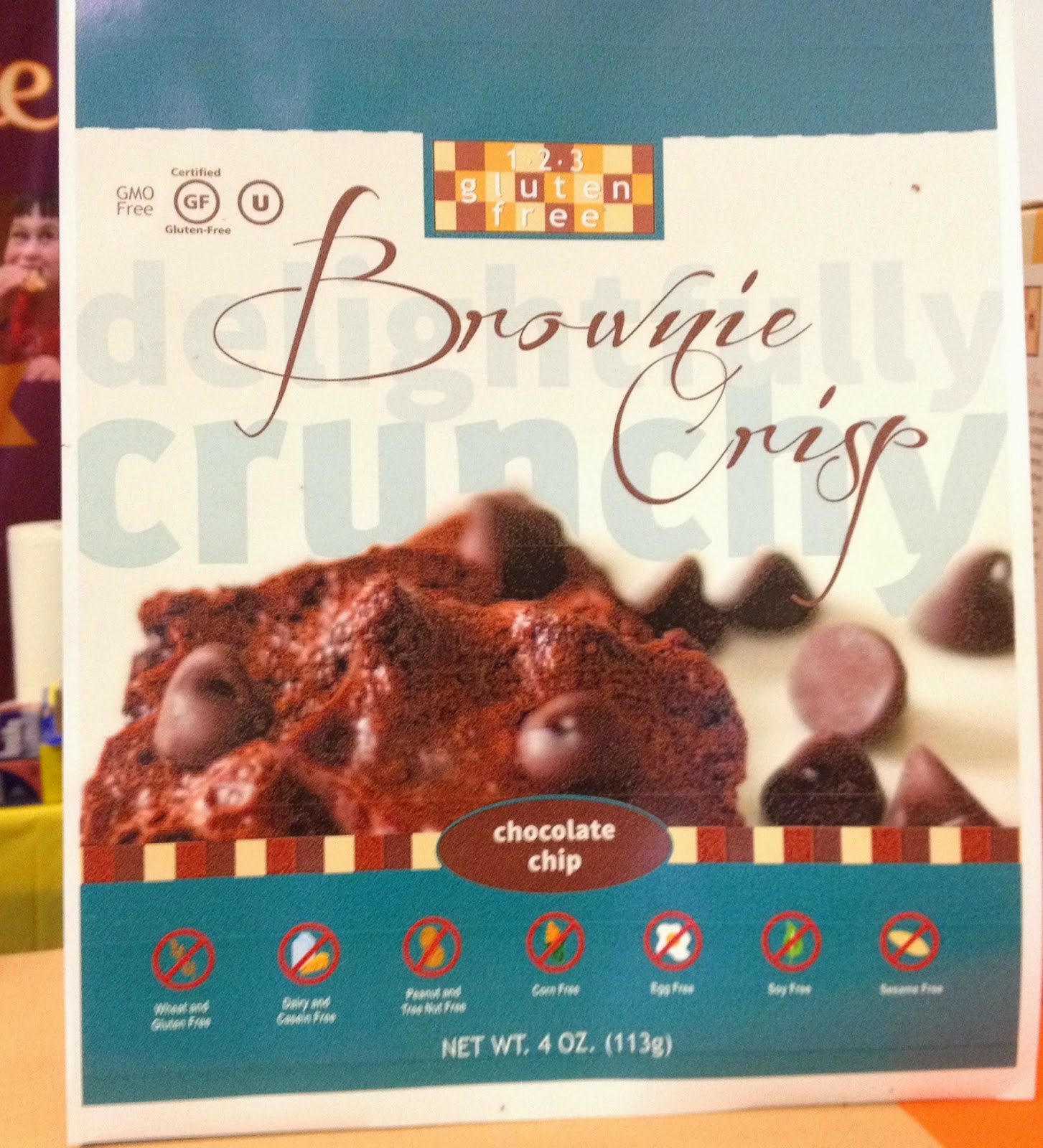 Okay, I admit that I've reviewed and featured The Piping Gourmets' fantastic gluten and dairy free whoopie pies before, but I bring them up again just to reiterate how awesome the team is behind them and how delicious their chocolate raspberry flavor is. Until the show, I have not been able to try this flavor since my freezer space has been limited in my dorm. One sample of it reaffirmed why I love their product so much and I dare say that the chocolate raspberry flavor earned the honor of being my favorite flavor. For more information, check out
their website here
.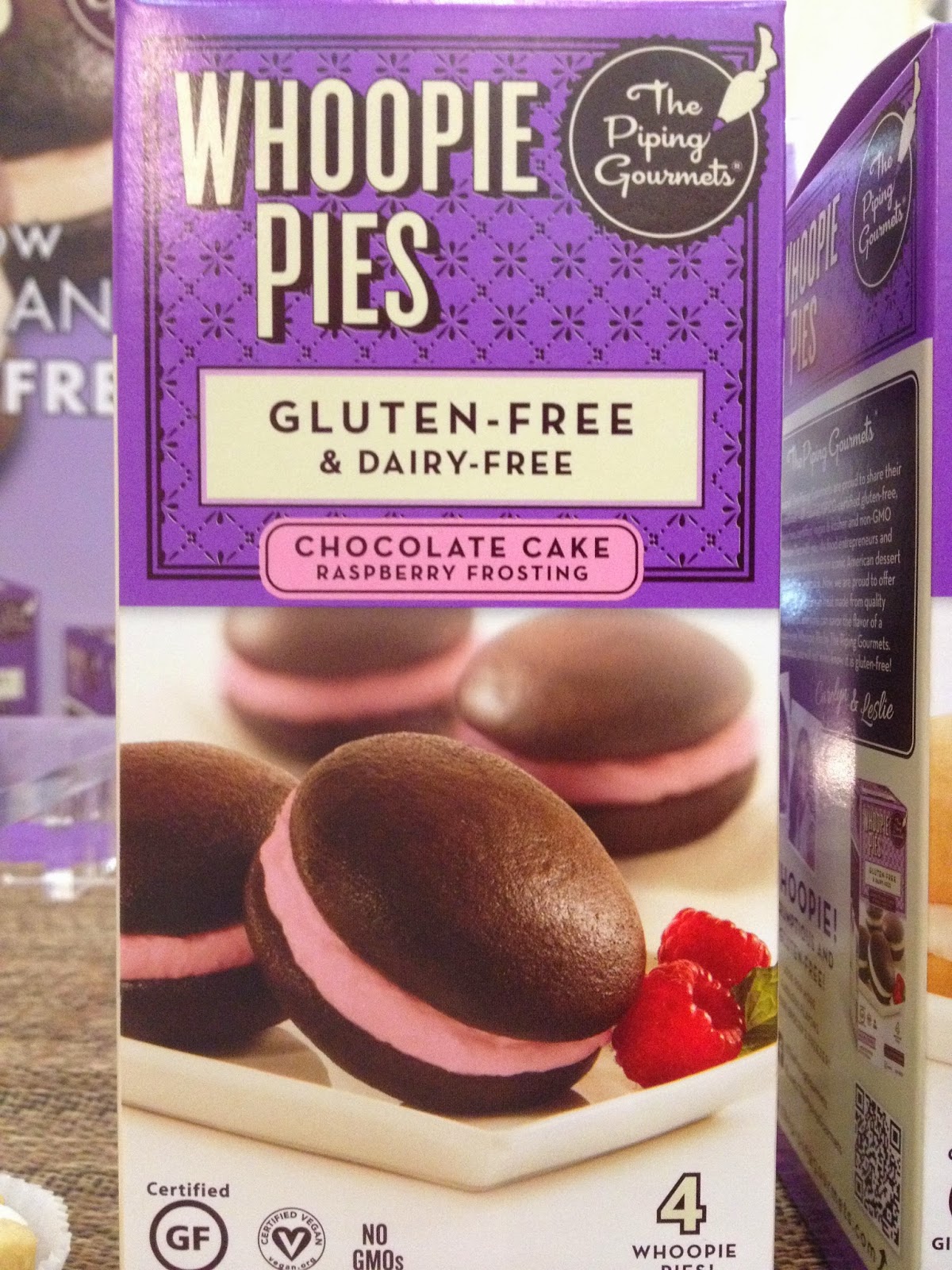 Also featured in the NEXT Pavilion was eatingEVOLVED, a company that makes gluten, dairy, and soy free chocolate products that are non-GMO, paleo/primal, vegan (not the coconut butter cups), and organic (not their granola). After reading the laundry list of their health-minded attributes, I couldn't wait to try their signature dark chocolate and dark chocolate mint creme coconut butter cubs. The dark chocolate was smooth and complex in it's flavor, but the mint creme cups stole the show. Reminiscent of Andes mints, I loved the intensity of the mint core coupled with the rich dark chocolate that surrounded it. For more information, check out
their website here
.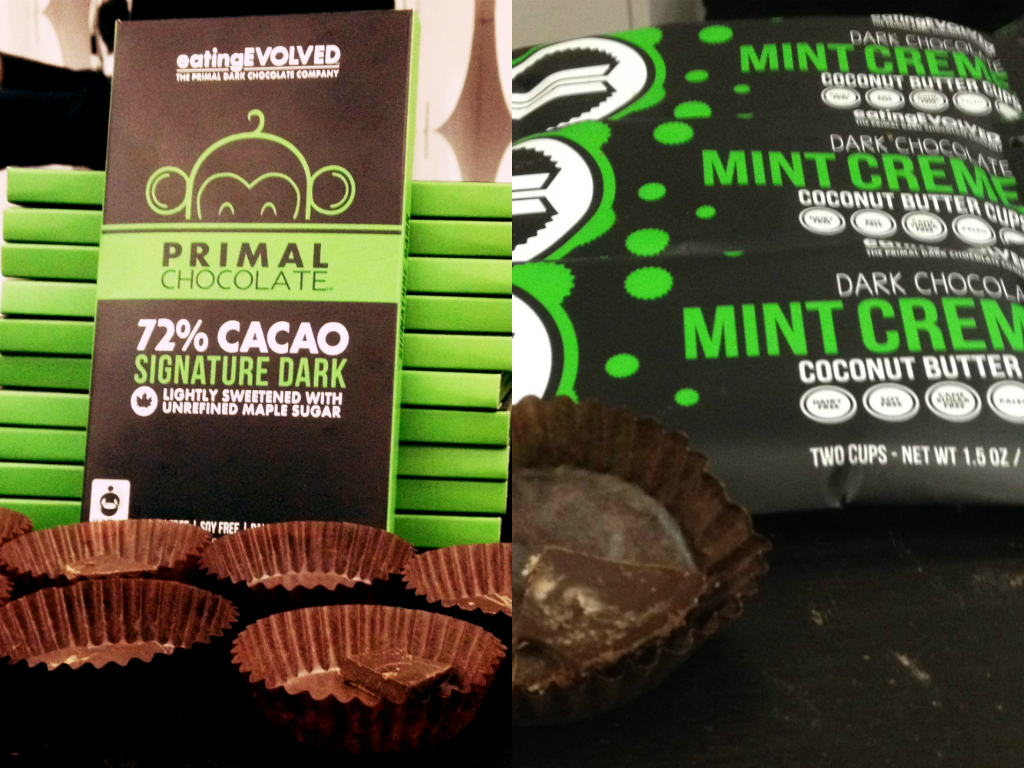 Not a frequent ice cream eater, I've kept my distance from this sweet treat due to disappointment in the textures/flavors of some other dairy-free ice creams I've sampled. Putting my doubts aside, I sampled Luna and Larry's Organic Coconut Bliss in their mint flavor and was impressed by the creaminess of the frozen concoction which featured cool mint with speckles of dark chocolate. Coconut Bliss' flavor offerings are dairy, soy, gluten, and GMO free and sweetened with agave syrup. For more information, check out their website here.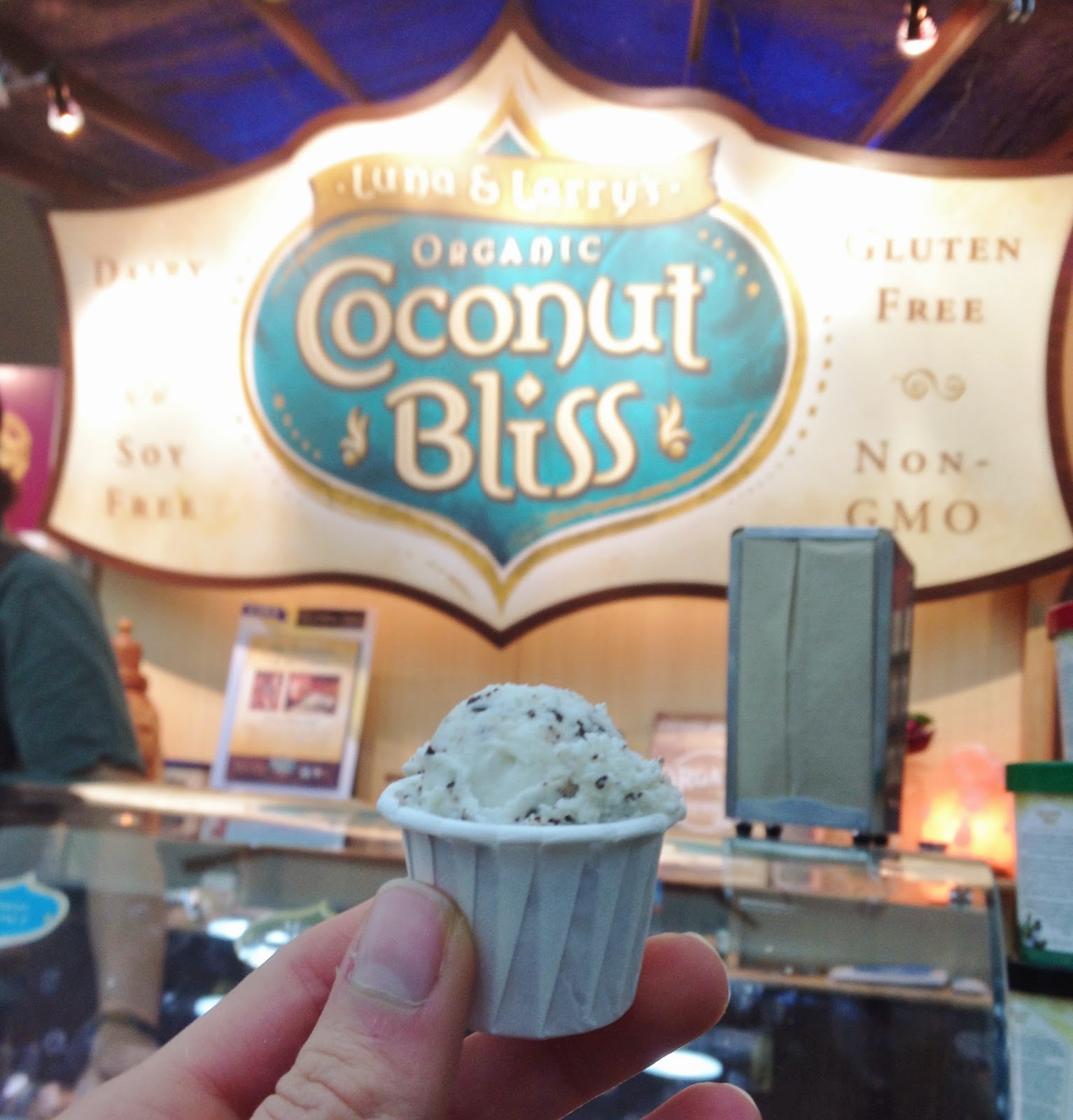 Cool Cookies
Switching over to a cookie state of mind, my first notable cookie comes from Ardenne Farm. This little cookie is made using their oatmeal cookie mix and made dairy-free with non-dairy butter. I loved the chewy texture and homestyle taste of the cookie which was not overly sweet and not at all missing the raisins that so often ruin oatmeal cookies in my opinion. The cool part about the mix is that it can be made vegan as well. They currently are only found retail in North Carolina, but they'll be coming to Amazon soon. For more information, check out
their website here
.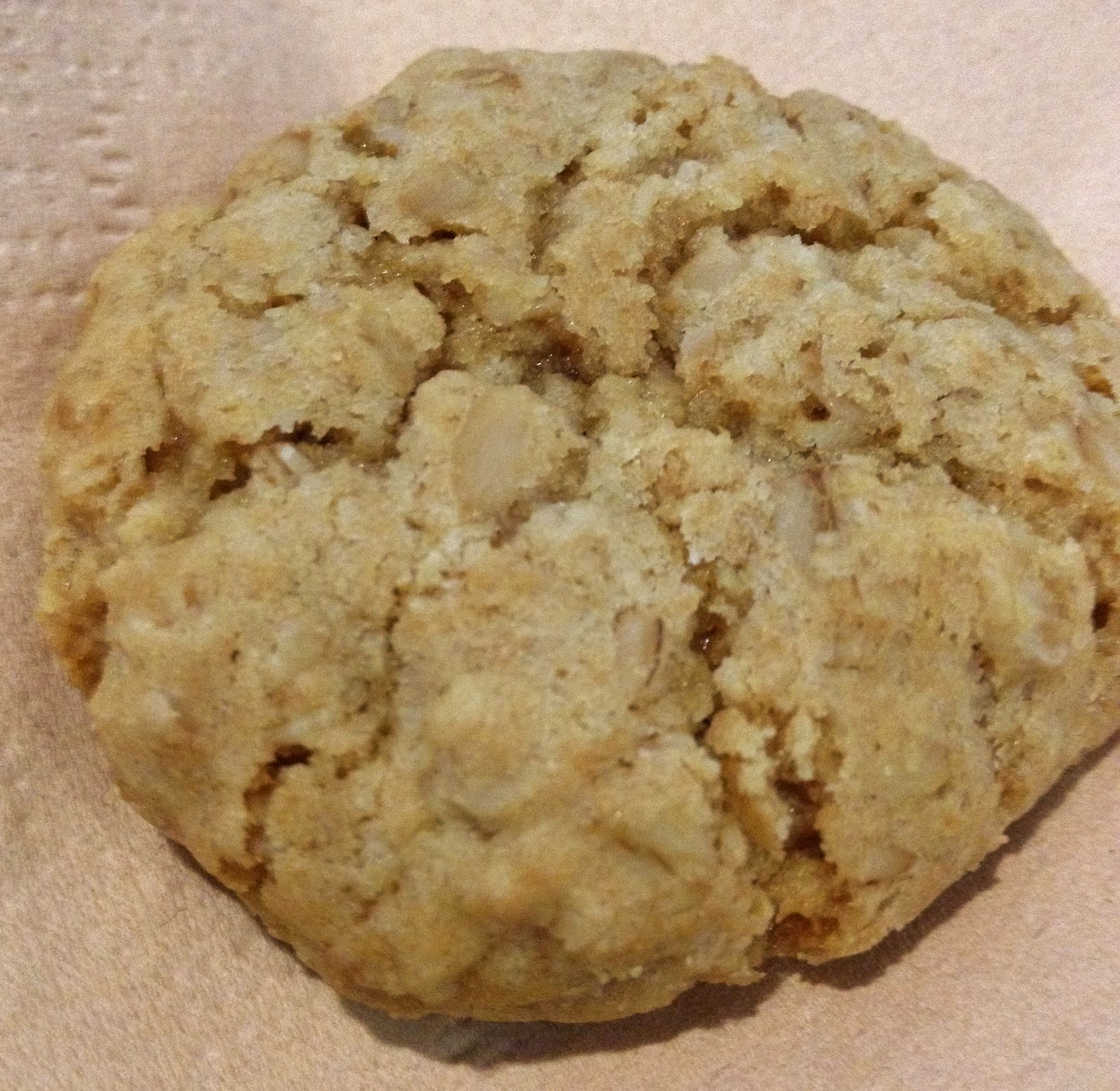 Although I'm familiar with Kinnikinnick Foods' products, I couldn't believe my eyes (or taste buds) as I encountered their new gluten free vanilla wafers. Once a loved flavor in my gluten eating days, I haven't had a gluten-free version of this cookie since removing gluten from my diet almost three years ago. Remarkably authentic and versatile, the nostalgic vanilla flavor is perfect for snacking with almond butter, crumbled as a pie crust, or coupled with banana pudding.The texture was spot as the cookies were crunchy but not crumbly. While at their booth, I also sampled their ginger snaps which were also pretty tasty. For more information, check out their website here. Find this on Amazon
.
After seeing Ginnybakes' line of delicious looking gluten-free cookies on display, I was bummed to discover that most of them contain dairy. However, they did have one cookie that happened to be safe for me: dreamy vegan delight. I loved the gingery/graham cracker-y taste of the crunchy crunchy cookies and their cute bite-sized shape. In addition to being gluten-free and vegan, these are organic and non-GMO. For more information, check out their website here. Find this on Amazon
.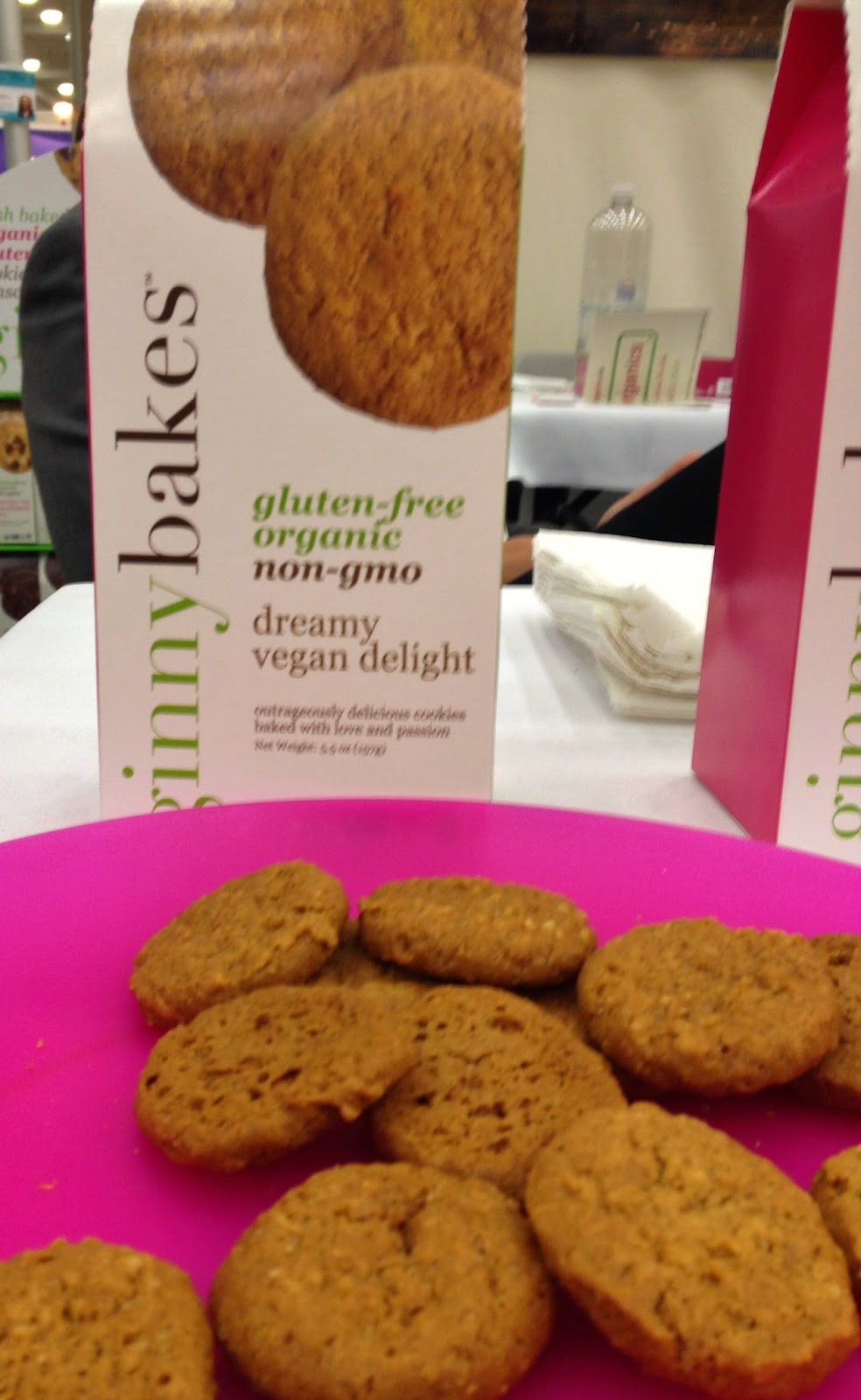 Fruity Finds
I'm a fan of anything that's gluten and dairy free and comes in soft-serve consistency. Chloe's Soft Serve Fruit Co. fits the bill perfectly as their three ingredient fruity soft serve is simple, delicious, and free from the top eight allergens. The three ingredients they use? Real fruit, water, and a touch of cane sugar. Leave it to New Yorkers for creating such a sweet creation! I sampled their strawberry soft serve which was refreshing and fun. Tempted already? Chloe's will soon be coming to a freezer near you as they are launching a frozen bar line that's coming soon to retail locations. For more information, check out
their website here.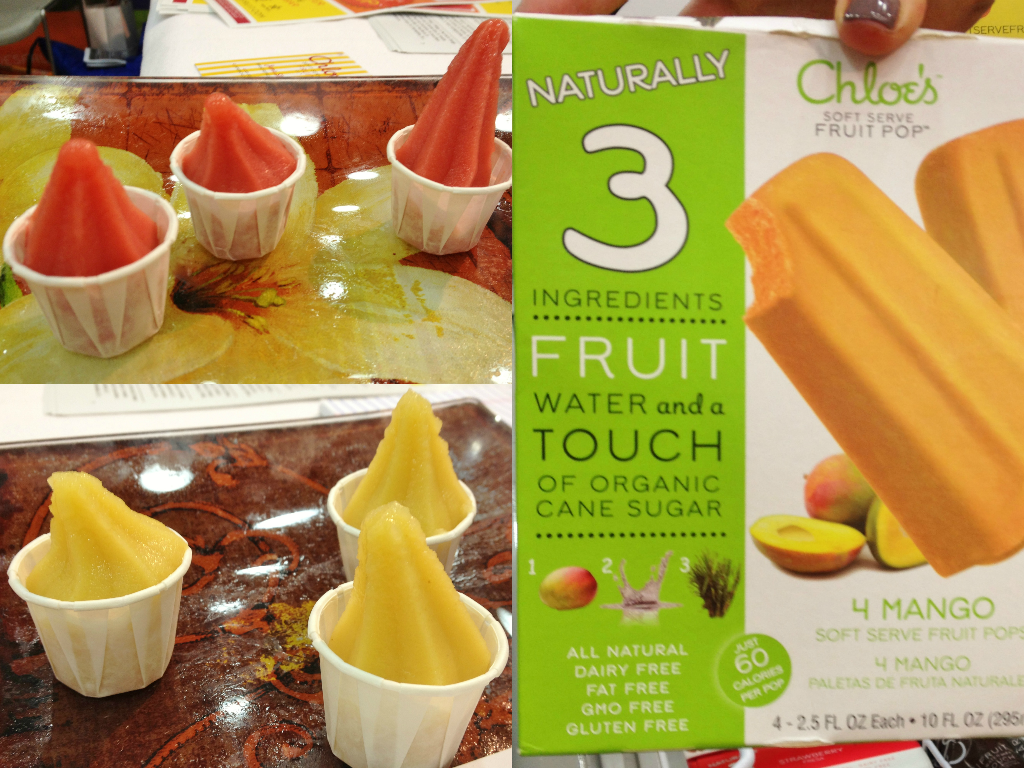 Following along the real fruit theme, I must admit that I was totally blindsighted by Steve's PaleoGoods' dried strawberries which blend the best of fresh strawberries and fruit gummies. Maybe they're the gummies nature intended? I think so. Chewy, fruity, and addictive in nature, I love that they are free from the top eight allergens and preservatives. They also happen to be paleo and each sale directly benefits Steve's Club which bring fitness and nutrition awareness to at-risk youth. For more information, check out
their website here
.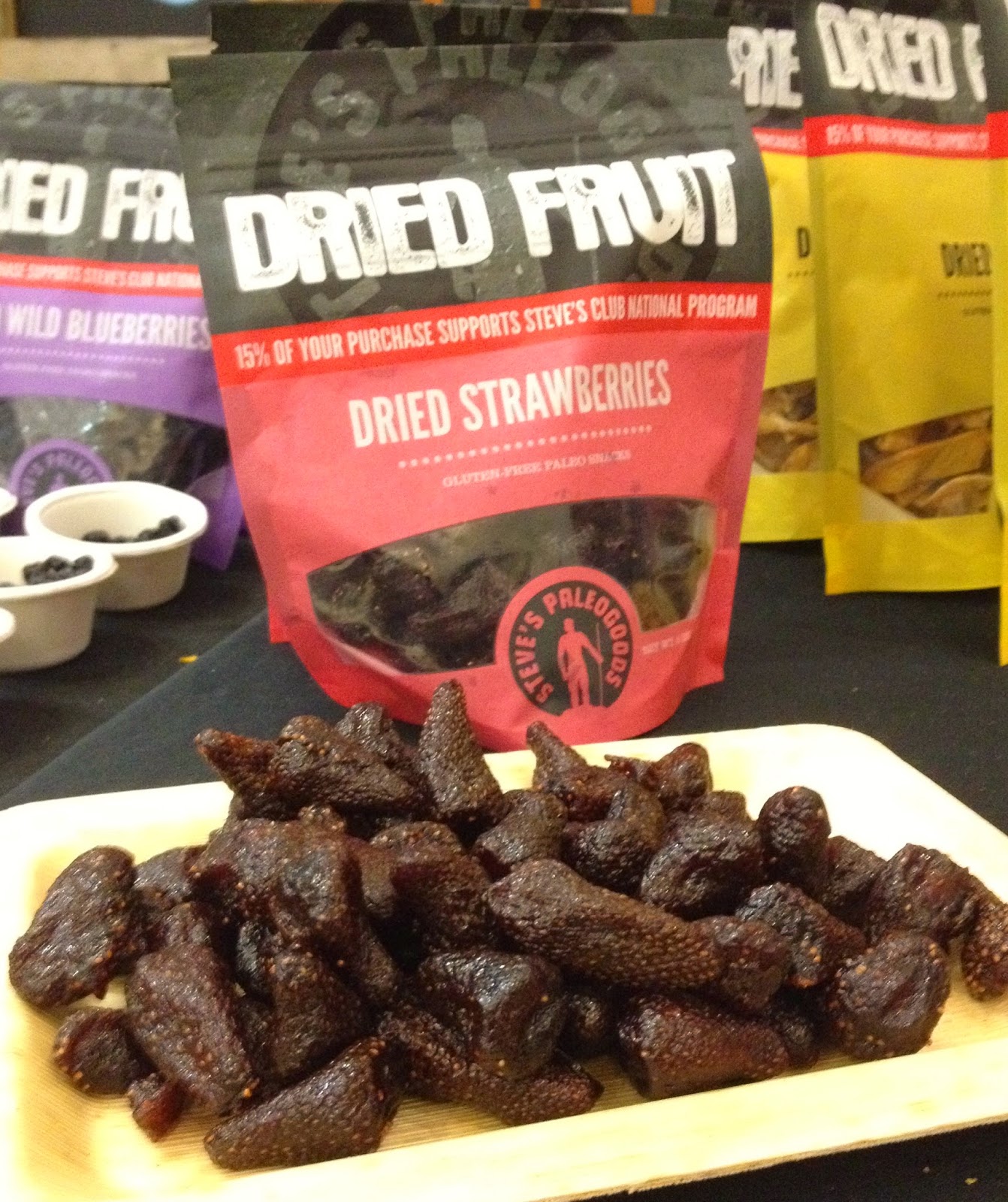 Popsicles were definitely a thing this year as I sampled multiple vendor's versions of this icy treat. The front runner in my book was Lunapops which offered a mix of classic and norm-defying flavors. I opted for their raspberry chocolate chip flavor. I loved the tart, fresh taste of the raspberry base and the tiny, crunchy bursts of cocoa from the chips. The best part? The pop was perfectly portioned and is already available in retail stores in Florida and Maryland. For more information, check out
their website here
,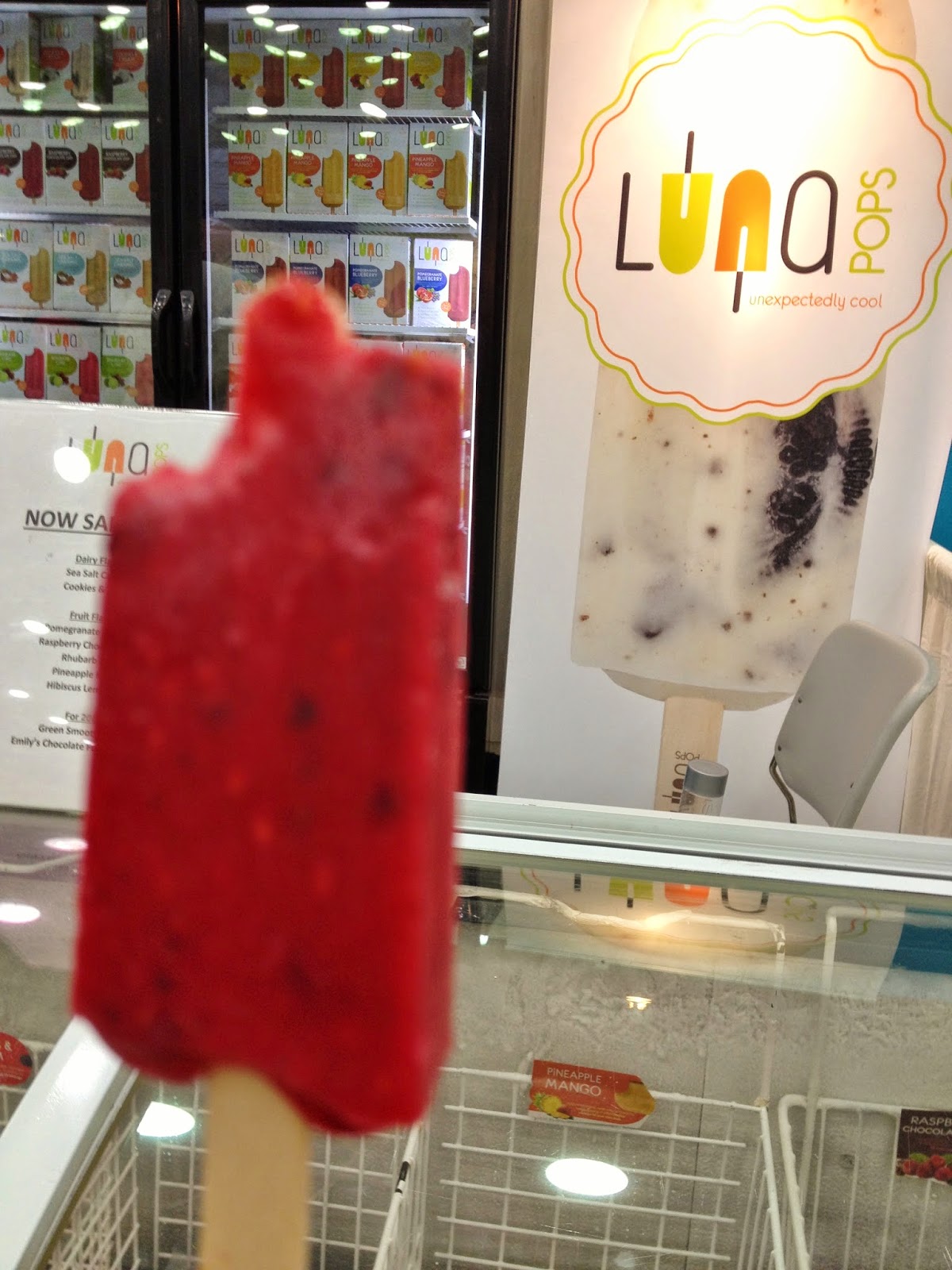 That wraps up my run down of Expo East's sweetest eats. I was provided these samples directly from the companies but was not compensated for these reviews. All opinions are my own. For more information on the products themselves and where they can be sourced through retail outlets, check out each company's website. This post does contain Amazon affiliate links.