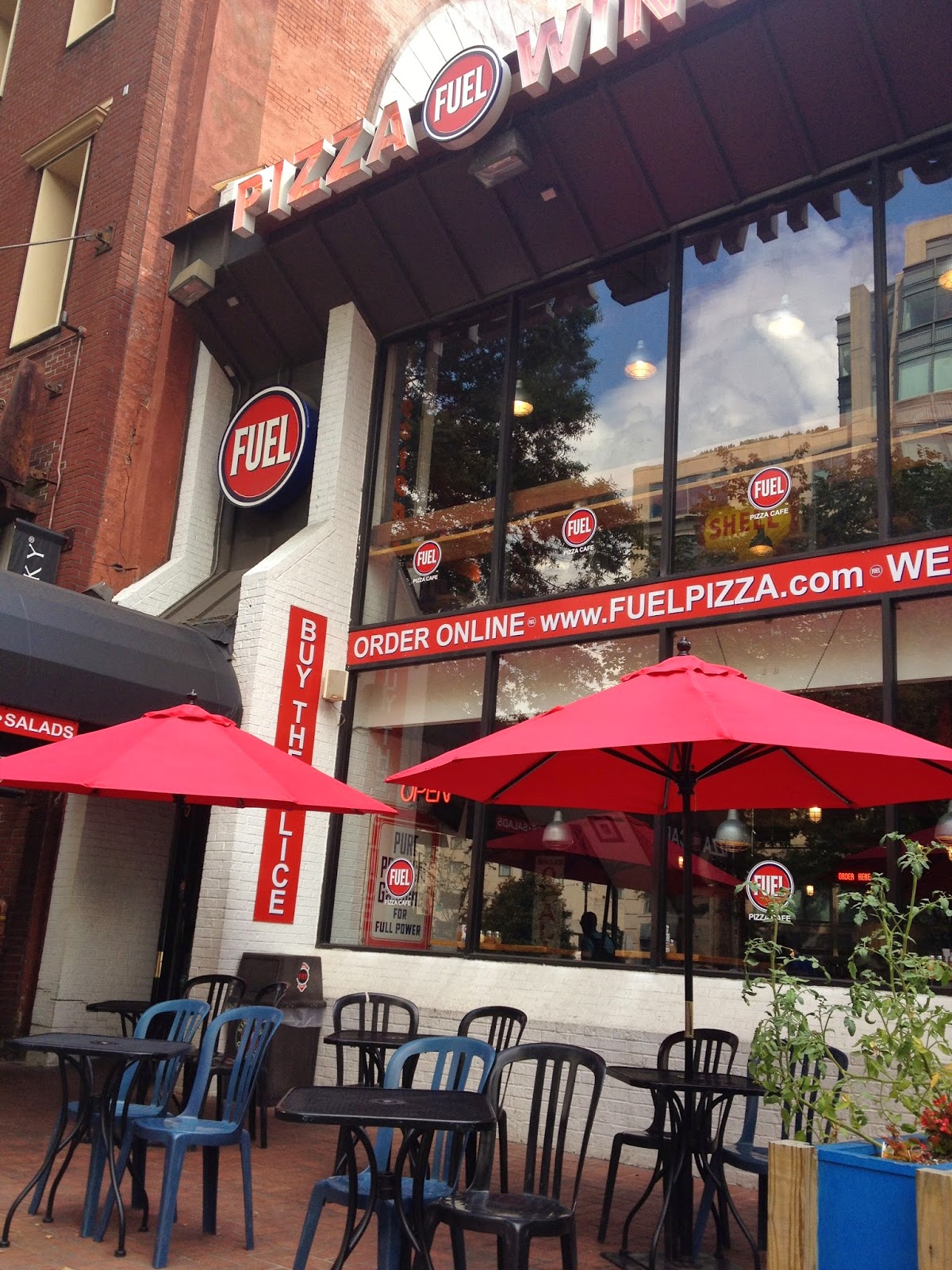 After departing ShopHouse Southeast Asian Kitchen on my Labor Day D.C. adventure, I took another quick trip on the metro from Dupont Circle to the Farragut Square stop which is mere blocks away from the White House and start of the national mall. Given my limited time in the city, I had to prioritize what I wanted to see as well as consider how far away from the National Zoo I was willing to travel. The White House fit the bill perfectly as it was easily accessible, near public transit stops, and close to another restaurant I wanted to try out: Fuel Pizza.
I was first introduced to Fuel's delicious pizza while in residence at summer camp at Davidson College in North Carolina. Although I was gluten and dairy eating back then, the pizza left an impression and I remember it fondly as the centerpiece of our final day at camp in which the dorm transformed into one big party until midnight. In the back of my mind, I always thought I'd like to go back, but thought my window of opportunity had all but shut when pizza's prime ingredients got put on my "no-can-do" list. Luckily enough, I rediscovered this North Carolina based chain while researching gluten-free eats near the White House and was excited to see the gluten-free and vegan options noted on their menu.
The day I was there, the weather was channeling Florida's baking, humid climate and was a reminder of just how much I am not a fan of the sweltering summer heat in it's full glory. After spending a few hours in the mid-day heat, Locke and I both wanted to call it quits and hang out for a while to cool down and get ready for our trek back to the zoo. We made our way to Fuel Pizza where the air conditioning and funky vibe greeted us with open arms.
Any of their specialty pizza creations can be made gluten-free except for the Extreme FUEL (order without meatballs), Whole Engine (order w/o meatballs), or Chipotle Citrus Chicken. Do-it-yourself-ers can choose from over 35 toppings, but should avoid meatballs as they contain gluten. Their crusts come from Smart Flour Foods which is the same company that makes Mellow Mushroom's gluten free crusts. Those looking for vegan options can swap Daiya dairy free cheese for dairy-containing cheese or simply go cheese-less as I do. Those interested in g-free beers can get those here as well. I opted for their Field to Fuel Garden Veggie pizza which was loaded with sauce, spinach, tomatoes, onions, green peppers, and mushrooms. Because it was made in a separate area and had a little bit longer cooking time, I was told that the pizza might be a bit of a wait. I didn't mind at all knowing that I had time to kill, but it's noteworthy if you're in a rush (they offer online ordering for delivery or take-out).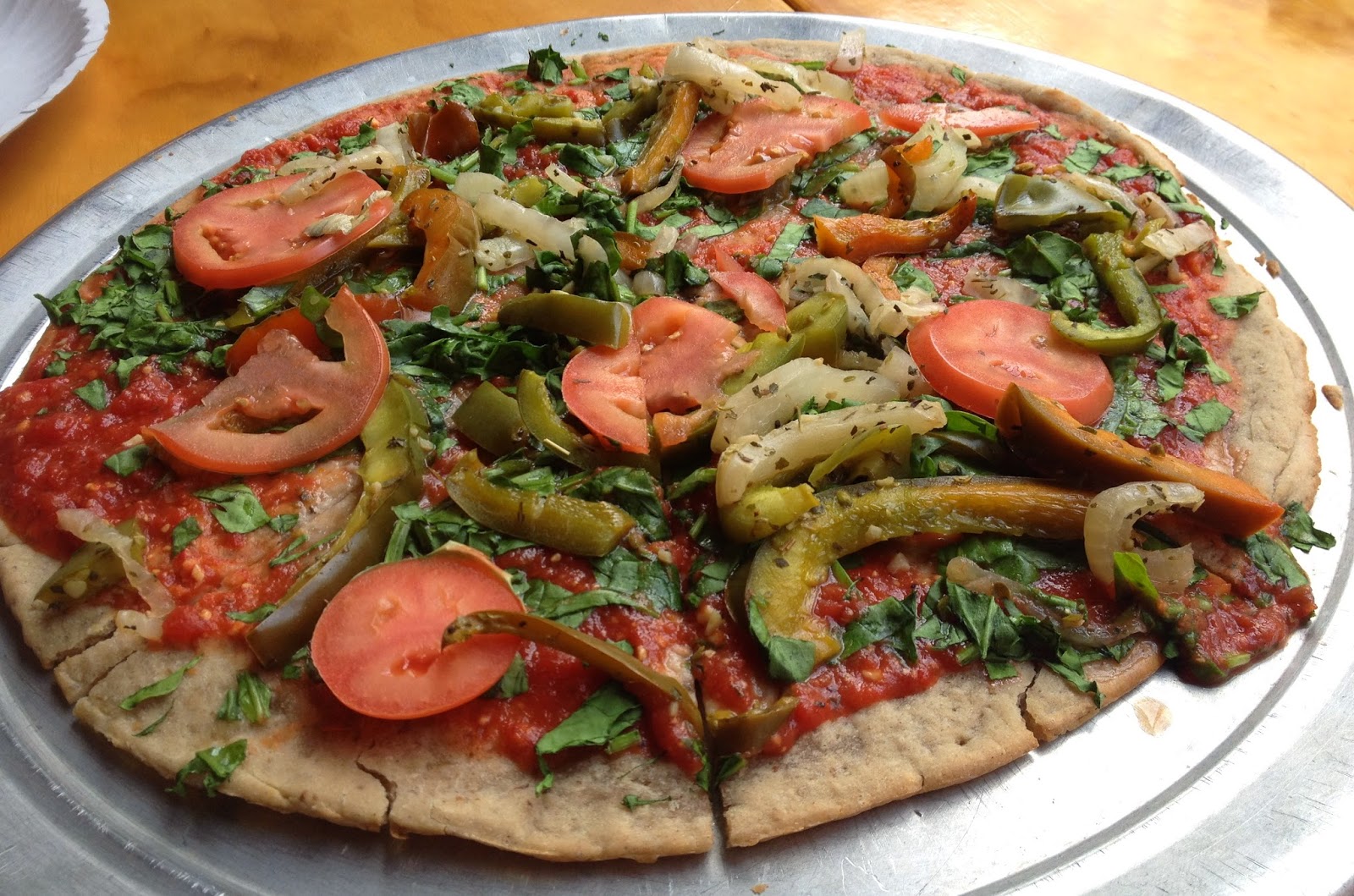 When it came out 15-20 minutes later, I was presented with my pizza which did not disappoint int the appearance department. I love it when vegetable heavy pizzas have vegetables that actually look like they were freshly cut instead of looking drab and lifeless. As I tasted them on each slice, the peppers and onions tasted like they were pre-cooked or roasted. The ruby red sauce was thick and garlic-y which what I remembered from my Davidson pizza so long ago. Despite the passage of the years, my memory proved sound as the sauce was the element that stood out on this pizza. The unmistakable Smart Flour Foods whole grain crust tasted the same as I remembered it- a nice whole grain flavor- but Fuel's prep must have differed from Mellow Mushroom's because the crust was a tad underdone and soggy. Each slice drooped under the weight of the toppings which made eating the pizza a two-handed, messy affair. Next time I go, I'm definitely requesting a couple extra minutes in the oven for my pizza! That minor disappointment aside, the pizza was solid, just not exceptionally noteworthy. And at close to $20 for an gluten-free individual pizza, it was hard to justify my level of satisfaction with my wallet.


While I can't say I was completely wow-ed by Fuel Pizza, I'm glad to see that they are yet another pizza chain that is making the commitment to serve gluten-free pizzas that go beyond the simple cheese or pepperoni variety. I give the K Street location props for their funky vibe brought forth by their vintage and retro decor and great panoramic windows through which I could stop and watch the world go by and relish the awesome feeling of being in such a cool city.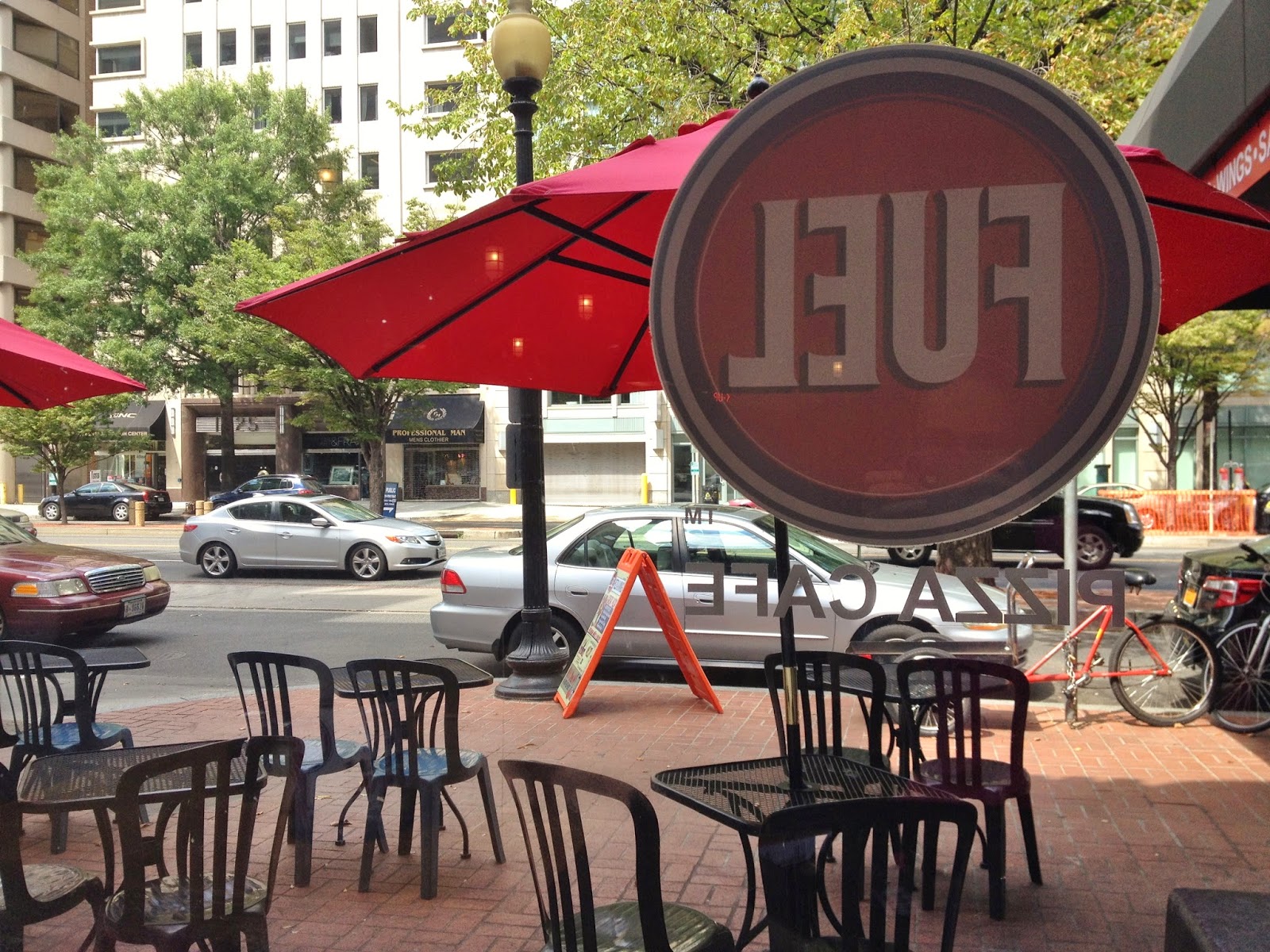 The Basics
Address: 1606 K Street, Washington, D.C. 20006 (See their North/South Carolina and other D.C. locations here)
Website:
www.fuelpizza.com
Cuisine: Pizza
Ideal For:
Lunch, Dinner
Price: 12″ gluten-free specialty pizzas are $17.99. The make-your-own pizza base price is $14.99 for a cheese pizza with an additional charge of $1.49 per topping.
Accessibility:
The restaurant is wheelchair accessible.
Special Features: Find online ordering for pick-up or delivery here.
Disclaimer: This review is based upon the information I have at the time of the review and does not reflect changes in ingredients or availability of items. Please contact the restaurant directly for up-to-date information and feel free to contact me with any questions or comments. I was not compensated for this review and it is a reflection of my personal opinion.