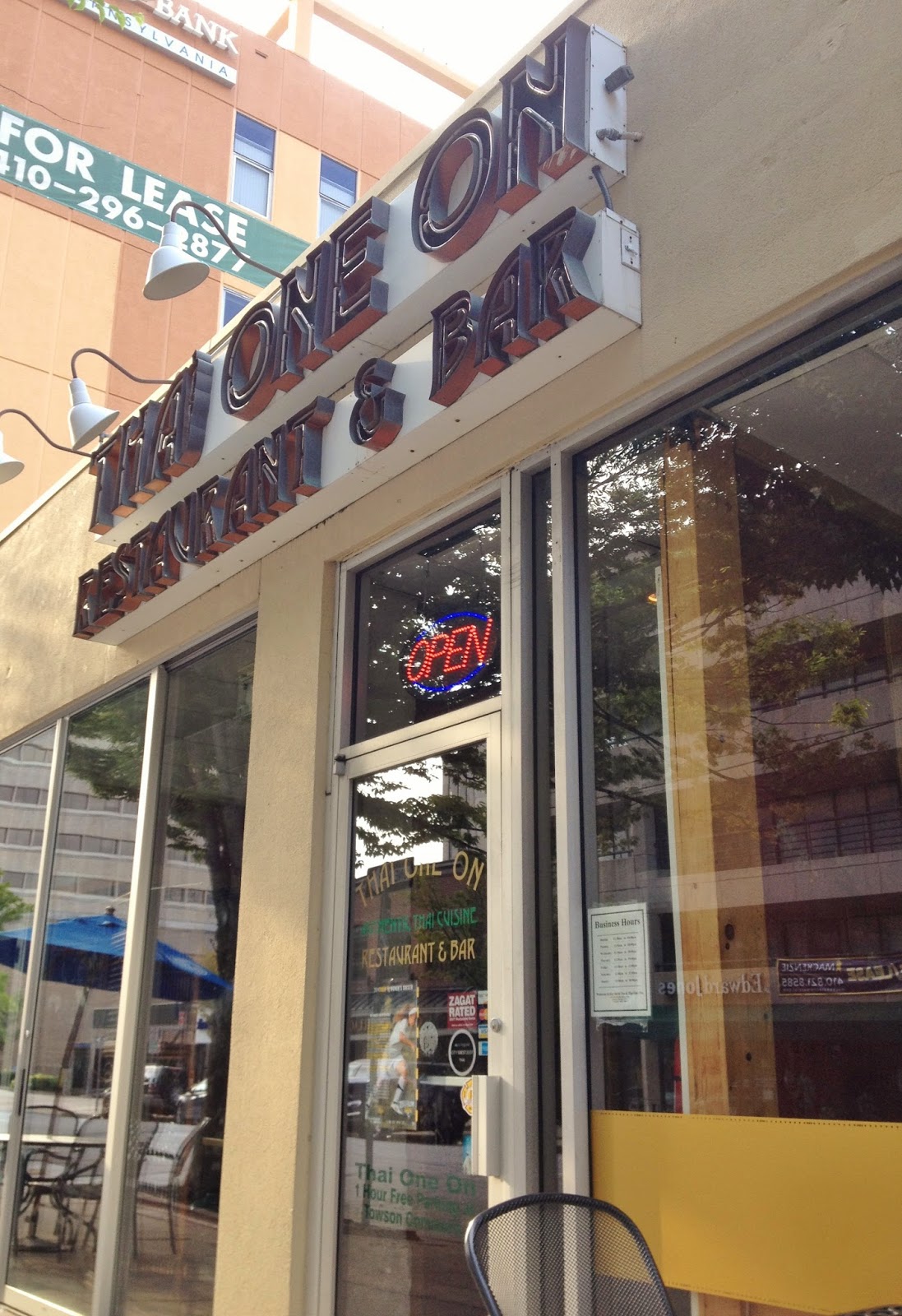 A couple weeks into the semester now, I've finally got my routine down with studying, dining, and having fun. While I relish the wide-openness of weekends, I must admit that the campus empties out a bit and is a shadow of its weekday self. On one such weekend after being cooped up in my room all day, I knew I just had to fly the coop and break away for a study break and venture off campus. For this excursion, I selected Thai One On, a restaurant located in pedestrian-friendly downtown Towson. Located literally next door to previously reviewed Havana Road Cuban Cafe, I had no problem locating it using public transit.

Having only recently developed my taste for Thai cuisine after visiting Orchid Thai in Winter Park, I have quickly grown to love green curry as my go-to dish at any Thai restaurant. Quickly becoming one of my favorite foods (besides) pizza, I wondered how Thai One On's version would compare to the others I've tried.

Arriving early on a Saturday evening as to dine at less-busy hours, I wondered if they were even open as I walked in and saw a vacant space. Luckily, a worker saw me and let me know that they were in fact open, just setting up the dining areas. I opted to eat outside given the beautiful weather and a waiter came out to greet me as soon as I was settled. When I inquired about gluten/dairy free options, he seemed a bit confused and consulted the kitchen and then reported back that the pad Thai was the only thing I could eat. Not a fan of the dish, I was shocked that the curries were not safe so I asked what was in the curries that would make them unsafe. He went back a second time to consult and came back with a wider variety of options that were safe: any of the curries, the pad Thai, and the pad pik sod. Getting the green light on my green curry, I ordered mine with brown rice.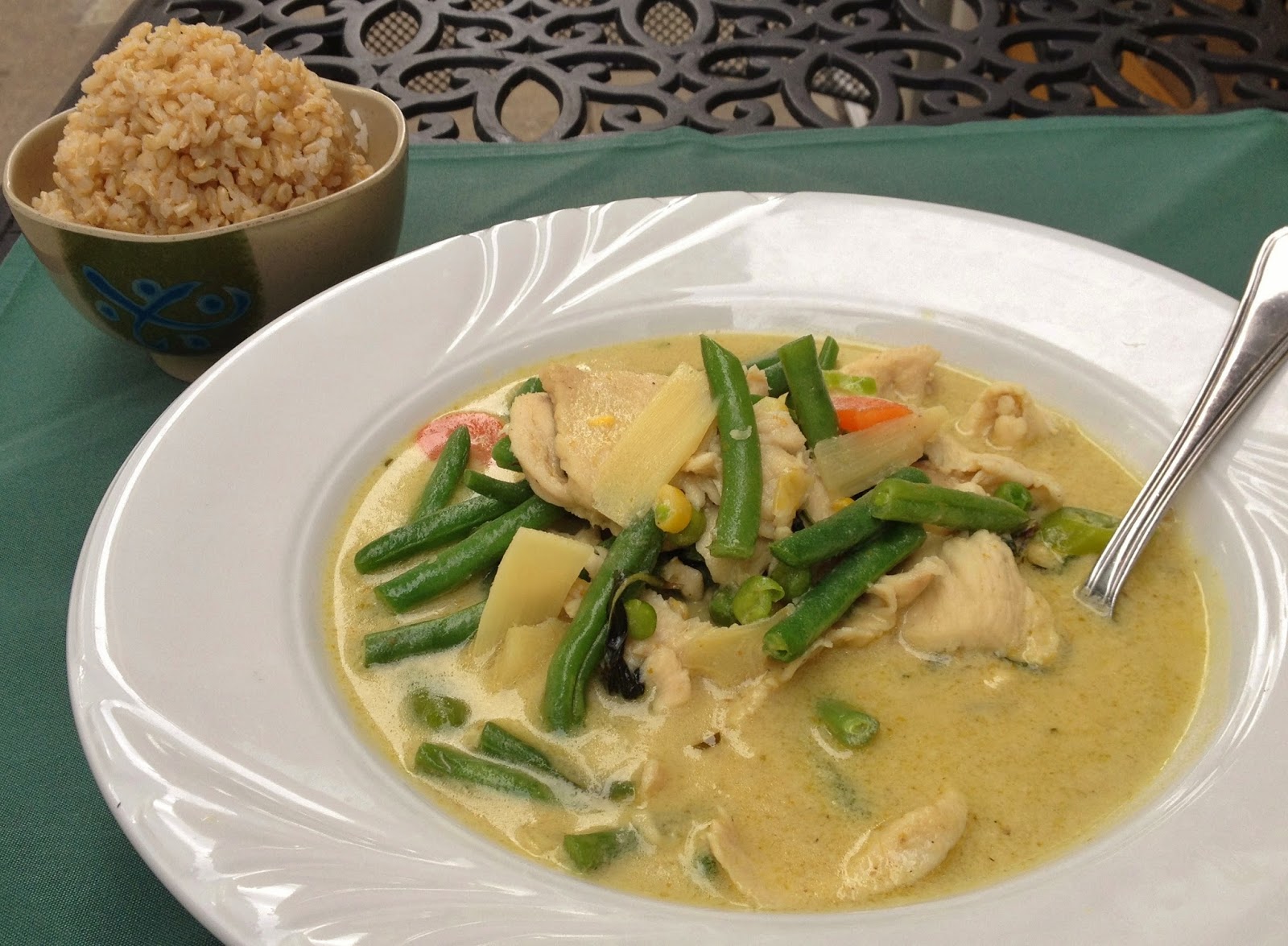 I've seen green curries of all shapes, sizes, and presentation styles. Thai One On's was very generous in its portion size. The curry featured bamboo shoots, green beans, carrots, and basil leaves as an accompaniment to the chicken. Their flavors were brought to life by the creamy green curry sauce which was sweet, luxurious, and indulgent. More flavorful than spicy or hot, it was welcome on a cool afternoon. The brown rice on the side was cooked perfectly and provided the perfect base for the rich entree with it's nutty, complex flavor.


All in all, Thai One On delivered a solid meal that satisfied, but my server's unfamiliarity with gluten and dairy free options could be dangerous should a mix-up or misunderstanding occur. Luckily, the kitchen chef was helpful in this department and pointed me towards which options were safe. I'm glad that I found a Thai restaurant nearby, but will definitely explore other option in the area as I get more familiar with my surroundings.



The Basics
Address: 10 W. Pennsylvania Avenue, Towson, MD 21204
Website: Thai One On's listing on Yelp
Cuisine: Thai
Ideal For:
Lunch, Dinner
Price: My entree was $12.95 most entrees were under $15.00
Accessibility:
I ate outside so cannot comment on accessibility of the interior
Special Features: They accept take-out orders
Disclaimer: This review is based upon the information I have at the time of the review and does not reflect changes in ingredients or availability of items. Please contact the restaurant directly for up-to-date information and feel free to contact me with any questions or comments. I was not compensated for this review and it is a reflection of my personal opinion.