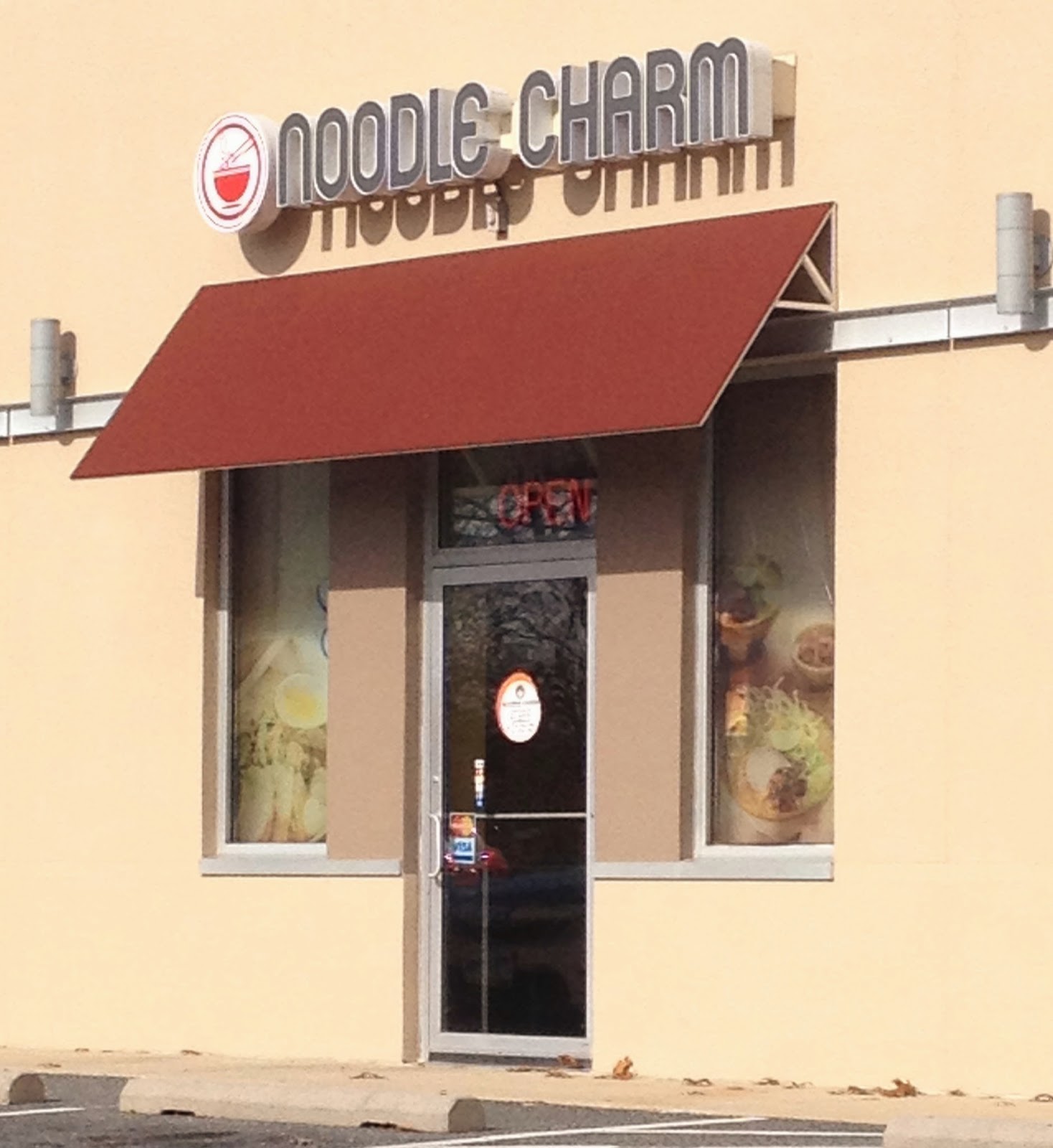 Having gone many months since my last encounter with Thai cuisine, I made a goal of seeking out my favorite dialect of Asian food this weekend as cooler temperatures called for comfort food. After considering the many Thai restaurants in and around the Baltimore area, I selected Noodle Charm as my intended destination as it is a sister restaurant to one I've already visited (Spice and Dice Thai) and nearby a bustling shopping center with a few stores I wanted to check out.
Like it's sister restaurant, which is located literally next door, Noodle Charm's menu is centered around authentic dishes crafted with care. As I soon found out, their name is pretty fitting as I found both noodles and charm in this cute little restaurant.
Arriving shortly before noon on a Saturday, the restaurant was pretty quiet as one other person and I were the lone patrons. I was greeted and seated immediately and handed two menus, a print one and a photo album of all the dishes. I liked having both to see a written and visual interpretation of the menu. Unlike Spice and Dice, their menu does not have vegetarian, vegan, or gluten-free labels so I turned to my waiter for guidance on what would be safe for me to eat.
The menu is divided into rice dishes, noodle dishes, and a make-your-own option where you pick your bowl size, soup, and noodle. This was the most appealing to me so I could design my own around what was safe. In the noodle department, I was advised to steer clear of soba and egg noodles. Also off limits were the fish or shrimp balls. Not wanting to play a game of twenty questions with the staff, I inquired about the tom yum soup and once confirming that was safe, went with it without going through the other options. I requested mine with sliced pork only and peanuts on the side. I ordered the smaller bowl size after overhearing that the portions were rather generous.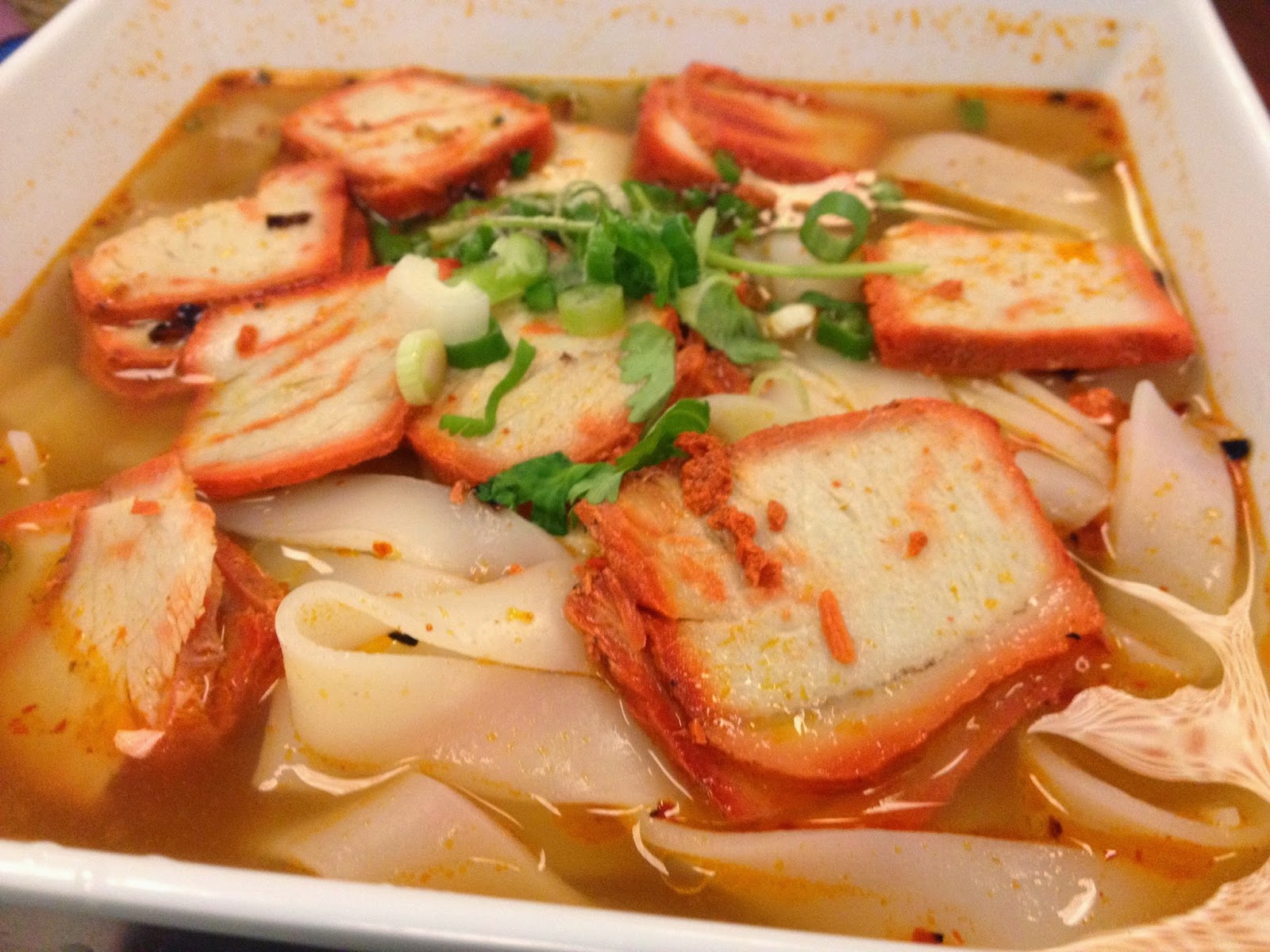 When it arrived a short time later, I was impressed by the sheer size of the dish. Though I didn't take precise measurements, I would guess that the soup contained at least four cups of broth in addition to the meat, noodles, and vegetables. The herbal broth was wonderfully aromatic with notes of lemongrass and sweet and sour sauce which gave it a flavorful spicy kick but not too much heat. The pork was thinly sliced and had a nice spice rub which gave it a peppery flavor. The thick, luxurious texture of the noodles was unlike any I've had before and their mile-long lengths made twirling them a labor intensive job that was oh, so rewarding when I wrangled a forkful. The soup also contained bean sprouts and bok choy which provided added taste and added texture of crunch and sweetness. Topping it all was fresh cut cilantro and green onions which perfectly tied the dish together. All in all, it was one incredible bowl of happiness that to filled me up literally and figuratively on a cool day.


It should be said that eating noodle bowls is a messy affair that involves several utensils (soup scoop, chopsticks, fork); this, however, is part of the fun in eating a dish that has so many tastes and textures that come together for one deeply satisfying meal. Plan to come to Noodle Charm hungry and leave charmed by their delectable dishes, great service, and cute dining area. I know I'll be back again the next time I need a noodle fix and both my stomach and wallet will rejoice in the generous portions and budget-friendly pricing.


Update (1/25/15): Before embarking on my second semester, my mom and I spent move-in weekend scrambling around town to get me stocked up on enough supplies for Locke and me to make it for awhile given the wintry weather. Shopping up quite an appetite, I suggested Noodle Charm for a truly comforting meal. Though the tom yum soup was delicious, I decided to go with their chicken noodle soup.


When it arrived to the table however, my heart sank as I realized that the bowl had a fried wonton in it. Immediately, I knew it wasn't safe, and told my server of my mistake in not informing him of my gluten-free status; I had assumed the soup was naturally safe. Not missing a beat, the server took the tainted soup back and let me know it would be a short wait to remake the soup.


When the gluten-free soup arrived, one spoonful of the homemade chicken broth more than made up for the confusion. Rich and perfectly seasoned, I would be perfectly happy to drink the broth alone as it was very comforting on the cold day. The shredded chicken on top was roasted to perfection and was tender and juicy while the veggies were noticeably fresh and flavorful. The rice noodles, as I first sampled, were thick and delicious. Altogether, the soup was simply wonderful and I think it edged out the tom yum. I'll even go as far to say that this chicken noodle soup could easily beat out most store-bought and homemade versions!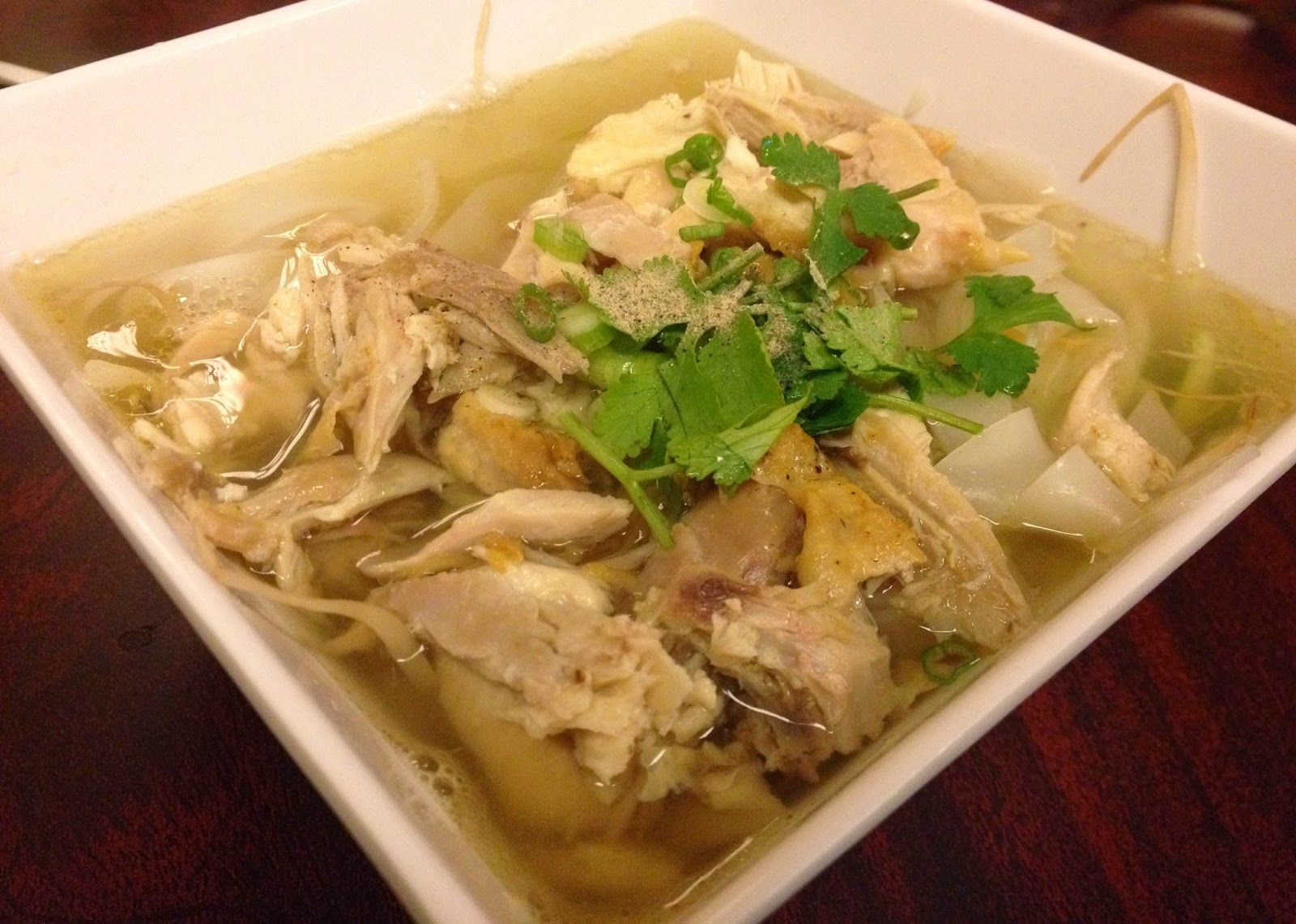 The Basics
Address: 1220 E Joppa Rd #106, Towson, MD 21286
Website: www.noodlecharm.com
Cuisine: Thai
Ideal For: Lunch, Dinner (11am-8:30pm Sun-Thu, 11:00am-9:30pm Fri/Sat, Closed Mon)
Price: Entrees run from $7.95-$9.95. Assorted drinks, desserts, and appetizers are less than $6.
Accessibility: Easily wheelchair accessible
Special Features: Order ahead via phone for carry-out or make reservations in advance at 410-494-8424.


Disclaimer: This review is based upon the information I have at the time of the review and does not reflect changes in ingredients or availability of items. Please contact the restaurant directly for up-to-date information and feel free to contact me with any questions or comments. I was not compensated for this review and it is a reflection of my personal opinion.