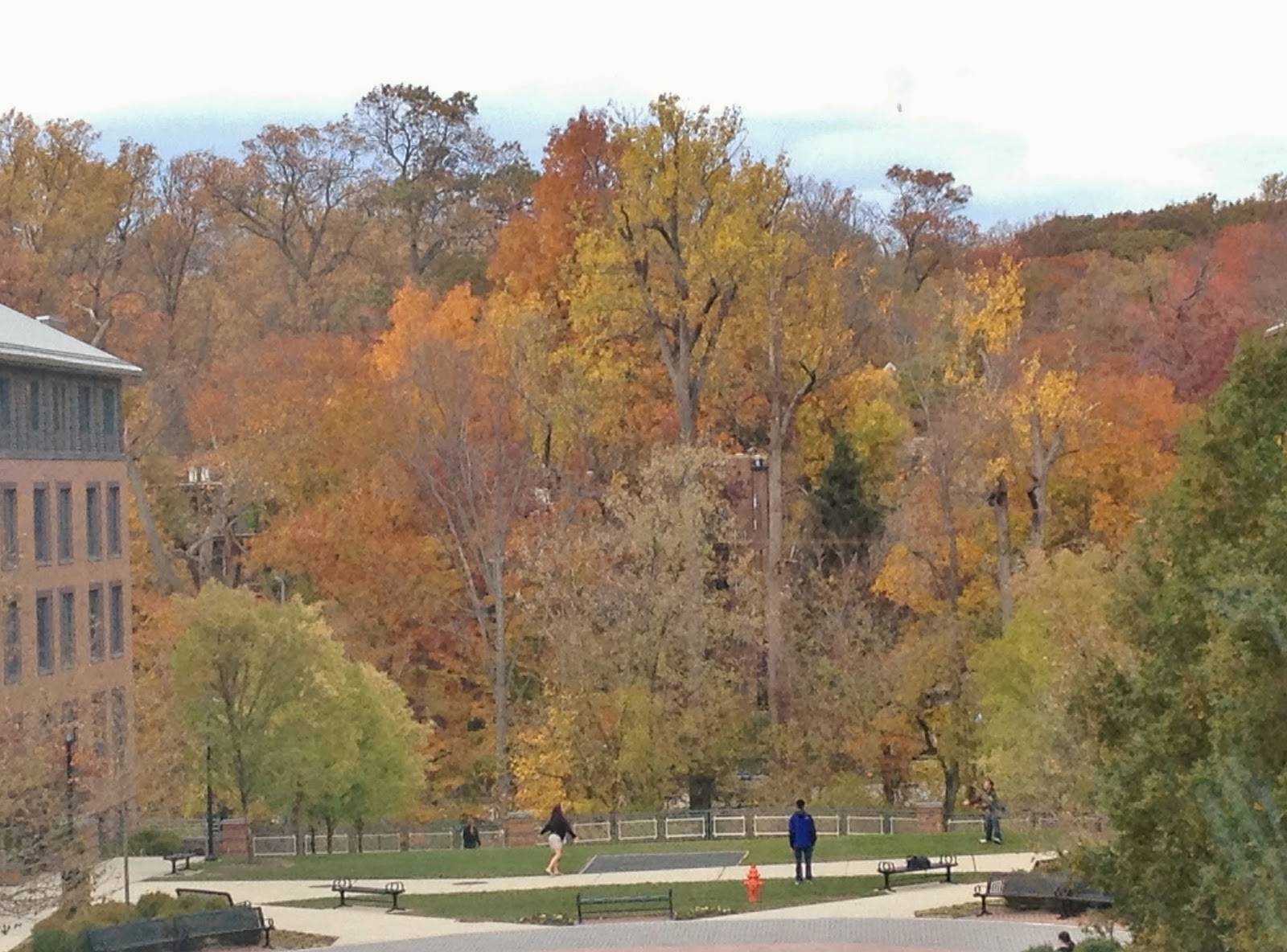 Happy Belated Halloween! Fall is in its full glory, and Maryland does it in a spectacular way. With the chill in the air and the dizzying array of colors on the last leaves on the trees, I have fallen head over heels for a season we don't get in the Sunshine State.


So far, college life is everything I had hoped it would be and more. I am loving the freedom of being entirely independent and the exciting feeling of discovery that comes with exploring a whole new culinary landscape of grocery stores, restaurants, and gluten-free expos and events. My college's dining services keep me well fed and happy with an array of gluten-free offerings including omelets, asian stir-fried noodles, imitation burrito bowls, and weekly specials such as Indian and green smoothies.


As I have adjusted to life as a college student, I find that I often have far fewer hours in a day than I have things to complete on my to-do list. Naturally, my academic work comes first, then my extracurriculars such as clubs, cleaning, errands, and blogging. Given my jam-packed weeks, I have not been able to write as much as I would like, but have been discovering new products I want to share but for lack of time, I cannot devote an entire post to.
In an effort to share the spotlight and recognize what I'm loving every month, I've decided to start a monthly round-up of new products called my "Monthly Mentionables" that will be posted on the last day of the month. Although it's a day later than I had hoped to post this, I'm starting strong with a review of October's finds.
Foods By George English Muffins
Found at Wegmans in Hunt Valley, the bread lover in me couldn't wait to see if these English muffins were reminiscent to the nook and crannied ones I remember from my gluten eating days. While they are nothing like the chewy, spongy breads I remember, I loved them because they can only be described by a word rarely used to described gluten-free goods: fluffy. When toasted, they brown to a crunchy crisp leaving a fluffy interior. The fluffiness can also be achieved without toasting when they are microwaved directly from the freezer. Paired with almond butter or soup, they are versatile and adaptable as a breakfast bread, bun, or roll. For more information, order online, or find retail locations, check out Foods By George's website here.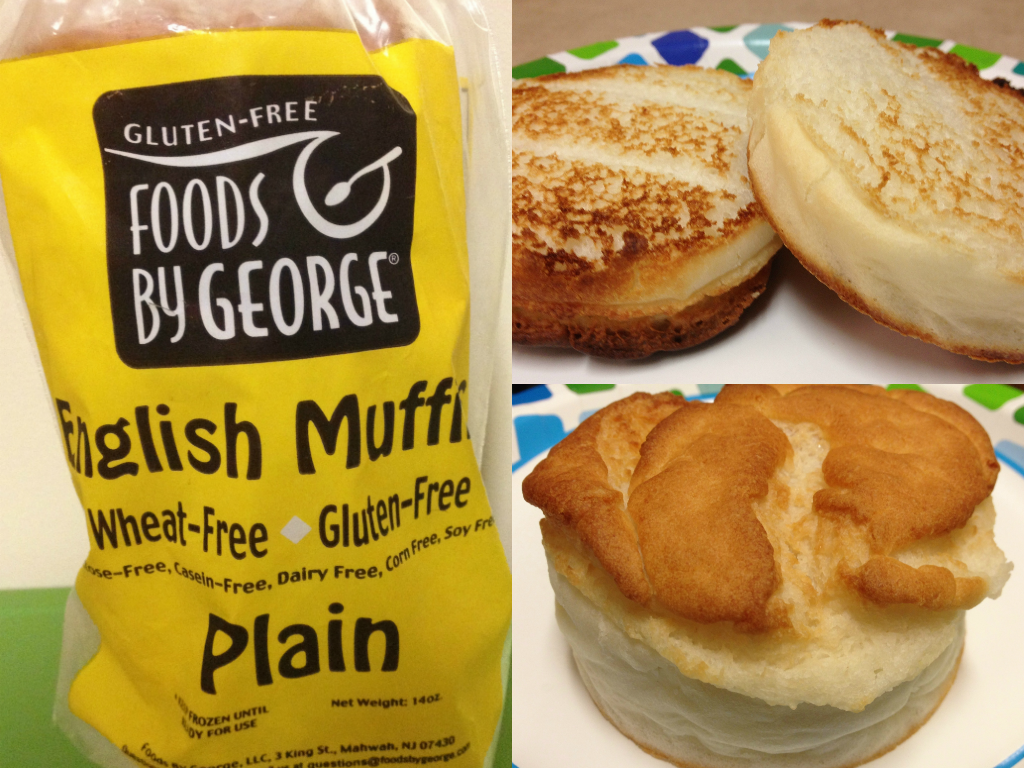 Califia Farms Almondmilk and Iced Coffee with Almondmilk
Of all the alternatives to milk there are on the market, almondmilk is by far my favorite. However, I had not found one that I liked as a drink or could be a replacement for milk; I only used it in cooking and baking when it's flavor would be masked. Coming across Califia Farms' almondmilk creations in Whole Foods and the Fresh Market, one taste was all it took to convert me exclusively to their almond brew. Thick, creamy, and rich, their unsweetened plain almond milk is as versatile as milk and can even stand on its own as a drink. Finally, I have been able to enjoy cold glasses of milk with baked goods and traditional cold cereal again.
This same almond milk is also plays a role to make their iced coffee drinks creamy and delicious. Since I am not a coffee drinker and don't trust dairy-dependent coffeehouses to make a truly safe brew on the gluten and dairy front, sampling their cocoa noir iced coffee was a leap of faith. I loved the rich dark chocolate coupled with taste of cold brewed coffee. While it hasn't completely converted me to a coffee drinker, it's my go-to drink for a sweet treat.
But wait, there's more. Though I haven't been able to find it in stock at my local Fresh Market, they have a gluten and dairy free pumpkin spice latte and egg nog just in time for season's greetings! I will definitely report back when I can source a bottle out. For more information on these and other Califia Farms products or locate a retailer near you, click here.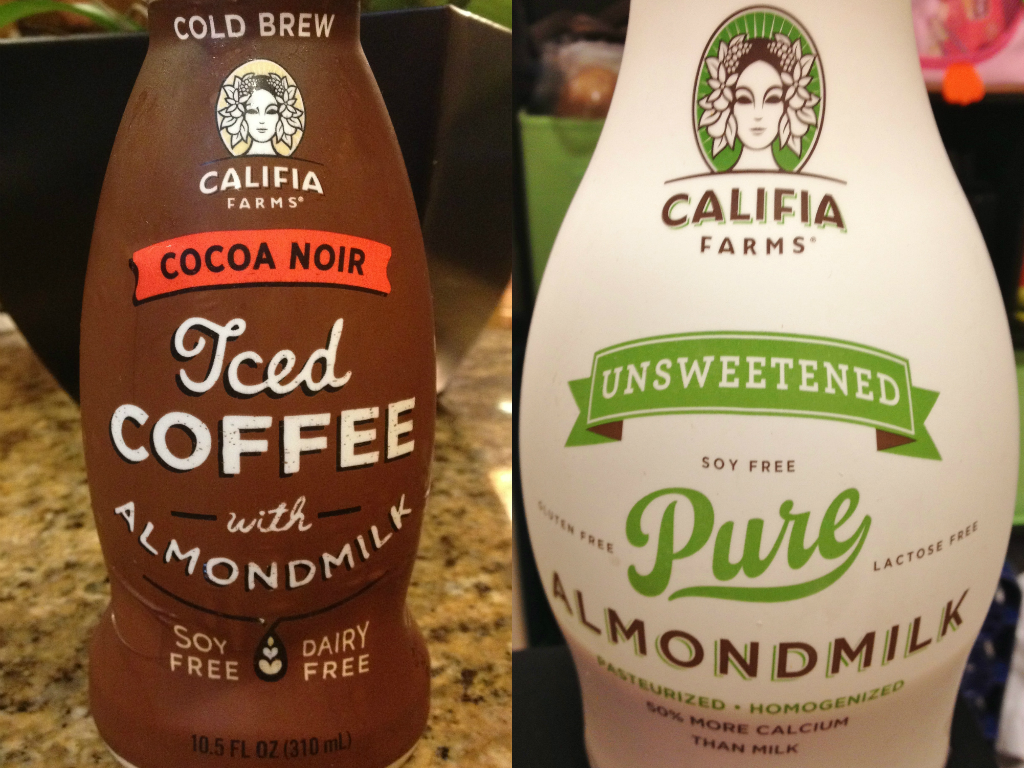 Just Tomatoes Dried Bananas and Tomatoes
I was introduced to Just Tomatoes through an Expo East sample of their freeze dried strawberries and bananas. Not a fan of the strawberries, I instantly fell in love with the bananas which were sweet and crunchy. As fresh fruit is a food group I often miss out on since I'm always on the go and have limited mini-fridge space, a quick Amazon search led me to the perfect solution for anti-strawberry sentiments: just bananas! No really, that's their name. Featuring a pure and simple ingredient list that reads "just bananas," each single-serve bag allows me to get all the benefits of the potassium-rich fruit without ever worrying that it will go bad before I can eat it up. I have found that they are perfectly paired with almond butter and Enjoy Life Foods' dark chocolate morsels for an uber decadent treat.
While browsing, I also came across another of their dried varieties: just tomatoes. After falling in love with dried tomatoes from a vendor at the Lake Eola farmers' market, I have missed the unique taste of this dried fruit. I loved the leathery texture of Just Tomatoes' tomatoes and intense tomato-y flavor. These lycopene rich snacks are perfectly packable snacks that I always keep on hand whenever hunger strikes.
For more information on Just Tomatoes full line of dried products and retailers, click here. To find the 12 pack of single serve bananas on Amazon, click here
. To find a multi-pack of just tomatoes, click here
.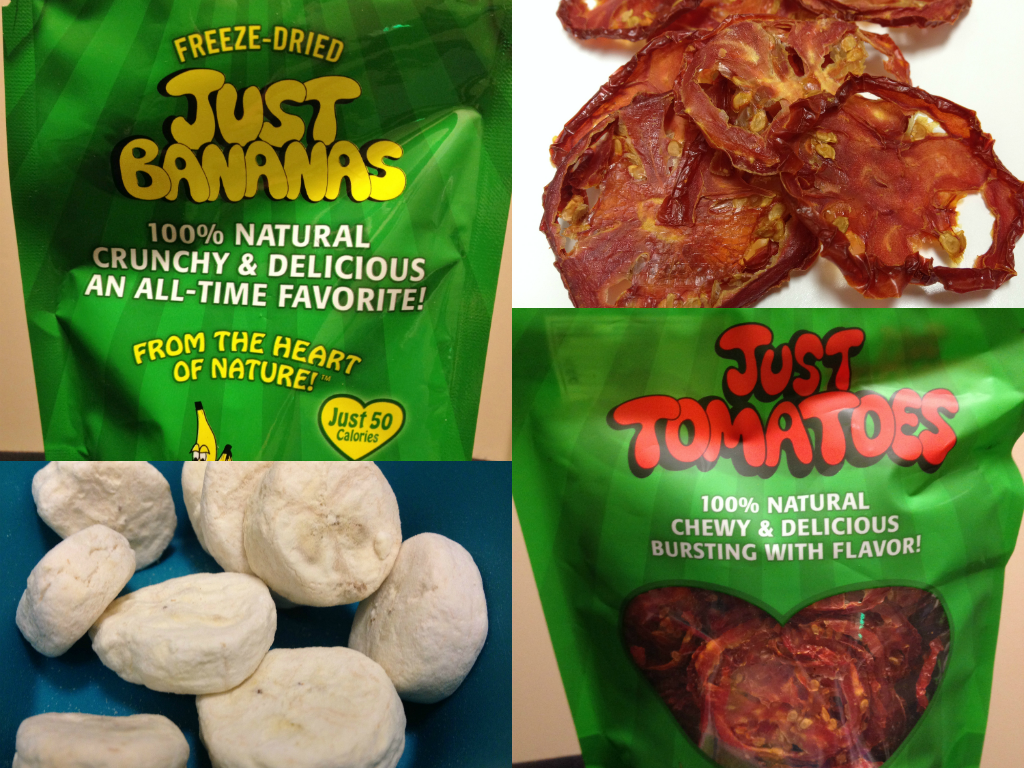 Beanitos Black Bean and White Bean Chips
Although I've been familiar with them through various write ups in magazines and blogs, I dismissed beanitos as a mere chip. Since corn chips and I do not really agree, I mistakenly grouped them in a category they not only defy, but go above and beyond. Made with real black beans and navy beans respectively, the original black bean and restaurant style chips have all the benefits of beans- including fiber and protein- with additional considerations that make them friendly for many special diets and concerns. They are corn, gluten, dairy, msg, GMO, and cholesterol free and happen to be vegan and low glycemic as well. I love to pair both with fresh salsa or serve them on the side of my "imitation burrito bowls" I create in the dining hall.
For more information on these chips and Beanito's other offerings as well as retailers, click here. To find the black bean chips on Amazon, click here
. To find the restaurant style white bean chips on Amazon, click here
.


Disclaimer: This review is current to the original publication date. Updates will be noted. Ingredients and manufacturing processes can change without notice. Each product should be reviewed for individual nutritional needs. Feel free to to contact me with any questions or comments. I purchased all of the items featured in this post independently and it is a reflection of my personal opinion. This post contains Amazon affiliate links.