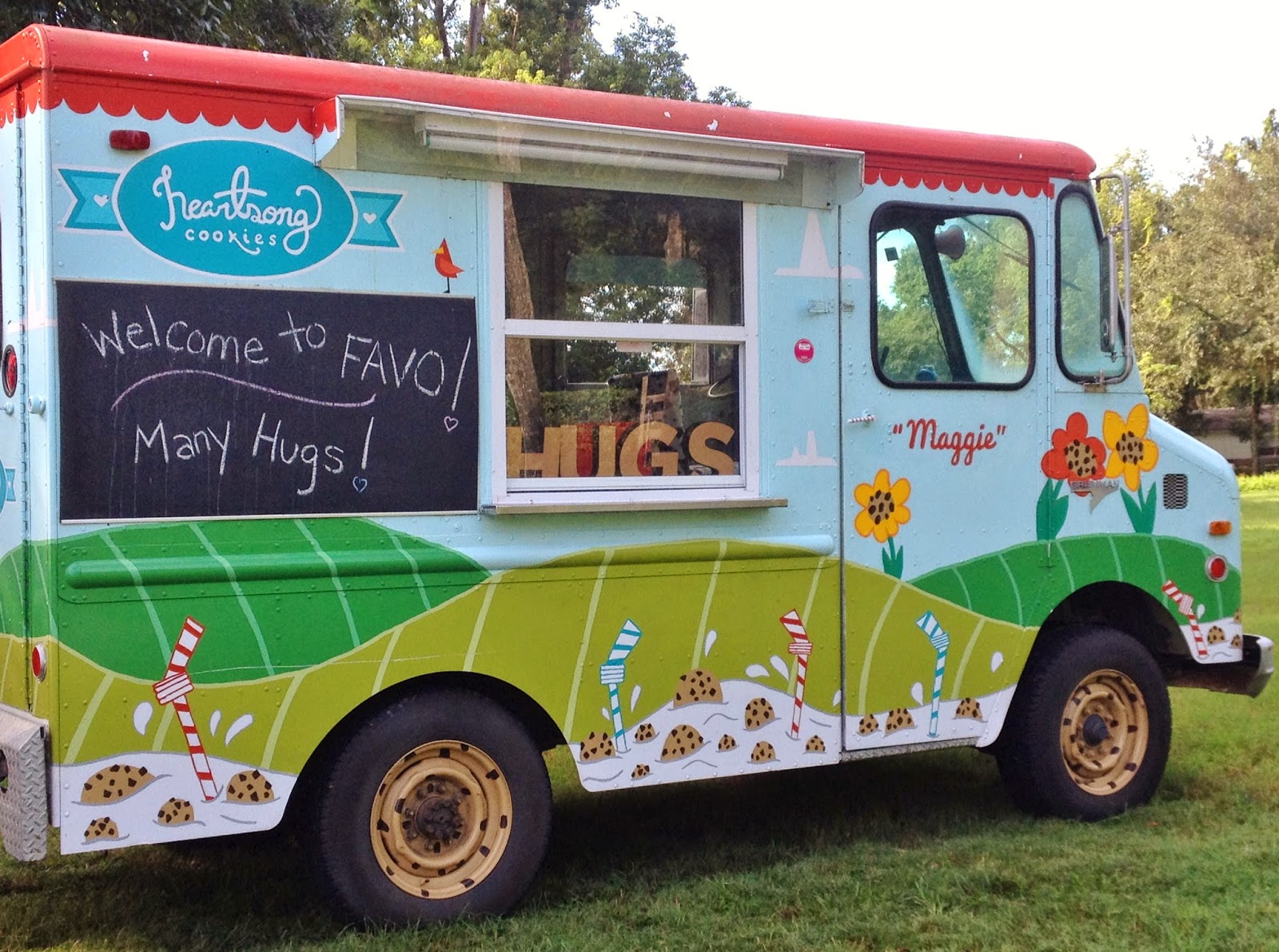 Although Christmas is now behind us, there's no denying the fact that this time of year is marked by the proliferation of cookies of all shapes and sizes. Normally one who does not seek out sweets, I have indulged myself over the past few weeks in Christmas cookies as a stress reliever for finals week and celebration that I made it through my first semester in college no worse for the wear.


On my first weekend back home in Orlando, my mom and I hit the Maitland Farmers' market at the beautiful Lake Lilly Park on the hunt for fresh veggies and one of my favorite local treats- Heartsong Cookies (see my original review here). However, Heartsong was not the only gluten-free cookie purveyor I discovered on that bright and beautiful Sunday; Jacqueline's Cookies, run by a local baker with ambition to grow her cookie business also caught my eye.



Jacqueline's Cookies
Since I've already spotlighted Heartsong Cookies, I'll give my first shout-out to Jacqueline's. By the time I stopped by her market stall, the only gluten-free offerings left were her flourless chewy chocolate cookies. Had I arrived earlier, her full gluten-free stock included coconut macaroons, pecan brownies (made with pecan flour), and vegan almond butter chocolate chip cookies. The flourless chewy chocolate cookies while being gluten and dairy free are not egg free, so those concerned with the allergen should inquire about the presence of allergens before selecting treats. Nabbing her last two cookies of the day, I couldn't wait to sample them as soon as I got home.


Slightly melted from the heat and bent out of shape during transit from Maitland to my house, what they lacked in presentation they completely made up for in taste and texture. I loved the dense, chewy texture and deeply bittersweet taste of the cookies. Perfectly paired with unsweetened almond milk, I loved the simple pleasure of the gooey, rich flavor of a milk-dipped cookie.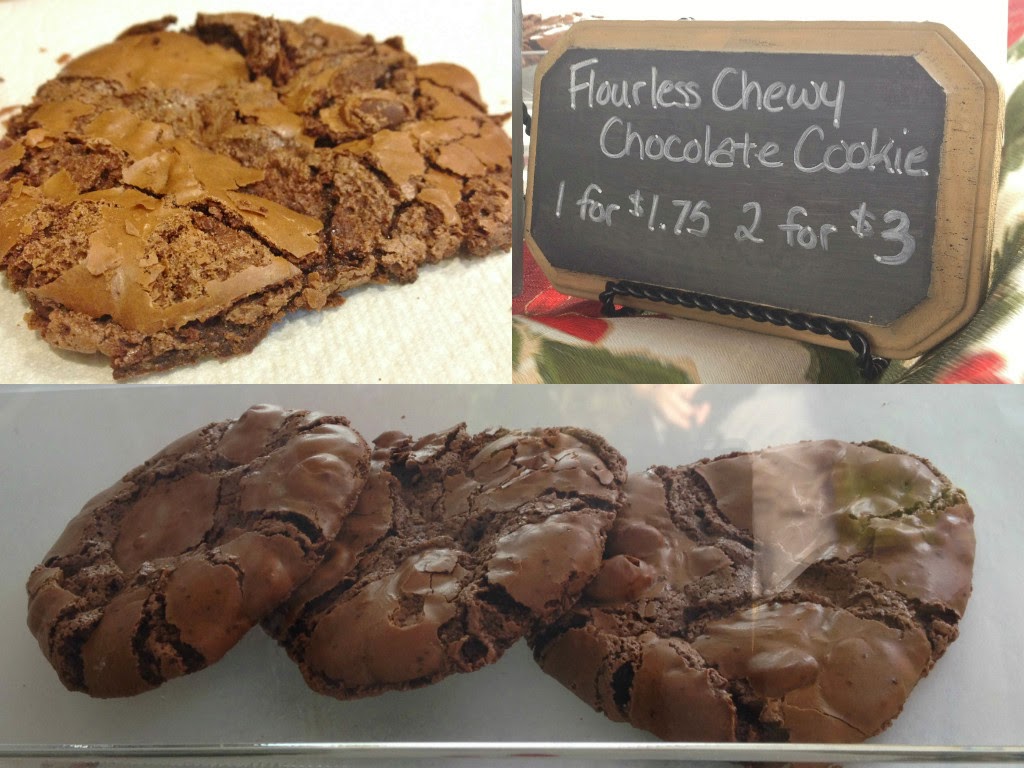 Heartsong Cookies (Original Review Here)
After falling in love with Heartsong's delicious cookies earlier this year and relishing their starring appearance in a college care package last semester, I couldn't wait to visit the farmers' market to sample more flavors and get a daily dose of hugs from their brilliant baker, Kathy. Wanting to sample beyond the classic chocolate chip cookie, I was pleased to find a full spread of gluten and dairy free delights.


Catching my eye first and foremost was the gluten-free vegan Mexican hot chocolate flavor which was a chocolate cookie with chocolate chunks and a hint of cayenne and cinnamon. I loved the chewy, rich chocolate mixed with the jolt of spice to awaken my taste buds. While not as spicy as I was expecting, nonetheless, I really enjoyed the cookie and was thankful that I nabbed the last two cookies of this flavor at the market.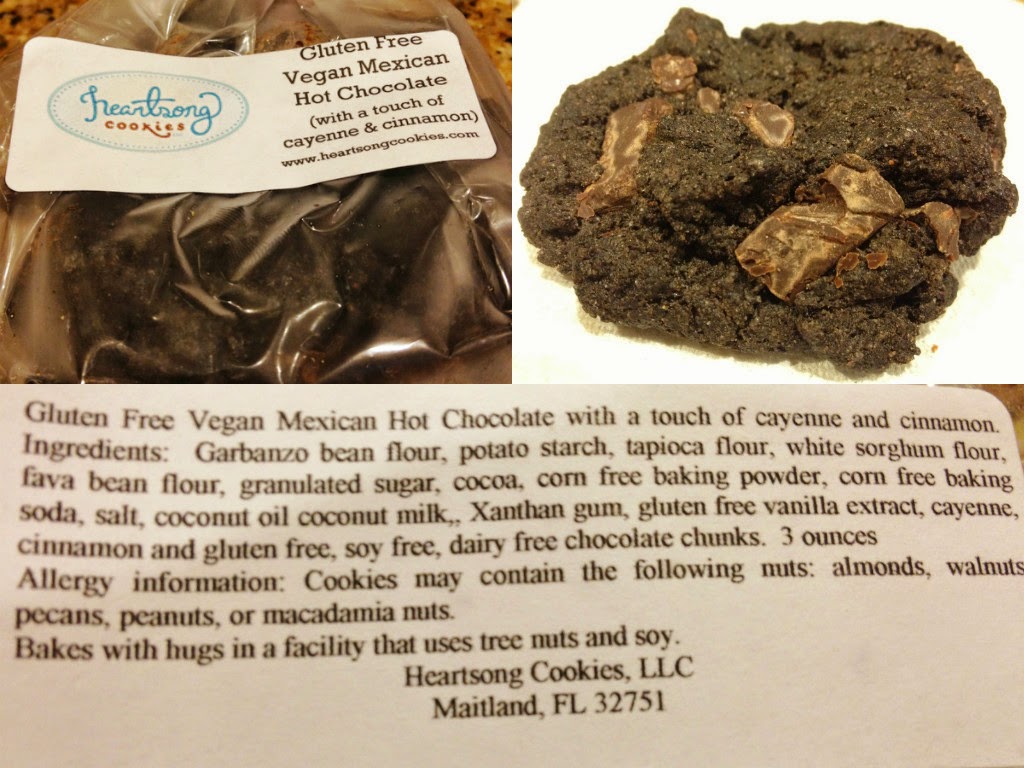 Also vying for my attention was the chocolate mint cookie, a relative of the dark chocolate-based Mexican cookie. Steering away from spice to the cool taste of mint, these cookies easily put me in the Christmas spirit and could easily best Girl Scout thin mints any day. Here, the rich, chocolaty, chewy base was infused with the perfect amount of mint to complement but not overwhelm.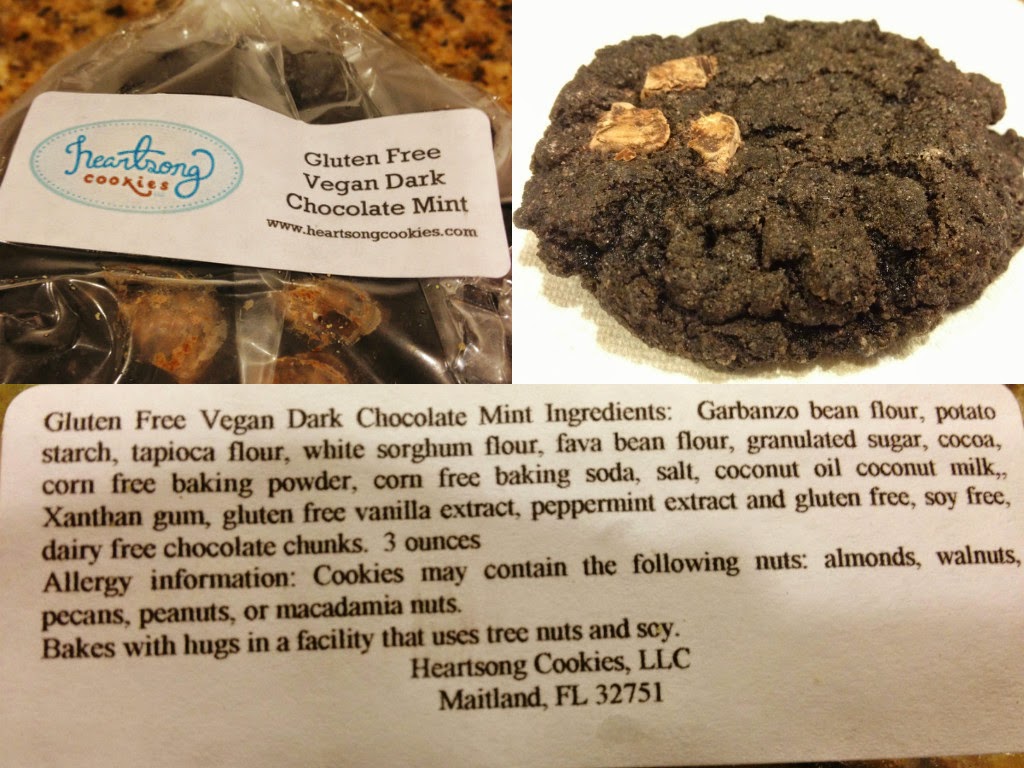 The the third and final cookie I selected was the banana chocolate chunk cookie. Unlike anything I've had before, I absolutely loved the uniqueness of this cookie that radiated from the first bite where I encountered the unmistakable sweet taste of ripened banana. A bold contrast to the semi-sweet chocolate chunks, this cookies made a big impression and will not be soon forgotten. Who knew that one simple ingredient could turn a classic chocolate chip cookie into a tropical treat?!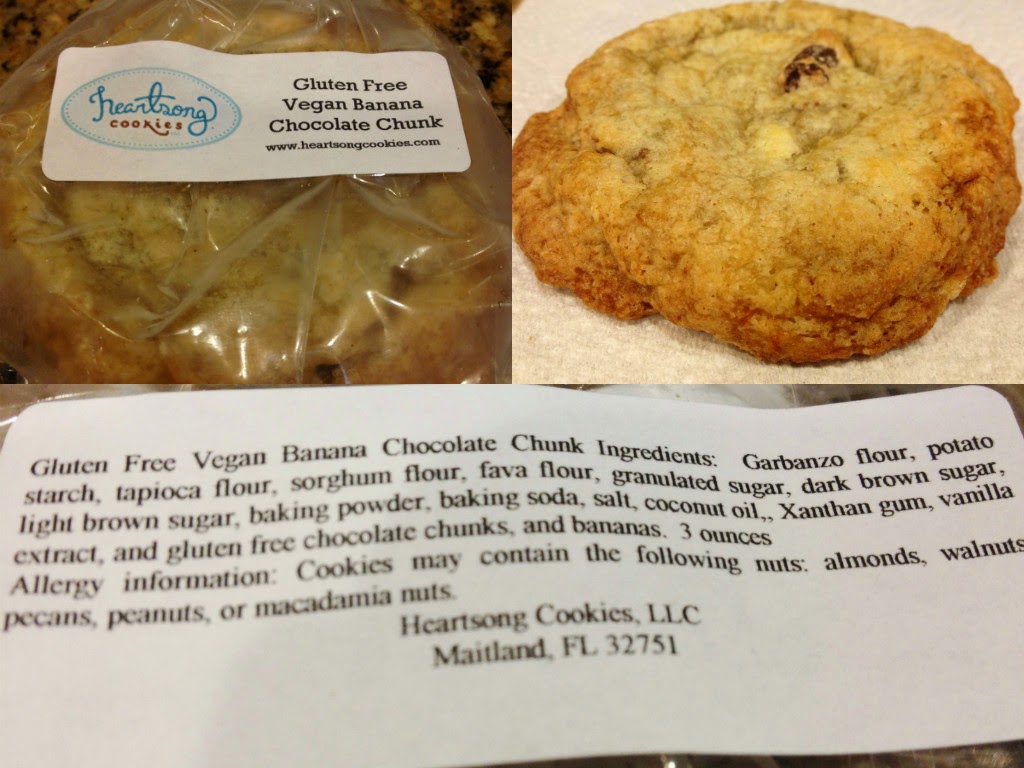 It should be noted that Heartsong Cookies freeze well, so I'd advise you to stock up when a desired flavor is in stock. I don't know how Kathy can make each cookie so picture perfect and taste far better than any cookie I've had before or since going gluten-free, but whatever her secret is, it works, and I hope it keeps working as she expands her cookie empire throughout the city (the cookies can be found at Dandelion Cafe and Bikes, Beans and Bordeaux cafe). Kathy does ensure that the cookies are prepared separately from her gluten-containing cookies to avoid cross contamination.


In the same way, I wish Jacqueline the very best as she begins her own cookie empire and plan to sample more of her treats in the coming weeks during my winter break.


I know farmers' markets are meant for fruits and veggies, but I'll happily return to Maitland's in search of delicious gluten-free cookies. It's just another example of how eating locally is becoming ever easier in Central Florida.



The Basics- Maitland Farmers' Market
Address: 701 Lake Lilly Drive, Maitland, FL 32751
Time: 9am-2pm Sundays
Website: the market's website. My original review covering Heartsong Cookies can be found here. Heartsong Cookies' website is heartsongcookies.com. As of publication, Jacqueline's Cookies does not have a web presence.
Cuisine: Local farmers with vegetables and fruits, vendors with goods ranging from local honey, baked goods, food trucks, etc.
Price: Varies depending on vendor.
Accessibility: Accessible parking is available and the path around the lake is accessible
Disclaimer: This review is current to the original publication date. Updates will be noted. Ingredients and manufacturing processes can change without notice. Each product should be reviewed for individual nutritional needs. Feel free to to contact me with any questions or comments. I was not compensated for this review and it is a reflection of my personal opinion.