Coming off of a finals week buoyed by Thai food and pho, my taste for Asian cuisine was not extinguished upon returning home. After the wave of energy and emotion that is Christmas crashed after a whirlwind day, my mom and wanted to get out of the house on Boxing Day but were not ready to battle the madness of big shopping centers or the more tourist-y areas of town.
After some sleuthing online for a restaurant that was not too far away from home, was not too expensive, and was something we both could agree on rendered an obvious "Goldilocks" in Phat Thai Cafe which met each of our criteria.
Phat Thai is not a new name for me as their former Altamonte Springs location was a familiar sight a couple years ago. Even before dietary restrictions entered my vocabulary, my mom raved about their spicy and delicious dishes but I was always hesitant trying the unfamiliar cuisine as my pre-teen taste boundaries were a bit more restricted as they are now. Relocated to Apopka, North of Orlando, I was looking forward to making my long delayed acquaintance with this little cafe.
Arriving for a mid-afternoon lunch, my mom and I arrived to a lightly populated dining room. I really like the cozy, intimate feel of the dining room. We were greeted and seated immediately and after drink orders, I inquired about gluten and dairy free options. Dairy was mostly a non-issue, but gluten (oftentimes hidden in soy sauce) is a real and present danger. I was told I could have any of their curries, tom yum soup, pad thai (without eggs), and/or stir fried entrees without soy sauce.
Partial to the sweet and spice of curries, I opted for the lunch portion of the Penang curry with chicken which came with either a salad or a soup. For a nominal charge I upgraded from the typically served vegetable soup to their tom yum shrimp soup. When the generous portion arrived, I immediately loved their inspired take on the classic dish. Slightly thicker than clear broth, I loved the spicy, aromatic broth that was spicy with a note of sweetness. The fresh cilantro for garnish was fragrant and the accompanying shrimp and vegetables were fresh and cooked perfectly. Normally one to earn a spot in the clean plate club when eating out, I couldn't polish off the whole bowl in one sitting due to the spice and my desire to leave room for my main entree.
The Penang curry arrived shortly after and was prepared beautifully with a garnish of herbs a coconut milk swirl. Deviating away from my usual green curry order, I loved the savory, spicy (but not spicy hot) combination of cumin, cinnamon, nutmeg, and clove with the rich creaminess of the coconut milk. Just as with the soup, the green beans, bell pepper, and onion were fresh and the chicken was tender and juicy. Opting for brown rice instead of jasmine, I loved the nutty taste of the rice with the spicy broth and ended up stirring it into the milk for a diving Asian and risotto fusion.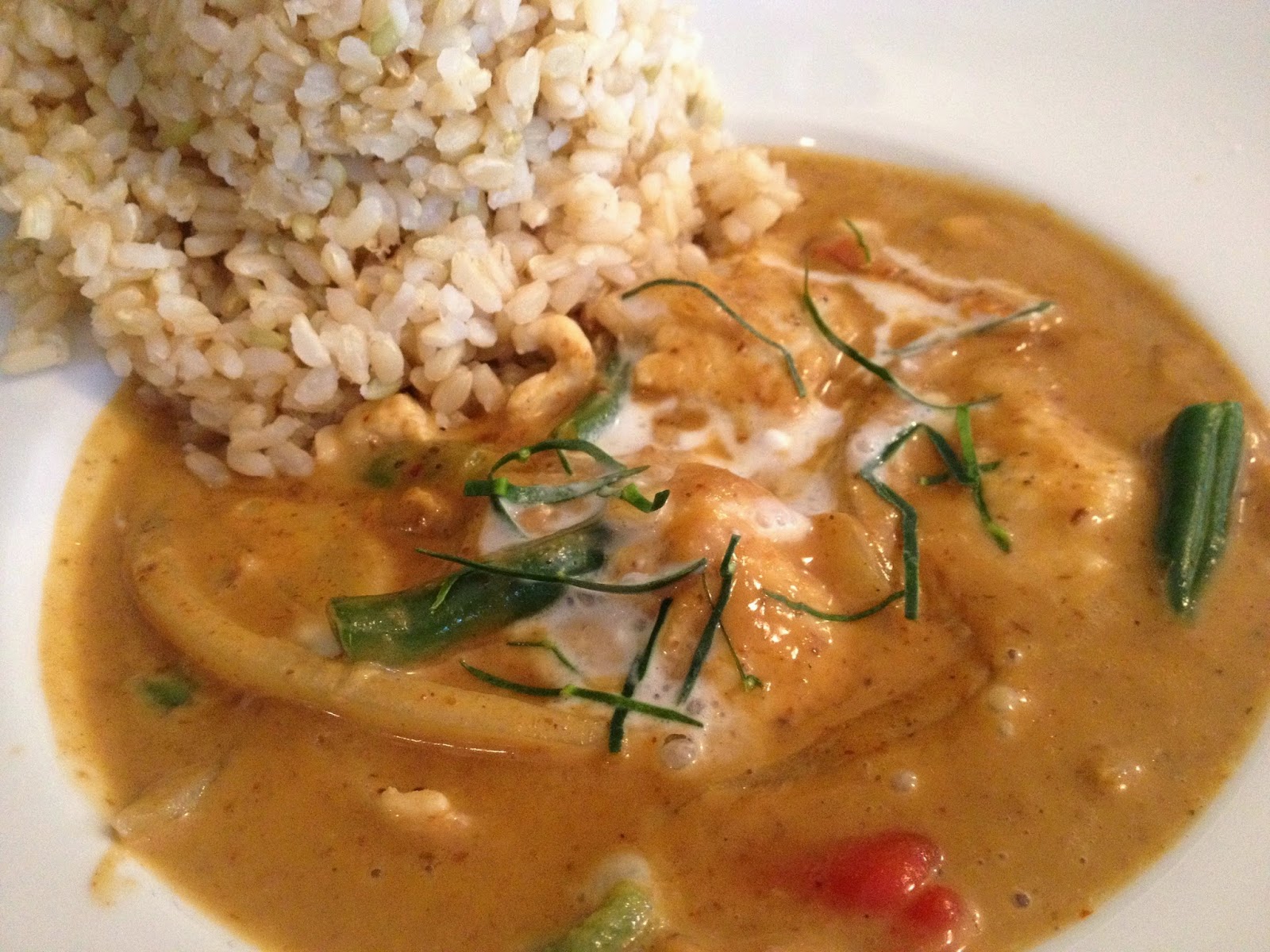 I thoroughly enjoyed my lunch for the company, cuisine, and service. I will definitely be making a return visit when my Thai craving reaches a breaking point again as my mom and I left happy and full with food leftover to enjoy at a later time. I'd rank Phat Thai on par with Orlando's other excellent Thai restaurants and have no complaints other than the lack of gluten-free labeling on the menu or website (but that goes for most restaurants I visit).
The Basics
Address: 606 S Hunt Club Blvd, Apopka, FL 32703
Ideal For: Lunch, Dinner, Take-out/Delivery
Price: Menu items $15.95 and under
Accessibility: Easily wheelchair accessible
Special Features: No delivery option, but call ahead for take-out orders.
Disclaimer: Restaurant reviews are based upon the information I have at the time of the review and do not reflect changes in ingredients or availability of items. Please contact the restaurant directly for up-to-date information and feel free to to contact me with any questions or comments. I was not compensated for this review and it is a reflection of my personal opinion.