The best part about my experience was that it fired on all cylinders: Two Boots brought great food, a great vibe, and great service. While relishing the last slice of my pizza, I daydreamed about my next visit, and regretfully realized I probably will not be back until next year when my second semester commences. I look forward to my return visit, and many more to come next year. With locations around the country, I can only hope that one day Orlando may be home to a Two Boots location so that I can enjoy this delicious fare both at home and in school. Until then, the allure of great gluten-free pizza will draw me back to Baltimore to brave the remainder of winter after my Florida-based break.



Update 5/8/15: Before heading home for the summer, I decided Two Boots was the perfect way to end my freshman year with a bang. This time, I decided on the "Night Tripper." Normally a white pizza, the white sauce can be adapted to be dairy-free using vegan cheese, but I opted to substitute red sauce since I'm not a fan. Make sure to request mild sauce, as the default red sauce has mozzarella in it.


This pizza is topped with garlic cloves, sun-dried tomato, spinach (I added this), mushrooms, and a lovely swirl of jalapeno pesto. The whole pizza is a party in you mouth and the flavors clash in a downright delicious manner. I definitely do not recommend it if in close company with another, as the garlic is potent, but so powerful. The staff proved to be just as helpful and knowledgeable as I first found them, maintaining their status as one of my favorite gluten-free spots in Baltimore.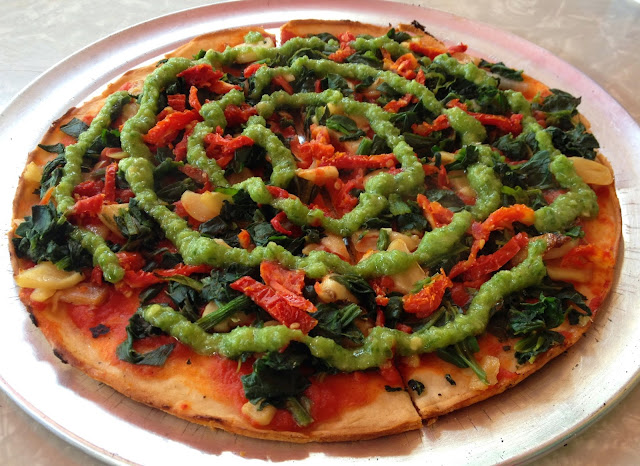 The Basics
Address: 1203 W. Mount Royal Ave, Baltimore, MD 21217 (See other locations here)
Website:www.twoboots.com
Cuisine: Pizza (cajun-inspired and otherwise)
Ideal For: Lunch, Dinner, Late Night (Fri, Sat until 2am)
Price: Small pizzas (the only gluten-free size) average $10. Gluten-free crusts an additional $2, Daiya non-dairy cheese is an additional $1. Additional toppings range from $1.50-$3 each.
Accessibility: Easily wheelchair accessible
Special Features: FREE delivery to those living in the delivery zone ($10 minimum).

Disclaimer: This review is based upon the information I have at the time of the review and does not reflect changes in ingredients or availability of items. Please contact the bakery directly for up-to-date information and feel free to contact me with any questions or comments. I was not compensated for this review and it is a reflection of my personal opinion.