On the coldest day of 2015 (so far) in the sunshine state, there's only one way to remedy the chill in the air: a nice steaming bowl of Vietnamese pho.


After discovering the magic of pho in Orlando's heavily Asian Mills 50 District, I was determined to make a return visit to scope out more gluten-free options. With my mom and a neighborhood friend in tow, we set our sights for Pho 88, a critically acclaimed, yet unassuming restaurant on Mills Ave. Routinely topping local best-of lists, I must admit that my expectations were pretty high.


Arriving shortly after noon, the restaurant was not packed, but was definitely busy as others seemingly had the same idea as we did.


After we were seated and presented with menus, I didn't even bother with looking over the menu due to my adopted policy when eating ethnic foods: stick with the tried and true specialties of the cuisine.


Perfectly happy with a big bowl of pho, I waived the possibility of appetizers for myself, but my dining companions placed an order for the shrimp and pork summer rolls (#1 on the menu) as well as the fried version of this combo in a spring roll (#2). Although I did not ask, I steered clear of the fried roll as to avoid probable cross contamination but was talked into tasting the summer roll after assured that there was no soy sauce involved.


The roll itself was not overly impressive. The rice vermicelli inside was cooked well and the rice wrapper firm, yet supple so that it did not break when touched. The single slice of pork was thin and average and the shrimp were cooked well but unseasoned. The best part of the rolls were the potent Thai basil that provided an intense burst of basil essence that was the definite highlight. Would I order them again? Probably not. But don't get me wrong: they were not bad in the least, just average.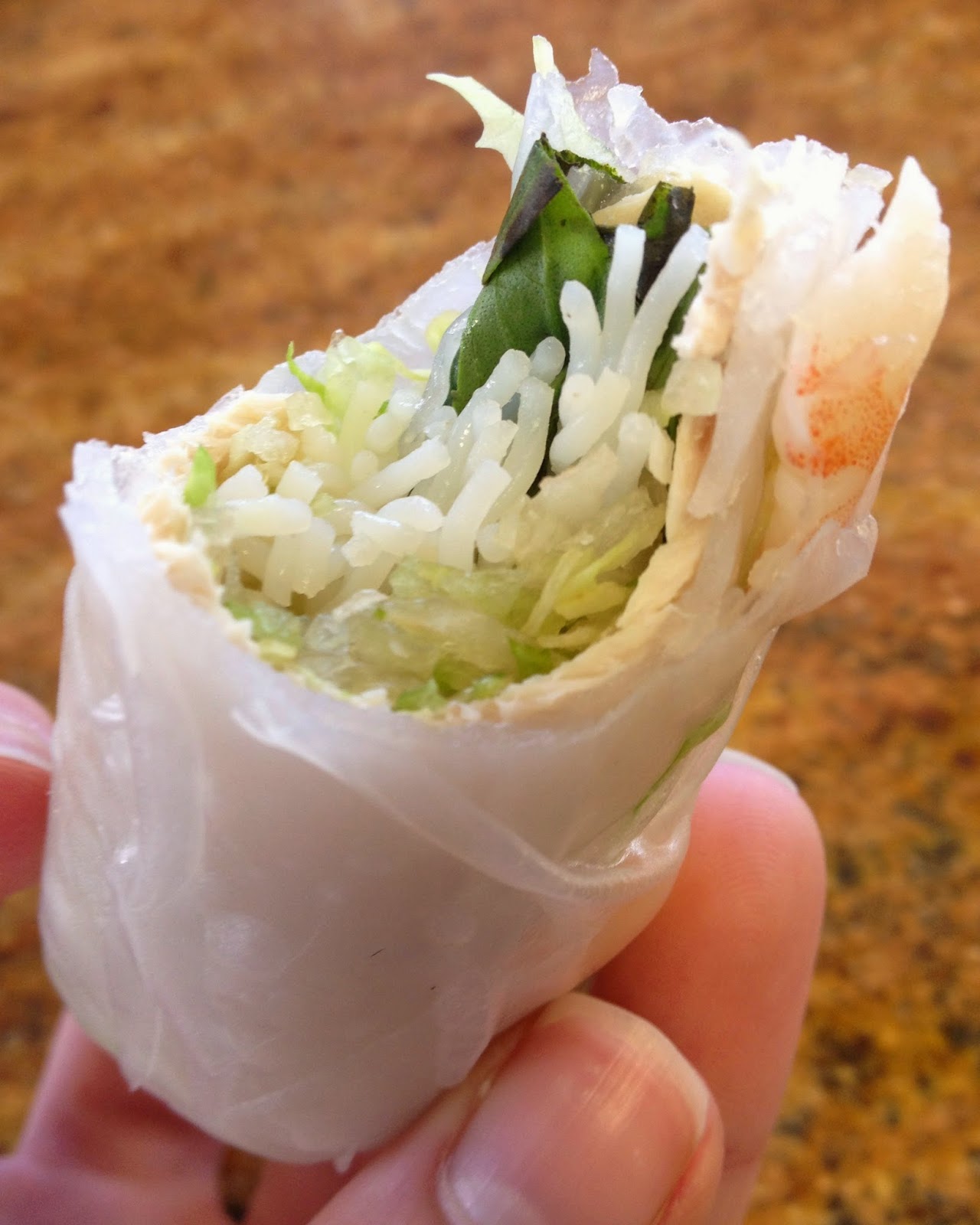 Not big fans of heavy red meat, the three of us ordered pho ga- chicken and noodle soup- with white meat (there is a dark meat and mixed white/dark meat option as well). In my experience, this dish is naturally gluten-free, but before ordering, I double-checked with the waiter to make sure the noodles were rice based and that soy sauce was not in the dish. As with traditional pho presentation, we were given a dish laden with bean sprouts, Thai basil, lime and jalepenos. Although there was plenty of bean sprouts, lime wedges and basil to share, I wish there were a few more jalepenos.
Although I like to focus on the food when I review a restaurant, the service quickly detracted from the experience as our waiter failed to deliver water glasses (despite twice asking for them after initially ordering) and also failed to deliver spoons at the same time he delivered the pho (also to no avail after repeatedly asking). The restaurant appeared to be short staffed as the waiters were running around from table to table and disappeared frequently to the back of the restaurant.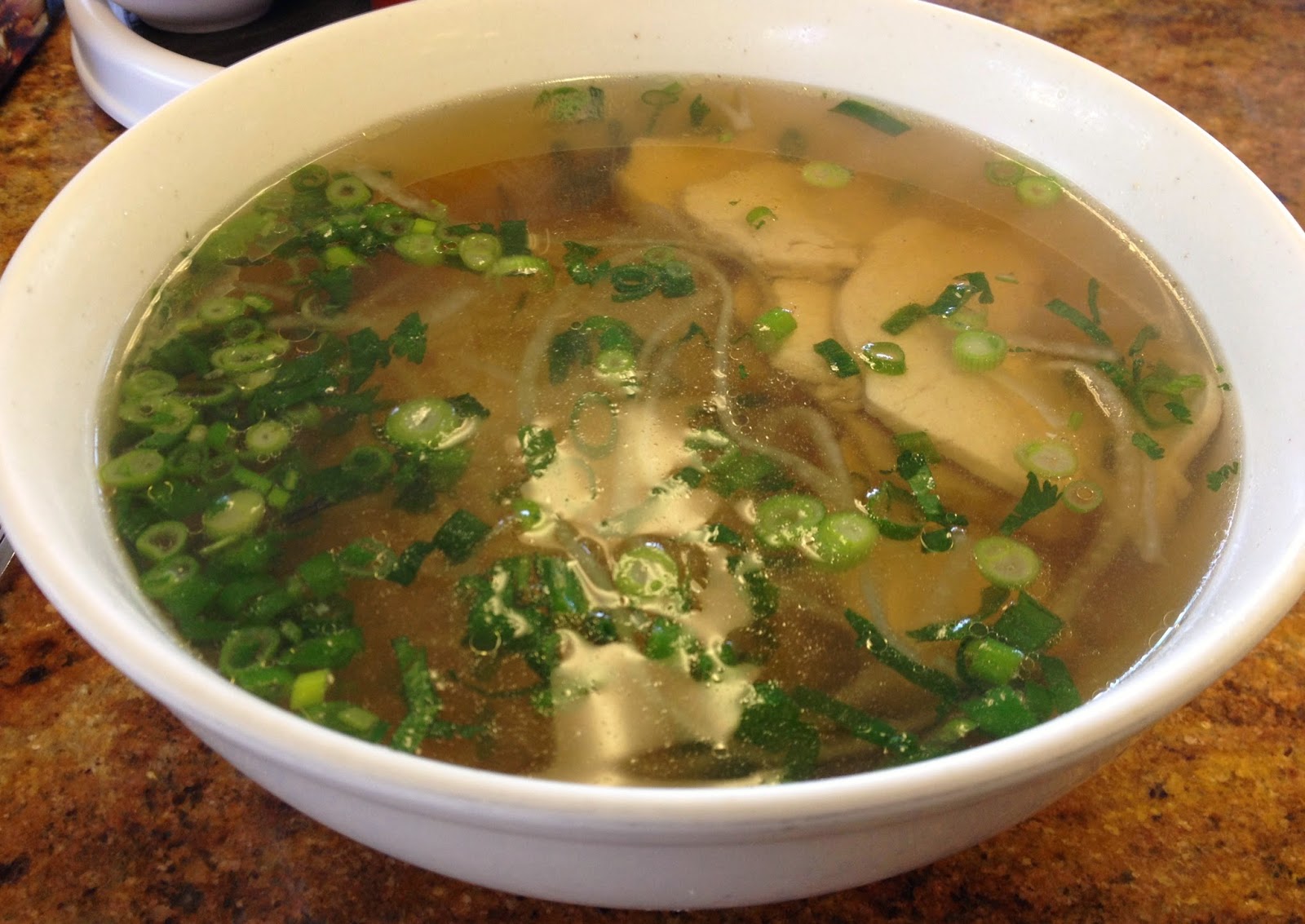 Pho before the fixings.
Finally, with chop sticks, a fork, and a soup scoop in hand, I could finally delve into the big bowl of soup before me. The broth was delicious and and flavorful and the accompanying herbs and add-ins were delicious and fresh. The chicken portion was slightly smaller than I would have liked, but the ample amount of noodles definitely appeased me. I really liked the thin slivers of onion in the soup, but again, I wish there were a few more in the steaming broth as I am an onion lover.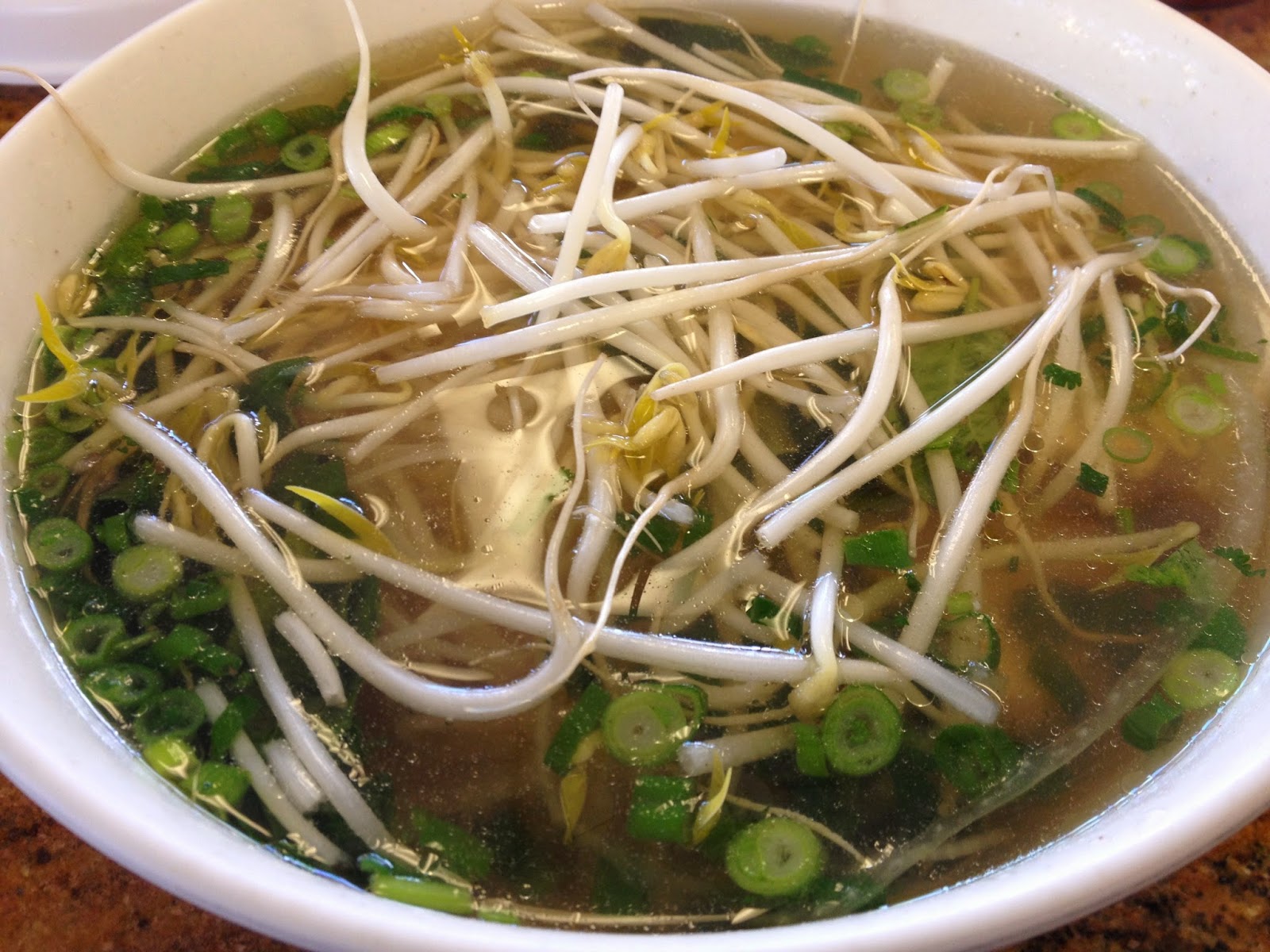 Pho with all the fixings.
Overall, I really liked my meal, but the service definitely put a dent into the experience. I don't think I could definitively say which Orlando pho restaurant I like better, but will compromise in saying that both deliver satisfying, delicious meals. Pho 88 earns bonus points in my book as they are literally next door to my favorite vegan and gluten-free bakery in town: Raphsodic Bakery (review here).



The Basics
Address: 730 North Mills Ave, Orlando, FL 32803
Ideal For: Lunch, Dinner, Take-out
Price: All menu items less than $20, most are $10 and under
Accessibility: Easily wheelchair accessible
Special Features: Open 7 days a week from 10am-10pm including holidays.
Disclaimer: Restaurant reviews are based upon the information I have at the time of the review and do not reflect changes in ingredients or availability of items. Please contact the restaurant directly for up-to-date information and feel free to to contact me with any questions or comments. I was not compensated for this review and it is a reflection of my personal opinion.