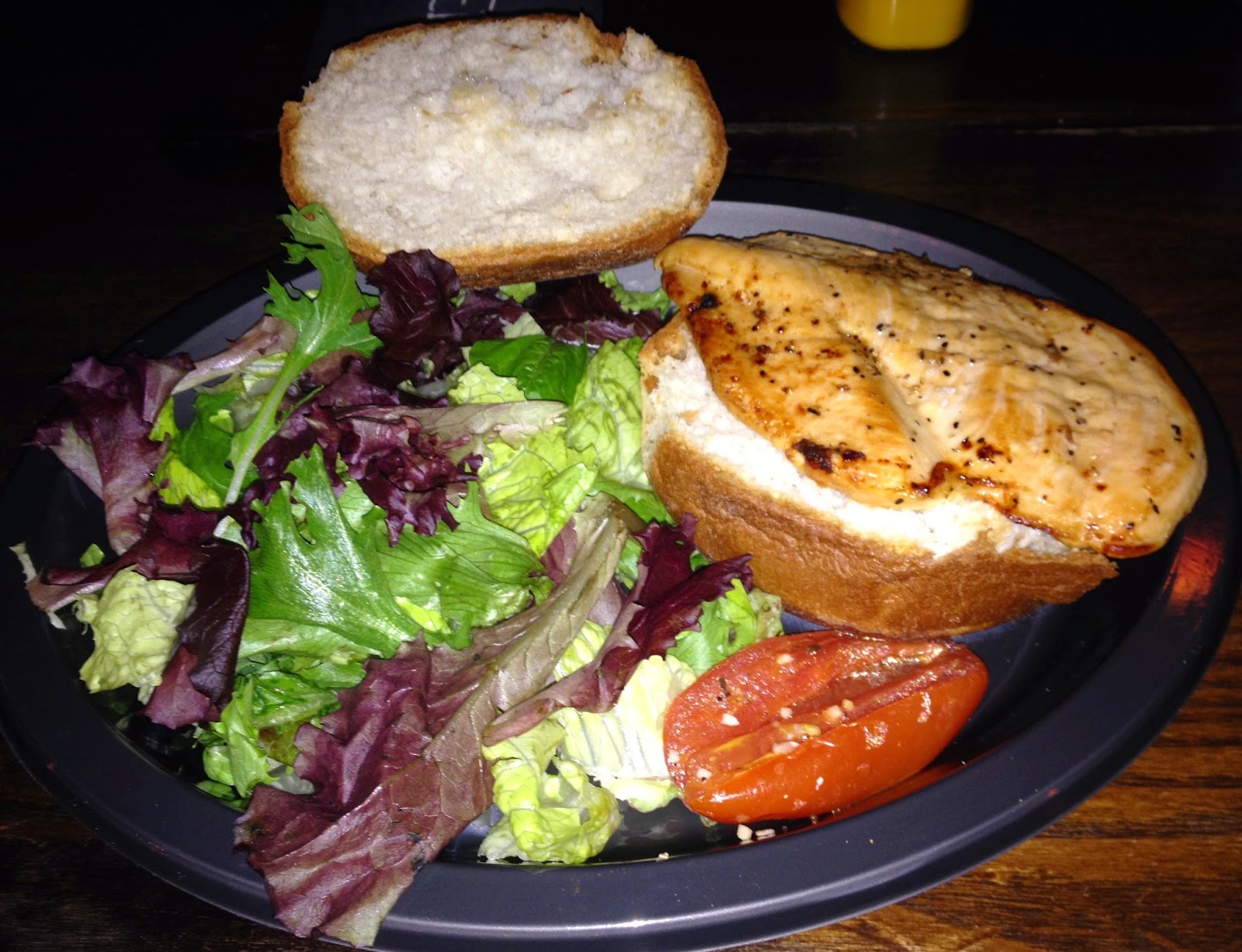 When it (magically) appeared at our table, the runner announced my meal as the "allergy" chicken sandwich. I liked that they did this as double confirmation that my meal was prepared separately.
I initially thought I had received salmon on my sandwich due to the dining room's diminished lighting, but realized that the chicken was just thinly sliced and grilled. The bun appeared to be an Udi's bun, but I cannot say this definitively. The chicken was really good as it was juicy and well-seasoned. It had a 1:2 ratio of chicken-to-bun, but I didn't care because I was hungry and just happy to be eating a pretty great meal after mentally preparing for the possibility that I'd be turned away hungry. Its deliciousness was enhanced by a squirt of mustard and the addition of some crunchy romaine lettuce from my salad.


I ended up eating the lone roasted tomato on its own instead of on the sandwich and loved the garlic-y taste. Next time I'll request extra tomatoes on the side! The salad was rather unimpressive as a bed of greens only, but hey- it's rare to see a serving of veggies as theme park fare! I ended up not using the accompanying Ken's lite Italian dressing as I am not a fan of salad dressing or products that contain high fructose corn syrup, preservatives, and unpronounceable ingredients. It should be noted that the dressing is free from the top eight allergens.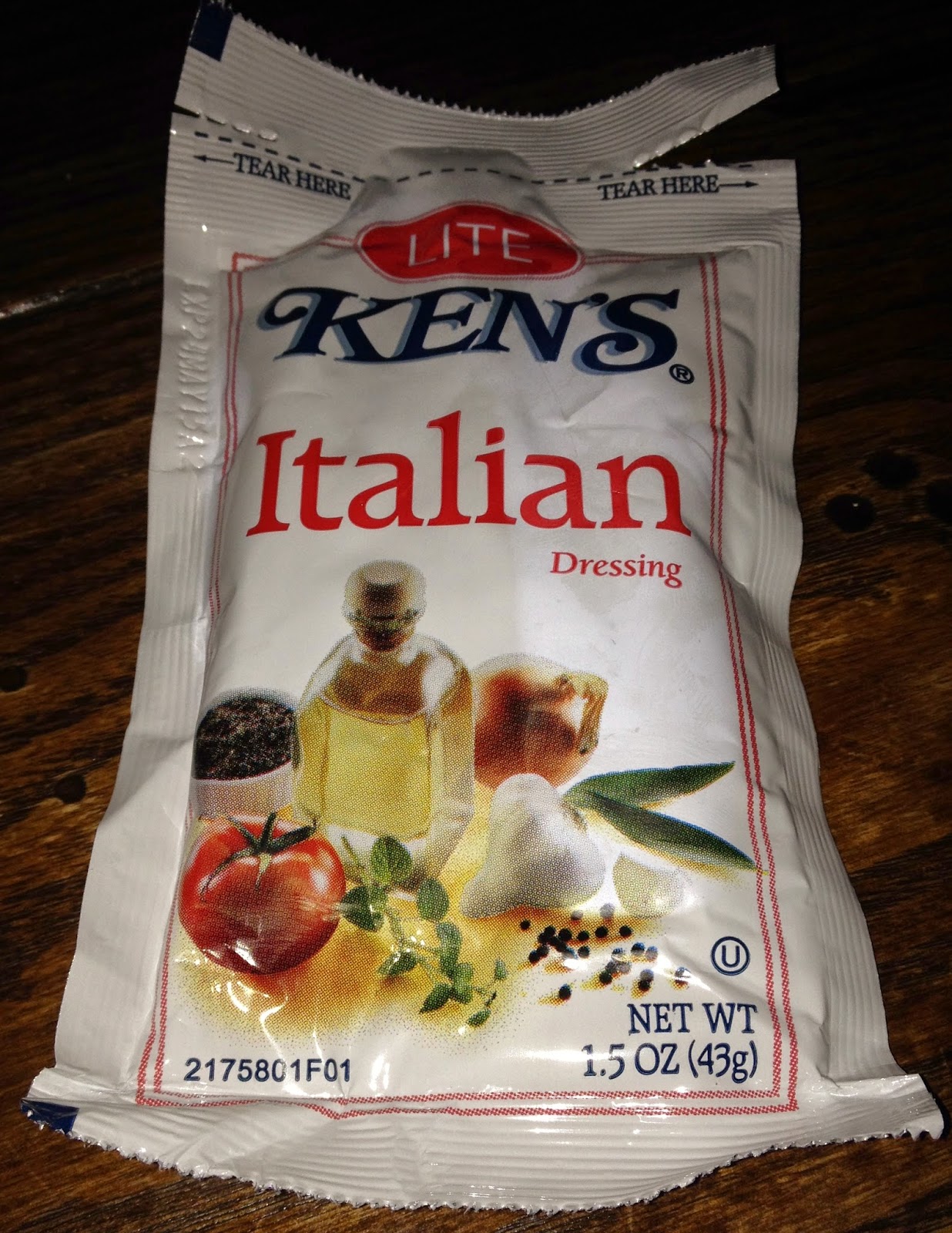 Overall, I really enjoyed my meal. You just cannot beat a not (too) expensive theme park meal that is not fried and includes vegetables. I would definitely go again when spending a day in the park and plan on going soon for breakfast as I saw gluten-free pancakes on the menu (I'm not quire sure if they're dairy free though Chef Bob, a quality control chef, has confirmed that the pancakes are dairy free- see my review here). To risk sounding cliche, it's simply magical to find oneself dining in a pub that only 10 years ago was a place that existed purely in my imagination. Despite the challenges and changes of growing up, for this moment in time, my inner child emerged in full force and relished the sheer magic of getting to eat out in such a magical venue.


Kudos also goes to the Leaky Cauldron staff who not only once, but twice offered to bring Locke a dog bowl so he could have some refreshment as well.


To see my breakfast review of the Leaky Cauldron, click here.



The Basics
Ideal For: Breakfast, Lunch, Dinner, Drinks, Dessert
Price: See above menu with prices
Accessibility: Easily wheelchair accessible
Special Features: From entering the pub to dining, keep your eyes peeled for enchanting details that provide an insight into the wizarding world! There is a passholder discount for those with a premiere or preferred annual pass.
Disclaimer: Restaurant reviews are based upon the information I have at the time of the review and do not reflect changes in ingredients or availability of items. Please contact the restaurant directly for up-to-date information and feel free to to contact me with any questions or comments. I was not compensated for this review and it is a reflection of my personal opinion.