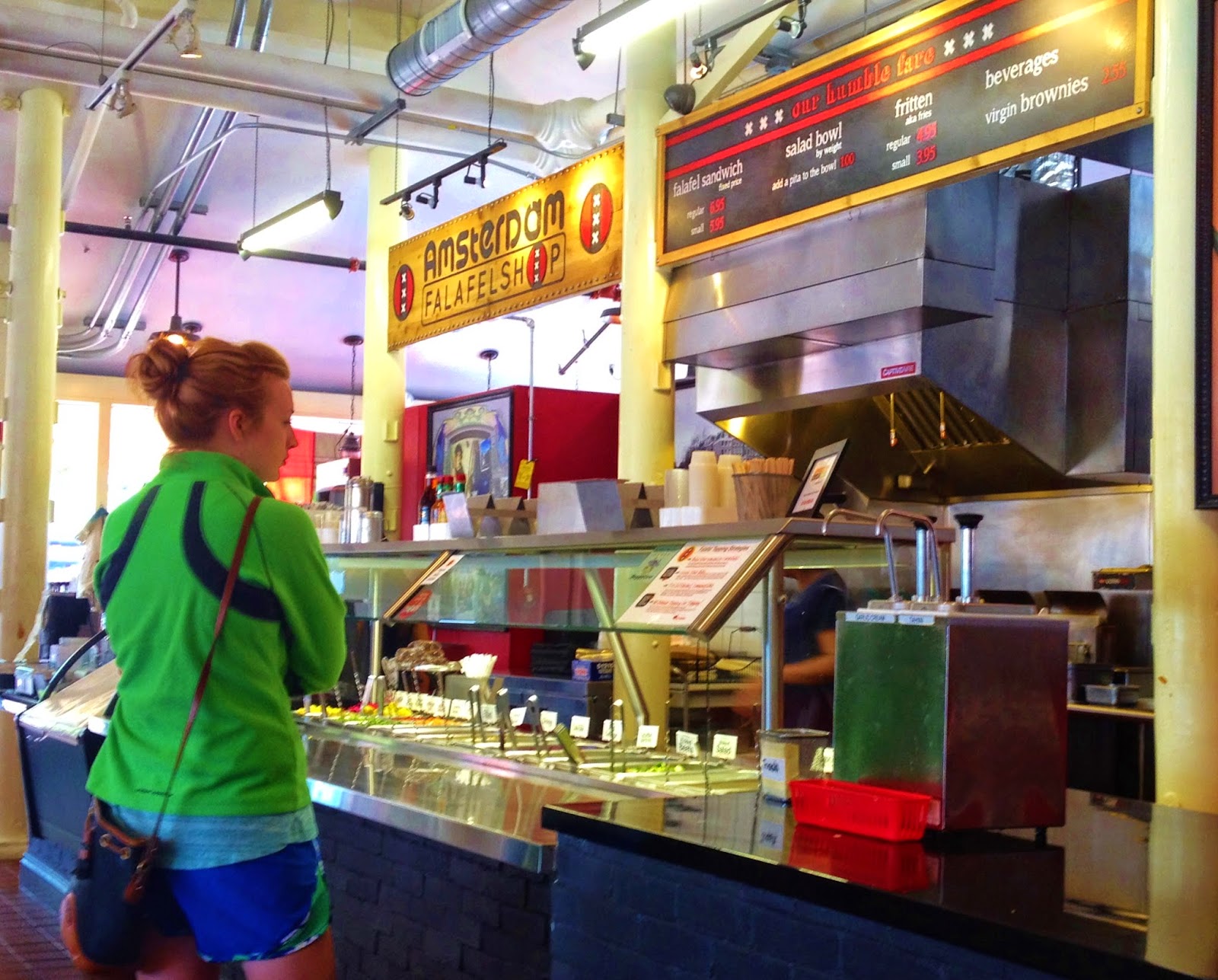 Amsterdam Falafelshop has closed their Annapolis location. They still operate restaurants in DC.


Annapolis is a beautiful, quaint bayside city that is the seat of Maryland's government and the perfect distance away from Baltimore for a nice weekend trip.


In town for a special event, I made sure to take advantage of a whole day in town to check out the sights and tastes of the city. What's cool about Annapolis is that it is rich in historic features and is easily accessible for shoppers, diners, and other visitors alike.

With the Naval Academy nearby and impressive government buildings dating back to the American Revolution, there's plenty to do. However, as I am not a travel agent, I'll leave the trip planning to you and just provide guidance on what to eat while exploring the town. First and foremost I'm featuring Amsterdam Falafelshop, a DC export with a cult following and enough garlic-based goodness to remind you of your meal long after it's been eaten (in a good way).


The beauty about DC restaurants that come with built-in hype is that the buzz is usually well warranted. With several locations, they're clearly a proven brand. What's awesome about Falafelshop, is that their entire food supply is gluten-free (minus pita bread used for a sandwich). On the dairy front, everything is safe except for the yogurt dill, cole slaw, and garlic cream. That's it. Everything else is safe, including dedicated fryers for the falafels and signature Dutch-style french fries.


To further minimize cross contamination, I made sure to arrive within minutes of their opening for the day (11:00am). The second person in line to order, I felt confident that my food was going to be truly gluten and dairy-free.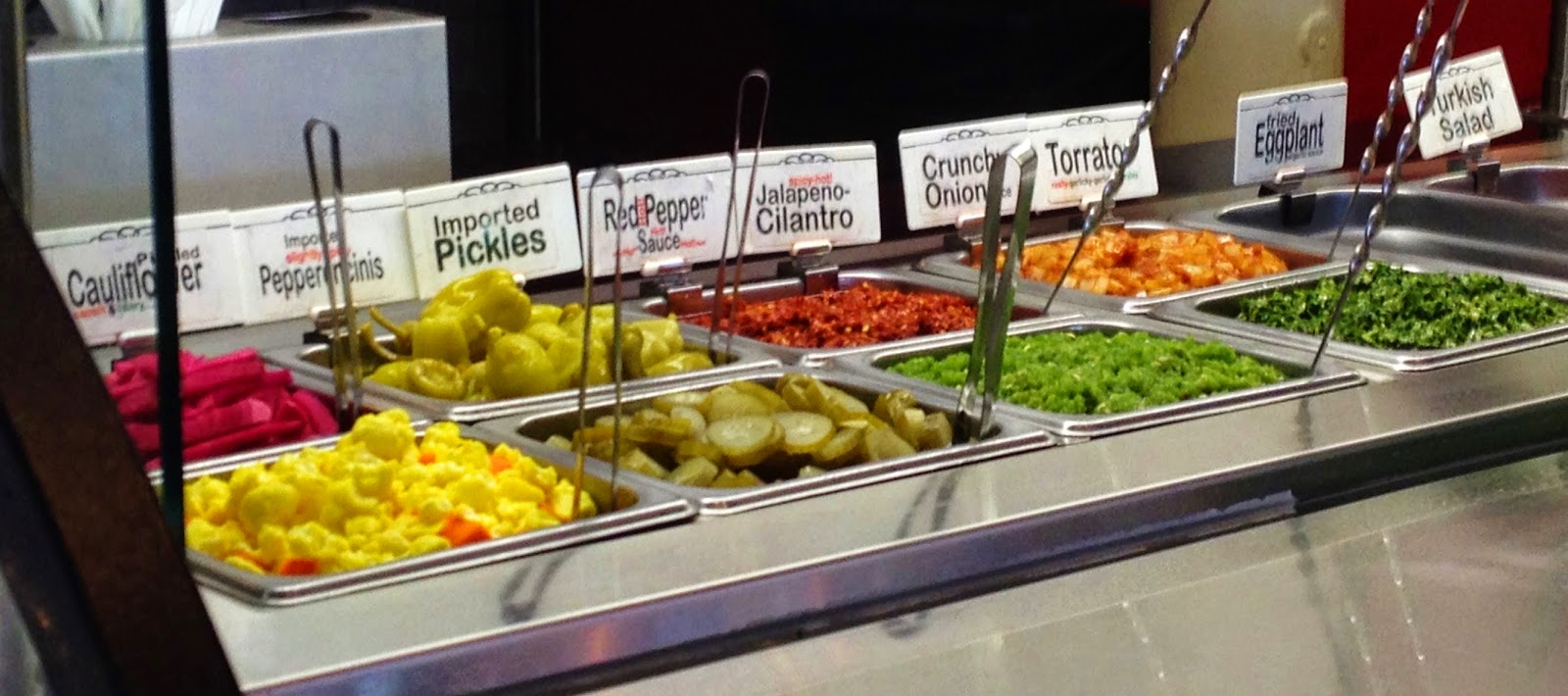 Going down the self-serve line, I served up a nice portion of everything that was safe, minus the hummus as I'm not a fan of the Mediterranean sauce. Below, you'll find a diagram analyzing all ten components of my flavorful bowl.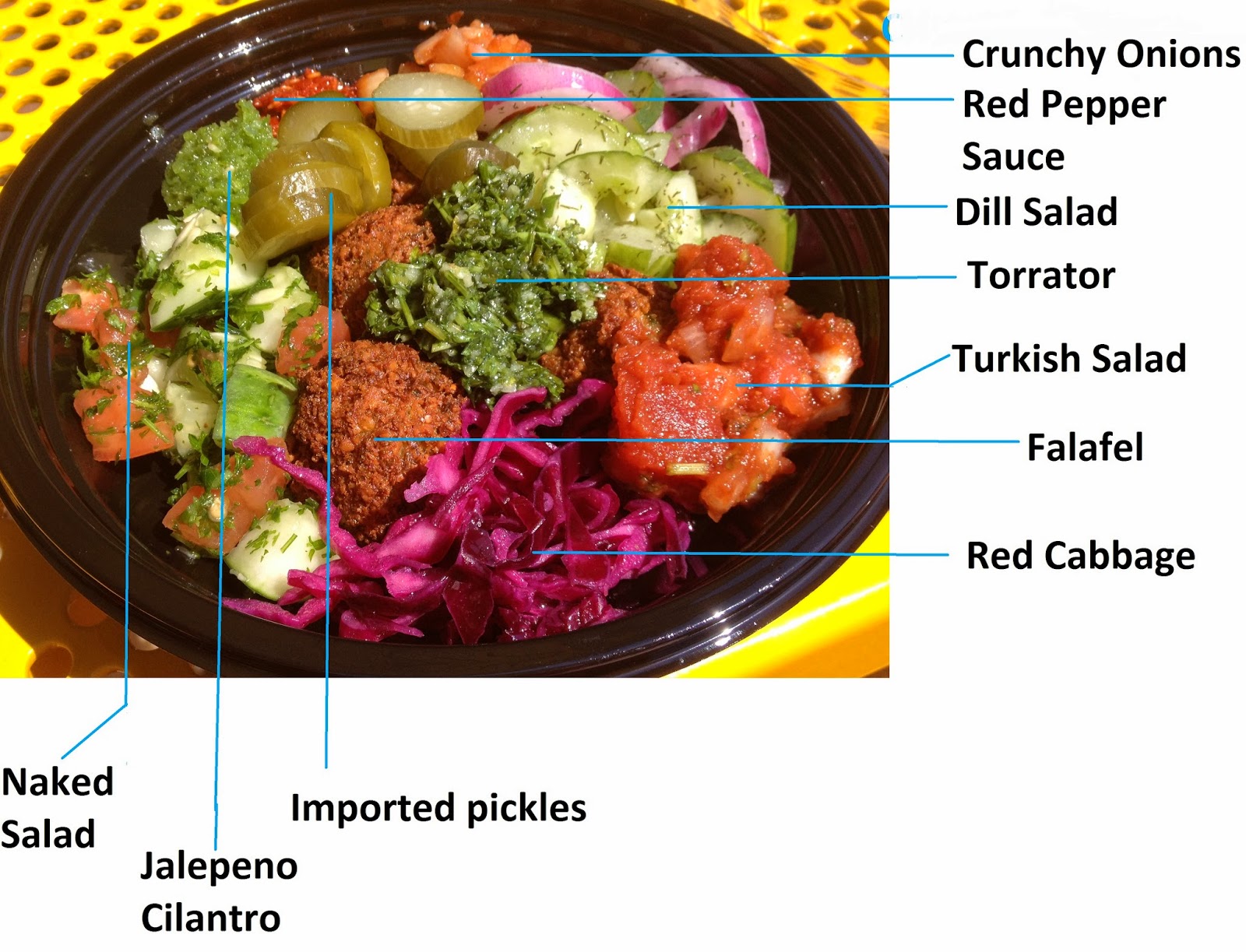 To start my analysis, the first component is naturally the star of the bowl- the falafels themselves. Fried to perfection while you make up your bowl, you can dictate how many falafels will inhabit your bowl. Crunchy, crispy, and golden brown on the exterior, the chickpea balls are contrastingly nice and soft on the inside. Spiced up with herbs for flavor, I loved them despite my usual dislike for chickpeas in any form.


My favorite topping from the self-serve bar is the Turkish salad, a refreshing and slightly sweet tomato and onion salad that was perfect for a warm day, and contrasted with the more strongly flavored hints of garlic, red pepper, and onion heavily present in the other sides.


Taking a solid honorable mention for my favorite vegetable topping, the torrator is a unforgettable, statement-piece-like creation. Really, really garlicky with parsley to moderate the strong flavoring, the mixture is oh, so good but comes with a blanket warning if you'll be meeting others after the meal- the garlic breath tends to stick around quite a while!



The other toppings were also good, but did not take top prize. That's not a diss on them, as the whole meal was pretty darn wonderful with no topping dropping the ball. These included the sweet crunchy onion mixture, the crazy hot red pepper sauce, the sweet and slightly sour pickled red cabbage, the imported sweet pickles, and dill-infused cucumber and red onion salad. For the less adventurous in the taste department, there's also the naked salad, which features cucumbers, tomatoes, and herbs without dressing for those wanting to take tentative steps into falafel-dom.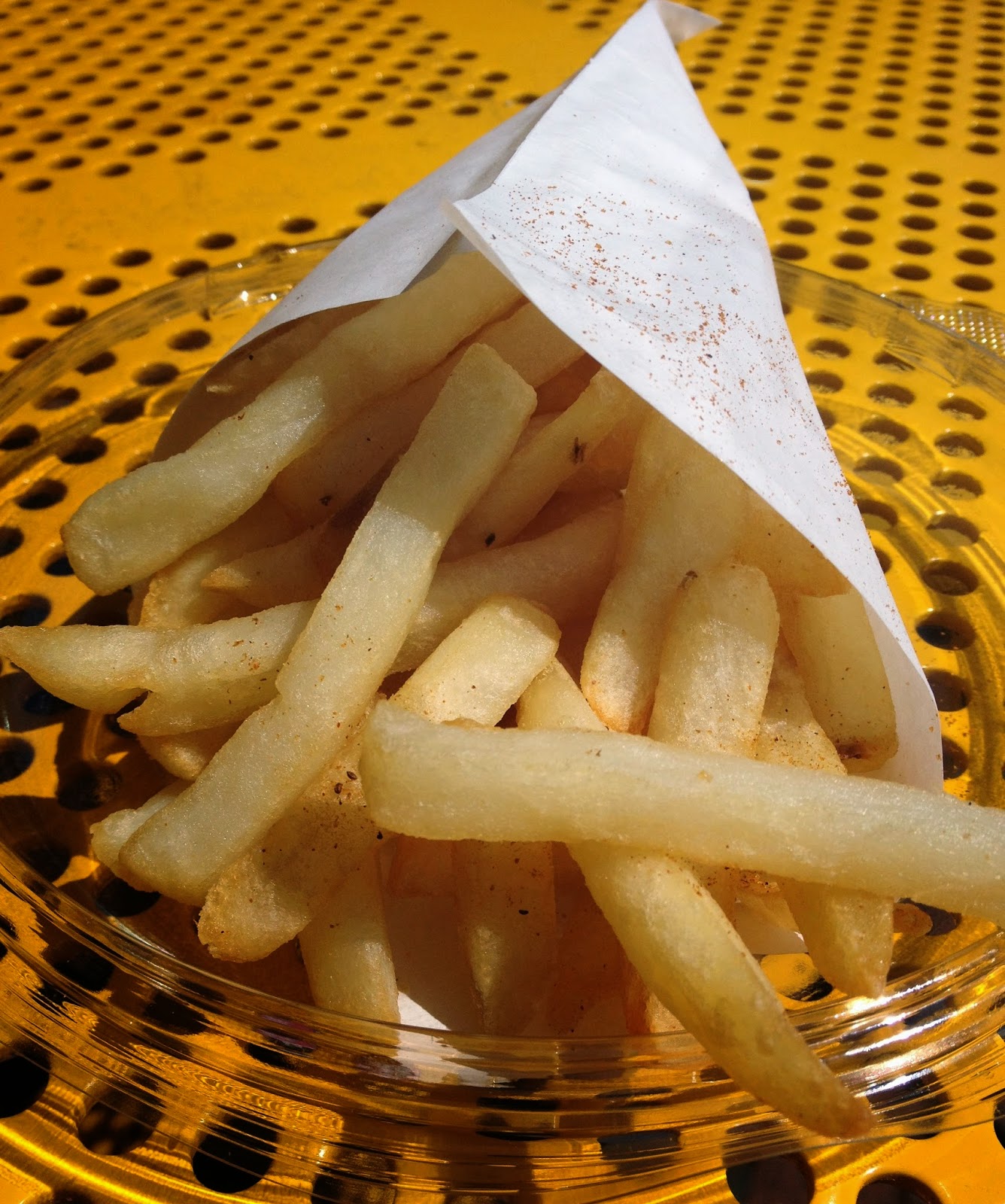 Showing further expertise in the frying department, the only other item on the Amsterdam Falafelshop menu is their Dutch-style fries. Thin cut and fried as I waited, the potatoes emerged piping hot. They're left unsalted for the customer to craft to order with an array of seasonings and salts (and Old Bay naturally). Normally not a fry eater, I decided to indulge to get the full experience (for you, my readers). I found them good, but nothing special. Slightly limp, I would have liked them to be a bit more crispy, but I loved the addition of Old Bay (be still my Maryland heart!). The small size I order was plenty ample enough to share with two.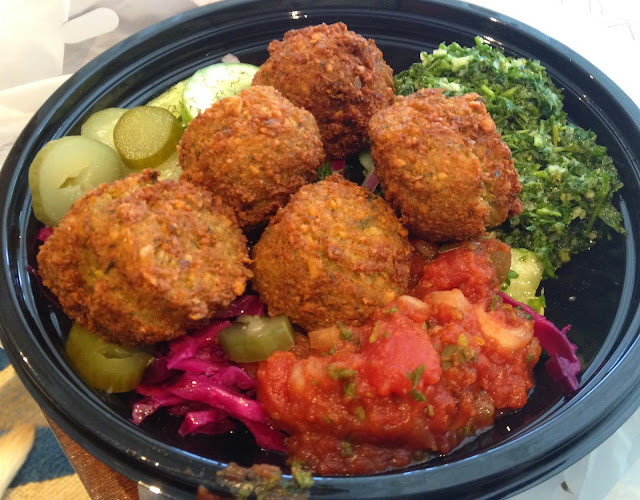 The beauty about Amsterdam Falafelshop is that it's (mostly) 100% gluten-free, cheap, and is pretty darn satisfying. My three-ball bowl held me for several hours, and my tastebuds enjoyed the experience of running rampant through a Mediterranean street market without leaving one restaurant. Wandering around the city later that day, I was hard pressed to find an option for dinner that would be gluten-free and under $20, so found myself back at the waterfront MarketHouse where the restaurant resides. Five falafels and a heavy dose of Turkish salad and torrator later, I was one happy camper, no cross contamination detected.


If you're in DC or Annapolis, definitely put Amsterdam Falafelshop on your radar and get there as fast as humanly possible. Your wallet and tastebuds will thank you, and there's plenty of ways to mix it up on a return visit. Bravo to the whole team for creating this incredible concept that has me dreaming of my next falafel indulgence.
Amsterdam Falafelshop has closed their Annapolis location. They still operate restaurants in DC.