The wonderful thing about emerging from a difficult winter is that spring brings stunning renewal of nature, wonderful weather, and farmers' markets. In search of a fun outing during my last weekend on campus, I decided to venture to the 32nd St. Farmer's Market, which is near Baltimore's Charles Village. Arriving shortly after the market opened for the day, I found the self-contained parking lot laden with vendors of all varieties and several patrons out and about, braving the misty day for local produce and products.



Fresh Fruits and Veggies (and Other Groceries)
It's a no-brainer that a farmers' market will have plenty of naturally gluten and dairy-free choices with the abundance of fresh fruit and vegetables. With multiple vendors offering a variety to choose from, it's easy to get beautiful, nutritious groceries at a budget-friendly price. I picked up beautiful leaks, carrots, tomatoes, and green beans for $9 flat, which was a steal (note, the picture does not show the full amount I came home with). Around the market, I also saw several vendors selling vegetable plants, herb plants, as well as fresh meats and eggs.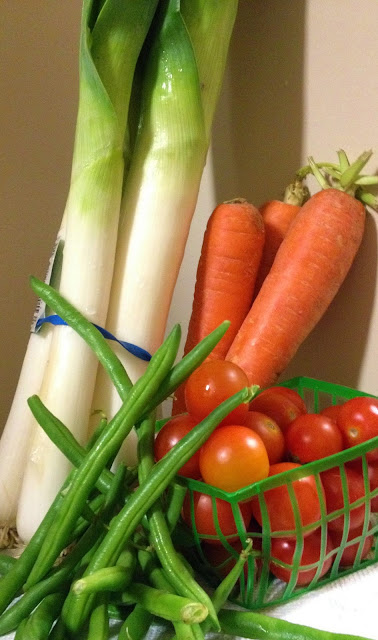 Nuts to You
A fan of fresh-roasted nuts after encountering them at Baltimore's Christmas Village, I was pleased to find Nuts to You, a nut emporium of sorts selling nuts in every which way. Glazed, roasted, mixed, or otherwise, it was hard to decide which nuts I wanted to come home with. After deliberation, I decided to go with two cones, one of the glazed pecans- my favorite- and one cone of old bay peanuts. Both will be perfect road trip fuel for my dad and I as we head home next week!
Harmony Bakery
Harmony Bakery, a long-time market regular, was the vendor I knew I wanted to find after hearing of their new dedicated gluten-free bakery in the Hampden neighborhood. With no easy access to Baltimore's newest dedicated bakery, this sneak peak would have to do until I had a chance to visit. In addition to being entirely gluten-free, Harmony's offerings were also completely dairy-free (except for two offerings). I ended coming away with four cookies, a polenta pizza, and a doughnut- not too shabby! The vendors were perfectly happy to accommodate my many questions and explain more about their delicious baked goods.
The vegan chocolate glazed doughnut proved to be breakfast for that morning, a first in several years for me. Baked, not fried, the crumb was nice and airy indulgent without being heavy. The fudgey chocolate glaze was thick, rich, and indulgent, a decadent trio.
The chocolate chip cookie was classic in its taste and texture. I loved the chocolate chips, but the cookie itself was a little crumb-y. Not too sweet, I liked the tasted flavor of the cookie base, which was simple and perfectly matched with the dark chocolate morsels.
Although I cannot remember the exact name of this cookie (let's just call it the mighty cookie), this sweet treat could be described as an upgrade to the classic chocolate chip cookie. I loved the addition of seeds (chia and others), to add texture to the soft-baked cookie. Of the two chocolate chip ones, I liked this one better.
Tying with the mighty cookie as my favorite cookie, the almond jam cookie was a simple pleasure. A thumbprint-style cookie, I loved the strong almond-y flavor of the base and fruity jam. The cookie was soft, yet firm, and the berry jam was not too sweet.
The ginger cookie was larger and flatter than the others. Strong in its gingery flavor, it was faintly reminiscent of gingerbread, but not in texture. Sticky and pliable, I wasn't overly wooed by this cookie, but I liked the flavor. I couldn't quite tell what provided the cookie a "crunch"-like affect, which made it certainly a different taste experience.
The final item I sampled was the polenta pizza. I couldn't resist the downright delicious-ness of the promise of pesto, tomatoes, and spinach atop a polenta crust, but have to admit that I was pretty disappointed by the product. The chewy, sponge-like texture of the crust of off-putting, as was the off taste of the pesto and fake cheese used as a garnish. I couldn't even eat half of the slice, and hoped that this one was the oddball out.
More Information + Location
The 32nd St. Farmers' Market goes from 7am-noon on Saturdays. They are open all year long. The Market is located at the cross of Barclay St. and 32nd St. The location is accessible via MTA bus lines 3, 8, 11, 12, or 22. All profits of membership fees and vendor profits are donated directly to local non-profits to help build a better Baltimore for tomorrow. No dogs are allowed at the market.