When it comes to chain restaurants, the big fast food joints are completely inaccessible for people with food allergies or celiac. However, an exception to this rule can be made for Chipotle Mexican Grill, who deftly proved that grab-n-go fare can and should be held to a higher standard.


Revolutionizing the concept of fast-food, Chipotle has enjoyed unprecedented growth and has managed to uphold their commitment to quality, fresh food at a reasonable price. Ditching GMOs, antibiotics, and growth hormones in favor of locally-sourced, sustainable fare, the food is as good for the environment as it is good for you.


Although many already know Chipotle's rep for delicious, allergen-friendly fare, I figured that I was long overdue to devote a blog post to them just to set the record straight to clarify what they offer for gluten and dairy-free folks. After all, with over a thousand locations across the country, the chain is a good go-to for gluten-free travelling as they are widely available and easily accessible.


While Chipotle's menu might not have a ton of options, there's plenty of room to customize and create to your heart- and stomach's- content. Starting out, diners choose from four meal styles- burrito, taco, salad, or burrito bowl. Of the three all are gluten-free except for the burrito due to the massive flour wrap used to hold the behemoth entree together. Those flour tortillas, and the ones used to make tacos are the only gluten-containing items on the menu, so be sure to specify a corn tortilla when ordering tacos (and make sure they don't warm it up on the tortilla press because it's coated with gluten from the flour ones).


Update 5/19/15: A blog reader has informed me that you can request for your tortillas to be wrapped in foil and placed on the tortilla press to prevent cross contamination and get a softer, more pliable tortilla.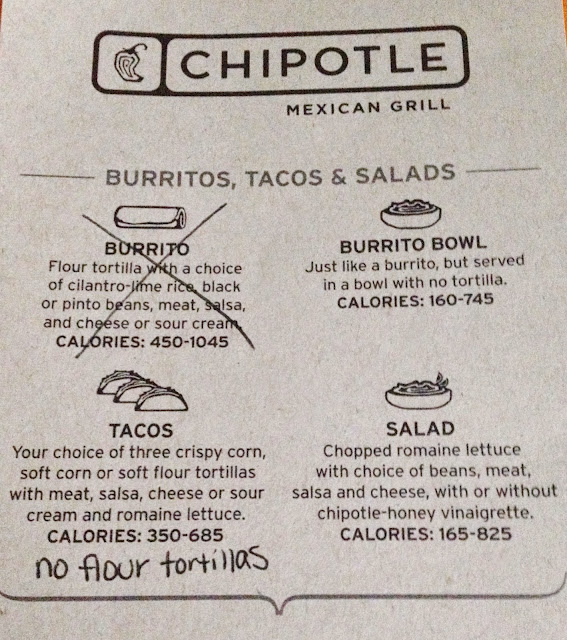 As with any restaurant that has gluten-containing items on the menu, there's always a risk for cross contamination. As with any of my reviews, I urge you, the reader, to judge what your comfort level is in regards to cross contamination. Just because I have had good experiences so far and have not gotten sick doesn't mean it cannot happen.


When going through the line, I request that staff members wash their hands and change their gloves- a measure they happily do- upon mentioning that I have a "food allergy." Although not technically true, it's more effective and less confusing than the truth that I am non-celiac gluten sensitive with dairy intolerance. I've heard others request food from the back instead of the line food, but I have had no problems, and have not asked for that accommodation. Usually the team member that starts off my order will follow it down the line and ensure that they are the only ones to touch it.


Moving down the line, the next options are completely yours. Choose a meat- or half and half it with two meats- or go meatless with their new tofu sofritas. Choose your rice (brown or white), beans (black or pinto), add fajita veggies (onions and peppers), choose salsas (listed below), throw on lettuce, or toss on some guacamole (an extra charge applies here). For dairy-avoiders, skip the sour cream and cheese and you'll be good to go. As extras, the chips (with salsa, guac, or on their own) are also safe.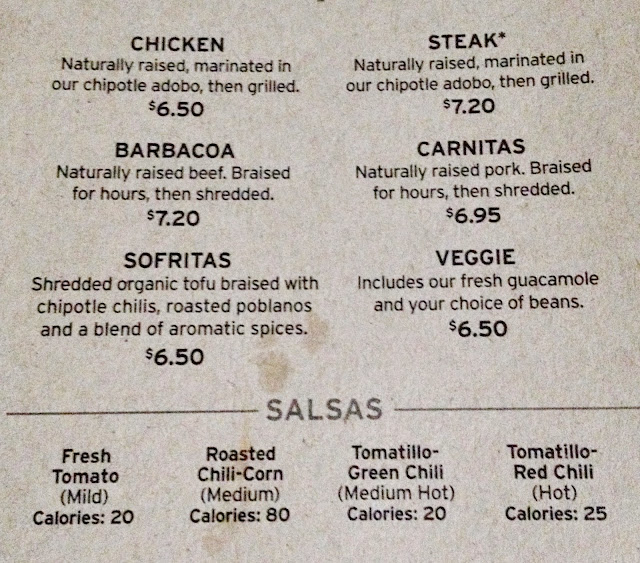 When I stop by Chipotle, I am totally a creature of habit. For me it's usually a brown rice bowl with either chicken or carnitas (or both!), with mild salsa and lettuce. I love the spiciness of the chicken and slow-roasted tenderness of the pork. Always a salsa lover, the mild is always fresh and flavorful- bursting with the tastes of lime, cilantro, and red onion.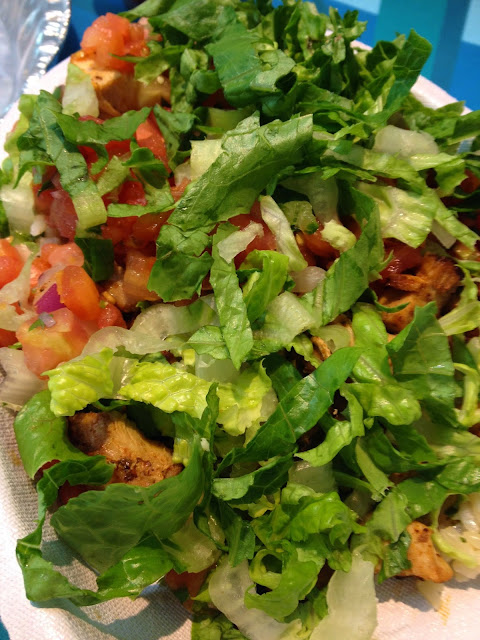 Recently, I've broken my own routine by trying out their gluten-free soft corn tacos. Having been a Chipotle fan longer than I've been gluten-free, I have not tried anything but the burrito bowl but found that this tasty trio is absolutely delicious. Messier than the bowled counterpart, the tacos are fun to eat, and come in your choice of two or three shells.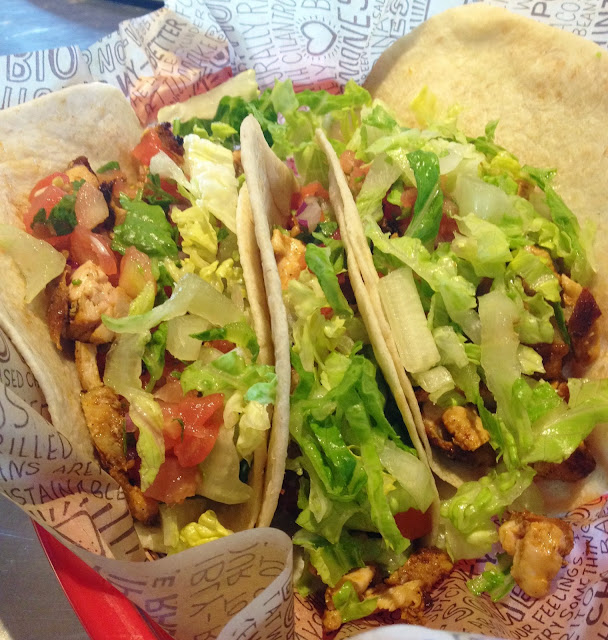 For those who are have other dietary restrictions, here's more info to help guide your selection of Chipotle Cuisine. For starters, they do not use these ingredients in their kitchen:
Egg

Mustard

Peanuts/Tree nuts

Sesame

Fish/Shellfish
Vegetarians can chow down on everything except for the meats, and vegans can enjoy everything except for the meat, sour cream, chipotle-honey vinaigrette, and cheese. Soy is only used in the vegan sofritas. Sulphites are used in the vinaigrette (for the salad) and the sofritas.
Remember that by no means is Chipotle 100% gluten-free and that cross-contamination can occur during food prep. For more information, check out their food allergy/special diet info at this link.
Chipotle's founder has also pioneered ShopHouse Southeast Asian Kitchen- a new food chain that's entirely gluten-free and is growing it's presence in California and the mid-Atlantic. Check out my review of that chain at this link.
Disclaimer: This review is based upon the information I have at the time of the review and does not reflect changes in ingredients or availability of items. Please contact the restaurant directly for up-to-date information and feel free to contact me with any questions or comments.