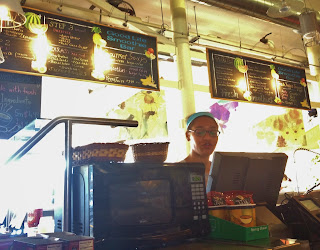 Please note that Good Life Smoothie Bar has now closed.


While in Annapolis, in between duel visits to Amsterdam Falafelshop, the summer-like heat of the day lead me to crave something cold and sweet.


Knowing the risk of cross contamination of both gluten and dairy at several chain smoothie and coffee shops, I decided to indulge in a freshly made smoothie at Good Life Smoothie Bar, a neighbor to the falafel purveyor I profiled. Both residents of MarketHouse, an cute assembly of stalls and shops on the waterfront, I was happy to patronize two local businesses.


Instead of featuring an array of pre-selected smoothies, Good Life Smoothie Bar (GLSB) has a do-it-yourself approach, letting the customer select their fruit (pick three), milk (coconut, vanilla almondmilk, unsweetened almondmilk, whole milk), sweetener, and any extras (ex. peanut butter, chia, flax, cocoa). The beauty about this is that almost anyone can create a smoothie to fit their preferred taste and dietary restrictions.





For my three fruit/vegetable bases, I chose blueberries, banana, and greens. I added unsweetened almondmilk for liquid and honey to sweeten the deal. Simple, yes, but as it turned out oh, so sweet. I loved the noticeable sweetness from the ripe banana, and the creaminess that came as a result. The blueberries, too, added a delicious tangy twist. The greens were pretty sneaky, adding nutrition without altering the taste- a successful nutrition hack in my book!


I love that my GLSB smoothie came perfectly portioned and was noticeably fresh, with flavors I could actually identify. I'd totally pick them over a super sweetened, frozen fruit smoothie any day. My only disappointment is that there's not a location in my neck of the woods. Then again, that's probably a good thing because I am on a budget!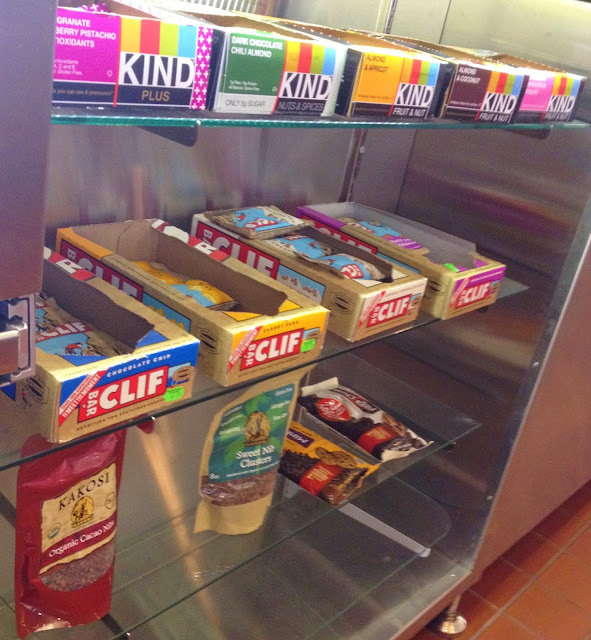 While in line, I noticed several gluten-free snack options including enjoy life chocolate chips/chunks, allergy-friendly cacao nibs, KIND bars, dry rice noodle soups, whole fruit, and bottled juices and smoothies. This is definitely the place to hit for some healthy refueling when exploring Maryland's capitol city. The staff members working were friendly and helpful, and clearly experts in the blender department.



Please note that Good Life Smoothie Bar has closed.