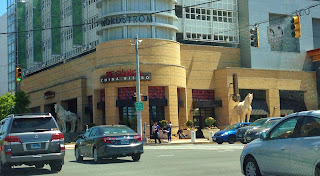 PF Chang's is one of the few major chain restaurants with a great gluten-free reputation that I have not been to. With no time like the present, I maximized my next to last day in Maryland until next August by paying my local PF Chang's a visit for lunch with mom to break up a long, hard day of sorting, packing, and final exams.
Described as a "China bistro," the restaurant certainly has several Chinese offerings, but also features pan-Asian fare that allows a culture clash of sorts that's downright delicious. This particular location is a cornerstone of the uber-busy Towson Towne Center Mall, a hive of shopping, dining, and entertainment that's always buzzing with activity.
Finding the restaurant lightly attended, I liked how we would not have to compete with noise or a crowd- something that turned me away on a previous attempt to dine here. We were seated right away, and I let my server know that I was both gluten and dairy-free. Here, gluten-free doesn't even get a second glance, as the dedicated menu is printed right on the regular one, no need to play a game of telephone with the kitchen and wait staff. Other food allergies/intolerances are accommodate-able, but not as obvious. My waitress brought me a print-out of all the dairy-free options for me to consider and compare alongside the gluten-free menu.
What's cool about PF Chang's is that that they get gluten-free right. Separate prep areas? Check. Dedicated serving plates? Check. Gluten-free soy sauce on the side? Check. The restaurant is seriously a gluten-free diners dream. For more extensive information: click here.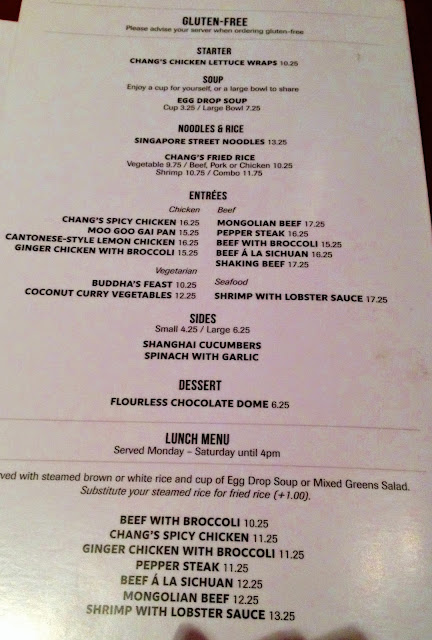 After comparing both menus, I assembled a comprehensive list of all of the gluten and dairy-free options. Note that you always should inform your server of your needs so they can label the dish appropriately in the order system.
GF Chang's Chicken Lettuce Wraps

GF Egg Drop Soup

GF Spinach with Garlic

GF Shanghai Cucumbers

GF Coconut Curry Vegetables

GF Buddha's Feast (Steamed)

Brown Rice

White Rice

GF Mixed Green Salad

Lime Vinaigrette Dressing

Sesame Vinaigrette Dressing

GF Baby Buddha's Feast (kids menu)
Although I was eyeing the chicken lunch entrees, realizing that my options were slimmed down a little, I decided to go with the Chang's Chicken Lettuce Wraps. I liked the prospect of getting some protein (brain fuel!) without going super heavy.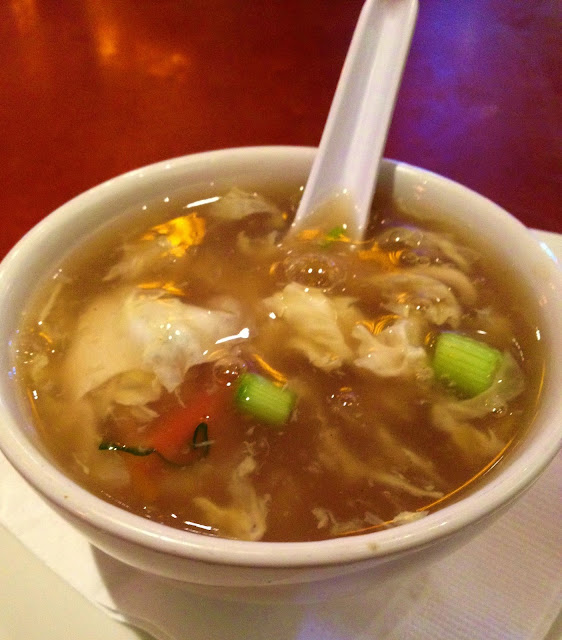 Before the entree arrived, I ordered a cup of the egg drop soup as an appetizer. Having not eaten traditional Chinese food in a long time, my first sip brought a smile to my face as I tasted the silky smooth, deliciously spiced broth. Aromatic, I loved the warmth of the soup on a chilly day, and the bursts of flavor from the spring onions and Julianne carrots. I do not know what gave it the delicious edge, but whatever it was, it won me over. You can bet I'll be ordering this regularly next winter to stave off the chill of the season.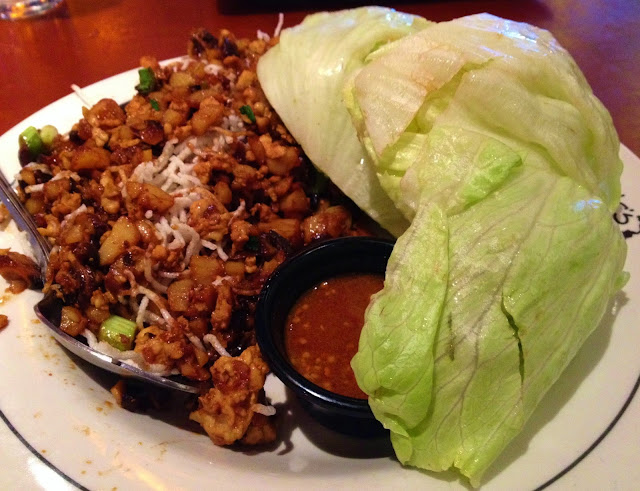 The lettuce wraps arrived soon after, my expectations heightened by my delight with the soup. My first bite unleashed an avalanche of flavor into my mouth, the many delicious seasonings of the chicken, water chestnuts, mushrooms, and green onions. Tender and seared with flavor, the mixture was pretty irresistible, and delicious atop the cool, fresh lettuce leaves. The rice sticks served with the mixture honestly did not have an overly distinguishable flavor, but had a cool texture that brought the whole dish together. Appetizer sized, the dish was certainly share-able, but it was the perfect size to satisfy my teenaged appetite. I polished it off, and was not bloated or overall gross feeling- a complaint often heard of the cheep-o Chinese food I see friends ordering on campus. I'd take this any day! The accompanying sauce was pretty spicy, but I was not in the mood to add to the mess I was making packing the lettuce leaves so left it alone.
Despite the less-than-packed house, the service was pretty slow. While I didn't mind because it meant more time with mom, it was noticeable as our window of opportunity was starting to close. As my only complaint, it's minor in the grand scheme of things. I'm so glad I decided to break from my traditional Towson haunts to give PF Chang's a try. I'll certainly be a repeat customer and will definitely keep them in mind when travelling. I like how their gluten-free/food allergy ordering system is uniform and clear, and that they really are committed to gluten-free diners.
Have you dined at PF Chang's before? What dishes are your favorites? Share below!
The Basics
Address: 825 Dulaney Valley Rd, Suite 1161, Towson, MD 21204
Website: www.pfchangs.com
Cuisine: Chinese and pan-Asian
Ideal For: Lunch, Dinner, Late Night
Price: The lettuce wraps were $10.25 and the soup was $3.25
Accessibility: Easy wheelchair access
Special Feature: Order online through PF Chang's website for pick-up or get it delivered via Order Up Towson (click here for more).


Disclaimer: This review is based upon the information I have at the time of the review and does not reflect changes in ingredients or availability of items. Please contact the restaurant directly for up-to-date information and feel free to contact me with any questions or comments.