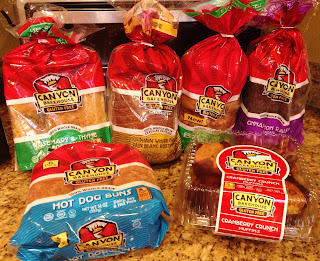 Canyon Bakehouse is one of those companies that just gets "gluten-free" right and does it in spectacular fashion.


Dedicated bakehouse? Check.
Dairy-free products? Double check.
Bread that authentically tastes and feels "real"? Check, check, and check again.


While I've been able to sample the rosemary and thyme focaccia and both varieties of bagels before, I have not explored their back catalog of breads in all shapes and sizes. I jumped at the opportunity to sample their other breads, buns, and muffins. Eager to see if their other breads would hold up to my picky tastes, I could not wait to dig in and dish up my thoughts.


Before breaking down the bread, here's more info on the company behind them: Canyon Bakehouse. Founded by celaics on a mission to help others "love bread again," Canyon Bakehouse was conceived to give gluten-free folks bread that is high-quality and great-tasting. What's great about their whole product line is that it is entirely:
Gluten-free

Nut-free

Soy-free

Dairy/casein-free

Made in a dedicated facility free from the four allergens above

100% Whole grain

Kosher

Tested for allergens

GMO-free
Note that eggs are used in the bread, therefore rendering the products not vegan, nor are they safe for those with egg allergies.
Mountain White Bread
Even in my gluten-eating days, I was not a fan of white bread. Skeptical about this Canyon Bakehouse offering after detesting other white bread offerings from other gluten-free companies, one bite was all it took to prove that I was dead wrong about white bread. Not your average wonderbread, this bread has an authentic, soft, yet sturdy texture. Dotted with seeds on the crust and inside, I loved the chewiness and heartiness, which would easily best gluten-containing loafs made with far inferior ingredients.
This bread has been a wonderful addition to my lunchbox rotation, filling in the gap where sandwiches used to go. I love making almond butter sandwiches on this bread, but it's versatile enough to support sandwiches of every style, as well as performs adequately as toast. Additionally, no holes were present in my loaf, a big plus for gluten-free bread.
Cranberry Crunch Muffin
Although I have familiarized myself with Canyon's full catalog of breads, the cranberry crunch muffins were a great surprise to recieve, as I have not yet seen them "in the wild" at local stores. While I have tried store-bought and homemade muffins before, these muffins were unlike any I've had gluten-free. Perfectly crumby, as I remember muffins to be, I loved the lightness of the muffin, sweetened slightly, and with a unique texture thanks to the millet, poppyseeds, and pumpkin seeds mixed in. The muffin had a nice, vanilla flavor, and the embedded dried cranberries added a sweet, tart burst of flavor.
These muffins were perfect as a grab-n-go breakfast for me, and were big enough to sustain me long into the morning. As I savored each one, I sincerely hoped that local stores would not only expand distribution of these delicious baked goods, but that Canyon would expand their muffin offerings to include lemon poppy, pumpkin, or other breakfast-ready flavors.
Update 9/17: Presently Canyon Bakehouse is not manufacturing the cranberry crunch muffins.
Normally, I bypass cinnamon raisin bread out of an intense dislike of raisins. However, given the opportunity to try Canyon's take on the breakfast bread, I decided to taste test with an open mind. I toasted the bread up and slathered it with almond butter, and actually really loved the cinnamon-heavy loaf. The raisins, as expected, really turned me off, but because I love the cinnamon flavor so much, I found myself nibbling on the bread slice by slice. Although not my favorite of the line up, I cannot condemn the bread, at it has a nice taste and texture and toasts up nicely.
Brownie Bites
Of all of the bakery delicacies I bypass at the grocery store, brownie bites are the hardest to resist. After all, my few attempts at recreating them at home have been dismal failures. Luckily, Canyon Bakehouse's brownie bites are here to provide an easy, delicious way to enjoy the bite-sized treats. Each carton holds nine brownies, and each are perfectly sized as a daily dose of chocolate. I loved the rich, decadent flavor, and texture, which was amazing alone, but even better over vanilla almond milk ice cream in a la mode style. I suspect these will be a hit with kids and adults alike, and would be a dangerous thing to bring to a party as they'd disappear quickly!
Canyon Bakehouse hot dog buns are literally made for summer. Your next backyard grilling session will not be the same without them. Normally bypassing the bun, it was a cool experience to eat hot dogs in their "normal" way, and Canyon's buns performed amazingly. Perfectly soft, the buns are pliable, but not so crumbly that they disintegrate when attempting to place in a hot dog. I liked the whole grain taste, which was a mix between their white bread and their 7-grain bread. The bun-to-hot dog ratio was not ridiculous on either side, unlike other gluten-free competitors whose buns are three times the size of the meat.
These also made really great sub rolls, sliced in half and dressed with deli meat, vegetables, and condiments. They're perfectly proportioned for kids or adults, and are equally likely to please both.
Side note: I personally love and recommend Applegate Farms' uncured turkey hot dogs, which are not filled with scary chemicals.
Rosemary and Thyme Focaccia
Admittedly, this bread has already made an appearance on my blog, appearing on my March list of favorite products. However, it deserves a second shout out, as each time I pick up a loaf, I fall in love with it all over again. It makes for one of the best pizza crusts around, and even entered my breakfast lexicon, serving a delicious savory toast under cream cheese. It tops the list of my favorite products, and deservedly so, as there are so few artisan breads out there that are gluten and dairy-free and do not require intensive prep.

As a part of my shipment, I was also sent a pack of bagels, but to avoid further lengthening this review, I'll send you to the review at this link.
Throughout the taste testing period for this review, I have been further convinced that Canyon Bakehouse is the real deal, and the sample assortment I was given is definitely a gateway drug to making me a definite repeat customer. The cranberry crunch muffins and white bread stand out as my top favorites, but you honestly cannot go wrong with any of their products. They perform well, and taste great, which is the highest complement I can pay.
I have located their products at Target/Super Target, Whole Foods, Hoover's Market (Central Florida), and Mom's Organic Market (Maryland). For more information, or to order online for direct shipment, click here for Canyon Bakehouse's website.
But wait… there's more! The generous folks over at Canyon Bakehouse are also sponsoring a giveaway of their fabulous products. Two lucky blog winners will be shipped an assortment of Canyon Products for their own taste-testing adventure. The giveaway runs from now through July 31st.
a Rafflecopter giveaway
Disclaimer: This review is current to the original publication date. Updates will be noted. Ingredients and manufacturing processes can change without notice. Each product should be reviewed for individual nutritional needs. Feel free to to contact me with any questions or comments. I received samples complementary from Canyon Bakehouse Gluten Free, but this review is a reflection of my own personal opinion and has not been influenced in any way.