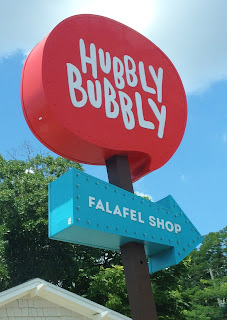 Ever since discovering the magic of falafels while exploring Annapolis this spring, I've been wanting to get another taste of the Middle Eastern delicacy. Luckily, I stumbled across Hubbly Bubbly, a College Park installation while going out for lunch with a friend recently, and the location proved to be the perfect meet-up point.


What's so cool about Hubbly Bubbly, is that this little restaurant serves up seriously good food that is seriously good for you as well. Everything is made fresh on-site, and the staff are well trained to handle gluten-free diners, vegans, and vegetarians alike.


With the highest of hopes, I could not wait to see if Hubbly Bubbly would prove themselves and earn a place on my go-to list of Orlando foodie establishments.


Before even stepping foot in the restaurant, I was sold on Hubbly Bubbly after interacting with their easy-to-understand menu online (see that here). Marked with gluten-free, vegan, and vegetarian options, the mere fact that they acknowledge us special diet diners is huge. I'm glad I had a head start in considering the menu, because when I arrived at the cafe shortly after noon, it was hopping and packed with people.


Hubbly Bubbly in concept is Middle Eastern food in "Chipotle" custom-design style. Diners choose their protein (falafel, lentils, chicken, or lamb and steak) and presentation (salad or hummus bowl are the only gluten-free options). When I stepped up to the plate to begin my falafel order, I let the server know I was gluten-free, and he immediately began to change his gloves and went to the back to get a new serving utensil to scoop from the bins. I had no worries ordering items that were fried, because the fryers are dedicated gluten-free (the pita chips are baked, not fried). While there is certainly the chance of cross contamination (as there is at any gluten-serving establishment), the fact that the staff helped me navigate what is safe was what sold me.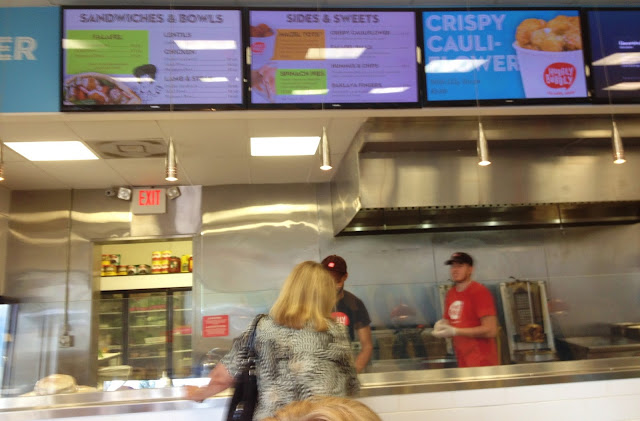 I decided to go for a falafel salad, loaded with tomatoes, red onions, pickles, cucumbers, cabbage salad, and a cucumber/tomato salad. As I ordered the falafels, the staff member who was helping me scooped the chickpea mixture fresh into a ball, and fried it up while I loaded up my bowl. Not only are the falafels healthy, they're cooked fresh to order!
Let's just say my experience was one of love at first bite. I loved the crunchy, crispy falafel that were flavorful without being oily or greasy. The vegetables were fresh and flavorful, but the real stand outs on the veggie front were the marinated cabbage- heavy on the olive oil and lemon- and the salad blend. Not the boring blend you might find on drab salad bars, the Hubbly Bubbly salad blend mixes lettuce, onions, parsley, lemon and olive oil- among other spices. Flavorful and maximizing the wonderful taste of herbs, the whole bowl was filling, but not heavy, and perfect for a summer meal that is plant-powered and entirely vegan.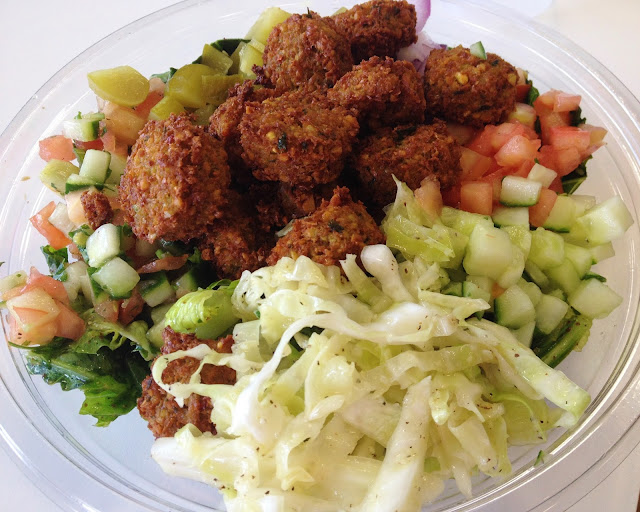 On the side, I ordered a plate of their "Mozel tots," the Mediterranean answer to tater tots. Winning points over and above their western counterparts, these tots are the silent superstars of Hubbly Bubbly, quietly letting the falafel steal all the glory. Crunchy, but still soft on the inside, the tots are a tasty treat enhanced by a wonderful five-spice seasoning that provides a delicious complexity to the childhood treats. Do not make the mistake of skipping out on this "side dish" that deserves a main stage.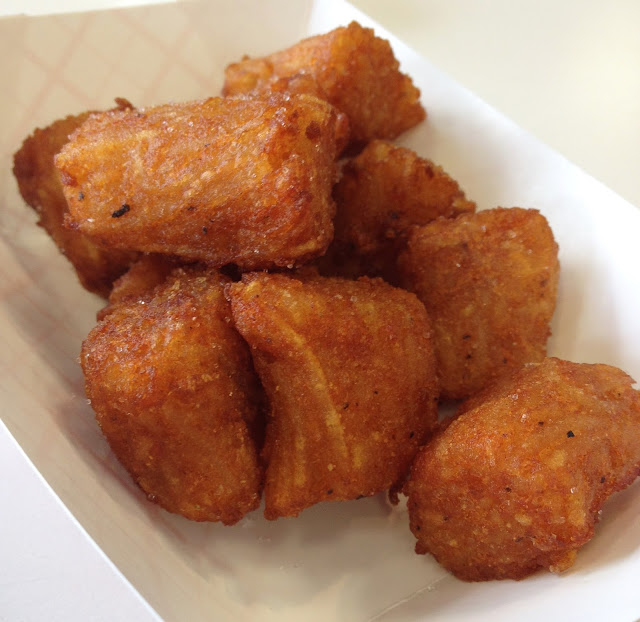 Overall, Hubbly Bubbly was a home run for me. Fresh, tasty food, friendly staff, and an inviting dining area really sold me on this cute shop. It's a total win/win when I can enjoy the same food as my mom and sister, and the three of us leave equally satisfied. I will make a point of being a repeat customer, and look forward to sampling other menu features such as their chicken. Orlando could definitely use a few more locations around town to spread the healthy goodness to the people of our city, and I look forward to cheering them on to continued success. It's people like the Hubbly Bubbly staff that make this city a gluten-free foodie's playground.


Update 12/27/15: Hubbly Bubbly now serves deep fried cakes on their dessert menu, which do contain gluten. Be sure you request that fried items (mazel tots and falafel) are fried in the dedicated fryer- not the shared fryer. On my latest visit the staff were the most attentive I have ever experienced, using fresh utensils and going above and beyond to prevent cross contamination.



The Basics
Address: 3405 Edgewater Dr, Orlando FL 32804

Price:

All entrees under $10

Accessibility:

Easily wheelchair accessible

Special Feature: Order online (coming soon) to beat the crowds. Catering, too, is also available to boost your party's potential (click here).


Disclaimer: This review is based upon the information I have at the time of the review and does not reflect changes in ingredients or availability of items. Please contact the restaurant directly for up-to-date information and feel free to contact me with any questions or comments. I was not compensated for this review and it is a reflection of my personal opinion.