Although I've taste tested my way around many Asian cuisines here on the blog, I have not yet made it to the world of sushi, mostly for my dislike of raw fish and difficulty of finding safe places to give the cuisine a go.


Luckily, a previous engagement near UCF proved to be the perfect opportunity for me to try out Sus Hi Eatstation, a funky sushi place that serves up food that could please any gluten-free or dairy-free ninja.


Unlike many sushi restaurants, Sus Hi prides itself on being a budget-friendly fast casual restaurant, an industry niche that is perfect for college students like me.


When dining at Sus Hi, it's best to think of it as sushi's answer to Chipotle- except with a whole lot more flair and craftsmanship. The main menu consists of dishes prepared three ways: traditional sushi roll, sushi bowl (think: burrito bowl), salad, or a tortilla wrap (not gluten-free). Once you select your style, and rice (brown or white), the next decision to be made is which protein(s) and/or toppings to adorn your creation with. For the full list of gluten-free add-ons, click here and look for the gluten-free symbol.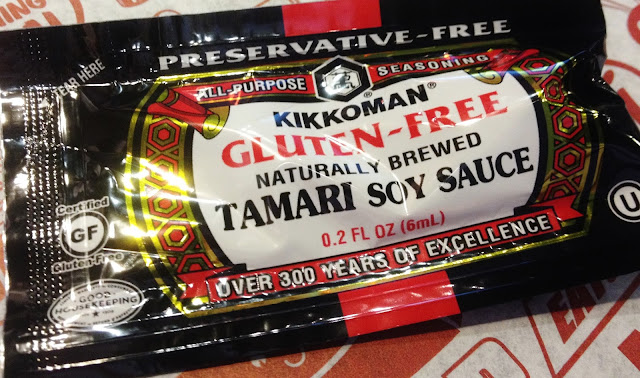 Individually-sized GF soy sauce packets are on hand to dress up your sushi safely.
As I stepped up to order, I let my sushi chef know that I was gluten-free, and without hesitating, he began to prep the area to make my meal safe. He immediately changed his gloves (without me asking- hallelujah!) and brought out a fresh prep board so that my wrap would not be prepared on a shared surface. He put down a paper liner as well to further up the gluten-free ante. Even the grilled chicken I ordered, which would be a gluten-free nightmare on a shared grill, was kept clean by warming it up on it's own paper in an oven. As he patiently walked me down the line, explaining the options, he also took the opportunity to remind the other chefs on the line what items are not gluten-free, and impressive step that lets me know that the management is really committed to our community.



Relishing the chance to get a non-fish-based sushi roll, I opted for a traditional roll with grilled chicken, cucumber, and carrots. I topped it off with scallions and added pickled ginger on the side for added effect. I loved the freshness of the veggies, tenderness of the chicken, and stickiness of the rice. While not a "classic" sushi roll, it was uniquely mine, and uniquely delicious. Dripping on gluten-free soy sauce, I loved how the salty, umami taste added yet another layer of flavor.


The pickled ginger, while good, was a little weird to get used to. In taste and smell, it reminded me of fermented ginger beer. While I liked it, it was a little too strong for my newbie palate.




Overall, I really loved Sus Hi Eatstation. The food is good and the staff are over-the-top friendly, cracking jokes about customers' orders (Ex: ha-tuna matata!) and making sure that the ancient art of sushi is not too intimidating for its customers. I want to give a shout-out to the sushi chef who expertly prepared my order- Ninja Star- for his humor and kindness, and impeccable knowledge of gluten-free dining. This eatery certainly has character and charm down to a Ninja-like art. They truly do make eating gluten-free and dairy-free in Orlando a whole lot easier and fun.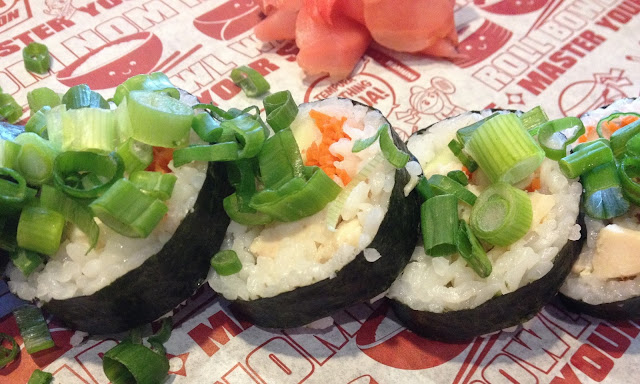 The Basics
Address: 4498 N Alafaya Trail #324, Orlando, FL 32826
Website: www.sushieatstation.com
Cuisine: Asian, Japanese, Sushi
Ideal For: Lunch, Dinner, Late Night
Price: Rolls are $6, Bowls are $7, and Wraps are $7

Disclaimer: This review is based upon the information I have at the time of the review and does not reflect changes in ingredients or availability of items. Please contact the restaurant directly for up-to-date information and feel free to contact me with any questions or comments. I was not compensated for this review and it is a reflection of my personal opinion.