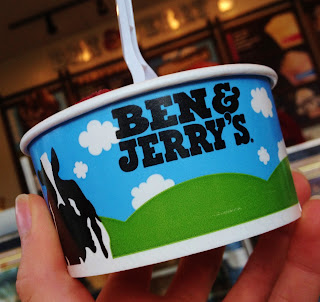 It's really hard not to like Ben and Jerry's ice cream. After all, with cute flavor names, a socially conscious philosophy, and commitment to making really delicious desserts, it's no wonder they're one of America's favorite ice cream purveyors.


Recently, Ben and Jerry's announced that they are working on dairy-free ice cream flavors made with coconut and/or almondmilk. Unfortunately, this review is not covering those yet-to-be released creations. Instead, this is a peek at what gluten and dairy-free options are available in Ben and Jerry's scoop shops now. Update: Since publishing this review, Ben and Jerry's have released their non-dairy flavors. Read all about them at this link.


I stopped by the Ben and Jerry's on International Drive after checking out the new I-Drive 360 complex that includes Madame Tussauds, the Orlando Eye, and Sea Life Aquarium. Needing a pre-dinner treat to beat the heat, my friends and I piled into the store.

Although Ben and Jerry's has a ton of flavors for dairy-eaters, their dairy-free flavor list is much shorter. After letting my server know that I have a dairy and gluten allergy, she let me know that the three flavors I could choose from were the berry berry extraordinary, lemonade, and the mango mango. I decided to go with the berry berry because it has been a longtime favorite of mine (even before going dairy-free), and I could not resist the vibrant swirl of blueberry and raspberry sorbet.


Note: I did not ask about smoothies or the dairy-containing creations, as I did not want to hold up the line.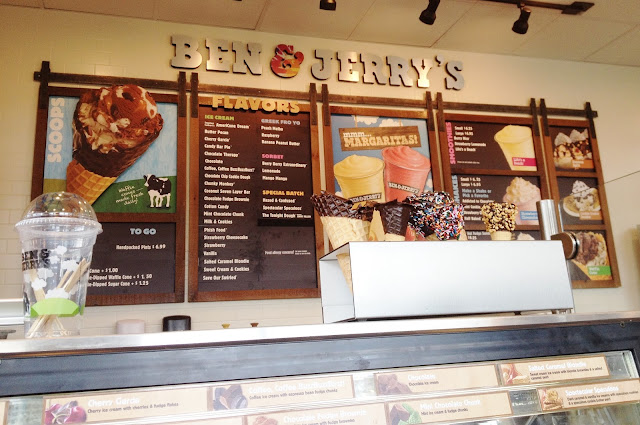 After placing my order, the staff member who was helping me changed her gloves and went to the back of the store where she scooped my sorbet from a fresh container in the back with a clean scoop. One scoop was enough for me, and was the perfect portioning to satisfy my sweet tooth without giving me a sugar high. The sorbet is tangy and sweet. Unlike many sorbets, you can actually tell that this one is made with fruit, because seeds can be spotted in the swirl. Normally, I am not a sorbet fan, but this one earned a two thumbs up from me, and is a great option especially this time of year.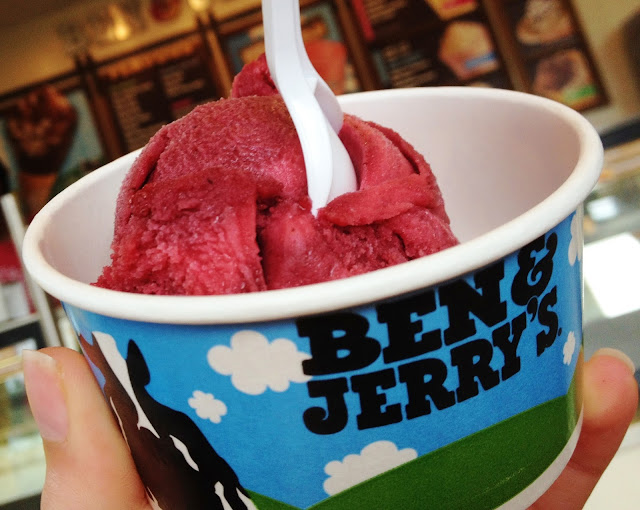 While the choices may be few, I cannot argue that Ben and Jerry's sorbet selection offers quality, if not quantity. I cannot wait for their new vegan flavors to arrive so that I can make a return visit, but for now, I'm happy with my berry berry extraordinary.
The Basics
Address:
8457 International Drive, Orlando, FL 32819
Ideal For:
Snack, Dessert
Price:
Varies, my single scoop in a cup was under $5.
Accessibility:
Easily wheelchair accessible

Disclaimer: This review is based upon the information I have at the time of the review and does not reflect changes in ingredients or availability of items. Please contact the restaurant directly for up-to-date information and feel free to contact me with any questions or comments. I was not compensated for this review and it is a reflection of my personal opinion.