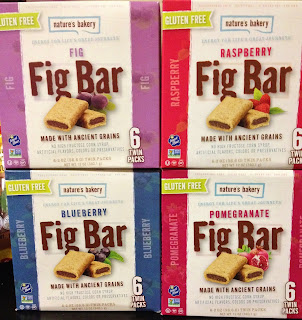 With my fall semester classes gearing up and my free time evaporating, I am quickly turning to grab and go options to help me fuel up for long, busy days, without having to cook or wash dishes afterwards. Luckily, Nature's Bakery has perfect timing introducing their new line of gluten-free fig bars just in time for back-to-school.


As soon as I discovered that these bars were in the works, I reached out immediately to Nature's Bakery, because I was super excited to give these a try. When I could enjoy "regular" food, I was not a big fig bar fan, but in my years without gluten, my heart has grown fond for the fruity snack.


Nature's Bakery is introducing not just one fig bar, but four delicious fruit-infused flavors of fig bars, including blueberry, pomegranate, raspberry and traditional fig. Without giving too much of my review away, let's just say that they definitely are going to be a morning breakfast staple as I head to early 8 AM classes.


Before going any further, let's delve into the delicious attributes that make these fig bars a treat for diners with different dietary needs. All four flavors of fig bars are:
Certified gluten-free

dairy-free

egg-free

soy-free

Certified vegan

Certified non-GMO

Certified Kosher

Free from artificial flavors/colors

High fructose corn syrup free

Cholesterol free
The bars are sweetened with fruit, dates, cane syrup, and fruit juices in their interior, and the exterior is made with Smart Flour Foods' ancient grains flour blend that includes tapioca, teff, sorghum, and amaranth. Does that name ring a bell? It should, Smart Flour Foods makes my favorite frozen pizza crust as well as the crust used at Mellow Mushroom restaurants (use the search bar on the right to see those reviews).
Each box of bars contains six wrapped packs of twin bars (12 bars in total per package). The bars are perfect for snacking, or sharing, and are pretty resilient when stowed in a backpack or purse. In tasting all four flavors, I found each bar to be perfectly soft-baked, just how I remember other fig bars to be. The interior of each bar is sweet and jam-like, with the distinctive taste of each featured fruit. For example, the raspberry had a nice, tart kick while the blueberry tasted like it was made with just picked berries.
Clockwise from top left: Fig, Raspberry, Pomegranate, Blueberry
Overall, I absolutely loved the fig bars, and will definitely be a repeat buyer. These are practically perfect for any on-the-go excursion, and are sure to please adults and kids alike. I'm so glad that Nature's Bakery partnered with Smart Flour Foods to create snack bars that are a game changer in the gluten-free bar aisle. To share my excitement about them, I'm giving away two sampler sets to you, my readers, to share the fig-infused love. Simply tweet about the giveaway or follow myself of Nature's Bakery on Twitter for a chance to win this delicious foursome!

Disclaimer: This review is current to the original publication date. Updates will be noted. Ingredients and manufacturing processes can change without notice. Each product should be reviewed for individual nutritional needs. Feel free to to contact me with any questions or comments. Nature's Bakery sent me samples free of charge for review purposes, but the review is a reflection of my personal opinion.