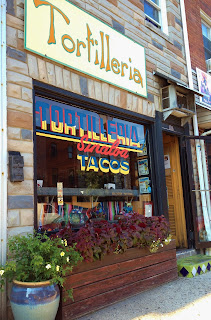 For my first foodie excursion back in Baltimore, I had to carefully choose which of the many restaurants on my to-eat list I would indulge in. Winning that honor was Tortilleria Sinaloa, on the premise of fresh-made homemade tortillas and a 100% gluten-free menu.
After a day of unpacking and putting together my dorm room 2.0 configuration (I am in the same dorm and room this year), I knew that a late lunch, early dinner would be the optimal time to swing into the city to check Tortilleria Sinaloa out.
Nestled in the ethnic melting pot that is Fells Point, Tortilleria Sinaloa definitely scratches the taco itch I often get up in here Maryland, where non-Chipotle tacos are rarer than they are back in the sunshine state. After my recent rash of gluten-free taco finds this summer, Tortilleria Sinaloa definitely puts up a fair fight and proved themselves worthy of all the hype.
Entering Tortilleria Sinaloa, the restaurant is tiny (note, minimal seating inside), but has a really cool interior: a mix of beautiful, colorful Mexican art and neat retro features such an intricate ceiling. The menu is in Spanish, but my limited knowledge of the language was easy enough to piecemeal my way though the offerings.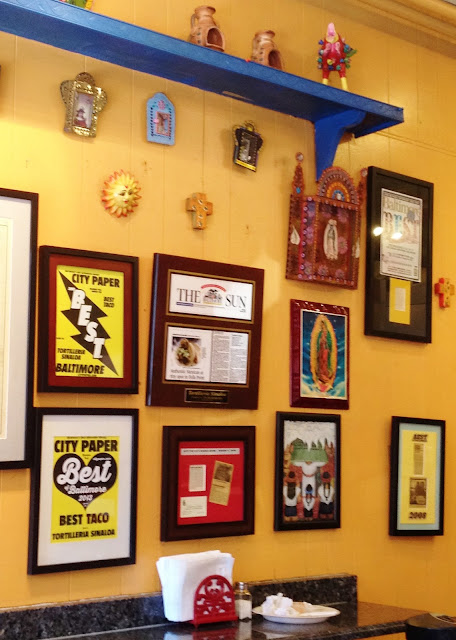 The menu offers tacos, quesadillas, tamales and soups, as well as DIY take-out offerings such as tortilla chips, guacamole, fresh tortillas (by the half or whole kilogram), and meat (by the pound) a la cart. To see it in its entirety, click here. Drink options include an array of several Jarritos flavors; Jarritos is a popular Mexican soft drink.
For my meal, I ordered three chicken tacos. The arrived double wrapped, with cilantro and onion on top and a spicy sauce on the side. The chicken was seasoned nicely, and chopped finely, yet was still tender, while the cilantro and onion provided a nice contrasting flavor. A squeeze of lime juice added a nice citrusy flair that complemented the flavors. I was full after eating the three, but not unpleasantly so, and completely satisfied. The tacos definitely earn a spot on the list of the best tacos I have ever had.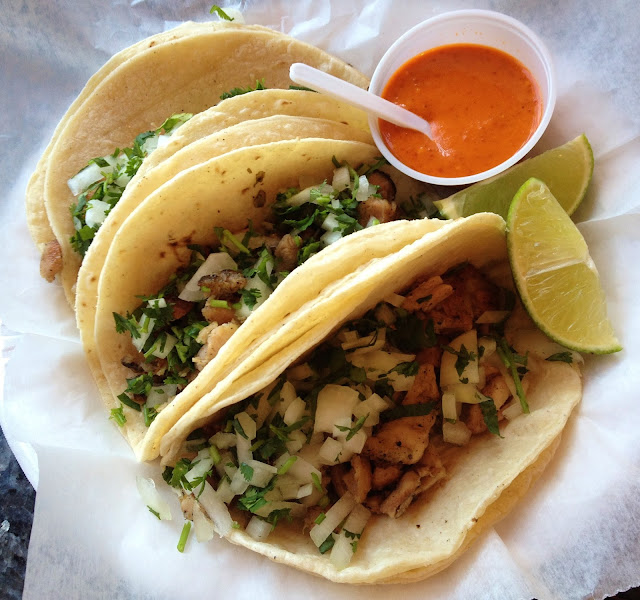 Because the Tortilleria Sinaloa makes their own tortillas in-house, I couldn't leave there without a pile of the delicious wraps to go. Luckily, the restaurant offers them by the half kilo (1.1 pounds) or kilo (2.2 pounds). With my metric conversions a bit rusty, I ordered the kilo, and came home with a bit more than I bargained for at $3 for all 35+ of the wraps. While I waited for my meal, the tortillas were made fresh for me, and were steaming through the parchment paper they were wrapped in all the way home. Soft, pliable, and addicting, the wraps were delicious to enjoy over the next few days with black beans and salsa. Definitely do not pass these up, but do be aware that 2 pounds of tortillas is quite a lot!




I also could not leave without a bag of their fresh-made tortilla chips. While the tortillas themselves are amazingly delicious and pliable, the chips bring a totally different personality out of them. Thick and crunchy, these chips run laps around the ones found in the chip aisle of the grocery store. I was head over heels for them at first bite, and loved how they were sturdy enough to handle any pico de gallo, guacamole, or other dip, yet not stand down in the flavor department. My only complaint is that I left with a small bag of them, I wish I had bought a couple more to enjoy.





Tortilleria Sinaloa hit it out of the park in my book, and deftly worked their magic to make me a believer. I will definitely be trekking back into the city for more tortilla magic and am glad to have stumbled across this gem of a restaurant after going down a rabbit hole searching for gluten-free restaurants on Google in Baltimore one night. Locals and visitors alike should definitely check them out and plan a pilgrimage to the best taco joint in all of charm city.


Update 12/7/2015: Tortilleria Sinaloa has opened up a second location in Harbor East at 415 Central Ave. The menu features the same offerings as the original location, with a few more options. Whenever I get the chance I stop by to pick up a kilo of fresh tortillas or tortilla chips to go. Recently I broke my usual routine of ordering chicken tacos to try the chicken tamales. The tamales are quite massive, and quite a deal for $2.85 each. The corn mesa to chicken ratio is a little off for my tastes (I would have liked to have more chicken) but the tamales are pretty darn good. Topped with tomatillo sauce, these are absolutely divine. My only complaint is that the more menu items I try the harder time I have deciding what to order!



Update 2/21/16: On a recent visit, I brought home a container of guacamole to pair with a bag of their amazing tortilla chips. I loved the freshness and homemade-quality of the guacamole. It's on the smoother side, but you can definitely find chunks of avocado hiding. I loved the splash of lime that added a tanginess to the guac.





Update 10/1/17: On a recent visit to the Inner Harbor, I sadly noticed that their Central Ave location has since closed and been replaced by Clark Burger.
The Basics
Address:
1716 Eastern Ave, Baltimore, MD 21231
Ideal For:
Breakfast (opens at 7am Mon-Sun), Lunch, Dinner (closes at 6pm, 7pm, or 8pm depending on day of the week).
Price:
Varies, see menu prices here.
Accessibility:
Wheelchair accessible but not wheelchair friendly. Two steps to enter the restaurant were doable for my manual wheelchair with help from my dad, but would be difficult otherwise.
Special Feature: Order online for pick up right here.
Disclaimer: This review is based upon the information I have at the time of the review and does not reflect changes in ingredients or availability of items. Please contact the restaurant directly for up-to-date information and feel free to contact me with any questions or comments. I was not compensated for this review and it is a reflection of my personal opinion.